The State of California has so many different types of pine trees – more than you could possibly imagine! If you're unfamiliar with what a pine tree is – it's an evergreen conifer that bears seed cones and has bundles of needles (rather than individual standing needles). So, if you want to learn more about the types of pine trees in California – keep reading!
How can I tell what kind of pine tree I have?
Let me guess, you're looking at a pine tree, but you aren't quite sure what kind it is. Or, you may not even know if it really IS a pine tree! There are a few different characteristics that can decipher if what you're dealing with is a pine tree or not.
You can start by looking at the needles on the tree. With pine trees, needles are attached to the branches in clusters – rather than just individually. Then, take a look at the pinecones on the tree. With pine trees, you're going to typically see egg-shaped cones that droop down from the tree's branches. However, some types of pines do have slender cones with sharp scales.
If you're still not convinced that what you're looking at is a pine tree, look at the bark. With mature trees, you're typically going to see a reddish-brown or even dark gray bark. If it's still a young tree, you'll most likely see a yellowish-green bark.
So, if you've decided that what you have IS a pine tree and you want to know what KIND of pine tree you're looking at – keep reading! We're about to go over some of the more popular types of pine trees in California. Oh, and fun fact: the Rocky Mountain Bristlecone Pine has the longest life span of any conifer on Earth!
What kind of pine trees do they have in California?
Let's take a look at the types of pine trees in California. We've included their common name as well as their scientific name! So, let's go over the some of the Pinaceae (pine) family below!
Coulter Pine (Pinus Coulteri)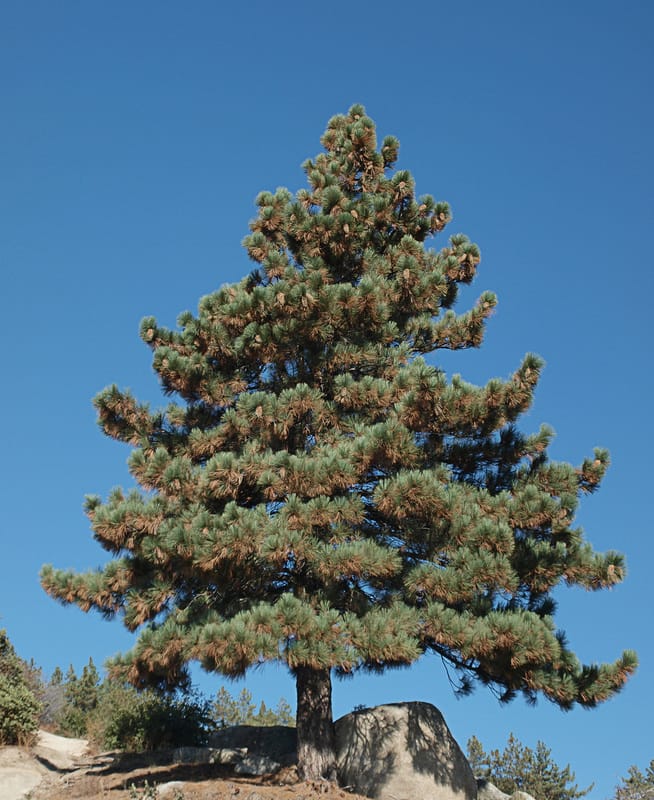 The Coulter Pine (also known as a big-cone pine) is native to the coastal mountains of Southern California. With this tree, the height ranges from 35 to 80 feet tall and typically has a trunk diameter of 2-3 feet. To decipher this tree, look at the leaves. The leaves are needle-like, in bundles of three, and are a dark gray-green color. In today's world, the Coulter Pine is primarily used for wildlife to gather large seeds.
Gray Pine (Pinus Sabiniana)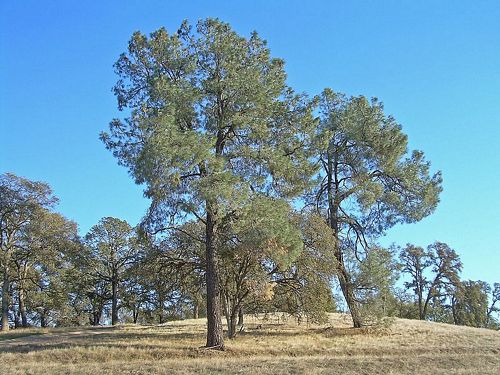 The Gray Pine (also known as the Foothill Pine or Digger Pine) can be seen all throughout California – primarily in the Sierra Nevadas and coastal ranges. Historically, it was harvested by Native Americans. It's a medium-sized tree, typically 35 to 45 feet but has been known to reach 105 feet in height. Here, you'll see the needles are a more pale gray-green and droop down low. Interestingly enough, the male cones grow at the base of shoots on the lower branches, while female cones grow higher.
Jeffrey Pine (Pinus Jeffreyi)
The Jeffrey Pine (also recognized as the Yellow Pine), is a large tree that is mostly seen in California, Nevada, and Oregon. It's typically 80 to 130 feet tall with gray-green needles and dark purple cones. Not to be confused with its relative, the Ponderosa Pine, the Jeffrey Pine features cone scale barbs that points inward – so it actually feels smooth when touching your hand.
Lodgepole Pine (Pinus Contorta)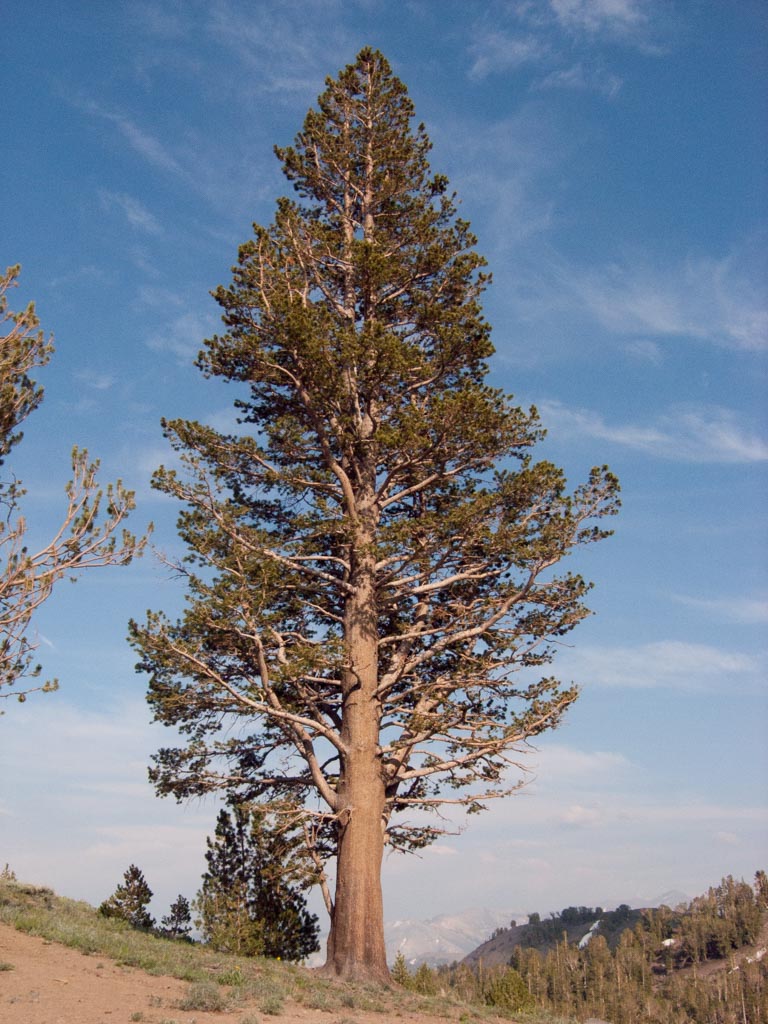 The Lodgepole Pine (also known as the Tamarack Pine or Shore Pine) is typically found in the Sierras and a few other mountain ranges. They can thrive in various elevation levels – from 1,500 feet to 12,000 feet. Additionally, they can also range in size – from 30 feet to 115 feet tall and 40 feet wide. The Lodgepole Pine has two-needles and cones that remain on the tree for many years. Four subspecies of this tree exist.
Monterey Pine (Pinus Radiata)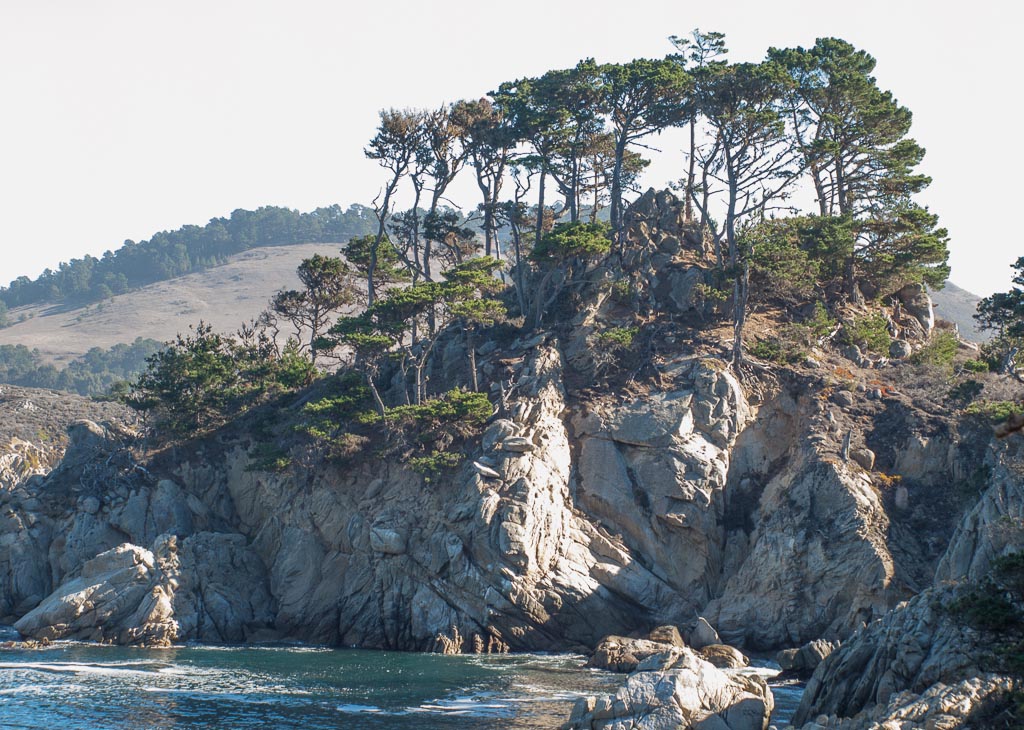 The Monterey Pine grows from about 50 to 100 feet in the wild. This tree is pretty easy to spot – featuring bright green needles with a long and sharp tip. The bark is a dark grey/brown color and the cones remain closed until opened by the heat of a forest fire. You'll really only find this tree in Santa Cruz, the Monterey Peninsula, San Luis Obispo, and the Cedros Islands in Mexico.
Sugar Pine (Pinus Lambertiana)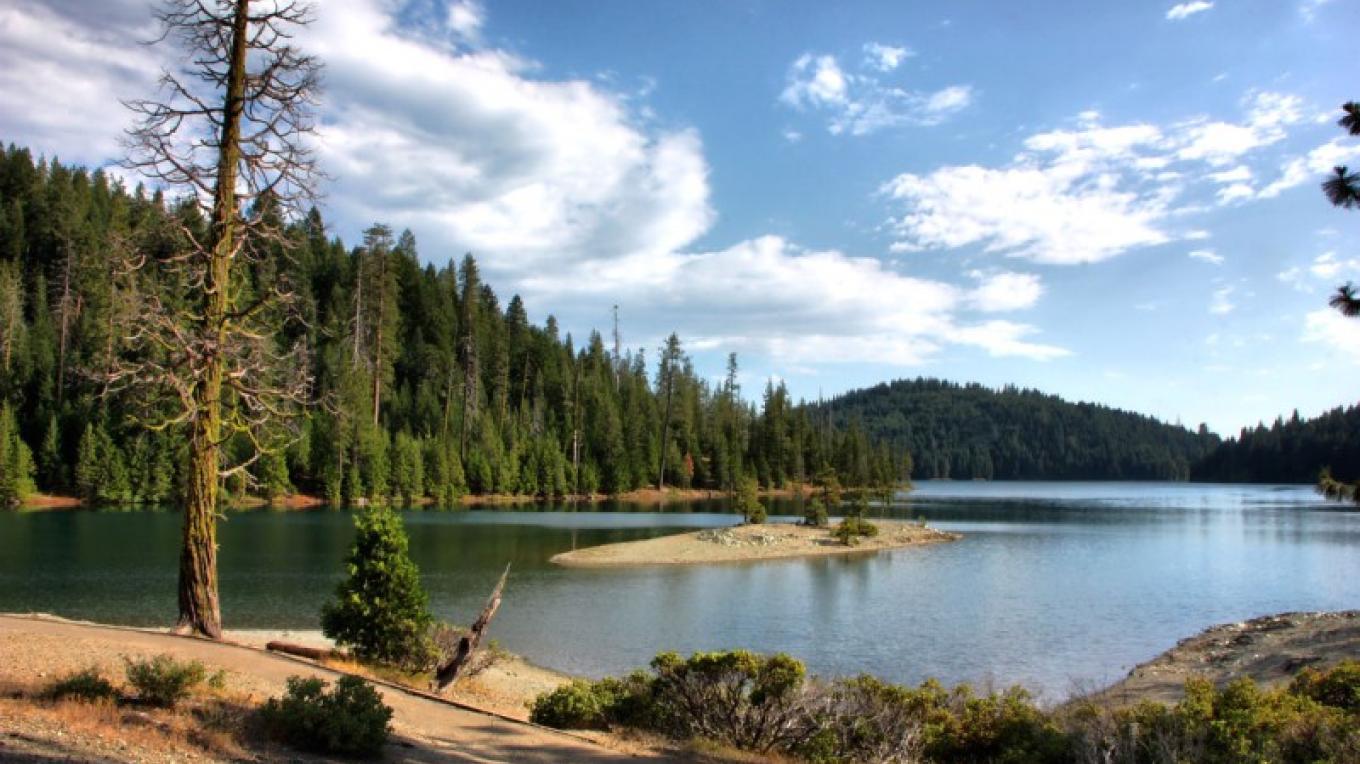 The Sugar Pine tree is the tallest and largest pine tree – and also features the longest cones of any conifer. You'll find this tree in the mountains of the Pacific Coast in North America – typically Southern California and Baja. The Sugar Pine is a member of the White Pine group (Pinus Subgenus Strobus) and features leaves in bundles of five. And get this – the seeds of the sugar pine are actually a type of pine nut – and edible! Yum!
Ponderosa Pine (Pinus Ponderosa)
The Ponderosa Pine (also known as a Jack Pine, Yellow Pine, Bull Pine, Western Red Pine, Western Yellow Pine, or Western Longleaf Pine) is another species of pine that can be found all throughout California (and in other habitats such as Arizona or even Austrian climates). They're extremely tall trees – ranging in height from 50 to 225 feet tall. They have a brown bark that smells like vanilla or butterscotch (if you get close enough to sniff it). They're really breathtaking trees!
Torrey Pine (Pinus Torreyana)
The Torrey Pine is the rarest species of pine tree in the United States and Canada. You'll typically find this endangered species growing along the coast of San Diego County (although it can be planted as an ornamental tree as well). They range in size from about 25 to 100 feet tall with a diameter of 25 to 50 centimeters wide. They feature a pyramidal rounded shape and can be transformed by strong wind gusts into beautiful tree sculptures.
Western White Pine (Pinus Monticola)
The Western White Pine (also known as a Silver Pine and California Mountain Pine) is a tall tree typically growing anywhere from 100 to 160 feet in height. It's similar to the Eastern White Pine (which is a great Christmas tree) but has larger cones and two-needle leaves that stay on the tree for longer. You'll find this tree in the Sierra Nevadas, the Cascade Range, the Coast Range, and the northern Rocky Mountains. In some areas, the tree even extends down to sea level.
Pinyon Pine (Pinus Edulis)
The Pinyon Pine is a single-leaf, one needle pine tree (the only one needle pine tree in the world) native to the United States and Baja, Mexico. While they can reach up to 65 feet tall, they're extremely slow growing. The tree features scaly bark and large cones that open up to a 6 to 9 centimeter diameter. If you want, you can eat the pine nuts that fall off the tree.
In conclusion, if you liked this article on the types of pine trees in California, check out these:
Firstly…
Secondly…