If you're looking to add more aesthetic and curb appeal to your home, then it's about time you looked into putting in a stamped concrete patio! It is great for replicating a more traditional texture – such as flagstone, brick, or even slate – but lasts much longer! So, follow along for the best stamped concrete patio ideas!
If you liked this article, read Fire Pit Ideas for 2022.
Is a stamped concrete patio worth it?
According to Architectural Digest, a stamped concrete patio design into your landscaping design has a plethora of benefits. Let's take a look some of the advantages below:
Believe it or not, stamped concrete design ideas are often more budget-friendly than your traditional natural stone, brick, or pavers. Therefore, if you're looking for a high-end look in our outdoor living space at a much prettier price tag – do stamped concrete!
Stamped concrete patios are known for their ROI for homeowners. Not only can concrete stamping be a cost-effective choice, it also is a great way to amp up the value on your home. By having more curb appeal or value, your home price will go up.
It's known for being extremely long-lasting and durable! Just make sure your contractors seal it, and it will be pretty low-maintenance for the duration of its standing!
Another great advantage to a stamped concrete patio is the amount of options/shapes/textures that you have. You even have so many different colors to choose from – it can get overwhelming!
Is stamped concrete cheaper than pavers?
Typically, a stamped concrete patio design is cheaper than pavers. This is for a variety of reasons, but is mainly because concrete surfaces are more inexpensive than other material options. Additionally, with paver patios – you're often buying each paver individually, which can really add up. It's better on your wallet if you hire a contractor to pour and stamp concrete. Therefore, the stamped concrete cost is cheaper!
How much does a stamped concrete patio design cost?
The cost of your stamped concrete patio is going to depend on a few things. For instance – how big is your patio? What type of design are you hoping to put in? These are all great questions that are going to affect the overall cost. However, the typical cost for a stamped concrete patio is about $5 to $12 per square foot. This includes the concrete slab (typically $2-$7 per square foot). Therefore, Home Guide reports that homeowners typically spend between $3,500 and $8,500 on a stamped concrete patio. So, we recommend talking to a local concrete professional in your area to get a better estimate of cost and build time!
Stamped Concrete Patio Ideas:
#1 – Brick Design
If you want that brick design but don't want to fork over the cash to pay for it, think about incorporating a stamped concrete flooring instead. You can make it look like brick – either traditional or a herringbone design!
#2 – Ashlar Slate Concrete
Ashlar patterns are often made up of random sized pieces of slate and stone, and are added into a patio design. The stamp patterns look very similar to cut stone.
#3 – Flower Design
If you want an overlay that isn't super traditional, check out this stamped concrete pattern! That's one of the great things about a stamped concrete patio – you can get materials in literally any shape or color!
#4 – Cobblestone Design
Here, this patio resembles a very pretty cobblestone design. You can see that it looks like it was laid one-by-one, hand-by-hand – but it really wasn't!
#5 – Traditional Concrete Look
If you want a stamped concrete patio that complements the rest of your house, you may want to go with a more traditional concrete look. Here, I like how they used a mix of different sizes and shapes.
#6 – Fire Pit Design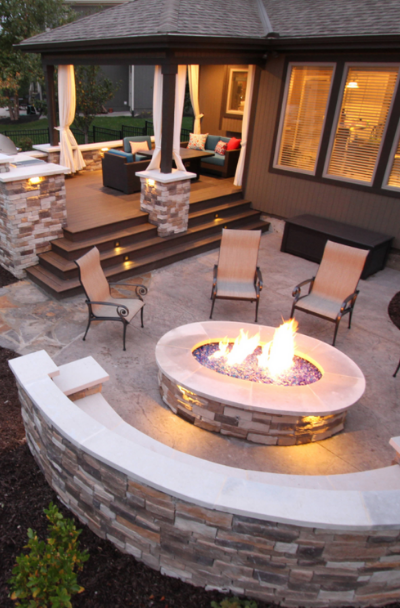 Many people like to incorporate a stamped concrete patio and a fire pit together. It adds to the overall aesthetic and brings in a more romantic ambiance.
#7 – A Mediterranean Look
I love this stamped concrete patio that incorporates the Mediterranean style. It looks really clean, but also cozy and inviting. It gives off the impression that it was made from all natural materials.
#8 – Large Patio Design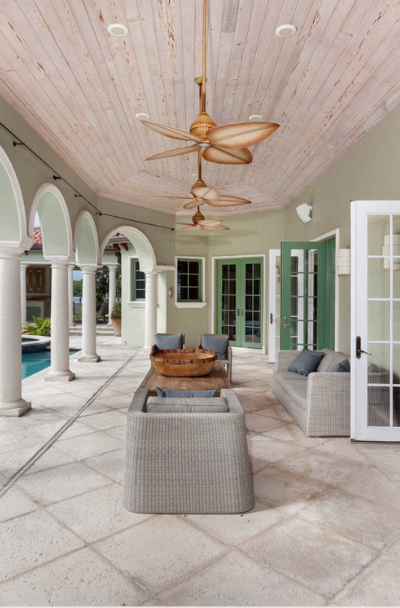 This laid-back patio style really works well. Not only does this area have a large seating area, I like how it's open and airy so you can dine alfresco.
#9 – Hardscape Look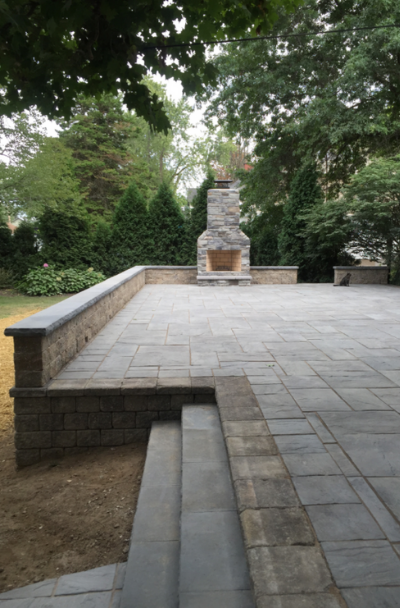 Adding a stamped concrete patio is a great way to add hardscape into your landscaping design. Stained concrete can really give off any look you're wanting, so talk to a local contractor about your specific needs!
#10 – Fiber-Optic Stamped Patio
This fiber-optic stamped patio gives off a light slate pattern that is very inviting. Adding stamped concrete allows your area to be very versatile – as you can see here, they added in a seating area and fireplace!
#11 – Desert Backyard
Check out this gorgeous desert backyard design…the perfect outdoor patio! The pool deck features gorgeous stamped concrete and makes for a great walkway into the pool!
#12 – Modern Stamped Patio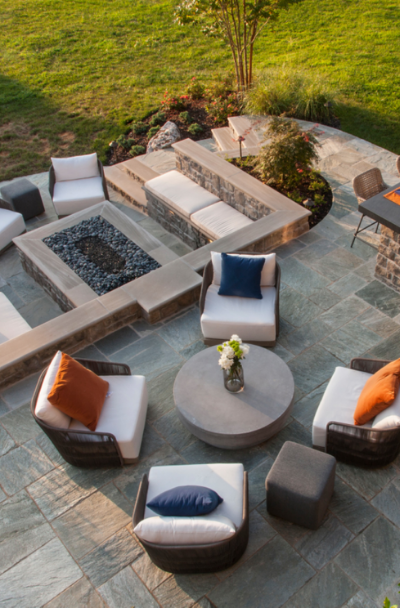 This modern stamped patio did a great job at natural imprinting – creating a well-done backyard patio. It's a very traditional look and also extremely low-maintenance!
#13 – Flagstone Design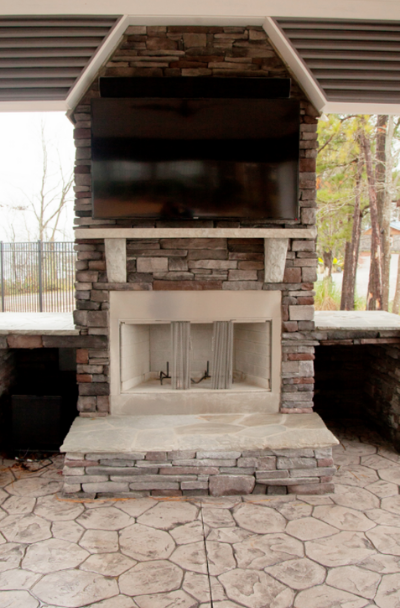 If you want a flagstone stamped patio, check out this design! It's in the early stages of being completed, but still gives you an idea of what it will look like when completed.
#14 – Stamped Concrete Patio & Small Spaces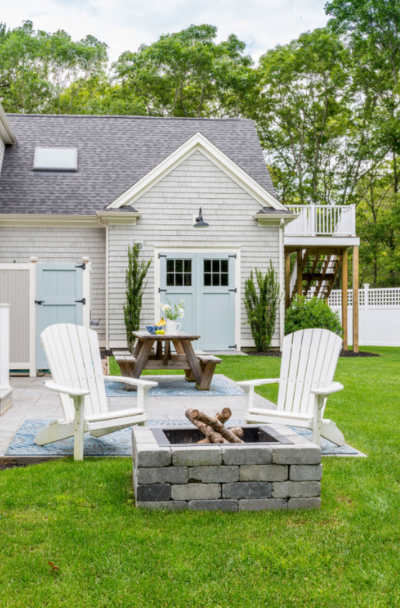 If you have a smaller yard, don't worry – you can still incorporate a stamped concrete patio! Here, the patio leads to the outdoor seating area, providing a warm and inviting atmosphere.
#15 – Traditional Patio Design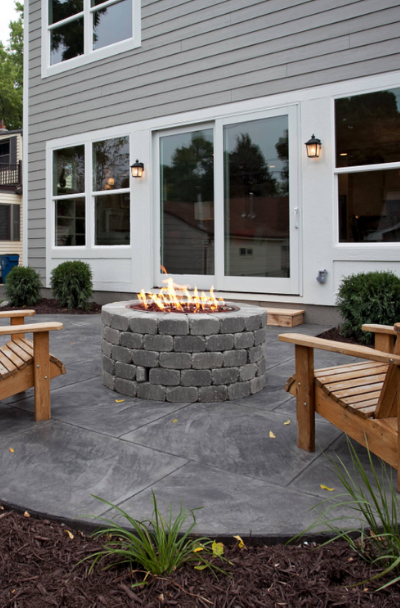 I am loving this traditional stamped concrete patio, complete with a layered concrete block fire pit! Some people may say the two-toned gray washes each other out, but I like the style.
#16 – Pool Patio
If you are worried about how to implement a walkway design going up to your pool, check out this idea! It's a more traditional look, but still feels sleek and sophisticated.
#17 – Wood Plank Stamped Concrete
If you want to mimic the grain and finish of natural wood, here you go! Stamped concrete is a great budget-friendly way to get that exact look.
#18 – Flagstone Paver Look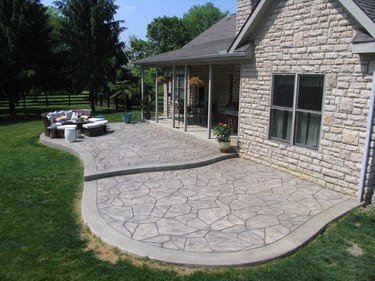 Again, the beauty of stamping concrete is that you can reassemble and put together pieces anyway you want them. You don't need to follow a traditional pattern for it to work!
#19 – Dark Cobblestone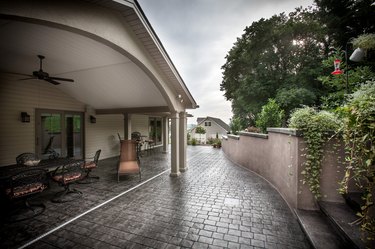 If you don't like the red brick cobblestone look, check out this design – you may like it! It feels very elegant – and is so much less work than putting in and maintaining regular cobblestone!
#20 – Put in a Border Line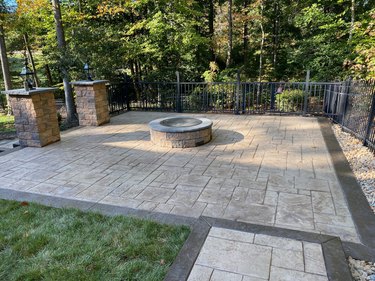 If you want something that captures people's attention, then think about implementing a border line. It's something you'd see in a regular stone patio, so why not try it with stamped concrete?!
If you liked this article on stamped concrete patio ideas, go check out these:
Firstly…
Secondly…