While it is not one of the most low-maintenance plants out there, that doesn't mean that bamboo can't be a great addition to your garden…with some TLC. It's crucial that you do adequate research before determining what type of bamboo plant you want in your landscape design – as they all thrive in a variety of different climates. So, keep reading to learn more about the different types of bamboo plants!
If you liked this article, read Types of Palm Trees or Types of Cherries: Varieties and Flavors.
What are the different types of bamboo plants?
According to Wikipedia, bamboo plants are typically split into two different types of species – running bamboo and clumping bamboo. The names are pretty self-explanatory, but we'll dive into them a bit deeper for you below.
Clumping bamboo usually grows in a big clump of grass, often stationary to exactly where you planted it. Wikipedia reports that clumping bamboo is a slow-grower, because the rhizomes expand the root mass gradually. So, if you're working with a small garden and are trying to find a type of bamboo that isn't going to take over your yard – you want to find types that belong in the clumping bamboo family.
On the other hand, running bamboo tends to take over and spread extremely quickly. Wikipedia reports that with this species, the rhizomes can travel more than 100 feet before sprouting and spread new bamboo shoots throughout your entire yard. You should only get running bamboo if you are equipped with the necessary tools on how to contain it. Often times, people think they can handle it, but it grows very quickly, and can get out of control extremely fast.
What climate does bamboo do best in?
Bamboo can thrive in a variety of different climates, although that does depend on the specific type of bamboo you get. Some types of bamboo are cold-hardy, meaning they can withstand extremely cold temperatures and still thrive. For instance, Black bamboo, Kuma bamboo, Golden Grove, and Chinese Mountain bamboo are all cold-hardy bamboo plants.
However, if you live in a warmer climate or are xeriscaping and want a drought-tolerant type of bamboo, you want to find a plant that is suitable for warmer climates. For example – Chinese Goddess bamboo, Hedge bamboo, Red Margin bamboo, and Golden Golden bamboo are all types that do well in hotter regions.
Different types of bamboo plants:
#1 – Buddha Bamboo
The Buddha Bamboo plant is more like an ornamental plant, and does best in moist soil – typically in container gardens! It features lumpy nodes, like the Buddha's belly – hence its name! It's a non-invasive plant and does best in warm-temperate conditions.
#2 – Guadua Bamboo
The Guadua Bamboo is typically found in Uruguay, although it also frequents Trinidad and Northern Mexico. It can sometimes be invasive as it's considered to be "open clumpers". This means that they do spread more than regular clumping bamboos, but don't spread like runners. Guadua Bamboo does best in low-altitude regions and acts as a great building material in coastal regions.
#3 – Japanese Arrow Bamboo
The Japanese Arrow Bamboo, native to Japan and Korea, is a medium-sized runner. However, it has a more compact growth habitat than most running bamboo varieties, so it does best as a privacy hedge. It's a cold-hardy plant and can live in temperatures as low as 5 degrees Fahrenheit. It also loves the shade and needs frequent watering!
#4 – Giant Japanese Timber Bamboo
The Giant Japanese Timber Bamboo is a clumping, non-invasive species of bamboo. Therefore, it's a great plant for homeowners looking to add some bamboo to their landscaping design. It looks best as a fast-growing barrier or privacy hedge between neighbors and thrives in full sun.
#5 – Dwarf Green Stripe Bamboo
The Dwarf Green Stripe Bamboo is a cold-hardy, ornamental plant. It features really pretty golden/yellow foliage with green stripes that bloom during springtime…that can get up to 7 inches in length! Dwarf greens are known to be low-maintenance and can withstand warm temperatures – as long as they have consistent watering!
#6 – Painted Bamboo
The Painted Bamboo is one of the most cultivated ornamental bamboos, featuring golden-yellow canes that can grow up to 3 inches wide. It's a non-invasive species that homeowners often plant as a hedge or privacy screen. They do best in warmer climates – as they love full sun and moist, well-drained soil!
#7 – Chilean Bamboo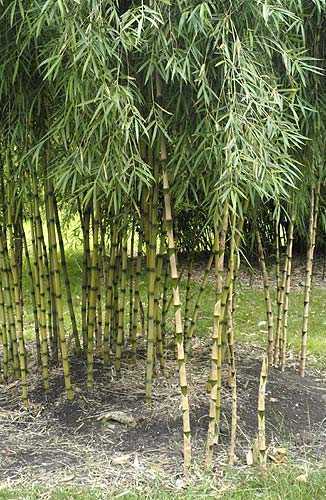 The Chilean Bamboo is native to South America, specifically the Valdivian rainforests and temperate forests of Chile and Argentina. It can grow up to 25 feet tall – and is a clumping type of bamboo. They are frost-resistant, so do best in temperate regions.
#8 – Moso Bamboo
The Moso Bamboo is a temperate species of the Giant Timber Bamboo. It's native to China and Taiwan, and is somewhat invasive, as it can spread aggressively. It typically grows anywhere from 25 to 60 feet and completes its height growth only 35-40 days after shoot emergence. Moreover, it's known to be one of the thickest and strongest types of bamboo, thriving in warm, moist areas where they can grow freely.
#9 – Black Bamboo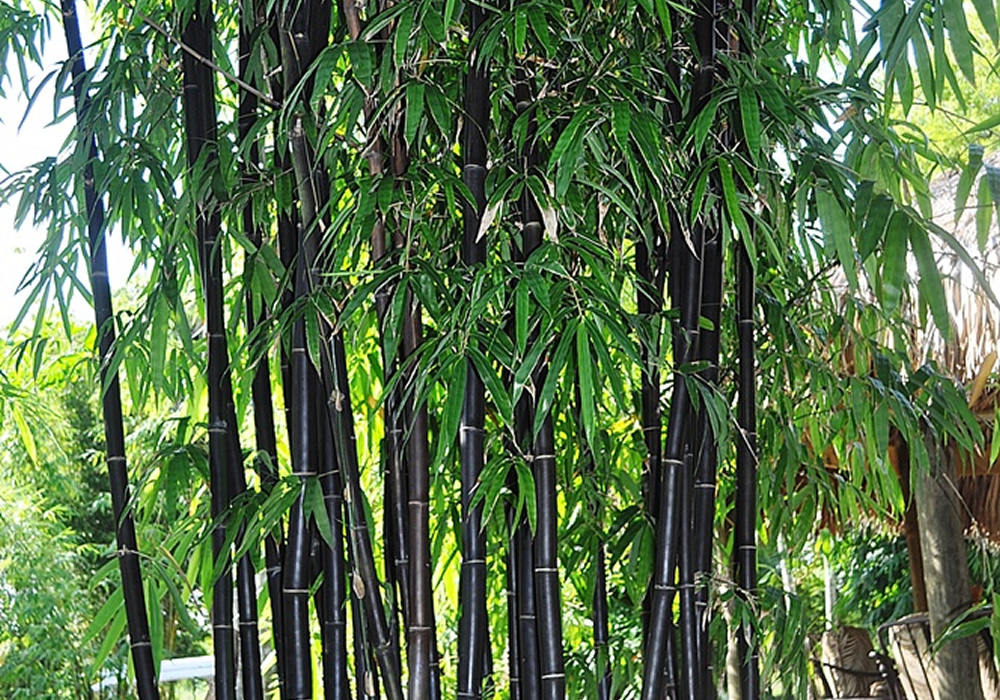 The Black Bamboo is a very unique plant, native to China and Taiwan. It's a runner, extremely invasive, and spreads rapidly through underground rhizomes. However, if you're a homeowner that is prepared to control it, they make great privacy fences or noise barriers. It does best in warmer climates, although it can survive mild subfreezing temperatures if needed (but only for a short amount of time).
#10 – Fishpole Bamboo
The Fishpole Bamboo is one of the most popular bamboo plants in the United States. It's a runner and invasive species, so you want to make sure you keep it carefully contained. They typically reach about 10-20 feet in height, although some have been known to reach about 30 feet. It features stems flattened on one side and a glaucous ring below each node. It does well in both coastal and mountain regions, as long as the soil has good drainage.
#11 – Dragon Head Bamboo
The Dragon Head Bamboo is a fast-growing, clump-forming type of bamboo. You can spot it by its bright green canes and blue-green leaves that are hard to miss. Typically, it grows from about 6-8 feet tall and is a great choice for privacy screens or container gardens. Moreover, the Dragon Head species does best in partial shade with moist soil conditions.
#12 – Blue Bamboo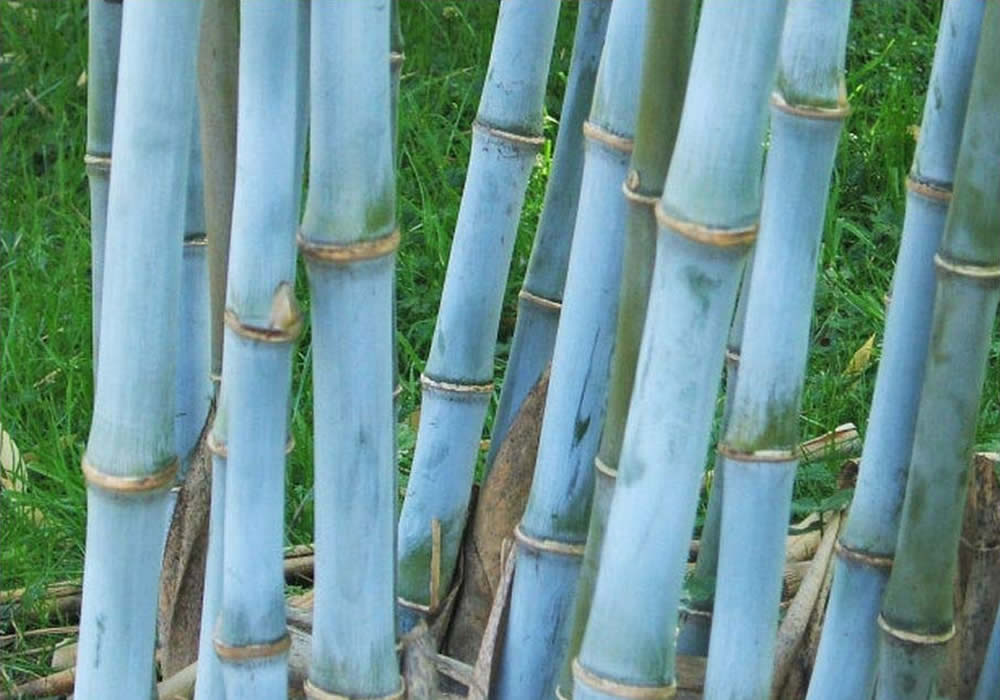 The Blue Bamboo (also known as Barbie Bamboo) is a medium-sized species that is non-invasive, making them a great container plant! They typically grow anywhere from 20 to 25 feet tall, and do best in fertile, moist soil conditions. They can tolerate a variety of different temperatures – they love full sun but are also cold-hardy down to 21 degrees Fahrenheit.
#13 – Umbrella Bamboo
The Umbrella Bamboo features yellow-green canes that are tall and slender. It's a clump-forming type of bamboo that is extremely fast-growing and cold-tolerant. Because it's tough, it is a great choice for colder climates that see snow every year. Additionally, it loves partial shade and does best in fertile, moisture retentive soils.
#14 – Heavenly Bamboo
The Heavenly Bamboo (also known as Gulf Stream Bamboo) is a bushy evergreen shrub that thrives off of a full sun to light shade climate. It's a pretty type of bamboo, producing tiny white flowers and clusters of red berries in the springtime. Because it's fairly easy to maintain and one of the most adaptable plants, it's a popular choice for landscape design.
#15 – Showy Yellow Grove Bamboo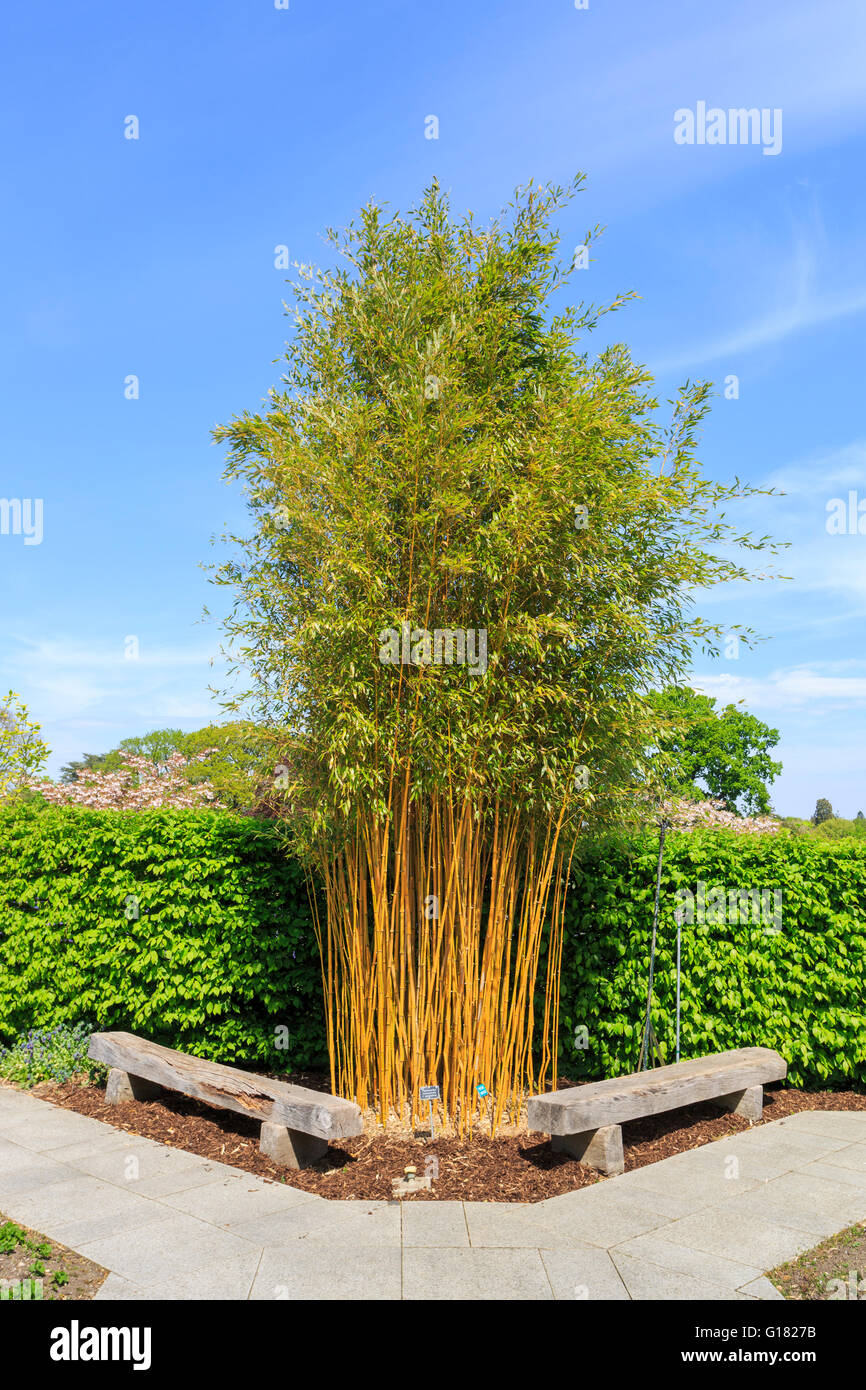 The Showy Yellow Grove Bamboo is a running, fast-spreading species that has tall, upright, yellow canes. As a young bamboo, the plant is a bright yellow, but as it matures the canes turn to a deep golden yellow. It does best in cold or exposed gardens and can be used in landscape design.
#16 – Tortoise Shell Bamboo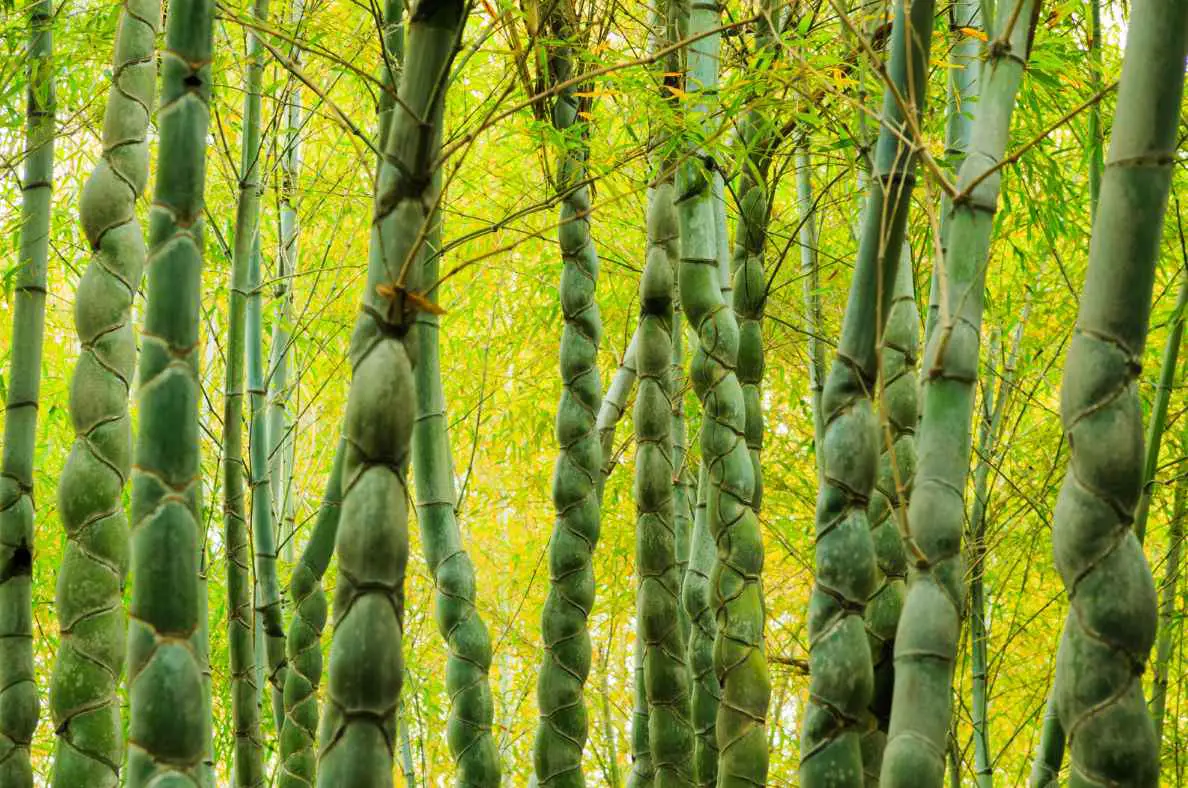 The Tortoise Shell Bamboo is an interesting type of bamboo that resembles that of a tortoise shell. It's extremely tall and thick with internodes that can grow up to 4 inches thick. Typically, Tortoise Shell Bamboo does best in full sun with fertile, hummus-rich, moist soil. It runs freely in warm climates but tends to remain static in colder temperate regions.
#17 – Tiger Bamboo
The Tiger Bamboo features tall, upright canes with spotted green and brown features – almost like a leopard. Traditionally, this bamboo has been used for construction considering its tough wood quality. In Japan, the culms are used for making teahouses. It does best in full sun or partial shade – and can be grown in poor soil but is more likely to become invasive.
#18 – Allgold Bamboo
The Allgold Bamboo is a running bamboo with tall, upright, deep orange-yellow canes. People love to use it as a hedge or privacy screen (it can grow up to 25 feet tall), as it has the ability to brighten up a dull garden. Moreover, while it is a running bamboo, it can be slow-growing and compact in cool climates.
#19 – Green-Glaucous Bamboo
The Green-Glaucous Bamboo is a great choice for a privacy screen or living fence. It grows easily and spreads in dense habitat, which makes it an ideal yard barrier. It features dark green canes that eventually mature to a golden yellow-green color. Green-Glaucous does best in USDA hardiness zone 6-11 and loves well-draining, fertile soil.
#20 – Hedge Bamboo
The Hedge Bamboo is an evergreen bamboo featuring vibrant turquoise canes with a blue-gray powder covering. This type of bamboo typically grows 20-25 feet tall and while it's not an invasive species, it eventually spreads to form a small bamboo orchard, typically 15-20 feet wide. Hedge Bamboo does best in well-draining soil with full sun and is drought-tolerant.
In conclusion, if you liked this article, check out these:
Firstly…
Secondly…