Did you know that there are over 2500 species of palm trees in the world? Palm trees do best in hot, tropical climates – making Florida a great region for them to thrive! If you're curious on the different types of palm trees in Florida – keep reading! We'll go into more detail below.
Or, read Front Yard Landscaping Ideas for Florida right here. Read Drought-Resistant Landscaping Ideas for Montana here.
How many types of palm trees are in Florida?
Whether you're deciding on a landscape design or are just curious, it's really useful to know what Florida native species are out there. Believe it or not, there are 12 different species of palm trees native to Florida. Each specific palm tree grows best in different habitats – so you'll see different types scattered throughout the state.
How do I identify my palm tree?
So, you find yourself looking at a palm tree – but you aren't quite sure what species it is, right? Well, there are a few different tricks you can use to decipher what type of palm tree you're looking at.
For starters, check out the leaves on the palm tree. We'll go into more detail on specific types below – but typically, palm trees can be spotted by their distinctive leaf shape.
In most cases, palm trees are going to have one of two different types of leaves. Pinnate leaves are feather-like leaves while palmate leaves are fan-like fronds.
If you still can't tell what type of palm tree you're looking at – look at the trunk shape. Some trees have long, slender trunks while others have larger, thick trunks clustered together.
What types of palm trees are in Florida?
Palm trees thrive in sandy soil where the seasons are pretty straightforward. They tend to do best in a hot summer climate and a cool, dry winter climate. Therefore, you can only image why there are so many palm trees throughout Florida!
Now, let's go over the some different types of palm trees in Florida! Whether you're just curious or are trying to construct a drought-tolerant yard – this is great information to know!
Cabbage Palm (Sabal Palmetto)
The Cabbage Palm grows throughout the state, typically found in pine woodlands, hammocks, and on river banks. It's the state tree of Florida (as well as South Carolina) and features curved, fan-shaped palm leaves with blades 3 to 4 feet long. Interestingly enough, the Cabbage Palm is susceptible to the Lethal Bronzing Disease (LBD) that is fatal in palm trees, once they acquire symptoms. When affected, you can see the tree become bronze and rough due to old leaves.
Dwarf Palmetto (Sabal Minor)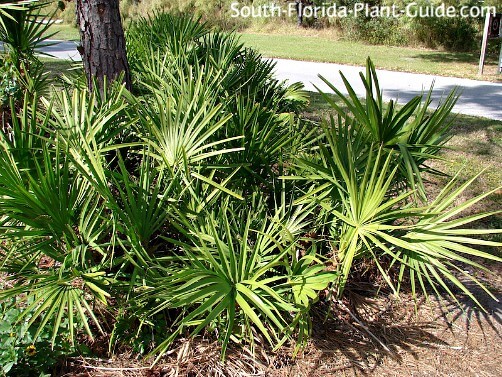 The Dwarf Palmetto has large fan-shaped leaves, a short stubby trunk, and smooth branches. It's a small palm tree – typically growing no larger than 3 feet tall. It can also survive cold temperatures (it's a cold hardy palm) – up to 0 degrees Fahrenheit!
Needle Palm (Rhapidophyllum Hystrix)
If you're thinking of a large, elegant palm tree that sways in the wind – the Needle Palm just isn't it. It's a short, bushy palm that can be spotted by its thick trunk and fan-shaped, clumping fonds. It's a tree happy in shade or full sun – which makes it great for regions all over Florida.
Saw Palmetto (Serenoa Repens)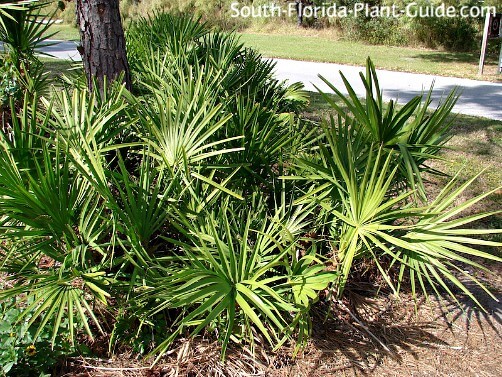 The Saw Palmetto is a palm species that features fan-like leaves, sharp branches, and yellow-whiteish flowers. It grows wild in Florida's natural areas, but can also be used for home landscaping throughout the state. It's highly salt-tolerant – which makes it great for coastal gardening!
Coconut Palm (Cocos Nucifera)
The Coconut Palm is extremely common throughout the whole state of Florida. It's actually the most important palm – since it grows the most used nut in the world! It features a single trunk with pinnate leaves growing at the top – creating an arching crown. The Coconut Palm can be found in Southern Florida – including all the way down to Key West.
Canary Island Date Palm (Phoenix Canariensis)
The Canary Island Date Palm (a mouthful – I know!) is a full-sun loving palm tree in South Florida. It's a large tree that can grow up to 65 feet high. If you aren't sure if what you're looking at is a Canary Island Date Palm – look at the trunk. If it is, it will have a straight, bronze-colored trunk with a large bulge at the crownshaft.
Bismarck Palm (Bismarckia Nobilis)
The Bismarck Palm is a gorgeous, large tree – part of its name is actually derived from the word "noble". Due to genetics, it has a silver color that differs from palm tree to palm tree. It's a slow-growing palm with fronds that can reach up to 10 feet in diameter.
Sylvester Palm (Phoenix Sylvestris)
The Sylvester Palm (also known as a Silver Date Palm) is a popular tree seen in many Florida landscapes. They range in size from about 10 feet to 50 feet – so they can also look great in the yard. Moreover, the Sylvester Palm has sharp, green leaves, a rough trunk, and a bushy crown!
Alexander Palm Tree (Ptychosperma Elegans)
The Alexander Palm is a medium-sized tree with self-cleaning thin stems! Depending on its environment, it can range from 20 to 40 feet in height. If you want to spot this tree – look for arched pinnate leaves and red fruits falling from the tree!
Pygmy Date Palm (Phoenix Roebelenii)
If you're looking for an indoor palm tree – check out a Pygmy Date Palm! Because of their fairly small size (they rarely reach over 6 feet) and their slow-growing status – they make great houseplants! Plus, they only need partial shade – so they're pretty low-maintenance and easy to take care of.
Florida Royal Palm (Roystonea Regia)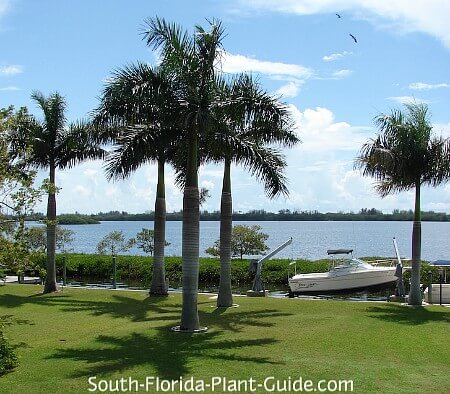 The Florida Royal Palm is a fast-growing palm tree that is also a Florida native palm! They feature a thick, smooth trunk with pinnate palm leaves growing up to 13 feet long. If you're looking to see a really large Florida palm tree – then you need to check out the Royal Palm.
Queen Palm (Syagrus Romanzoffiana)
The Queen Palm is great for landscaping – featuring long, pinnate leaf bases and glossy, bright green leaves. It's a really fast-growing tree that can quickly reach a height of 50 feet – yowza!
Chinese Windmill Palm (Trachycarpus Fortunei)
The Chinese Windmill Palm (also known as a Chinese Fan Palm) grows all over the world – in Canada, Scotland, as well as North and Central Florida. They're cold-hardy – meaning they can withstand really chilly temperatures. Interestingly enough, they're super adaptable, so they can be grown indoors or outside.
Other Palm Trees in Florida:
If you didn't find information about the specific palm tree you were looking for – check these out!
Thatch Palm
Fishtail Palm
Everglades Palm
Pindo Palm
Bottle Palm
Foxtail Palm
In conclusion, if you liked this article, check out these:
Firstly…
Secondly…