If you're thinking about adding a palm tree to your landscape design – then it's essential you know about the different kinds of palm trees. Do you have a low-maintenance/drought-tolerant yard, or are you looking for a fast-growing tree that will thrive in Los Angeles? There are so many different species of palm trees out there that it can get confusing! So, keep reading to learn about the different types of palm trees in California!
Or, read about the Types of Pine Trees in California here or Front Yard Landscaping Ideas for 2022. If you want to learn about the Types of Palm Trees in Arizona click here.
What kind of palm tree is in California?
Interestingly enough, there is only one California native palm tree. Yup – you guessed it – it's the California Fan Palm (Washingtonia Filifera). It originated from Southern California and is now grown in subtropical climates throughout the world.
They're really large palm trees – typically reaching about 60 feet in height and over 3 feet in trunk diameter. They feature gray-green, fan-shaped leaves that span 3 to 6 feet across. Just imagine that – so huge!
What type of palm trees grow in Los Angeles?
As we discussed above, the California Fan Palm is the only native palm tree species in California. However, that doesn't mean you can't find a non-native palm to put in your yard. Palm trees have been popular in Los Angeles since the 1930s, when they were planted at 100 foot intervals in Pasadena. Soon after, other areas of the city then began to utilize palm trees – specifically on Washington Boulevard in Venice.
So, are you ready to find a palm tree for your LA yard? Because of Los Angeles' Mediterranean climate (mild to hot year-round), there are a few palm trees that would do better than others. Here are some palm trees that would thrive in that dry summer/winter rainy season climate:
Mexican Fan Palm (Washingtonia Robusta)
Canary Island Date Palm (Phoenix Canariensis)
California Fan Palm (Washingtonia Filifera)
European Fan Palm (Chamaerops Humilis)
Coconut Palm (Cocos Nucifera)
Sago Palm (Cycas Revoluta)
Queen Palm (Syagrus Romanzoffiana)
What types of palm trees are in California?
Let's take a look at the types of palm trees in California. Whether you're simply wondering what kind of palm trees are out there, or are wanting to add some to your yard (or even inside) – we've got all the information you need below! We've included both their scientific and common name.
Classical King Palm (Archontophoenix Cunninghamiana)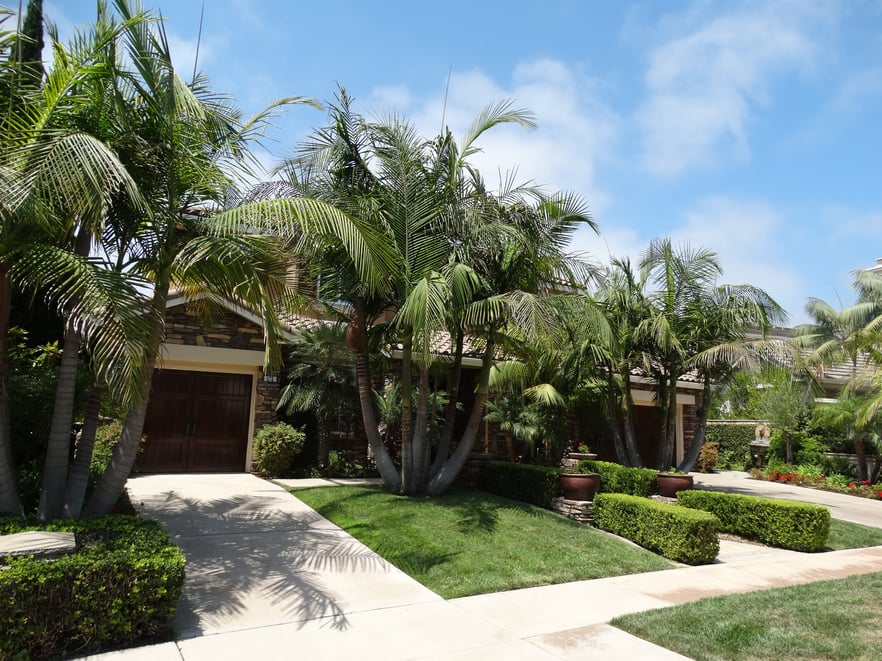 The Classical King Palm is a fast-growing tree with pinnate leaves and a gray trunk. Typically, they grow about 50 feet tall and have a large trunk – about 18 inches thick. The King Palm features self-pruning fronds and does best in partial or full sun.
Mediterranean Fan Palm (Chamaerops Humilis)
The Mediterranean Fan Palm is a small palm tree – their mature height usually reaches about 10 to 15 feet. They're one of the hardiest palm trees and can tolerate temperatures from 10 degrees Fahrenheit up to 115 degrees Fahrenheit. They feature a trunk that's typically about 12 inches thick, with pale green leaves that boast pointed spines.
Spindle Palm (Hyophorbe Verschaffeltii)
The Spindle Palm is a mid-sized tree that does best in tropical regions such as Hawaii, Florida, and of course – California! They're pretty adaptable and can be grown up to 25 feet outdoors, or up to 6 feet as a houseplant. They feature individual, dark green leaflets and a ringed tree trunk. Personally, I think they make a great indoor palm due to their beautiful green foliage.
Foxtail Palm (Wodyetia Bifurcata)
The Foxtail Palm is a very typical "California" palm tree, and can fit in just about any yard. They have a fast growth rate, but are a mid-sized tree so they won't get too large (they rarely grow over 30 feet tall). Additionally, these types of palm trees in California are pretty low-maintenance – they love the sun and they are a self-cleaning palm!
Bottle Palm (Hyophorbe Lagenicaulis)
The Bottle Palm is a smaller tree that features a reddish crownshaft and long, graceful fronds. If you're looking for an accent palm – then you definitely should check out the Bottle Palm. They're native to the Mascarene Islands but can be found in regions such as California, Texas, Arizona, and even Mexico.
Pygmy Date Palm (Phoenix Roebelenii)
The Pygmy Date Palm can be spotted by their small stature – they rarely grow over 10 feet tall! Because of their small size, they're perfect for large pots, around pools – really anywhere in your yard! They're known to be a slow-growing palm, so it will take years for them to reach their full potential. However, that doesn't mean they're any less beautiful at a young age!
Pindo Palm (Butia Capitata)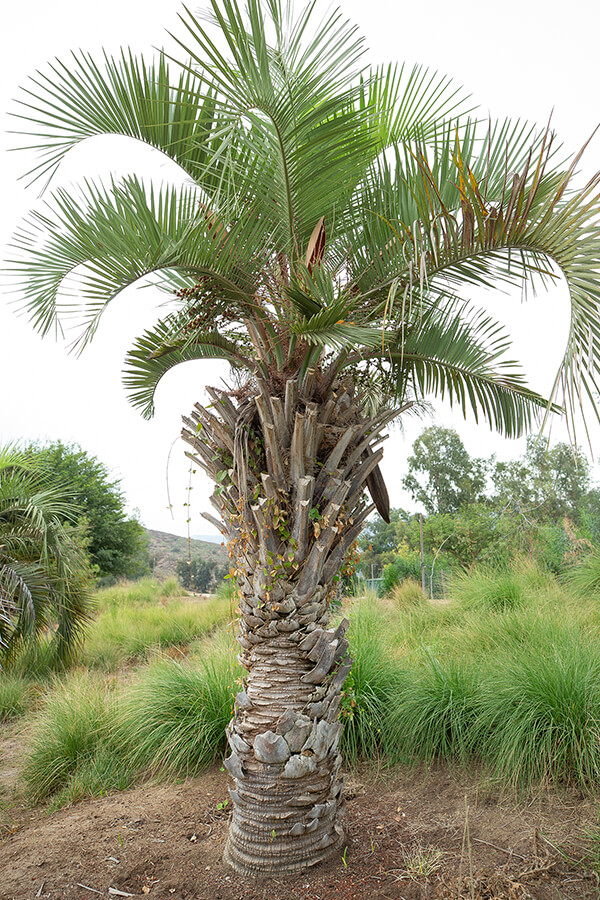 The Pindo Palm (also known as a Jelly Palm) hails from Brazil. They typically grow anywhere from 20 to 35 feet in height and 10 to 15 feet in width. If you're looking for a low-maintenance palm – then this is it. The Pindo Palm is definitely a cold-hardy palm and can survive temperatures down to 12 degrees Fahrenheit. However, one drawback is that they do drop a lot of fruit, and that can bother some people.
Windmill Palm (Trachycarpus Fortunei)
The Windmill Palm typically grows anywhere from 20 to 40 feet tall. They feature fan-shaped, dark green leaves that can span up to 3 feet wide. They're also known to be slow-growers, typically gaining less than a foot each year. Therefore, that makes them a great indoor houseplant or perfect for your front yard!
Areca Palm (Dypsis Lutescens)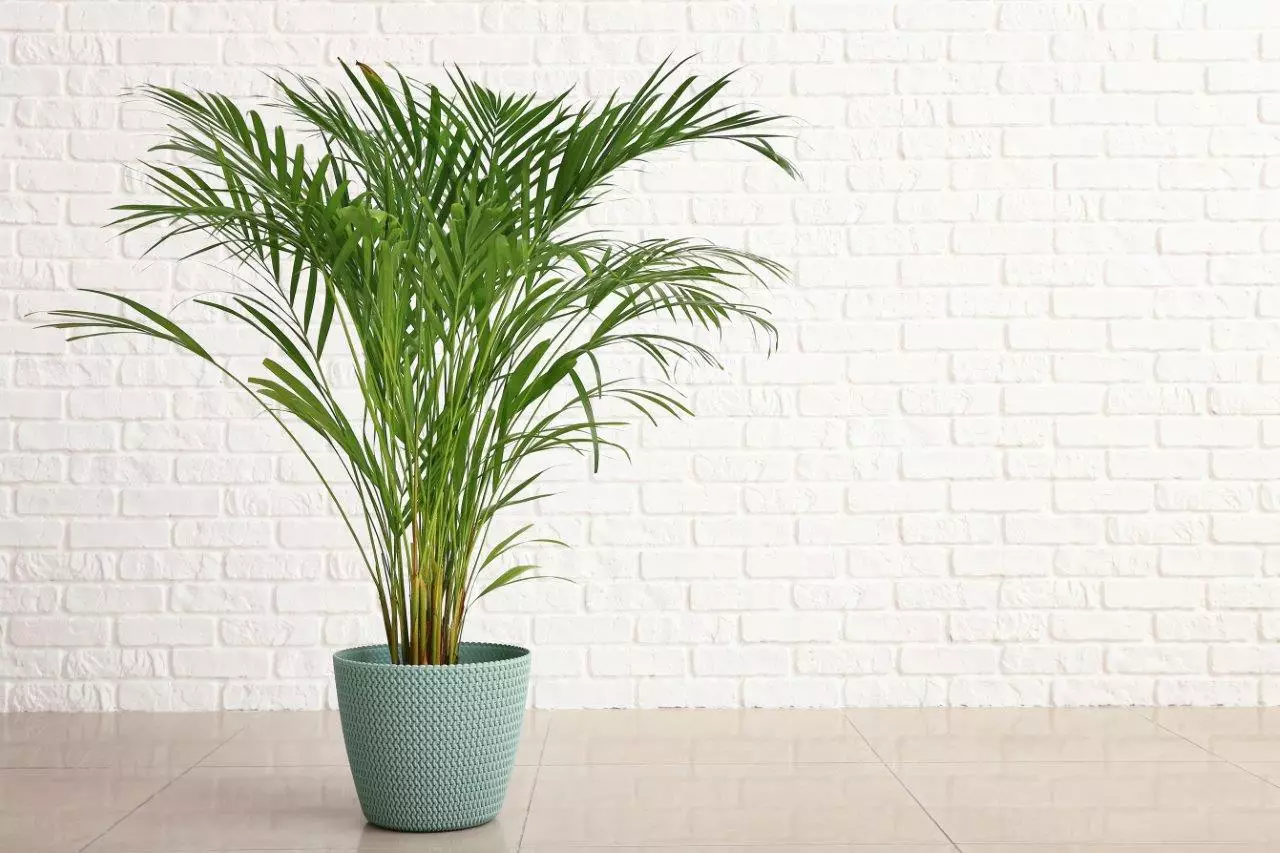 The Areca Palm has a slow to moderate growth rate and typically does best in full sun. They're known to grow to about 30 feet tall outdoors, and around 8 feet tall indoors. Native to Madagascar, these palms do best when in moist, well-drained soil as well as in partial to full sun (as we mentioned earlier).
Kentia Palm (Howea Forsteriana)
The Kentia Palm is a really gorgeous plant that can be grown to full height outdoors, or as a floor plant indoors. They feature fan-like palm fronds that really take the plant's elegance to the next level. It takes a little bit to get a Kentia Palm established, but once it is – they're extremely low-maintenance. If they're indoors – they can be fed with a controlled release fertilizer (although be careful not to over fertilize as the leaves can brown and die).
If you liked this article, check out these:
Firstly…
Secondly…