Raised garden beds are a great addition to your landscape design, especially if you have enough space in your yard to go all out! However, sometimes you can't afford over-the-top landscaping and need to find some cheap DIY ideas to amp up your curb appeal. If that is the case, keep reading for our favorite inexpensive raised garden bed ideas!
If you liked this article, read Types of Grass for Landscaping.
What is a raised garden bed?
According to Wikipedia, raised-bed gardening is a form of gardening where the soil is raised above ground level. Typically, the soil is also enclosed in some way. These types of beds use the principles and methods of permaculture, which can be effective to control erosion as well as recycle and control water and nutrients.
What is the cheapest way to make raised beds?
Want to remodel your landscaping but don't have a bunch of cash to get it done? Don't let that stop you – there are plenty of ways to put in a DIY raised garden bed! Let's take a look at the best options that you can incorporate into your own garden…on a budget!
Use wooden crates or pallets for your DIY project! If you have them laying around – great – repurpose them into raised planter boxes. However, if you can't find any – you can buy them for no more than $10 at Home Depot or even on Etsy.
Concrete bricks or cinder blocks are another great easy DIY project and really inexpensive. Again, some people have these materials laying around, but if you don't – you can find them for cheap at a local hardware store. Or, look on Facebook Marketplace or Craigslist. I've had a lot of luck finding used materials that I can repurpose there.
If your climate allows for it, try hay bales or straw bales! Not everyone loves the mess that they can make (they aren't the most low-maintenance idea), but they definitely give a certain front yard look.
If you want to create a container garden, try finding some old tubs or plain containers. They're a great choice for planting a vegetable garden or herb garden. Interestingly enough, potatoes grow very well in container gardens!
What do I put on the bottom of an elevated raised garden bed?
It's up to you to decide what materials you want to put on the bottom of your raised garden bed. However, it also depends on what you are planting – are you growing vegetables such as cucumber and tomatoes? Or, are you incorporating perennials or other flowers into your garden? What you're actually growing will affect the materials you want to use. However, here are some general materials you could use:
Straw
Grass clippings
Wood chips
Leaves
Compost
Potting soil
Inexpensive Raised Garden Bed Ideas:
#1 – Steel Bin Idea
Not only are steel bins cheap and easy to come by, they also look really great! They're just enough rustic mixed with a contemporary, polished look that they would do great in any yard.
#2 – Use 2x4s
It's really easy to go to your local hardware store and buy some cheap 2x4s. Figure out how high you want your raised bed to be, and buy enough so that you can stack them on top of each other – as seen here.
#3 – Raised Garden Bed for Small Space
If you're dealing with limited space, don't worry. Repurpose some old wood and find a DIY tutorial online to make a small raised box. It's really simple (even if you're a DIY beginner) – you just need to drill a few nails into the wood and TADA!
#4 – Use Old Planters
Do you have some rustic, funky-looking old planters laying around your yard? If so, dust 'em off, put some topsoil in them, and plant some veggies! I like heavy planters because they can withstand a lot of weather changes.
#5 – Repurpose Old Shelves
Who said your inexpensive raised garden bed ideas needed to be boring? Here, you can see that they used an old shelf and cut circular shapes into it, where they put in planters. This is a great way to maximize space and also create drainage holes at the same time.
#6 – Put in a Bathtub
Who said that you couldn't use old bathtubs as a raised garden bed?! Chances are you probably don't have any lying around, but don't let that stop you. Go look at your local repurpose store and see if they have any lying around. If they do, put some ground material down and get started on your raised bed vegetable garden!
#7 – Pallets for a Small Space
We discussed above how wooden pallets are probably the cheapest option to create raised garden beds. However, they can sometimes take up a ton of space. If you have a small backyard, hang the pallets like this – so you have a vertical garden.
#8 – Tiered Garden Design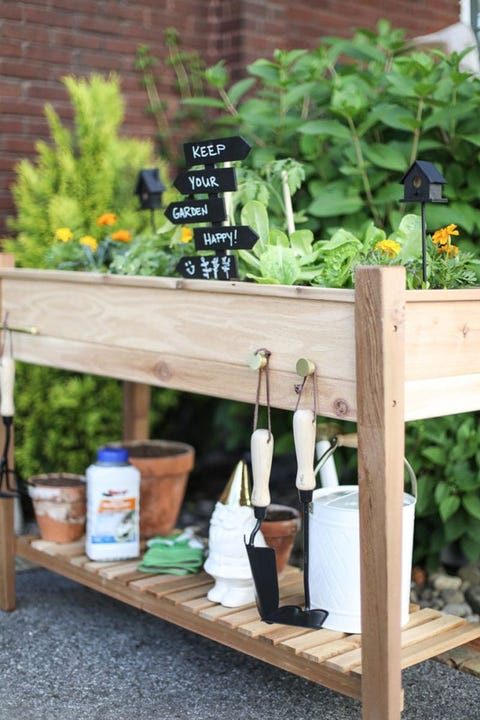 Implementing a tiered garden design is a great way to maximize all of your space! Sometimes the amount of planters can become overwhelming, so having a design like this is also a great way to keep your yard organized.
#9 – Repurpose Wood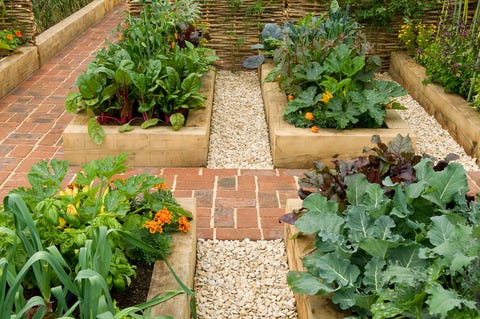 We've said it time and time again – use repurposed wood! It's a great budget-friendly option that can make your yard look really put together. I love how this garden is going for that symmetrical look – and all of the garden beds look similar.
#10 – Incorporate a Wooden Ladder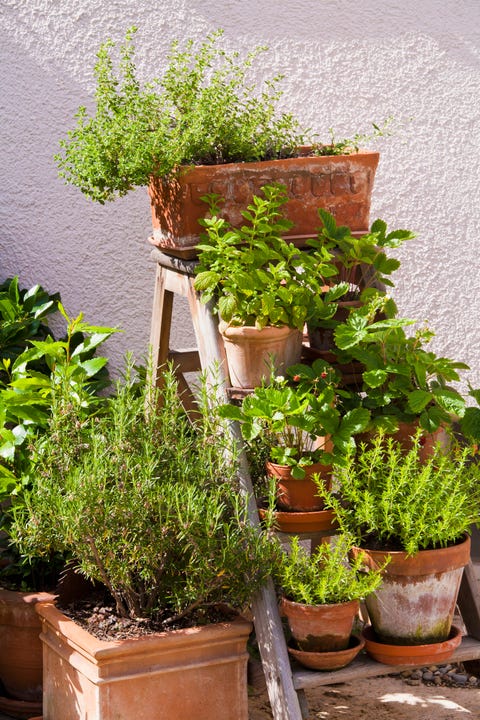 How cute is this DIY raised garden bed idea? Use a small old wooden ladder (or a large one, if you can find it) and plant some potted greenery! Not only is it an inexpensive idea, it looks really cute.
#11 – Paint Wood Pallets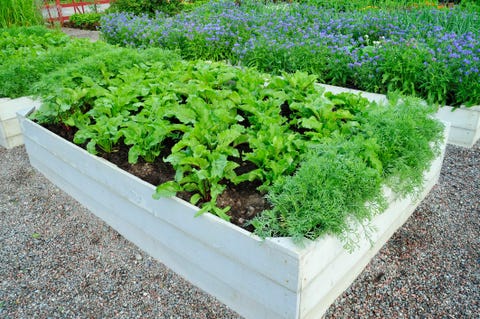 If you aren't loving the basic wooden look, then switch it up a bit! Go to your local hardware store, grab a can of paint and a paintbrush, and repaint the pallet! It's a great way to add a pop of color.
#12 – Use Clay Pots
For small microgreens, you can buy clay pots at your local hardware store for around $1-2! Just put some topsoil in there, plant the microgreens and you'll be good to go!
#13 – Garden Trellis
Again, if you're dealing with a small space, incorporating a garden trellis as a raised garden bed may be the way to go. It adds character to your yard, and also is really useful for growing veggies such as tomatoes or even pretty sunflowers!
#14 – Repurpose Old Tubs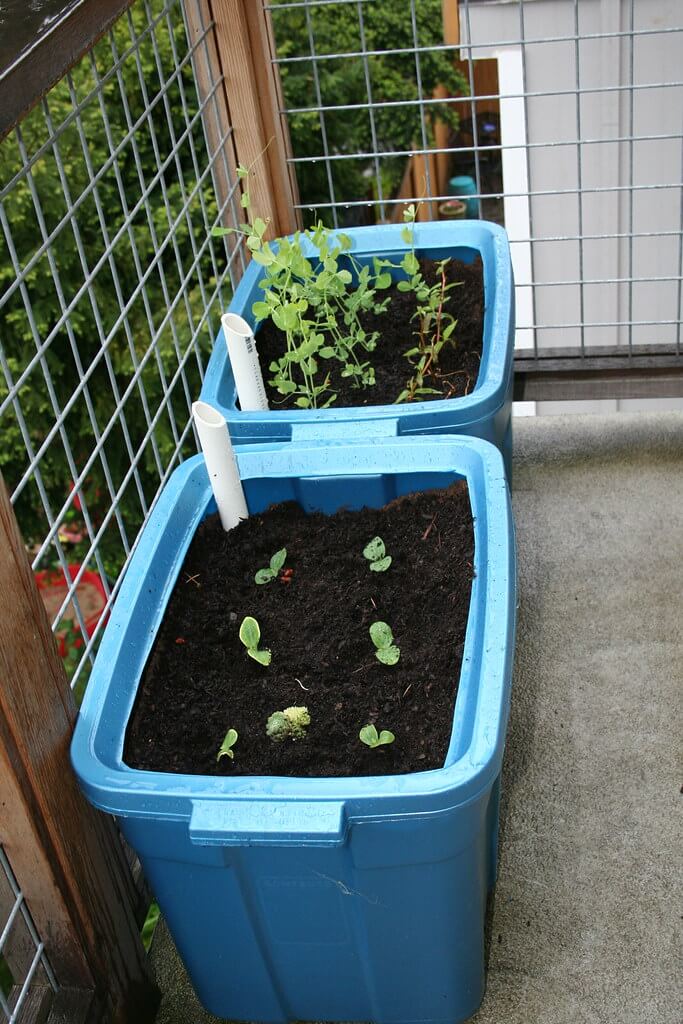 Oh, she doesn't mean old plastic tubs…right? Yup, you bet I do! Believe it or not, old plastic tubs work just as well as concrete blocks or troughs. And, they're great for functionality – use them to store your items and when you're done with them – use them as a raised planter!
#15 – Raised Pallet Garden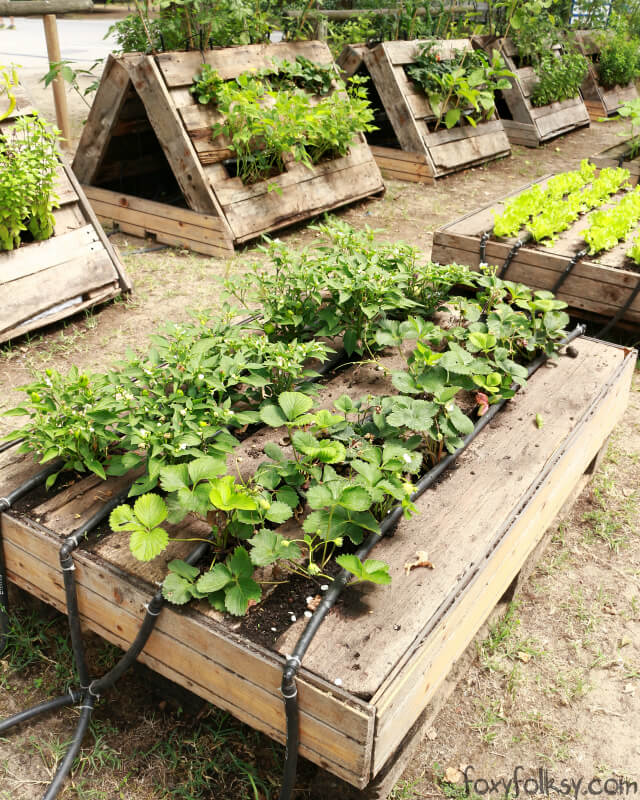 Who said that you needed to use rectangular wooden pallets for your garden? See if you can find triangle ones – or really any funky shape. It definitely adds a bit of character and fun to your garden design!
#16 – Cinder Block Bed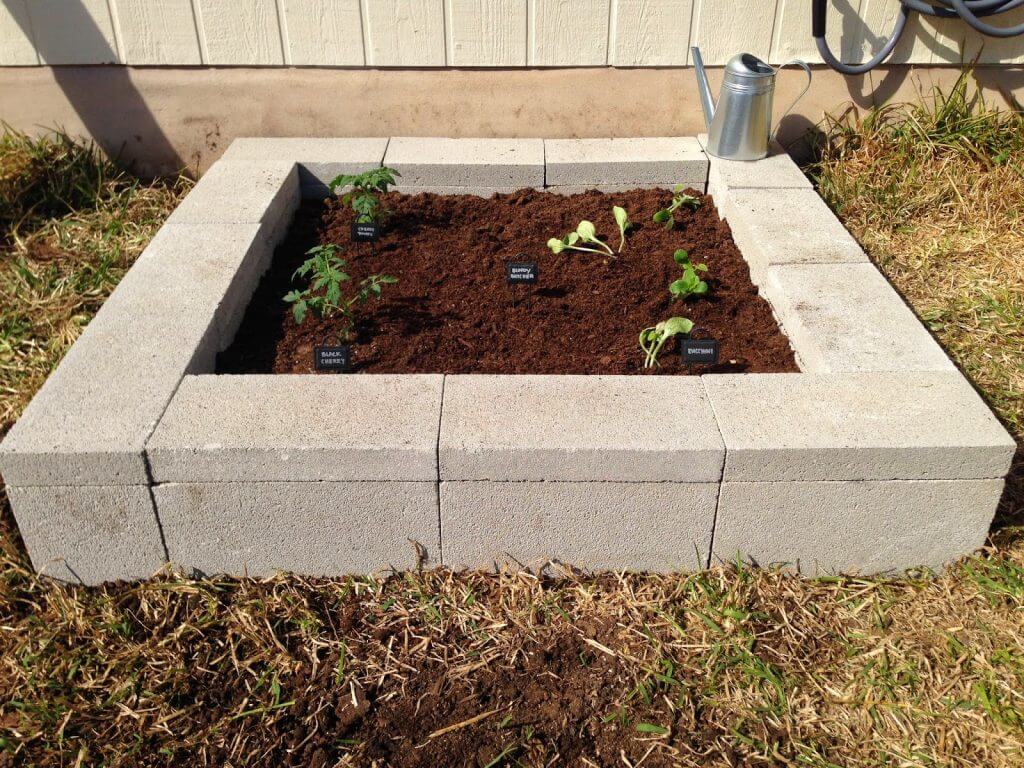 Most people have at least a few cinder blocks laying around the house. If you don't you can buy them for pretty cheap from your local hardware store. Literally just stack them on top of each other and get to planting…it's that easy.
#17 – Corner Raised Garden Bed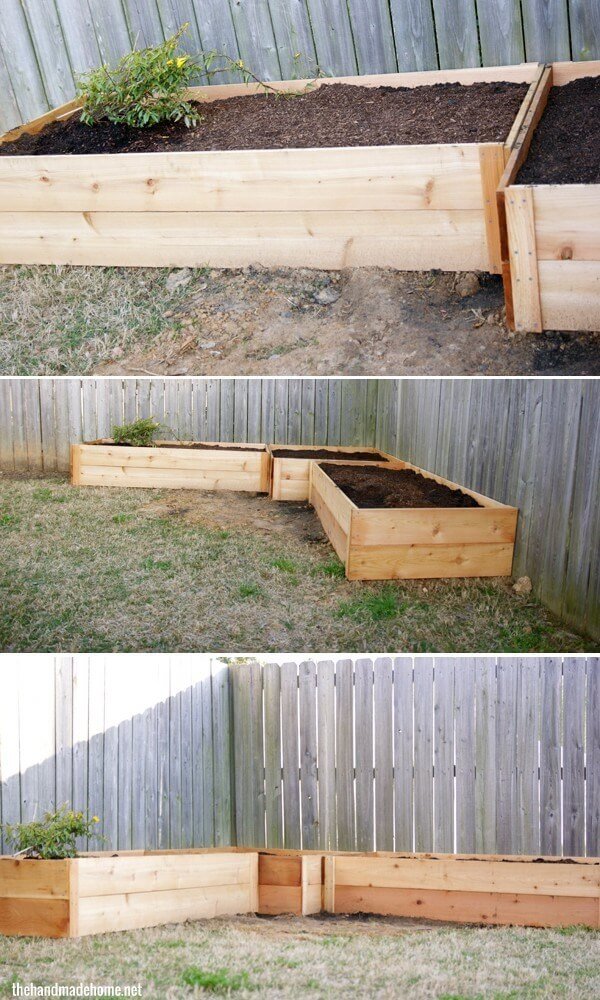 If you're dealing with a small space, try playing tetris with your planters and position them in a corner. Believe it or not, it will also make your yard look more organized and put together.
#18 – Fabric Planters
If you want more of a casual garden look, think about putting some fabric planters in. This is a great project for a beginner – because it's super easy and quick to execute.
#19 – Portable Beds
This is genius! If you anticipate moving around the garden a lot and shuffling some things around, put your planters on wheels! Then, you can easily move them back and forth – and it's less strenuous for yourself! Definitely one of our favorite inexpensive raised garden bed ideas!
#20 – Porch Tiered Beds
We already had a tiered bed garden example above, but this one is a bit smaller. It would look great anywhere in your yard – from the backyard to even the front porch.
In conclusion, if you liked this article on raised garden bed ideas, check out these:
Firstly…
Secondly…