Have you been wanting to get a low-maintenance houseplant, but are feeling overwhelmed at how many cactus species there are? Then you've definitely come to the right place! In this article, we're going to go over the different types of cactus plants and all they have to offer.
Read Small Front Yard Landscaping Ideas on a Budget.
What are the 10 most popular cactus?
Are you wondering the most popular types of cacti in the world? We're going to go over the 10 most popular plants right here – and then we'll go into further detail down below. On a side note, don't you just love how creative the names of cacti are?
Moon Cactus
Easter Cactus
Old Lady Cactus
Bunny Ear Cactus
Fairy Castle Cactus
Blue Columnar Cactus
Star Cactus
Saguaro Cactus
Barrel Cactus
How do I know what kind of cactus I have?
The easiest way to decipher what type of cactus you have is to take a look at the leaves. Typically, your cactus will either have a spiky spine with leaves that are needle-like and sharp, or it will have a non-spiny spine with soft edges.
Interestingly enough, the spiny cacti used to have leaves – but over time, they grew spiky spines. Spiny cacti are typically desert-living cacti, so that's how they learned to adapt and survive in hot, dry climates. If you thought a cactus didn't have defense mechanisms – then think again! Life can get rough out there living as a desert plant.
If you're still not quite sure what type of cactus you have, then look at the shape and coloration. For example, if you see a white spine, then chances are you have a Barrel Cactus. If you have a cactus that is yellow – you may just have a Dwarf Saguaro Cactus.
What is the most common type of cactus?
Now it's time for us to take a look at the different types of cactus plants! We've included both the scientific and common name of each succulent.
Moon Cactus (Gymnocalycium Mihanovichii)
The Moon Cactus (also known as the Hibotan Cactus or Ruby Ball Cactus) hails from the deserts of South America. They're really easy to recognize because of their spherical shape and vibrant colors. If you see a cactus with long thorns sticking straight up – then you're looking at a Moon Cactus. Moreover, they can't photosynthesize and therefore do not produce chlorophyll. So, if you plan on making this species an indoor cactus, make sure it's grafted onto rootstock.
Easter Cactus (Rhipsalideae Gaertneri)
The Easter Cactus is really gorgeous – and great if you want to add some color to your home. It hails from Brazil and features a variety of different flowers – it can have pink flowers, purple flowers, red flowers, even white flowers. They do best in partial sun/partial shade and typically grow up to 2 feet tall.
Bunny Ear Cactus (Opuntia Microdasys)
The Bunny Ear Cactus originated in Northern Mexico and is now prevalent in all of North America. They typically grow up to 3 feet tall and do best in full sun – great for areas such as Arizona and the California desert. The Bunny Ear produces really gorgeous white and yellow flowers – and even has a hidden sharp spine!
Hedgehog Cactus (Genus Echinocereus)
The Hedgehog Cactus is a low-growing succulent that comes from the southwest part of the United States. Think of what a hedgehog looks like – that's exactly how you should be picturing this cactus. It features short, spiny stems and does best in sandy, rocky soil. They love full sun, so if you plan on growing this baby indoors – keep it next to a window!
Bishop's Cap Cactus (Astrophytum Myriostigma)
The Bishop's Cap Cactus is actually spineless and grows in the shape of a star. The name is really interesting on this plant – as it grows, white hairy scales appear in the form of a Bishop's mitre, a traditional headdress. Moreover, it produces daisy-like flowers, but they only bloom for a few days at a time – so try to catch them while you can!
Feather Cactus (Mammillaria Plumosa)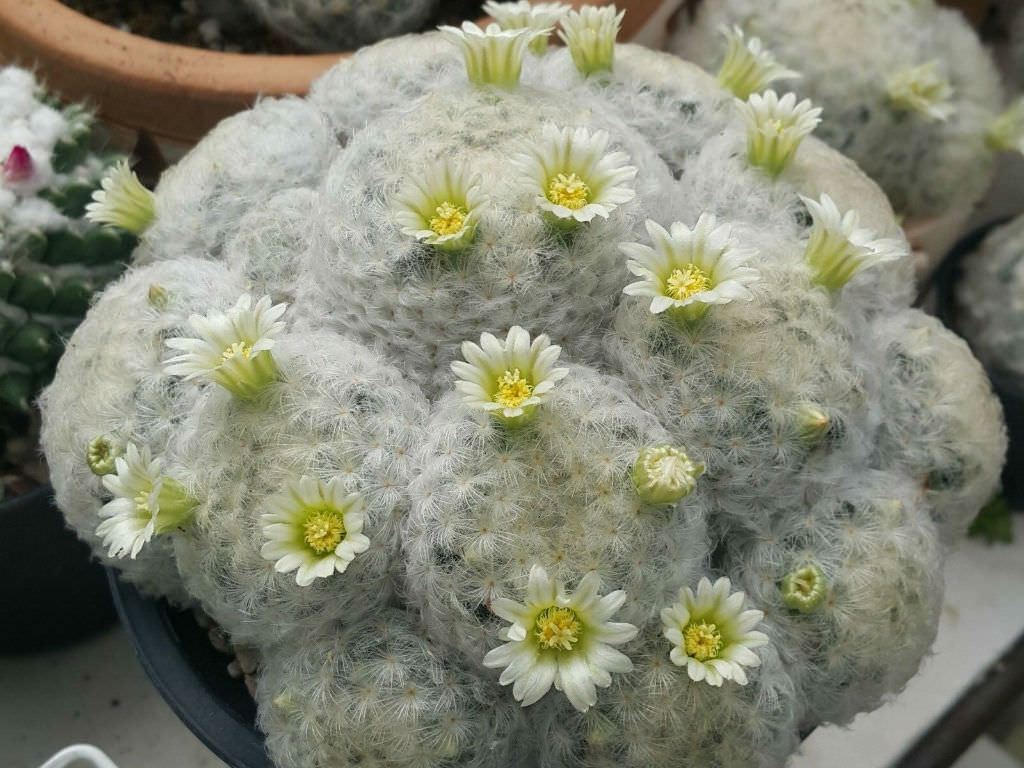 The Feather Cactus would make a great container garden addition or an indoor plant. On this plant, the cactus flowers can range from white, yellow, to even pink and bloom throughout the year. The Feather Cactus does best in either full or partial sun – and needs at least 5 to 6 hours of daylight per day.
Organ Pipe Cactus (Stenocereus Thurberi)
The Organ Pipe Cactus is native to both Mexico and southern Arizona. These are typically grown outdoors, as they can grow up to 25 feet tall. Typically, the stems are a blue-green color and have a lot of brown spines. The Organ Pipe opens up at night, and the flowers are actually pollinated by bats.
Christmas Cactus (Schlumbergera)
The Christmas Cactus could very well be the most popular houseplant. Unlike most cacti, the Christmas Cactus is native to tropical rainforests instead of hot, desert conditions. It features gorgeous flowers and a long bloom time (around…you guessed it…Christmas)! If you have one, it should be kept in bright, indirect light such as an east-facing window.
Sea Urchin Cactus (Astrophytum Asterias)
The Sea Urchin Cactus is native South American grasslands and desert shrublands. This plant features ribbed stems with short spines – and some even have a thick barrel-like shape. It produces a variety of cactus flowers – often white and sometimes pink. You'll see the Sea Urchin Cactus open up after sunset – and can stay open for up to 36 hours.
Thanksgiving Cactus (Schlumbergera Truncata)
The Thanksgiving Cactus is actually not a true cactus, rather, an epiphyte, a plant that lives on other plants. It's known for its gorgeous flowers that bloom around Thanksgiving time. They do best in moist, well-drained soil and partial sun exposure (they love shade)! They're really easy to take care of – forget the constant checking in on them or watering like a regular plant.
Prickly Pear Cactus (Opuntia)
The Prickly Pear Cactus is a slow-growing species that has a flat-stemmed spine and even edible fruits! Interestingly enough, some species have become invasive in regions outside their native ranges. Typically, moths can keep them under control in places such as Australia and southern Africa.
Ferocactus (Ferocactus Glaucescens)
The Ferocactus, native to Northern Mexico, features large spines and small flowers. They're shaped like a large barrel and typically have clustering habits – so where you see one, chances are you'll see many. When out on their own, they usually grow in areas where water flows irregularly or in depressions where water can accumulate for short periods of time.
Other Types of Cactus Plants:
Golden Barrel Cactus (Echinocactus Grusonii)
Lemon Ball Cactus (Parodia)
Saguaro Cactus (Carnegiea Gigantea)
Chollas (Cylindropuntia)
Therefore, if you liked this article on the Types of Cactus Plants, read these:
Firstly…
Secondly…