Are you ready to switch up your bedroom interior design and take your closet doors to the next level? There are so many different design ideas out there – pocket doors, accordion style, panel doors, even double doors! So, if you're looking for the best closet door ideas – continue on below!
Or, read Farmhouse Laundry Room Ideas.
What can I use in place of a closet door?
Maybe you're on a budget. Maybe you're just looking for something to cover up your closet that's easy to install. Or maybe you don't want to spend time looking for a new closet door. Whatever the reason may be, there are a ton of door styles to think about that don't actually use a traditional door. With that, let's take a look at some alternative closet door ideas!
Firstly, have you thought about using curtains to hide your closet space? They're super versatile and no matter where you go you'll have a ton of color and fabric options to choose from. Buy some door hardware such as a curtain rod, and put that baby up! Super classy in a super cheap way.
Secondly, room dividers have become more and more popular over the years. They're an easy, efficient, and a budget-friendly door design that's a bit different than the traditional closet doors. However, they do take up some floor space though.
Thirdly, some people really like accordion doors – especially in a small room. Theses types of closet doors fold in on themselves – so they don't take up a ton of room. The functionality on them isn't terrible and if you find yourself wanting to shy away from things like door knobs, this may be the option for you.
How can I make my closet doors look better?
Feeling like your bedroom closet doors are lacking? There are a few easy DIY home improvements that you can do to transform your closet doors…without doing a full remodel!
Think about adding some wallpaper to your doors. This is a great way to add a pop of color, especially when you don't want to cover your entire walls.
Another one of my favorite ideas (especially if you work from home or have teenage children) is to turn your closet door into a whiteboard. Most home stores such as Home Depot will have specialized dry-erase paint. This is a great way to keep up motivation and set goals!
We discussed this briefly above, but another way to do a closet door makeover is to take out the actual door and put a curtain there instead. It'll completely transform the way your room looks and can give it a type of texture that traditional interior doors just can't.
Closet Door Ideas:
So, let's take a look at your space and see what we can do! Keep reading for some of our favorite closet door ideas.
Closet curtains are all the rage these days! Whether you want to add some creative design to your space…or just make your life a bit easier – curtain closet "doors" are IN!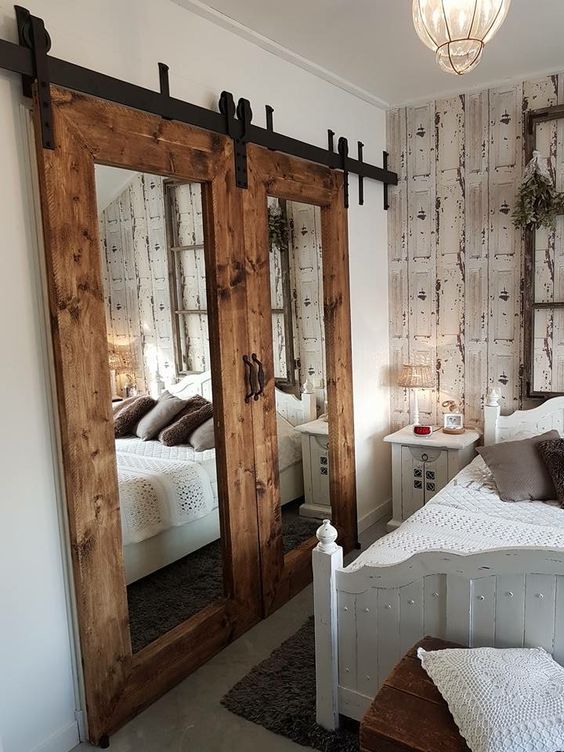 Sliding barn doors can completely elevate your bedroom look! They can make your space look more rustic without having to completely transform your whole room.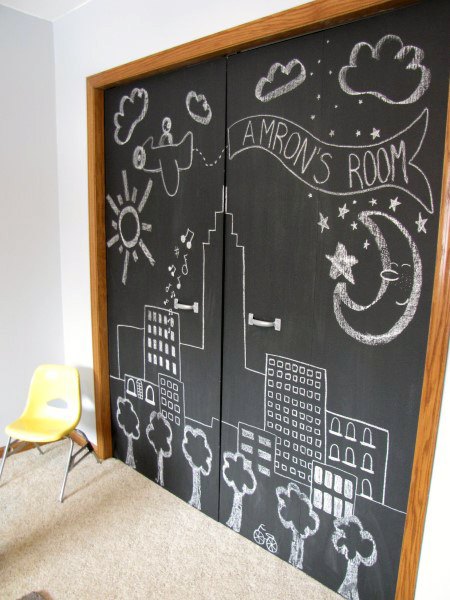 Above, we discussed the whiteboard closet door idea. If you have younger children, a chalkboard door is another really creative and cool idea.
If you want to add a pop of color to your space, hang a quilt! All you need is a curtain rod and some additional door hardware – and you'll be good to go!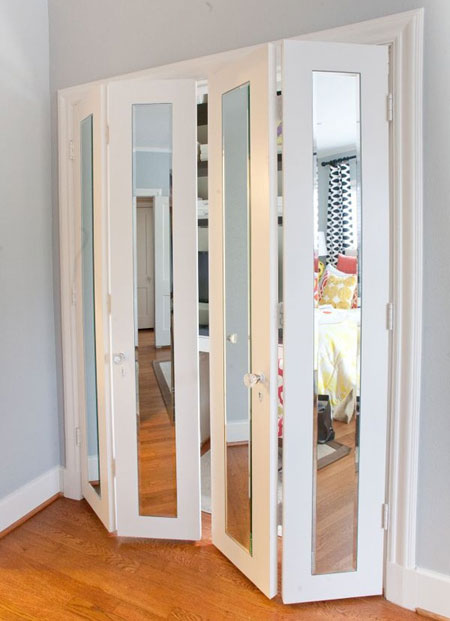 What's better than mirrored closet doors? Folding mirrored closet doors! I don't know why I love these so much – maybe they make me a bit nostalgic of my childhood?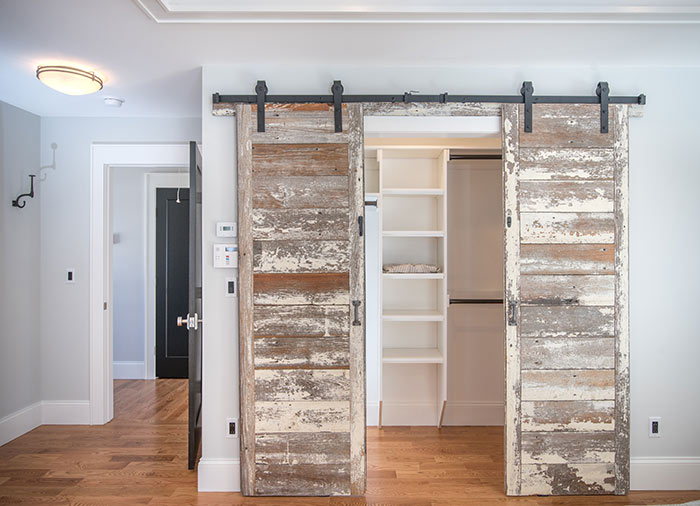 Check out these barn-style sliding closet doors…and that walk-in closet! I love the rustic feel it gives off – and this could totally be a DIY project if you wanted.
Or, you could put in bifold closet doors. While they're traditional, they're really functional and can compliment almost any interior design style.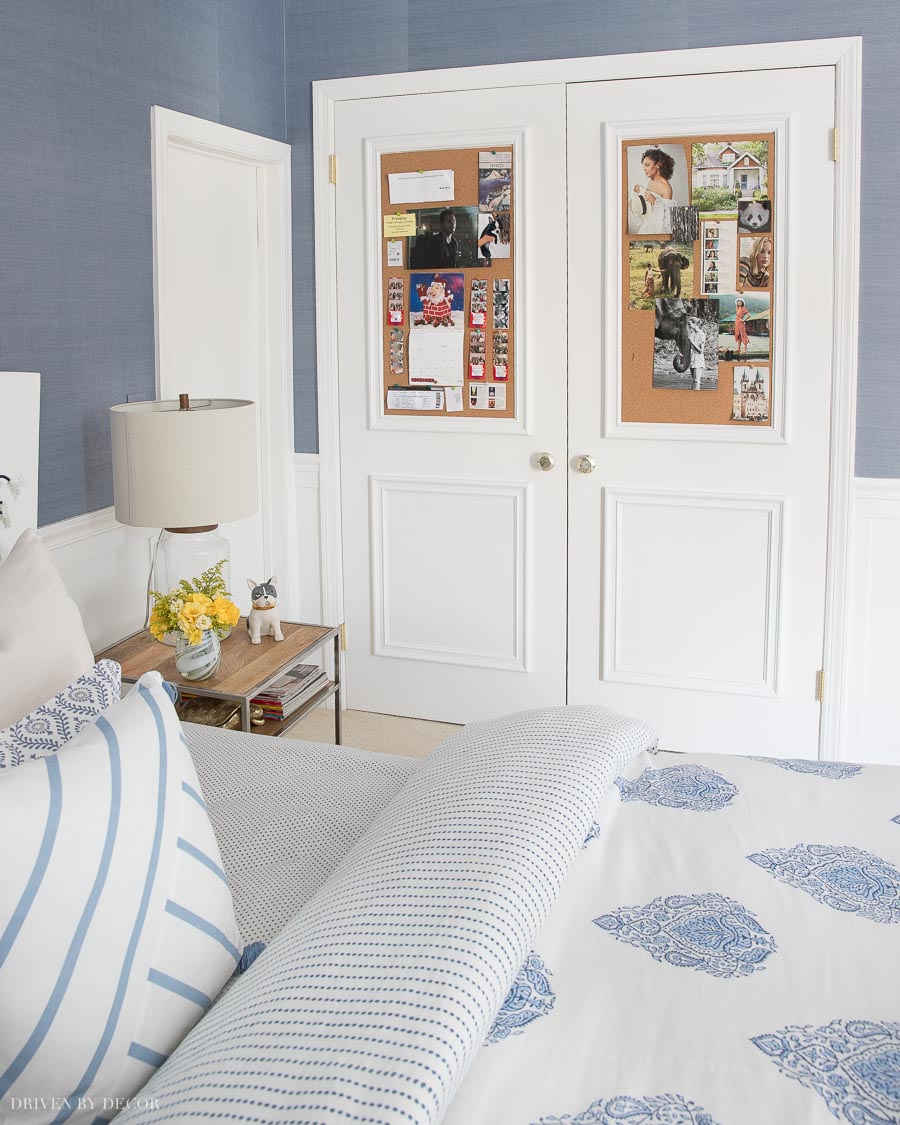 If you didn't love the commitment of our chalkboard or dry-erase doors – then you could try this! Put in a tiny bulletin board and your kids can collage, keep homework up there, and any daily reminders they may need!
Firstly…I love this royal blue color. Secondly…I also love the texture that this door provides! It completely elevates the bedroom space.
Look how sleek and elegant these French closet doors look! Personally, I think they really elevate the home decor look and take things to the next level.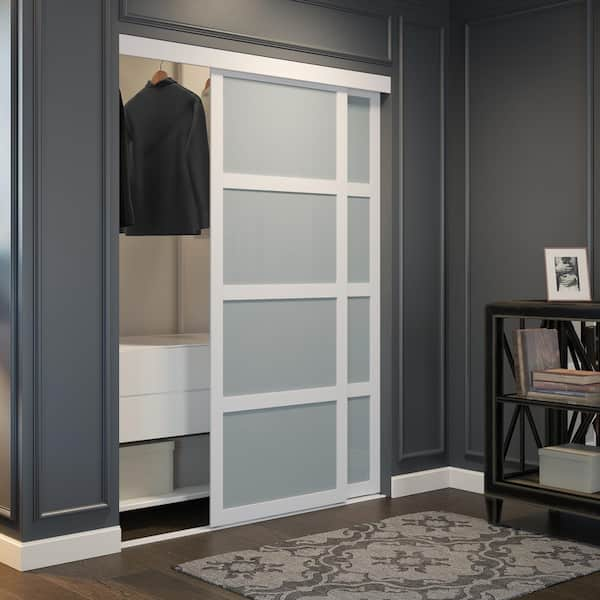 If you want a more modern feel, opt for some frosted glass sliding doors. Not only are they sophisticated, they also provide your closet with a ton of privacy!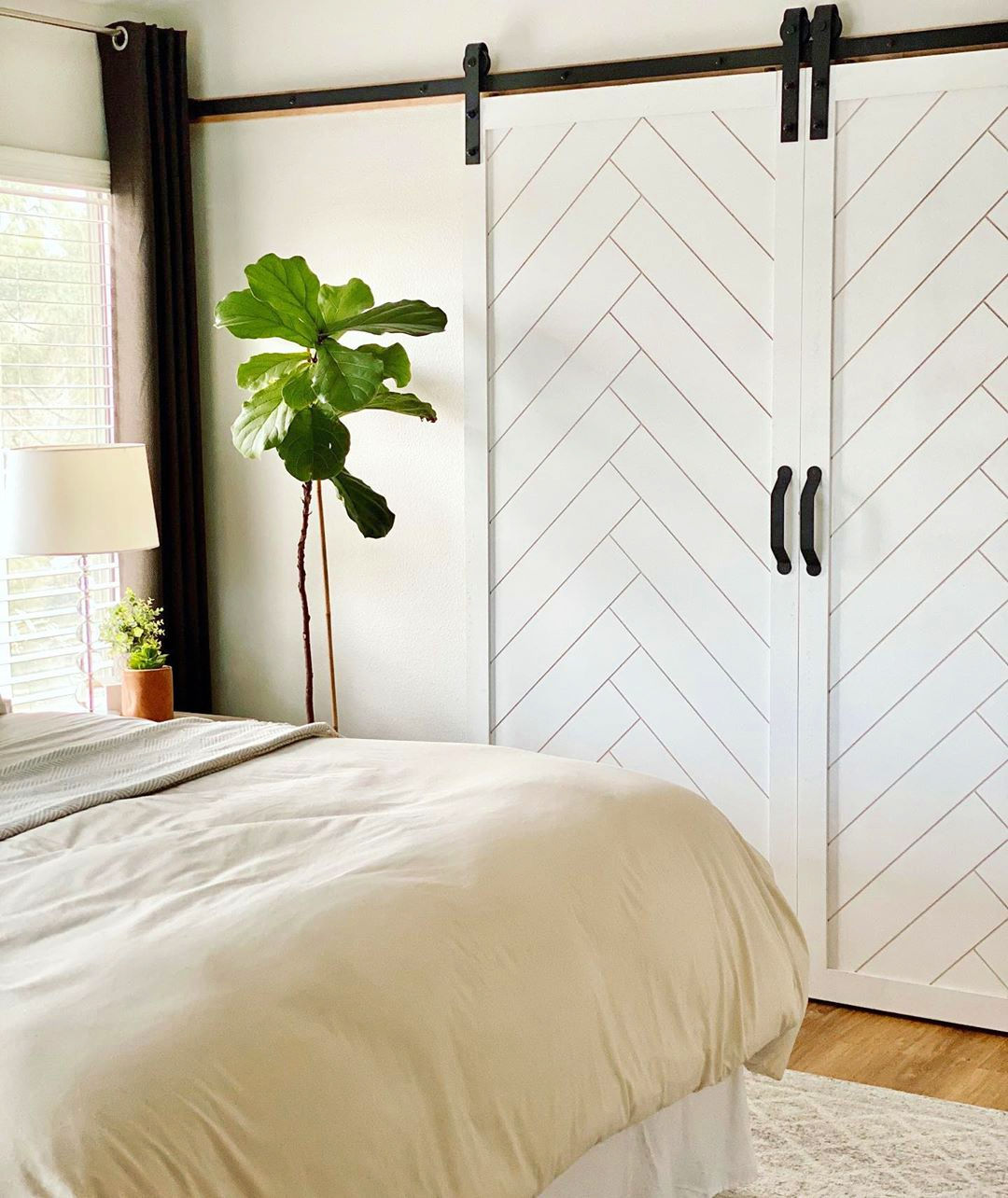 Check out these sliding doors! I think they'd be perfect for a teenager's room – or even a young adult.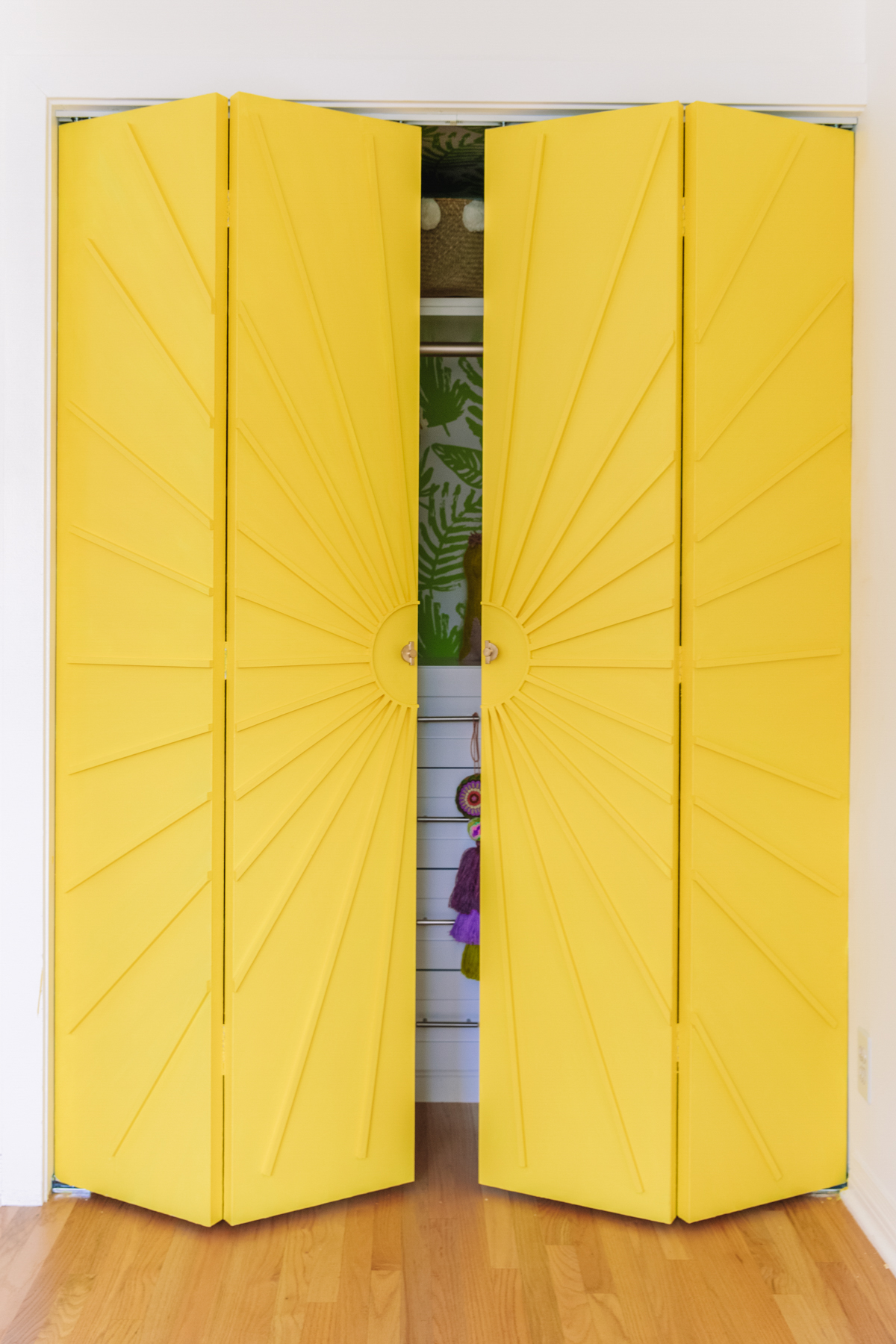 Ooooo…I love these bifold closet doors! For instance – just look at that texture, that yellow pop of color…you could use these doors for anything – a closet, a laundry room, you name it!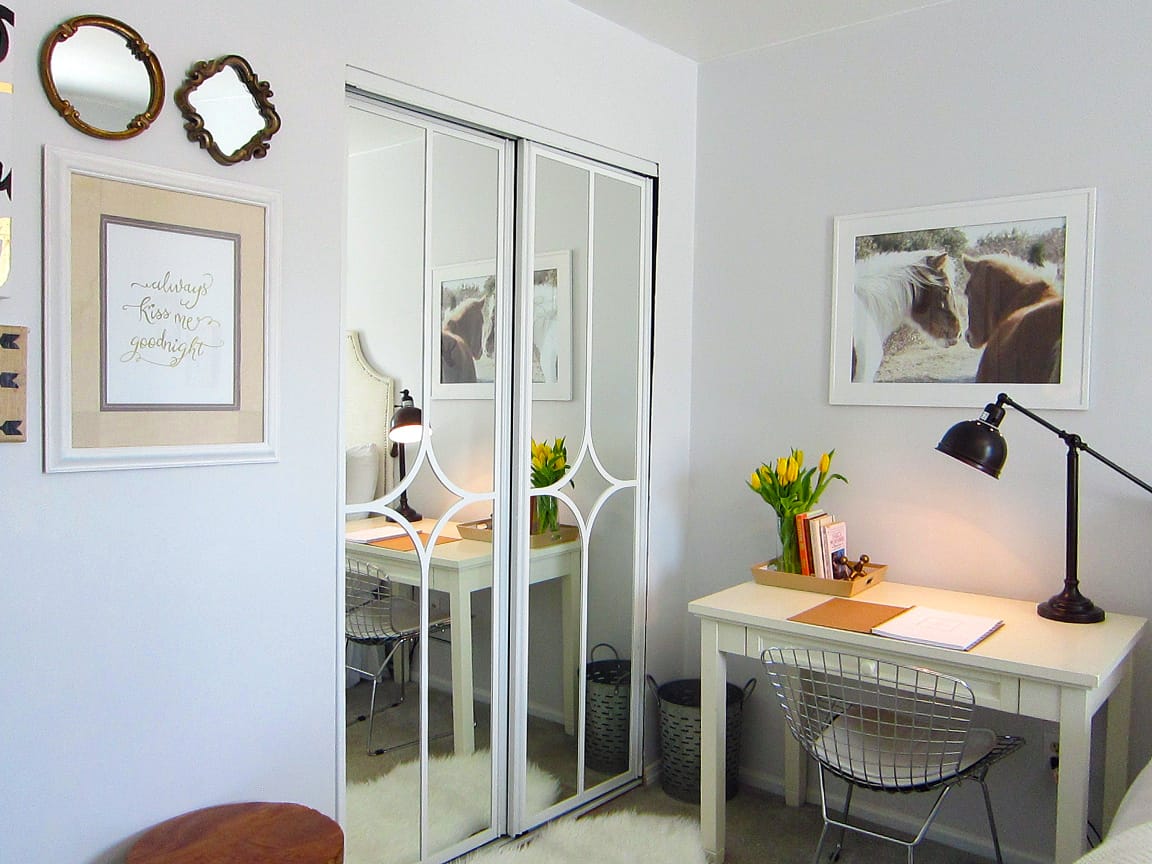 If you're itching for a new closet door…maybe it's time to go for some mirrored doors! They're really easy to find at your local Home Depot or even on Amazon…and even easier to install!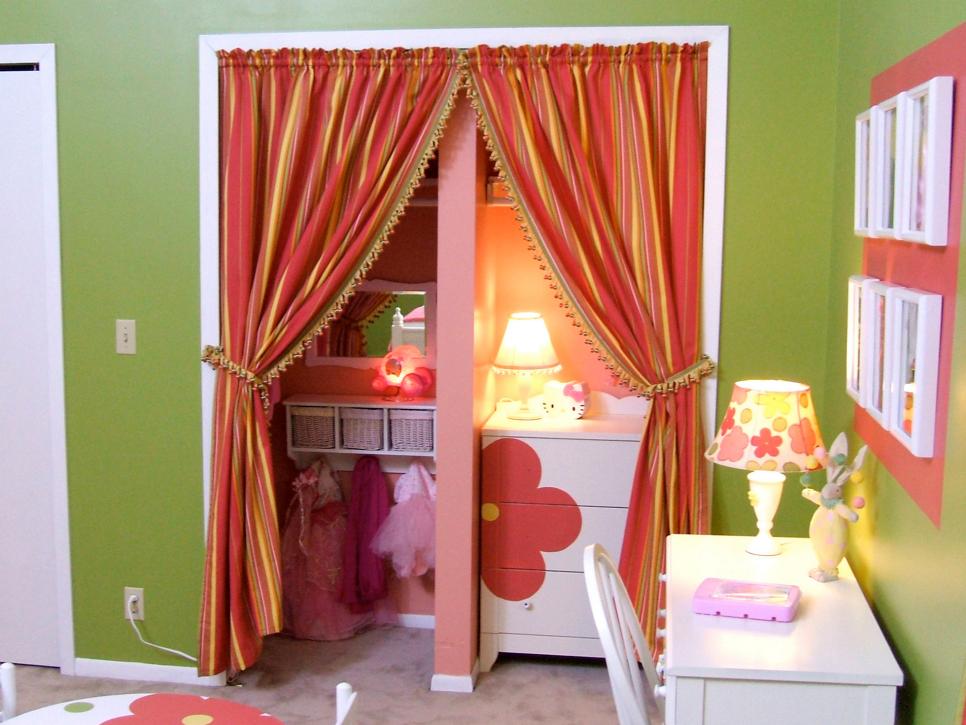 Maybe your closet doubles as a cluttered storage space…sound familiar?! These heavy-duty curtains add some excitement AND hide that excess mess! Does it even get better than that?
Therefore, if you liked this article, check out these:
Firstly…
Secondly…