Are you thinking about adding a houseplant to your home decor? If so, fern plants are a great choice! Being one of the oldest plants in the world, ferns reproduce via spores and have neither seeds nor flowers, making them one of the best low-maintenance houseplants! So, follow along below to learn about the different types of ferns.
Or, read the Types of Palm Trees in Arizona.
How do I know what kind of fern I have?
If you're looking at a fern and are not quite sure what type of species it is – don't worry! We're going to go over some of the basic identification factors of ferns.
Firstly, look at the stalk of the frond – which is the leaflike part of the plant. As you examine the stalk, look at its color and texture. Does the fern have green fronds? Or a different color?
Secondly, look at the shape of the fern. Some plants are going to have simple broadleaves, such as the Hart's-Tongue Fern. Other types of species are going to have heart-like leaf shapes such as the Golden Zebra Fern.
Lastly, look at the size of the fern. Obviously, it's going to depend on whether you're looking at an indoor or outdoor plant, but it's still worth a try!
Types of Ferns:
Giant Fern (Angiopteris Evecta)
The Giant Fern is a huge tropical plant, with giant green fronds that frow from a large stem. Typically, the fronds are about 20 feet long and 8 feet across with a three foot diameter trunk.
Basket Fern (Drynaria Rigidula)
The Basket Fern is a type of fern that is large and green. They feature a basket around the base of the fern that helps collect debris and feeds nutrients to the plant.
Lady Fern (Athyrium Filix-Femina)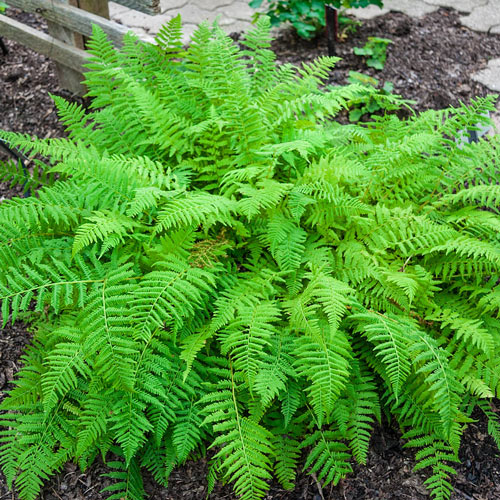 Typically, the Lady Fern has fronds that are cut two or three times in a lacy pattern and can reach about 2-5 feet in height. The Lady Fern is native to the continental US and Alaska.
Boston Fern (Nephrolepis Exaltata)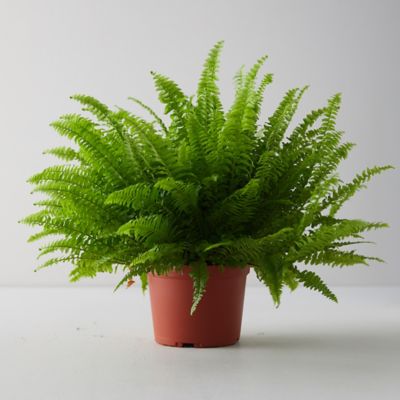 The Boston Fern is one of the most popular types of ferns (as a houseplant). They feature dark, green leaves with indentations on the edges. They typically do best with indirect light.
Holly Fern (Cyrtomium Falcatum)
The Holly Fern features three to four inch dark, green leaves and is a great indoor plant. Surprisingly, this fern loves shaded areas and can handle darkness really well. You can also use them as a border plant or groundcover.
Maidenhair Fern (Adiantum Raddianum)
The Maidenhair Fern does best in moist but well-drained soil and loves partial shade and sun. They typically have delicate fan-shaped leaf segments on wiry black stems, with smaller leaves than other fern plants.
Staghorn Fern (Platycerium Bifurcatum)
The Staghorn Fern (also known as an Elkhorn Fern) has a mature size of 2-3 feet tall and is 2-3 feet wide. Hailing from Asia and Australia, it prefers partial shade and would not do well in direct sunlight. Typically, these ferns are mounted on wood planks and hung on walls. They'd made a great interior design addition to your home decor!
Ostrich Fern (Matteuccia Struthiopteris)
The Ostrich Fern (also known as a Fiddlehead Fern) is a large, native plant that comes from the Eastern American woodlands. This fern does best in a cool, moist area and will thrive in any wet, shady area of a garden. Ostrich Ferns do great in the winter time and are also rabbit resistant!
Japanese Painted Fern (Athyrium Niponicum)
The Japanese Painted Fern features dramatic foliage with blue-green fronds and dark, central ribs that fade to silver at the edges. This fern is very stout, so it's great for container gardening. The Japanese Painted Fern does best in either full shade or partial shade.
Australian Tree Fern (Sphaeropteris Cooperi)
The Australian Tree Fern does best in areas with warm temperatures and high humidity – think places like Southern Florida and Arizona. It features a single trunk that can reach up to 30 feet tall and can grow up to a foot in diameter. Therefore, the Australian Tree Fern is an eye-catching plant that gives off that tropical oasis look.
Asparagus Fern (Asparagus Setaceus)
The Asparagus Fern does best in rich, well-drained soil and can be drought-tolerant plants once they become established. If you're using them as an indoor fern, they should be placed in indirect light or even filtered light for the best results. Moreover, the Asparagus Fern features small needle-like leaves and tiny white blossoms that turn into red berries.
Bird Nest Fern (Asplenium Nidus)
The Bird Nest Fern is a very slow-growing fern that features bright green fronds with brown midribs. They're really compact and offer nice contrast to other types of ferns that may be in your garden. Additionally, they can even grow on rocks and trees, as well as soil!
Cinnamon Fern (Osmundastrum Cinnamomeum)
The Cinnamon Fern typically does best in wet regions – and grows along creeks and streams. If you domesticate it, you need to make sure it's getting adequate water in moist soil. Moreover, the Cinnamon Fern features two fronds – dark green ones and ones that are a dark brown shade.
Rabbit's Foot Fern (Phlebodium Aureum)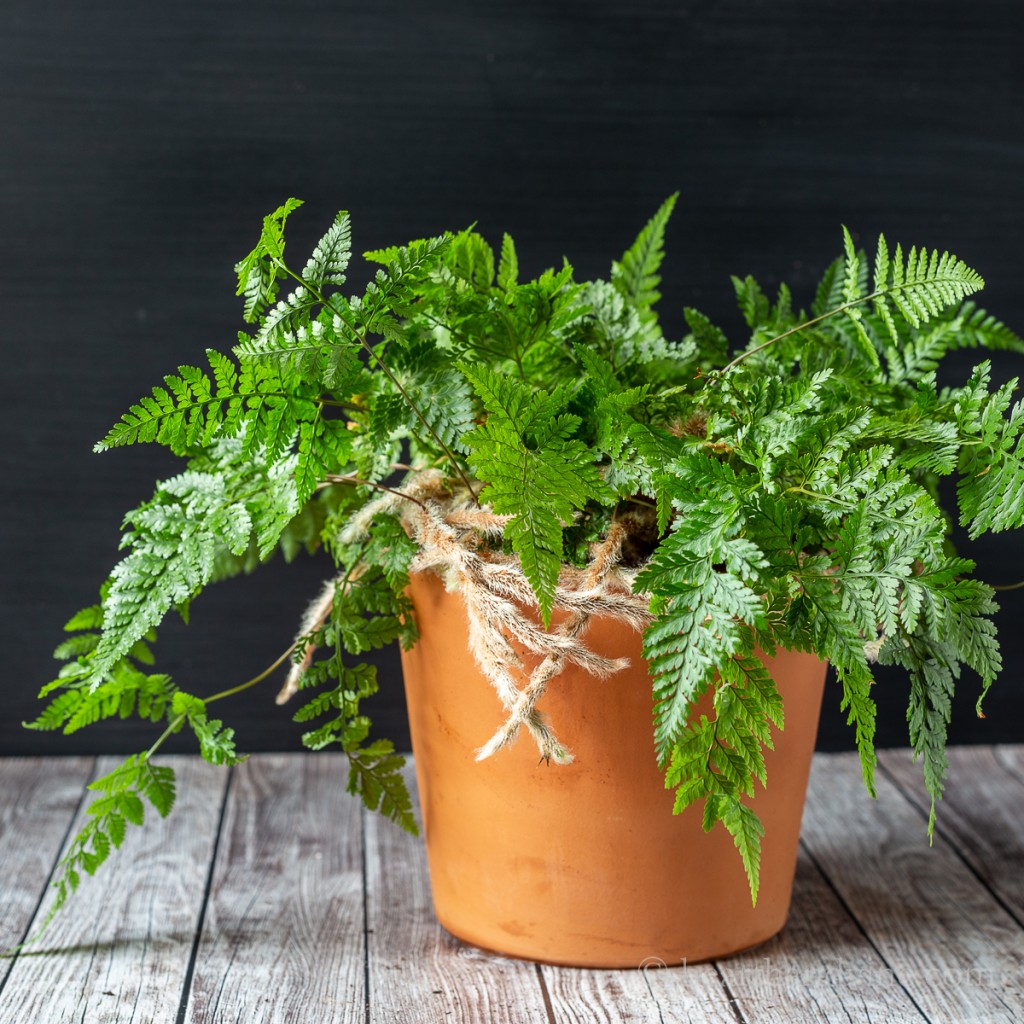 The Rabbit's Foot Fern is known for their furry rhizomes that spill out of hanging baskets. This native Fiji fern typically grows in height up to 2 feet and has lace-like fronds. It's hard to miss, due to the wiry stalks that grow from the furry rhizomes.
Western Sword Fern (Polystichum Munitum)
The Western Sword Fern is a really hardy male fern that features dark green foliage. If kept in shaded areas, it can grow up to 4 feet tall. However, if you want to grow it in full sun it is possible, the plant itself will just be more compact.
Button Fern (Pellaea Rotundifolia)
As a native from New Zealand, the Button Fern is a plant that will do well both indoors and outdoors. It features cascading, leathery, button-shaped leaflets and can tolerate dry conditions. This is quite unusual for a fern.
Kangaroo Fern (Microsorum Diversifolium)
The Kangaroo Fern hails from Australia and New Zealand, and is named as such because its leaves resemble the shape of a kangaroo's foot. They are bright green, and shiny-textured leaves that grow on the long, thin stems of the fern. They're fairly small, and can grow up to a foot tall.
Leopard Fern (Farfugium Japonicum)
The Leopard Fern is a clump-forming perennial that is often used in outdoor landscapes and container gardens. This species of fern features light green fronds and tiny flowering plants that can be pollinated by bees and butterflies during early spring. It typically does best in consistent moisture and will wilt if allowed to dry out.
Royal Fern (Osmunda Regalis)
The Royal Fern features fronds that are cut twice into large, rounded leaflets. Typically, these fronds are anywhere from 2-5 feet in height and up to 18 inches in width. Like very fern, they are not a flowering plant and are reproduced by spores.
Wood Fern (Dryopteris Erythrosora)
The Wood Fern hails from damp, wooded areas in the Northern Hemisphere. There are over 200 fern varieties of the Wood Fern that come in different colors – from reddish to coppery pink in early spring, then to bright, deep green as the season moves along. Most Wood Ferns are evergreens, but some are deciduous ferns.
Cretan Brake Fern (Pteris Cretica)
The Cretan Brake Fern features a similar growing pattern to the Rabbit's Foot Fern. It features green leaflets, a pale center, and wiry thread like stalks from small rhizomes. The stalks then produce pinnate leaflets in rows – which looks great in any outdoor landscape design.
Autumn Fern (Dryopteris Erythrosora)
The Autumn Fern is a great addition to woodland gardens, as these ferns function best when they're an outdoor fern. They're fairly small (a dwarf fern) and have copper-red long fronds that eventually change to a deep green color. Interestingly enough, the Autumn Fern is spread through underground stems.
The Shuttlecock Fern (Matteuccia Struthiopteris)
The Shuttlecock Fern is one of the tallest species of ferns! it can grow up to 5 feet tall, and grows in masses – so they can spread easily. They do best in shaded areas – definitely do not put them in full sunlight. As long as you're pouring water at the base, it will stay alive.
Carrot Fern (Onychium Japonicum)
The Carrot Fern, native to Asia and Japan, is one of the fastest-growing ferns out there. It features carrot-shaped leaves with dark green hues and a lacy texture. However, this fern can operate in drought-tolerant conditions once it is established.
Japanese Tassel Fern (Polystichum Polyblepharum)
The Japanese Tassel Fern is a really large fern that features fronds shaped like tassels. When they're immature, they hang down, but as the fern ages – they straighten up into an arched-like shape. If you have Japanese Weeping Males, use this fern as a groundcover!
Alpine Wood Fern (Dryopteris Wallichiana)
The Alpine Wood Fern is a semi-evergreen species of fern. It's native to China and India and features lancing frounds that sprout from an erect rhizome. The fronds change colors based on the season – in early spring they will be yellow, and they will transition to a bright green throughout the seasons.
Delta Maidenhair Fern(Adiantum Raddianum)
The Delta Maidenhair Fern does best in coastal regions. While they typically grow up to a foot and a half in height, this is only possible if they are in bright, indirect light. Additionally, the Delta Maidenhair Fern requires constant watering to survive.
Horsetail Fern (Equisetum)
The Horsetail Fern is one of the last species of ferns left in the Equisteum family. Interestingly enough, they are deadly if eaten by horses. To spot one of these ferns, look for short-stalked stems that look like a mix between tall grass and bamboo.
Austral Gem Fern (Asplenium Nidus)
The Austral Gem Fern is known for its deep green, jagged edges on its fronds. Typically, this species of frond does best in moisture and wet climates – where it is often rainy. However, it also needs partial to full shade – which is why it's also a great indoor plant!
In conclusion, if you liked this article, check out these:
Firstly…
Secondly…