Are you a homeowner thinking of enhancing your curb appeal and adding some extra safety measures to your home? If so, it's time you start thinking about your driveway design and the possibility of installing a driveway gate! Luckily for you, we've included the best driveway gate ideas below, so pick your favorite design idea and run with it!
Or, read Small Front Yard Landscaping Ideas on a Budget here.
What is the cheapest driveway gate?
Are you set on remodeling your driveway gate design but are worried because you're on a tight budget? Don't let that stop you! There are plenty of budget-efficient entrance gates that you can install. Let's take a look at some of the cheapest driveway gates below.
1) Powder-coated aluminum driveway gates are going to be the least expensive. They're pretty durable and versatile, but they are really lightweight. So, if you're looking to install a really high gate, you may want to opt out of aluminum and get a heavier metal driveway gate material.
2) Steel gates are going to be your second cheapest option. They're a little bit more heavy-duty than aluminum gate designs – so if you're worried about break-ins this might be a good alternative. However, keep in mind that steel gates leading up to your driveway entrance can rust easily.
3) A wooden driveway gate can also be a budget-friendly option – if you do it right. If you want to be hands on, think about doing a DIY wood driveway gate. Not only can they look professional, they also give off that classic look – which is a plus, if that's what you're going for.
Are driveway gates a good idea?
Are you on the fence about installing a driveway gate? Honestly, I'll be the first to tell you that installing any type of entry gate to your home is a great idea.
Not only do they add character and provide a unique look, they also work great as a security gate. Whether you have little kids constantly playing in the driveway, or you just want that extra level of protection – adding a gate to your home design is a great idea.
Even if you aren't super worried about someone coming up to your entryway, installing a gate even prevents random strangers from turning around in your driveway. Before I installed a gate, people were always turning around in my driveway and it drove me crazy!
Plus, doing a home improvement such as adding a gate will add a lot of value to your home. It doesn't matter the type of driveway gate – rather, that your home is protected and has that unique look. It really adds curb appeal to your front yard and accentuates your landscape design as well.
How tall should my driveway gate be?
Determining how tall you want your gate to be really depends on your needs. Are you installing one just for looks or do you really want that added layer of security?
Either way, your gate should be about 5 to 6 feet tall. Traditionally, pedestrian gates sit at about 4 feet tall. Therefore, it would make sense for your gate to be around 5 or 6 feet tall. It also depends on if you have a garden gate, or something of that sort. If you do, you want to make sure that your gate is going to line up with the inside gate or hedge.
What are the benefits of a driveway gate?
We discussed the benefits of adding a gate to your landscape design above, but let's go over it one more time!
Provides an added layer of security. Whether you are worried about your kids playing outside, or just don't like people turning around in your driveway – having a fence or gate can deter people from doing this.
Adds value to your home, especially if you have an electric gate that can be easily opened by automation from your car or a gate opener.
Enhances your curb appeal! Whether you have a white picket fence or a more modern home, a driveway gate can accentuate your design for any type of home. It can also add design – such as if you have a modern home and are wanting to add something that will take the look to the next level. By installing a gate, you can have a more modern driveway.
Once installed, they're really low-maintenance! No matter the type of fence idea you're thinking of, they don't really require a ton of upkeep. Especially if you can open them by automation, which we mentioned above. Seriously, installing an automatic driveway gate will make your life so much easier!
Driveway Gate Ideas:
Now it's time to look at some driveway ideas! Let us know your thoughts down in the comment section below, we'd love to hear what you think!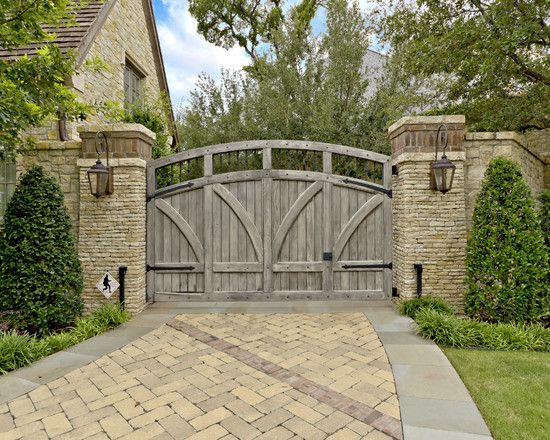 This wooden driveway gate really gives in to the classic farmhouse design. And isn't it gorgeous?
If you want to do a DIY gate, check this idea out! Here, the homeowner incorporated wood and wire mesh to create a well-functioning gate!
Look how cute this double gate is! I love how it's paired with the stone and offers a more symmetrical look. It's really pleasing to the eye, don't you agree?
If you're looking to install a privacy fence, check out this design! The gate has a strong presence and is tall, but it doesn't take over the entire house design.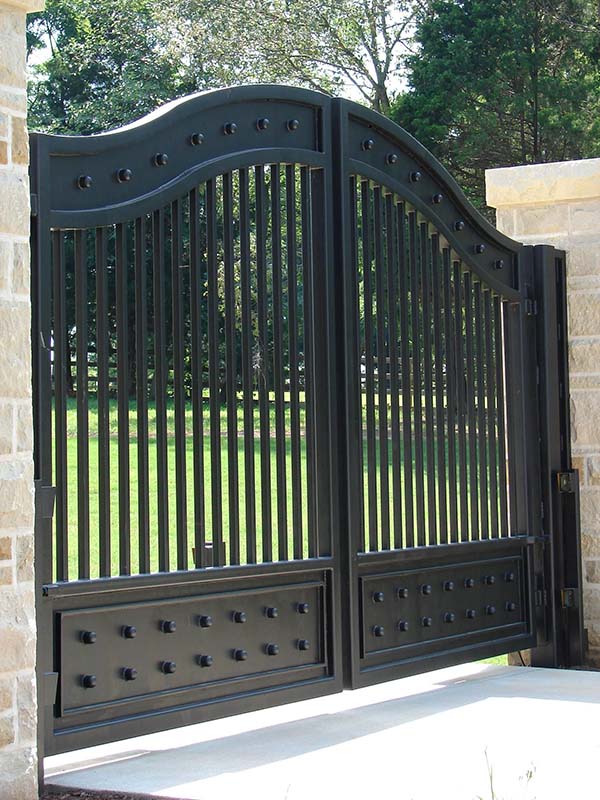 If you want something heavy duty, install a metal driveway gate. Not only will they scare off intruders, they're also long-lasting and really durable.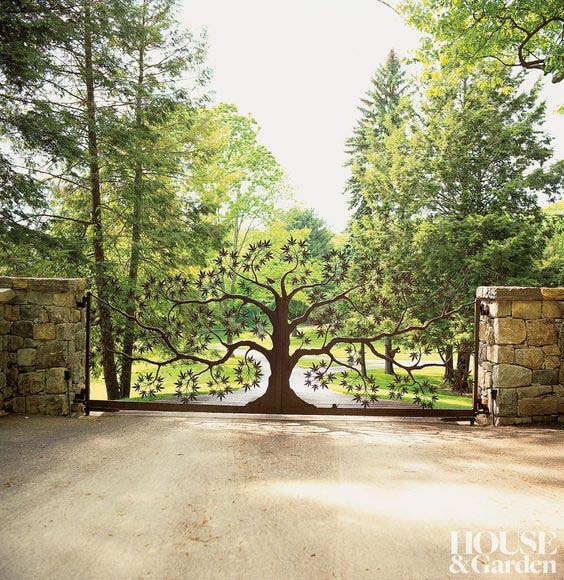 Who said you needed to have a boring gate design? This one certainly isn't! This is a great example, especially if the rest of your home is covered in personal art pieces…and you're a true art lover.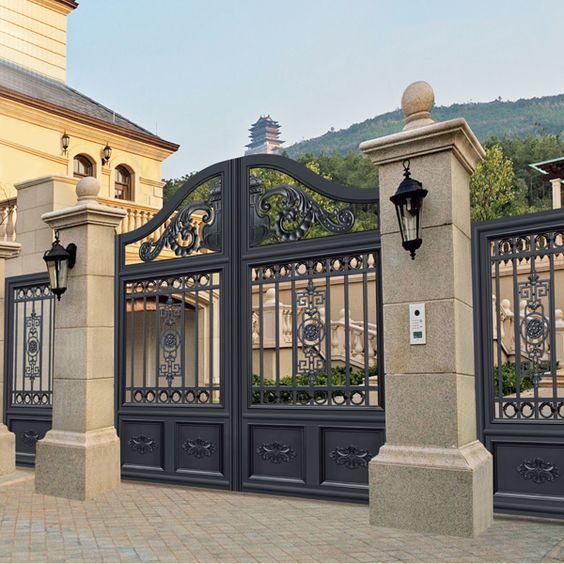 Or, go for a wrought-iron lattice gate. This design style will provide an elegant and classy look…anyone pulling up to your home will know you mean business!
This classic wooden fence is a gorgeous addition to the home. It's a pretty low gate, and if you look closely you'll see that they also installed a pedestrian gate. This is a good idea if you anticipate people walking in and out of your house often.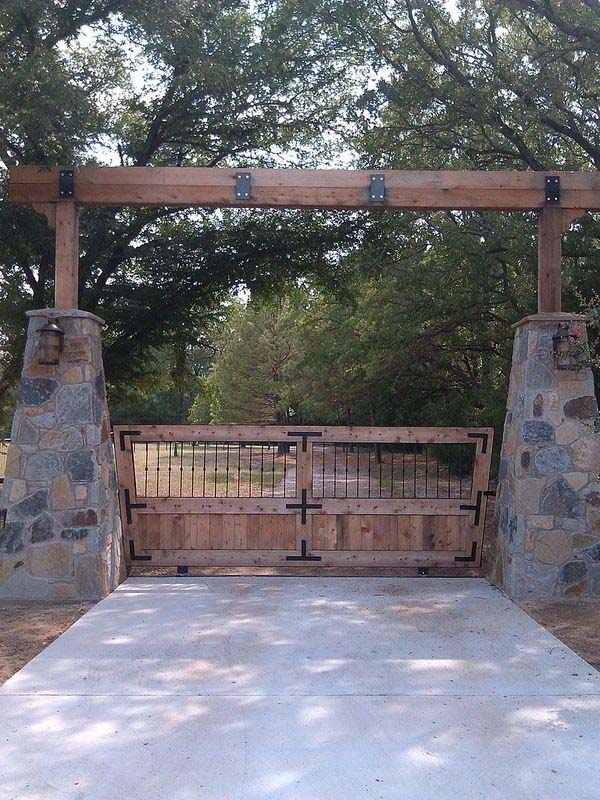 Again, if you're looking for a cheaper gate option – try to DIY a wooden gate. Here, this gate embodies a more western style, and guests coming in can definitely feel that vibe.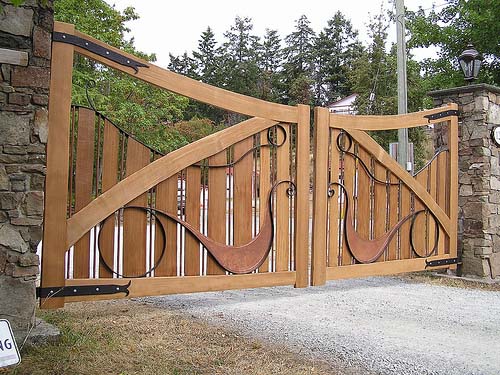 Red cedar is another great material to use. Here, the homeowners added a touch of texture and personal design…and I just love it! Do you?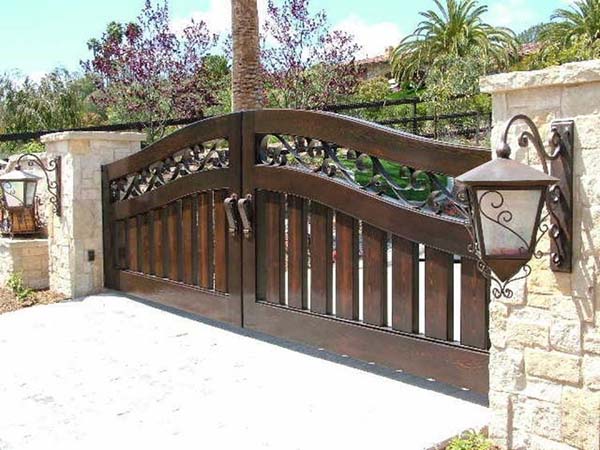 What about incorporating a Mediterranean style gate into your home design? Here, you can see a dark wood design with a gate that sits fairly low.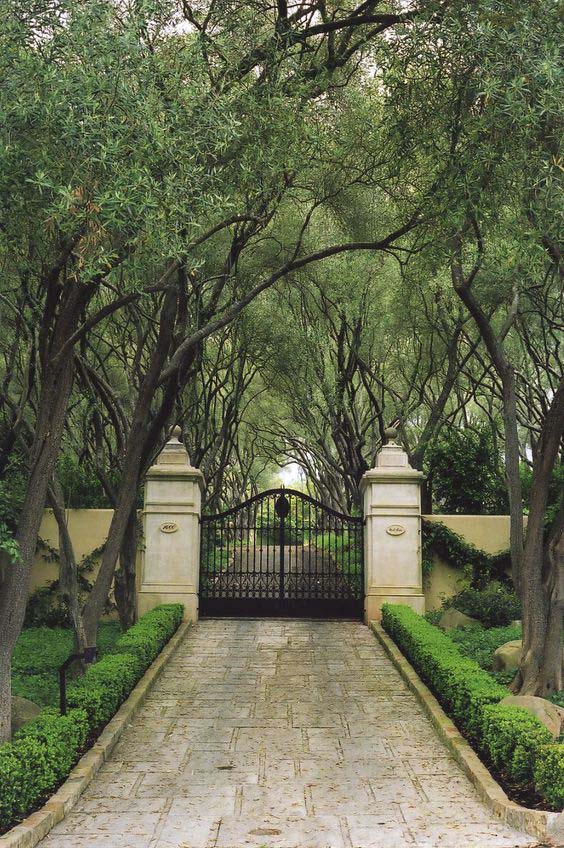 Who said you needed to have a wide gate? You certainly don't! I love the iron look here…and iron is a great long-lasting and durable material to use. It's a gorgeous driveway gate ideas for sure.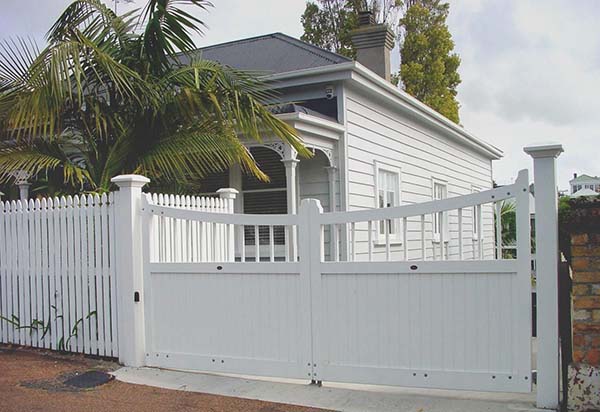 Whether you have a beach house or a more traditional home, the "white picket fence" type of gate is a great look. It's classy, clean, and still provides a more modern look while not being too over the top.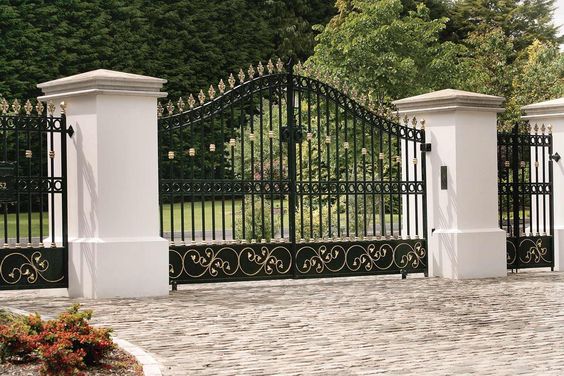 If you want a more luxurious look, check out this gate! Not only does it have gorgeous scrollwork on the inlays, it features beautiful gold accents on the top of the gate! Next level for sure, but still one of our favorite driveway gate ideas.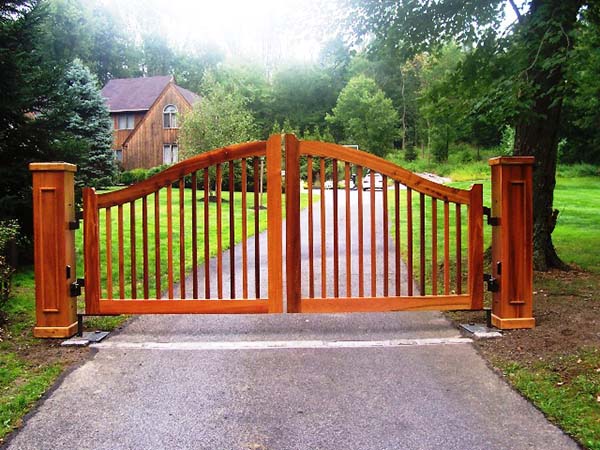 If you want a simple gate design, check out this wooden fence. It looks really natural and simple, which I like.
If you liked this article, check out these:
Firstly…
Secondly…