When landscaping in the Sunshine State, it's vital that you pay close attention to your landscape design and how you're implementing it. Because Florida is so hot and humid most of the year, it's crucial that you get the trick of irrigation and fertilizing down. So, follow along for the best front yard landscaping ideas for Florida!
If you liked this article, read Drought-Resistant Landscaping Ideas for Montana. Or, read Small Front Yard Landscaping Ideas on a Budget or Front Yard Landscaping Ideas for 2022.
How do you landscape in Florida?
Because Florida is generally pretty hot and humid throughout the year, you can actually implement landscaping ideas year-round. But how – you might ask? Well, there are a few steps that you should pay attention to when honing on your yard design.
Firstly, you want to use as many native plants as possible. Why? Because they're going to thrive in Florida's hot climate and in turn, require less maintenance.
Secondly, Florida has laws about water usage and how to reduce the amount of water you use throughout the year. Therefore, it's important to think about xeriscaping and using some drought-tolerant landscaping ideas. For instance, putting in rock or stone instead of grass or mulch is a great way to start. Instead of laying azaleas in your planting beds – try succulents! Low-maintenance landscaping is the way to go – especially when you're going to be dealing with that Central Florida heat and full-sun all the time.
Thirdly, follow Florida-Friendly Landscaping. It's a guide that helps promote science-based, low-impact, and sustainable practices to preserve Florida's natural resources. I understand we all want to do some tropical landscaping, but as a homeowner it's important to respect natural resources!
What is Florida Friendly Landscaping?
We touched on this briefly above, but FFL "promotes science-based, low-impact, sustainable, environmentally friendly landscaping practices that conserve water, reduce pollutant loading to Florida waters, and protect Florida's natural resources".
Basically, there are 9 rules to utilize FFL. You want to water efficiently, fertilize appropriately, recycle yard waste, mulch, attract wildlife, manage yard pests responsible, and reduce stormwater runoff. Again, it's important to think about all of these things when designing your Florida yard or backyard garden design.
Whatever design idea you have for your flower bed or walkway to the front porch – it's important to remember FFL.
What plants grow in the front yard in Florida?
Ready to begin your Florida landscaping so you can amp up that curb appeal…but not quite sure what plants to use? Don't worry – we've got you covered – whether you're in South Florida, Orlando, Palm Beach – you name it! We're here to help you bring in some greenery and design up landscaping plans so your home's value can go up (and look beautiful at the same time)! So, keep reading for some great Florida landscaping ideas.
American Beautyberry
Azalea
Black-Eyed Susans
Buttonwood
Coral Bean
Palm Natives (Palm Trees)
Tickseed (some are perennials while others are annuals)
Coontie
Passion Flower
Beach Sunflower
Bald Cypress
Front Yard Landscaping Ideas for Florida: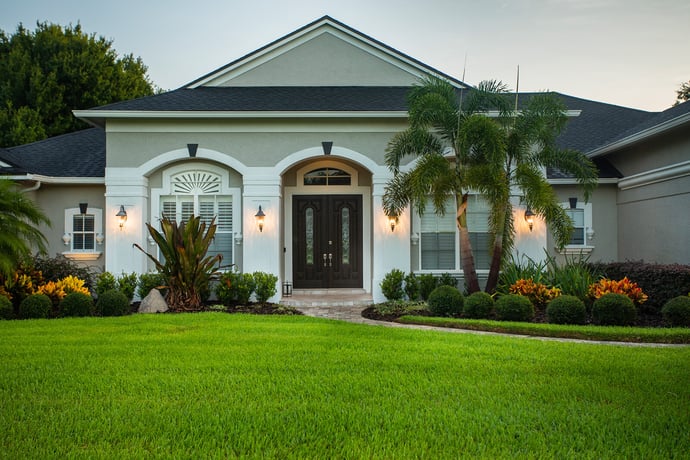 You can see here how they incorporated outdoor lighting to shadow their landscaping. I love how well-kept the lawn and shrubs look.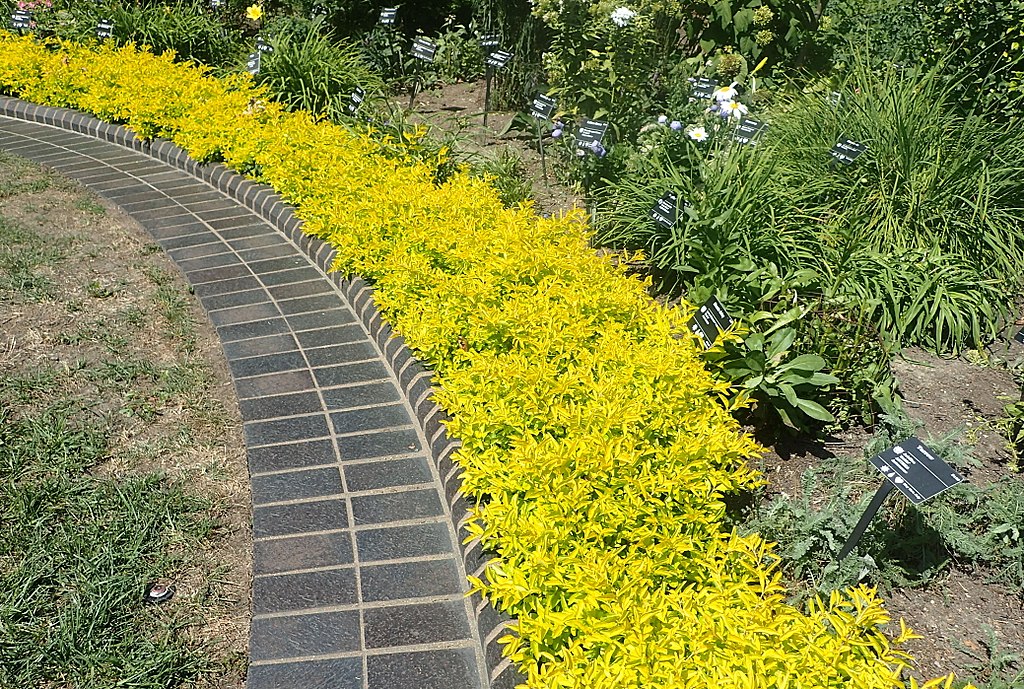 We touched on it above, but it's essential to include native plants in your landscaping designs! Pictured here are crottons – a native Florida plant that provide a gorgeous pop of color!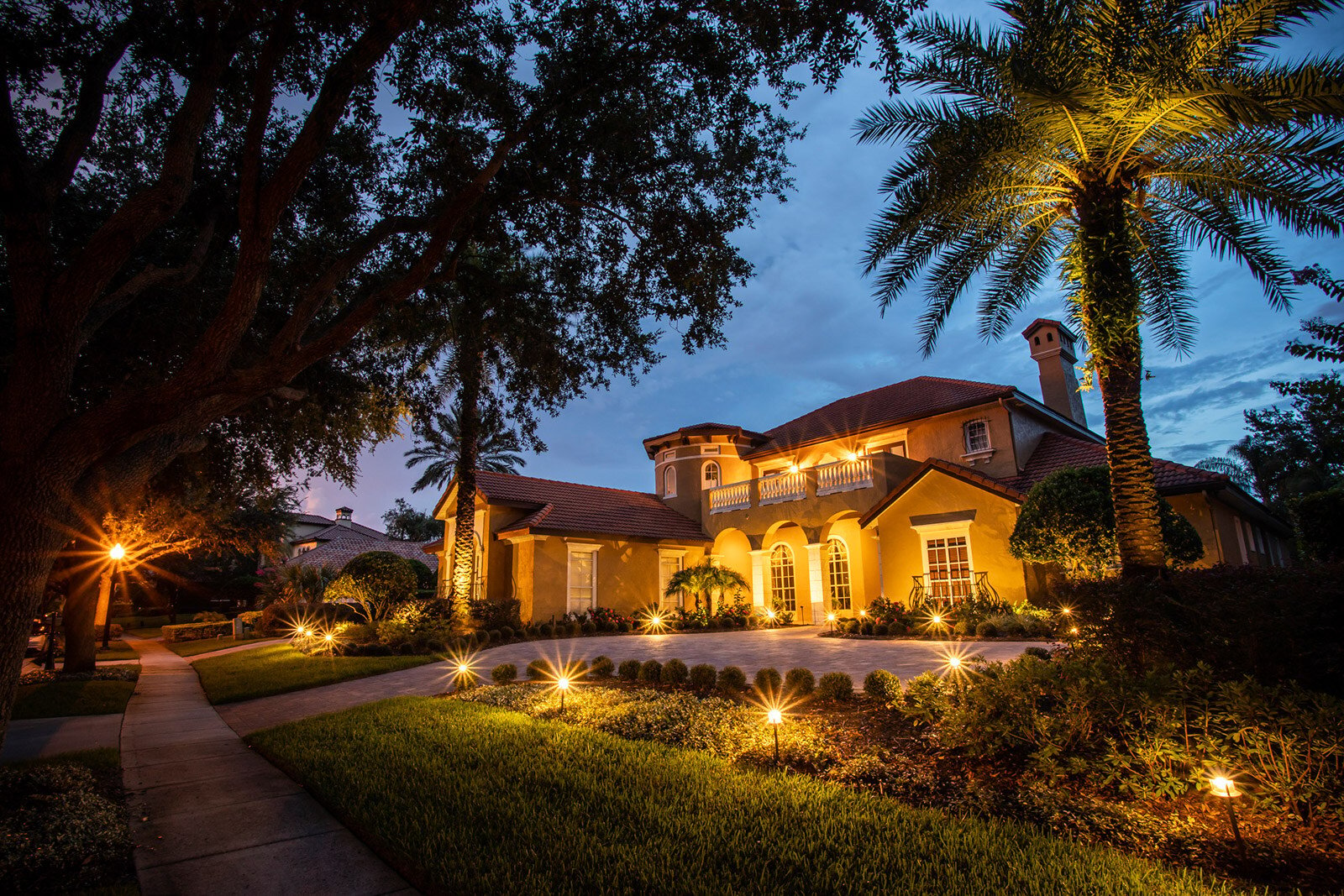 Palm trees, palm trees, baby! Coupled with the outdoor lighting, this home looks stunning.
Taller shrubs can provide a clean, fine line for your backyard landscaping. It definitely brings out that tropical vibe – which is great for Florida homeowners!
This front yard looks gorgeous! I love the smaller palm trees coupled with perennials and other native Florida plants.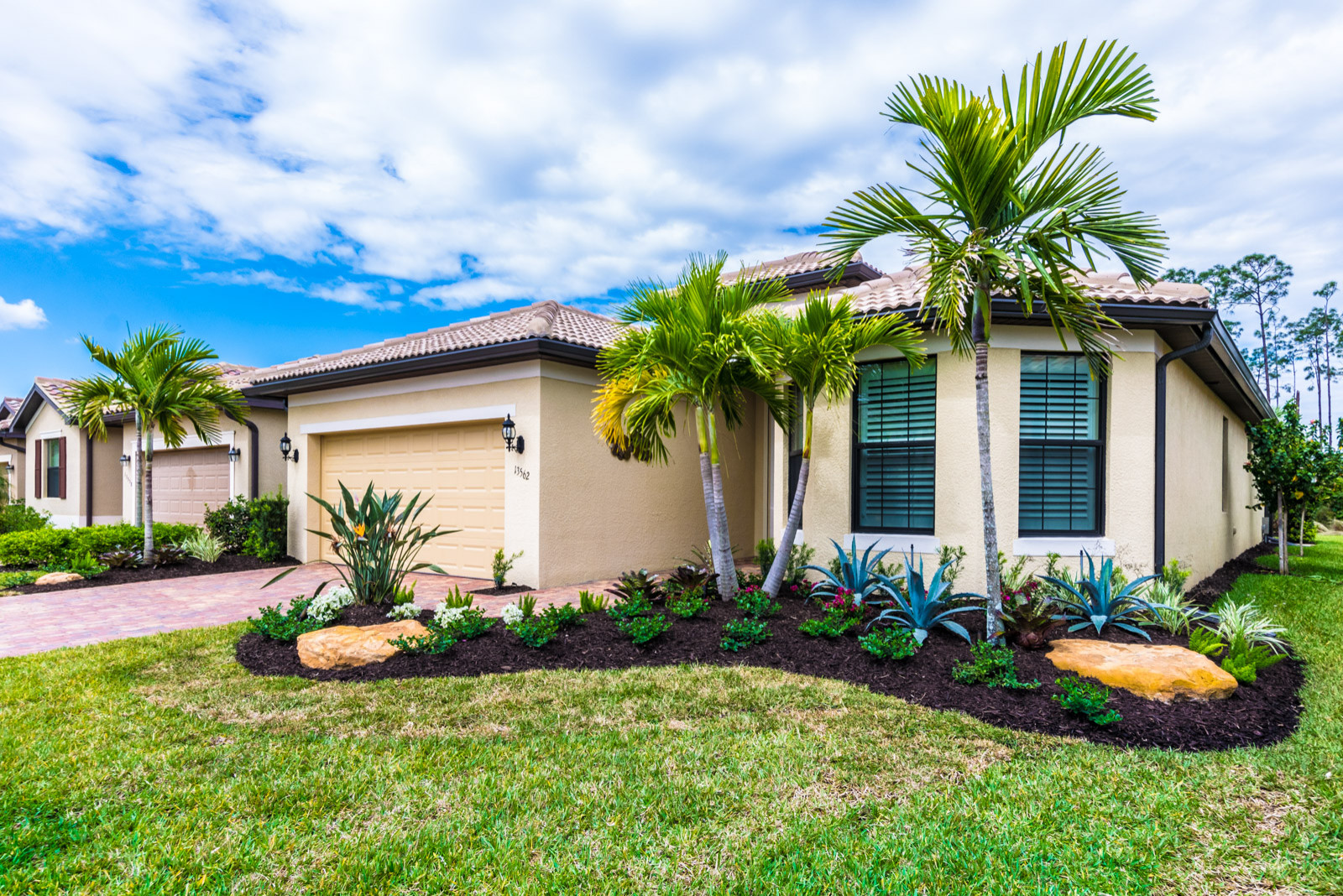 Talk about tropical front yard landscaping! Add a few palm trees, some succulents, and a rock or two and you'll be good to go!
Lawn maintenance is another integral part of keeping up with your home & landscaping design. You want to make sure you're trimming shrubs, as well.
Xeriscape, baby! Using brick pavers with small stone groundcover is great for both your water bill and the hot, humid Florida climate!
I love these rock gardens coupled with that botanic design – great for a Southern Florida home! Plus, this is a zero-maintenance design which is great.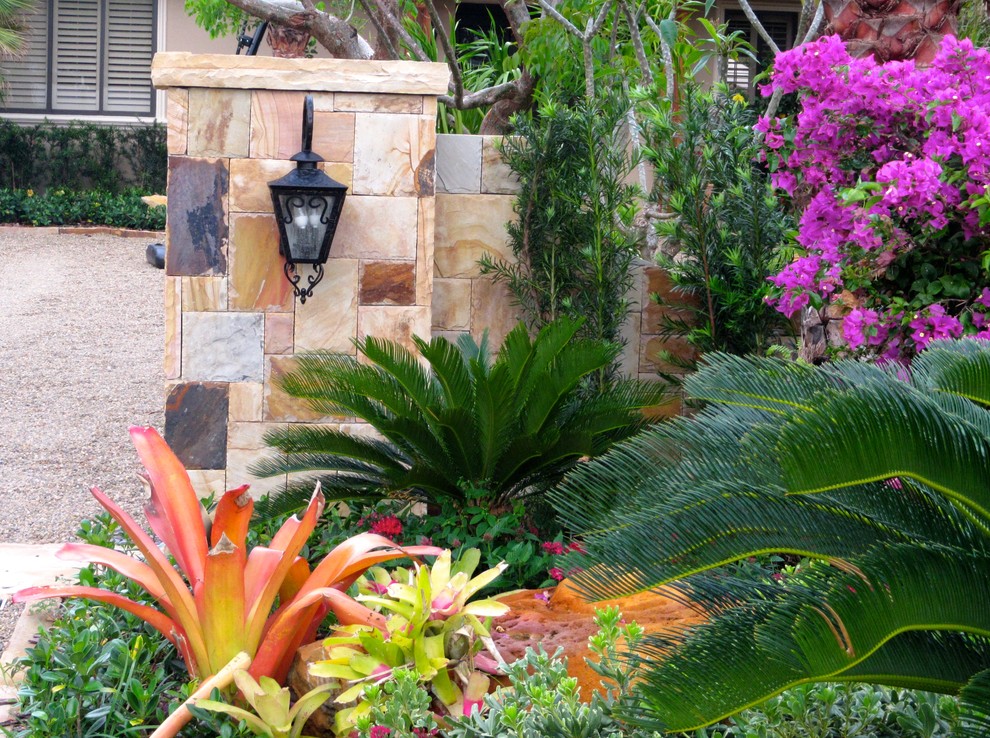 If you're looking for a contemporary, tropical landscape design – this is it! I love the pop of color that this landscaping design gives off.
This gorgeous home is accentuated by a beautiful xeriscape landscape design. I love the pops of color in both the plants and trees.
If you live in Southern Florida, check out this tropical landscaping style! I love the baby bamboo with pink Belinda dream rose's – gorgeous.
Check out this gorgeous Joy Perfume Tree and Black Bamboo – a true tropical joy!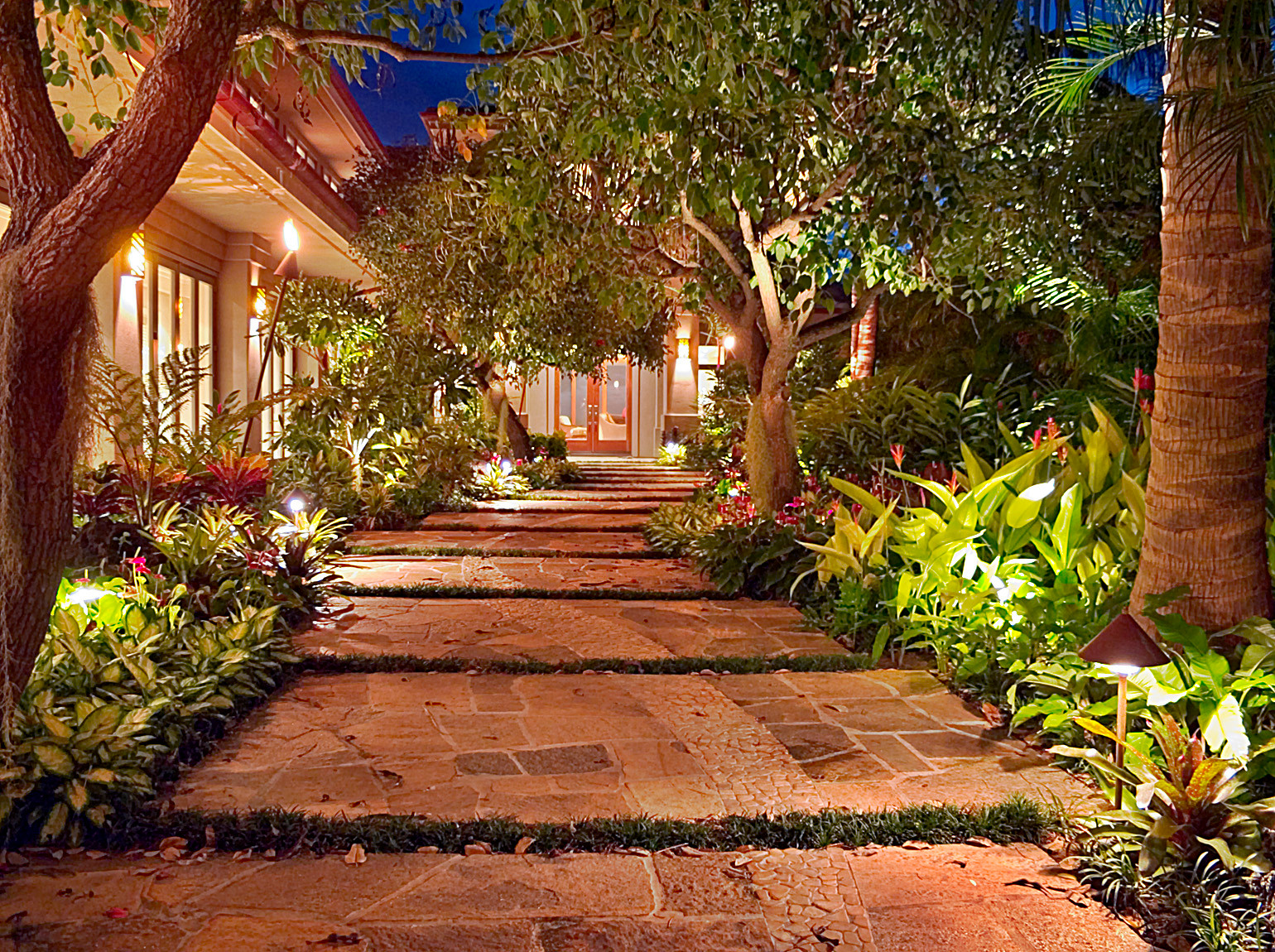 I love the stone pavers leading up to the door, accentuated the bright outdoor lighting. It looks like a tropical oasis!
Therefore, if you liked this article on front yard landscaping ideas for Florida, check out these:
Firstly…
Secondly…