While you may be hesitant to create a drought-tolerant landscape in Montana because of the ever-changing seasons – it's possible! Believe it or not, xeriscaping can actually be done in any climate, creating a low-maintenance landscape design that uses little water. So, follow along for the best drought-resistant landscaping ideas for Montana!
If you're looking for a landscaping professional in MT, read Landscaping Companies in Bozeman here. Or, if you liked this article, read Drought-Tolerant Landscaping Ideas or Front Yard Landscaping Ideas for 2022. Read Drought-Resistant Landscaping Ideas in Utah here.
How do you create a drought-tolerant landscape?
Xeriscaping is a technique used in many dry, desert climate conditions because it's a form of landscape design that uses little to no water. While Montana does have some dry climates, it definitely isn't the desert. However, xeriscaping can have other benefits than just reducing water usage.
If you're looking for a hands-off type of landscaping – then xeriscape is for you! But how do you do it, you ask?
Well – you first need to think about your space and transitioning your garden design. I recommend taking out all traditional grass or even mulch and replacing it with a groundcover such as rocks, pebbles, stones, or even gravel. Some people even do fescue in MT.
Then, you want to think about which drought-resistant plants to use in your design. Typically, native plants do great in xeriscape areas. You also want to do additional research based on the location you live in – and see what would flourish best in your area. While you won't be having plants in full sun because of the seasons, you will sometimes – so you need to keep that in mind. Types of plants will depend on location – such as if you live in Bozeman or high up in the Rocky Mountains. Yucca is always a popular option in Early Spring for xeriscaping, as well.
Personally, I love incorporating succulents into rock gardens to create that drought-resistant look – and it's deer resistant too – hah! Or – think about plants that will do well in Montana that aren't a ton of work (artemisia, sage brush, anaphalis, even white flowers, pink flowers, lots of dark green leaves)!
What plants do well in Montana?
Whether you're looking for perennials or even vegetables – we've got some of our favorites down below! We've included the common name of all, along with some scientific names. Again, you want to find tolerant plants for your area – especially ones that are going to draw natural pollinators such as bees, butterflies, and hummingbirds.
Tiger Lily
Blanket Flower (Gaillardia)
Painted Daisy
Coneflower (Echinacea)
Geranium
Juniper (Juniperus)
Blazing Stars (Liatris)
Sumac shrubs
Argentea
Lilacs
Chokecherry (they grow as wildflowers in Montana)
Sunflower (Helianthus)
Pearly Everlasting
Penstemon
How do you landscape a hill for low maintenance?
If your home is on a slope and you want to do a drought-resistant landscaping design, it's essential that you think of a few things before getting started. You want to choose plants that will anchor the hillside – think shrubs, ornamental grasses and prairie plants such as coneflower. These will hold the slope in place and require little maintenance. You also want to be mulching frequently – chances are you'll be creating a low growing area that isn't going to look too showy because of the large slope.
If you want to start from scratch, make sure to plant all seed heads at the right time!
Drought-Resistant Landscaping Ideas for Montana:
With a water-wise garden, think about using rocks or stones to create a visual boundary line. Then, add some native plants as they did above!
Incorporate ornamental grasses to cut down on your water usage. Here, they created a path to the front door and lined the plants to match.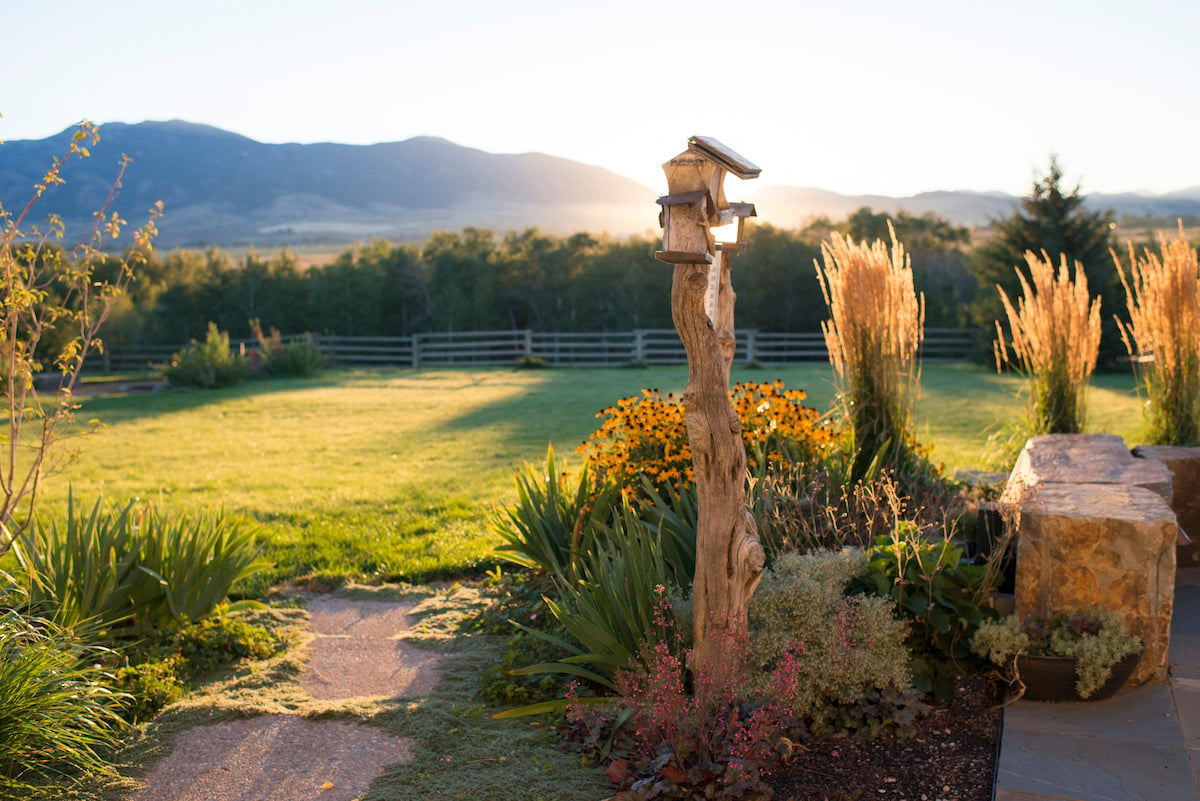 Find native plants that you can incorporate into your landscape design! Additionally, growing tall ornamental grasses require little to no upkeep.
By adding shelves to your wooden fence, you have less upkeep! You don't actually need any large growing plants to have your outdoor space pop.
Love me some succulents! Here, they even placed some in little garden boxes so you can transport them easily.
Find different plants that are a) low-maintenance and b) bring a pop of color! Lavender is a great plant that requires little upkeep over the months.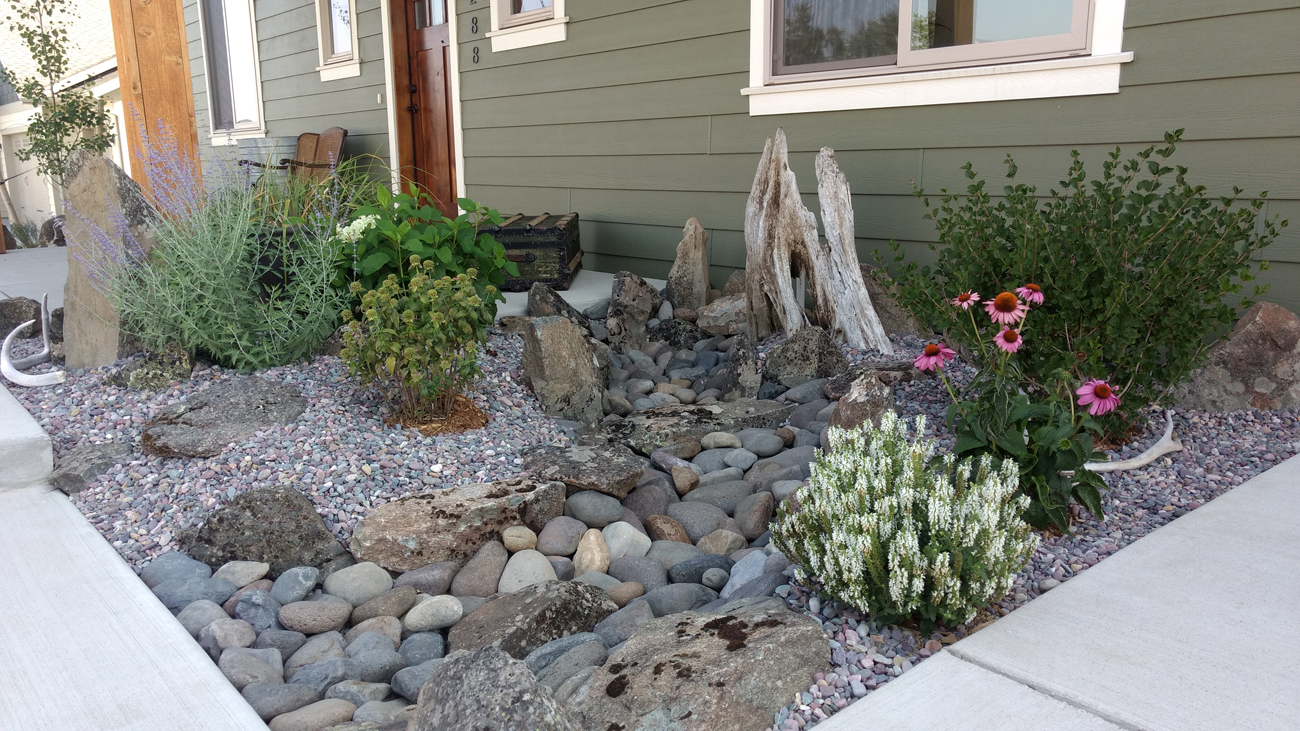 If you're going for that drought-tolerant landscape design in Montana, then incorporate a rock collection like they did above. You can incorporate a few native plants, but use small pebbles as a groundcover.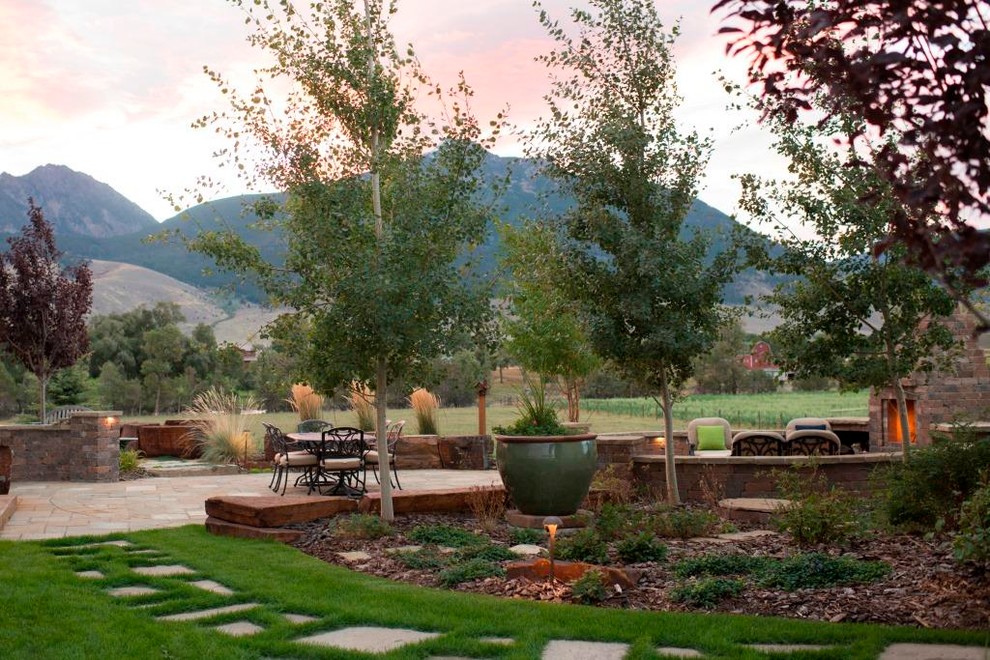 By incorporating pavers and stone throughout your backyard, you'll cut down on water usage AND on the time it takes you to garden. It's a win-win situation!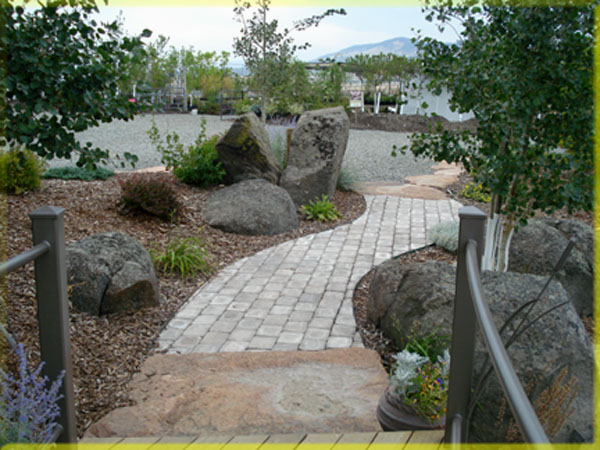 If you're into xeriscaping – try a rock garden! As you can guess – super easy maintenance and still looks great!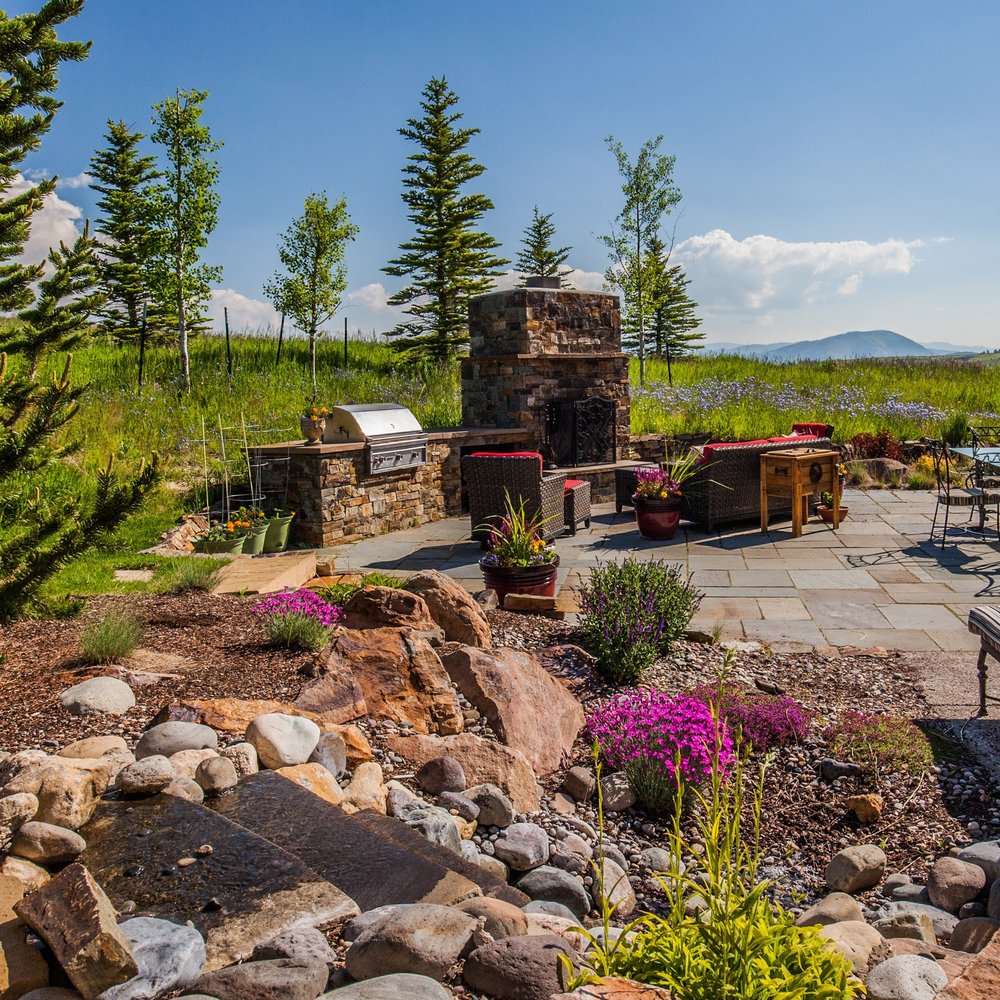 Look at how many rocks and stones they used here to accentuate their outdoor living space! Additionally, having a hardscape like an outdoor fire place or kitchen provides functionality while also being drought-tolerant.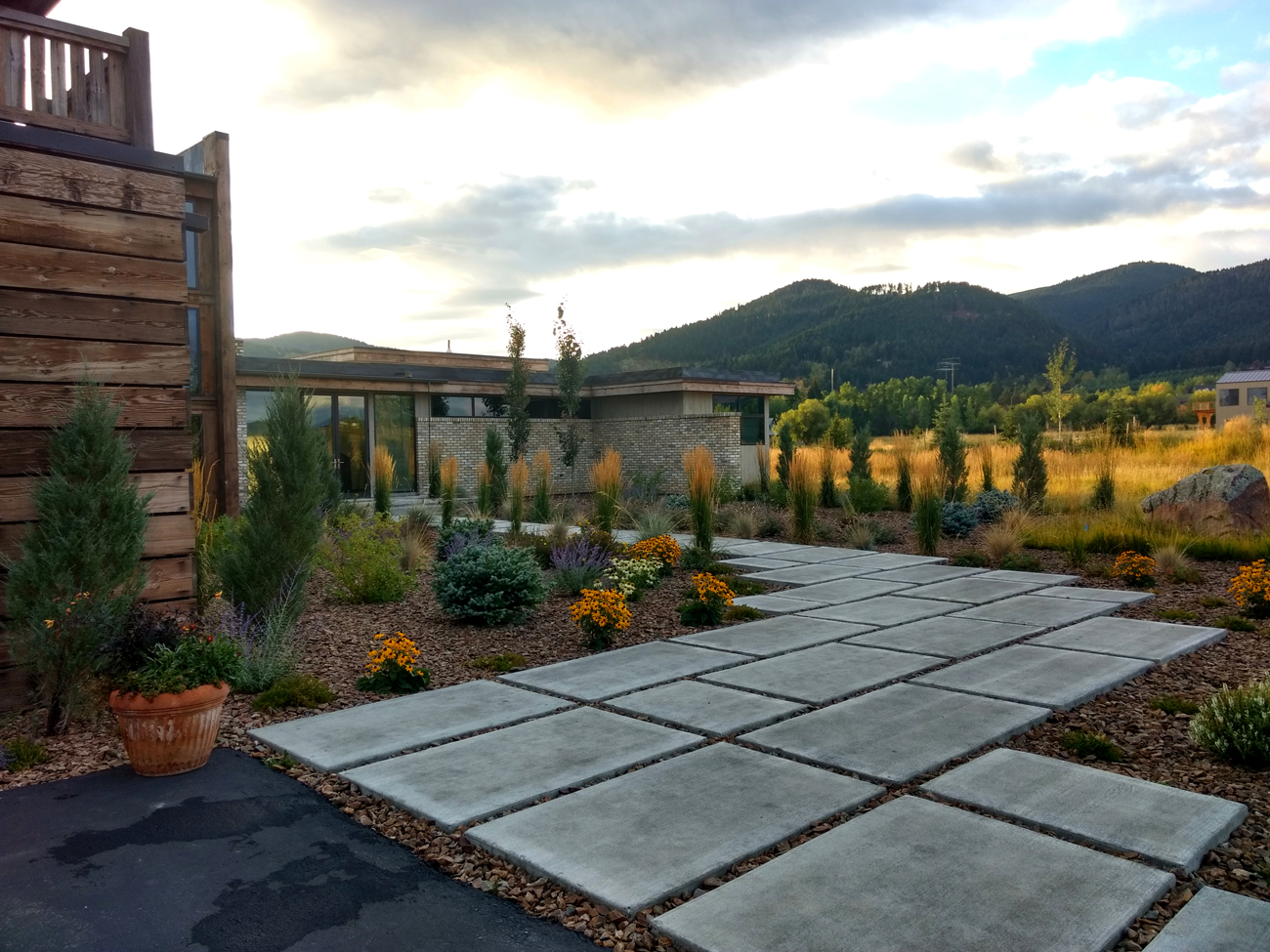 Try using concrete pavers on top of a rock groundcover – just like they did in the picture above. The landscaping here is gorgeous with clean, modern lines.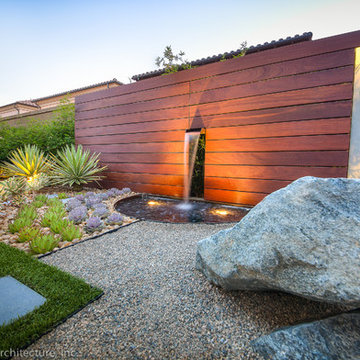 Incorporate a water feature into your backyard landscape design! They will make your yard look more expensive – when it'll actually save you $! A perfect drought-resistant landscaping idea for Montana.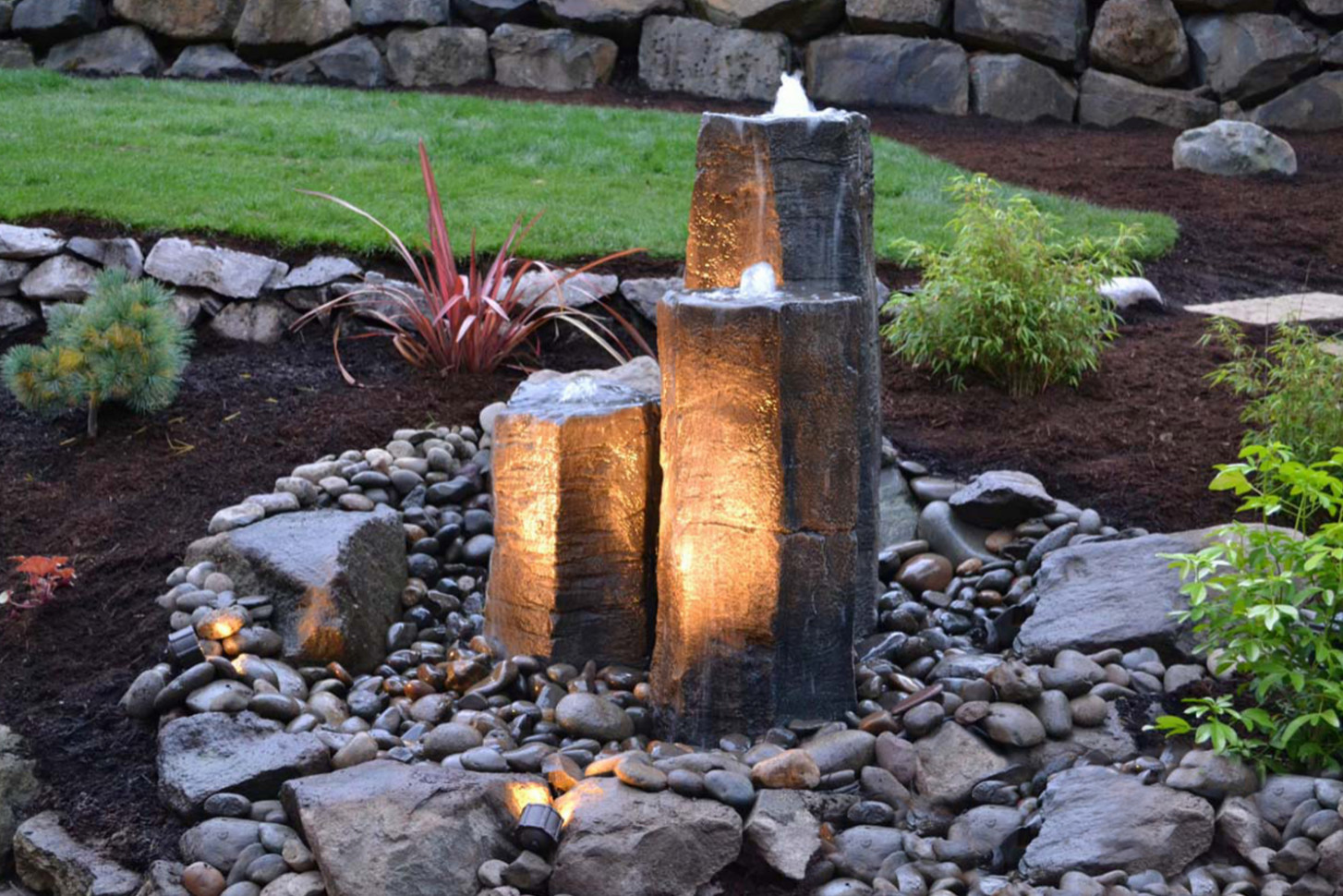 Like we mentioned in the picture above, water features have many benefits (aside from just looking pretty). Here, they placed stones around the water feature which adds a more modern look.
By adding ornamental grasses and even a few larger trees – your water costs can be cut significantly!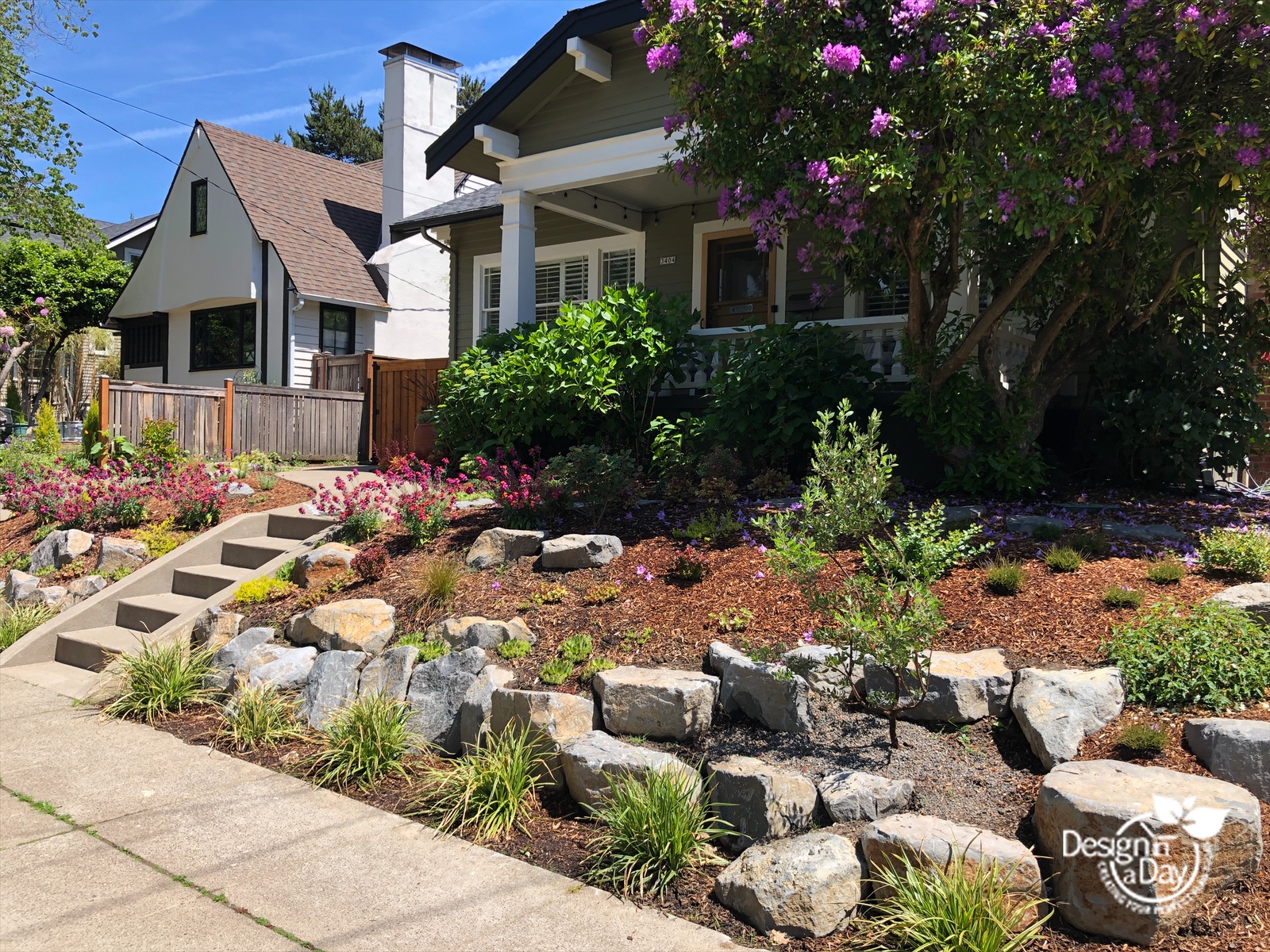 How gorgeous does this front yard look? For example – you can lay wood chips down as a groundcover and lay large rocks throughout to create a clean border line!
Therefore, if you liked this article on drought-resistant landscaping ideas for Montana, check out these:
Firstly…
Secondly…