Does your patio area need some TLC but you don't want to break the bank with a home improvement? That's where we come in! Below, we've put together our favorite cheap paver patio ideas, so you can put in a whole new inexpensive patio!
If you liked this article, read Fire Pit Ideas for 2022 here or read Covered Patio Ideas here.
What is the cheapest patio paver?
If you're wondering what a patio paver actually is – let's review. Pavers are man-made concrete patio stones. They try to imitate the look of natural stone but are actually manufactured. However, because they're manufactured, they come in a variety of different designs, colors, sizes, and materials!
Typically, you can buy them in small pieces, depending on the size you need – and they're pretty easy to install.
But, I'm sure you're still wondering…you want a new patio design but are on a tight budget. What paver should you put in your backyard patio?
Typically, pea gravel is going to be your cheapest paver (and a great DIY design idea). However, if you don't love the look of gravel in your outdoor space – don't worry! There are plenty of other options.
Brick pavers are going to be the next cheapest option. Typically, they cost anywhere from $2.50 to $5.00 per square foot. A lot of homeowners love the look of brick in their outdoor living space – whether that be concrete pavers, traditional brick, or even half brick pavers.
Porcelain pavers are another option that would look great surrounding a fire pit or a pergola. Personally, I like these paving stones because they're really easy to maintain and clean.
Bluestone, granite, and flagstone patio pavers are going to be the most expensive choice because they're all natural stones. However, if you have the means to splurge on patio materials – do it!
How much does a 20×20 paver patio cost DIY?
If you've been thinking about changing up some of your landscaping designs and adding in stone pavers, then you need to know an estimate of price.
While every patio space is going to differ, the typical cost of a 20×20 paver patio is anywhere from $3,800 to $6,800. This cost includes labor, so if you plan on doing a DIY project – the outdoor patio will most likely be cheaper.
The cost is broken down by the type of pavers you choose – as some are more expensive than others. Typically, bluestone pavers, fieldstone pavers, and flagstone pavers are going to be more expensive.
But again – it all depends on the choice of materials, if you hire someone out to pave your small space, etc.
Is it cheaper to buy pavers or buy concrete?
Typically, you're going to find that poured concrete is actually more affordable per square foot. However, creating DIY pavers or finding a cheap patio paver idea will save you a ton of money in the long run.
Plus, not only do pavers elevate the ambiance – they actually have a ton of benefits. Honestly, they're often more long-lasting and better quality than poured concrete. They're great for accentuating your space – whether that be making your outdoor kitchen and seating area look better, or even amping up the space around your garden!
Cheap Paver Patio Ideas:
Is this stone paver design not completely gorgeous? You could use this idea for a guest house, like they did here, or for just a simple backyard patio design.
We are LOVING the look of these concrete pavers! Not only do they go with the outdoor fireplace, the gray tones are a total mood.
If you're looking for a budget-friendly paver idea – check out these stepping stones. They'd be great for complimenting your outdoor space!
If you aren't loving the look of traditional pavers, try circular pavers like they did here! It adds a fun layer to your outdoor space and you can DIY it.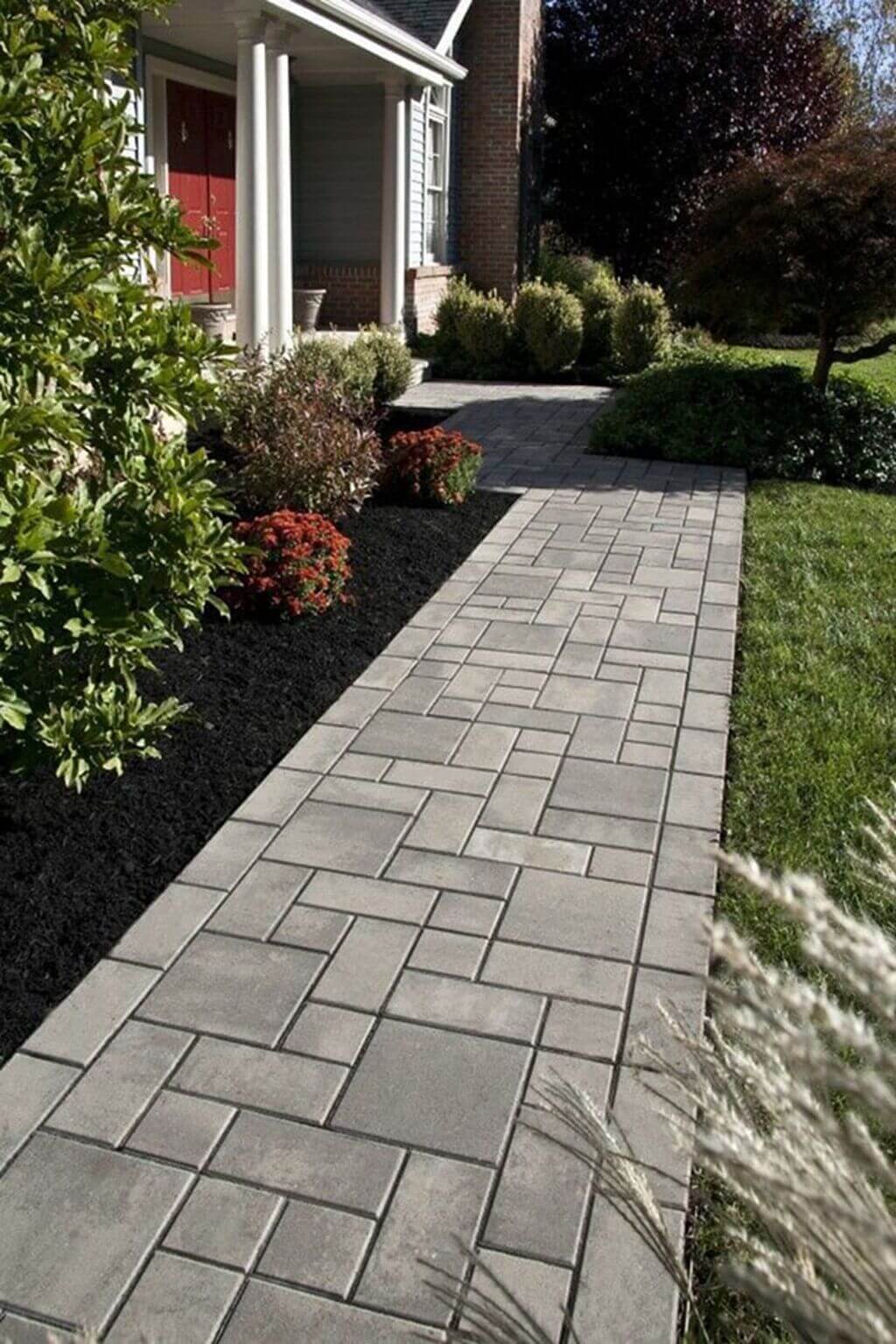 Here, you can see that these concrete pavers create a pathway that is not only neat and clean, but budget-efficient! One of the great things about pavers is that if you aren't feeling the typical gray stone – there are so many different colors you can choose from!
I love the look of these darker fieldstone pavers! Again, you want to make sure that when picking out pavers, your materials are going to go with the design of your home.
Check out these oversized pavers! I love that they accentuate both the patio furniture and the landscaping, while also bringing out a modern and clean look.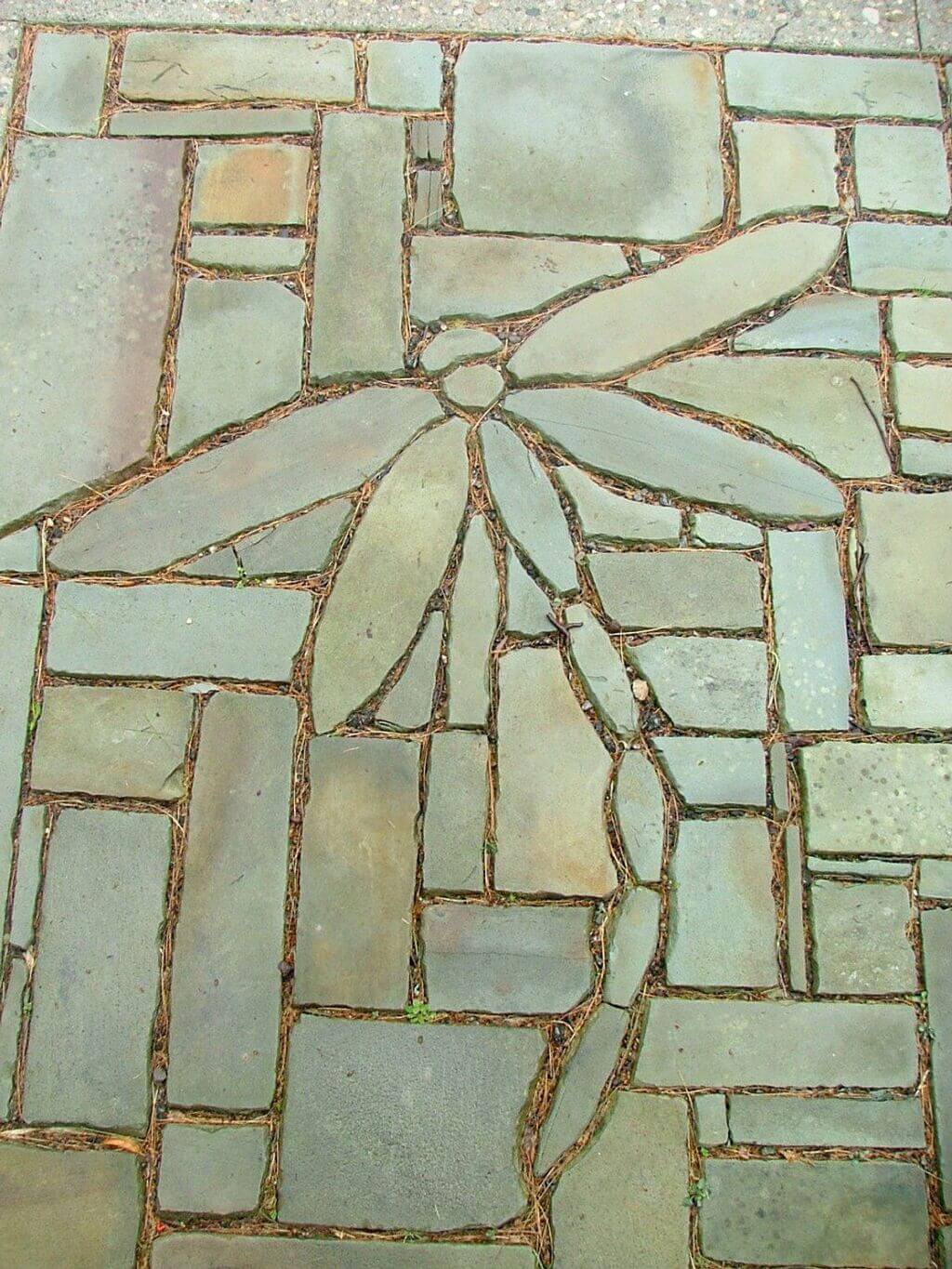 Ooooo…check out this sandstone material! While it's not always the #1 cheapest option, sandstone allows you to add texture and personality to your outdoor space.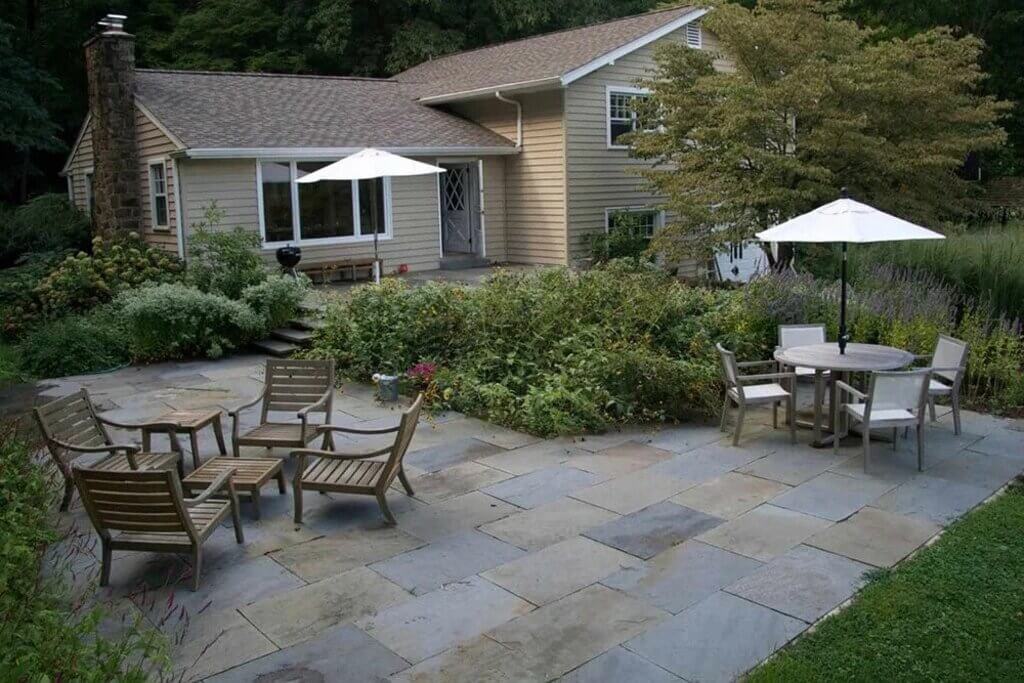 Flagstone pavers are another great option for your outdoor living area. They provide an effortless and clean look, while still being fairly inexpensive to install.
I love this example of cheap paver patio ideas because the pavers totally compliment the patio furniture! Additionally, the grey undertones give off a really modern look.
If you have a small backyard, check out this great example! It's a little corner patio that wraps around the fire pit, completely elevating the outdoor ambiance!
If you like the look of circular paver patios, then this backyard design is not to miss. Cobblestone pavers are a great material to use, and they allow a space to look elegant and classy.
These natural stone pavers are gorgeous, and completely enhance the outdoor landscaping design. I like how they used pea gravel in between the flower beds and the turf line.
Here, you can see that the homeowners used pavers to create and edged look. Not only are these elevated pavers good for preventing weed growth, it also allows the backyard design to look clean and put together.
If you're a minimalist and are wanting something simple – check out this paver idea. You could even do a DIY project and have an end result that looks like this!
If you liked this article on cheap paver patio ideas, go check out these:
Firstly…
Secondly…