Whether you're wanting to build a garden walkway, a path to your front door, or just elevate your landscape design – you need all the garden path ideas you can get! From utilizing mulch, stepping stones, and even wood chips – we've got all the walkway ideas for you below!
Or, read Above Ground Pool Ideas or Built-In Planter Box Ideas.
What is the cheapest way to make a garden path?
If you want to make a garden pathway but are on a tight budget, don't worry! There are plenty of garden designs that you can incorporate without breaking the bank. So, let's take a look at some of them below.
Firstly, mulch and gravel paths are going to be the most budget-friendly options you can find. All you have to do is remove sod, roll out the landscaping fabric, and put down the mulch or gravel in your outdoor space. Wood chips, cocoa beans, and cypress bark are all great mulch options. Pea gravel, crushed gravel, and crushed limestone will be a longer-lasting pathway idea.
Secondly, if you aren't wanting to use mulch or gravel as a landscaping idea – there are a few other alternative materials. Stone pathways are often budget-friendly – and they're fairly easy to DIY.
Thirdly, flagstone or even cobblestone are great choices to amp up your front yard curb appeal. They are going to be more expensive than the other options, just because they are a natural stone. However, creating a stone path is a really simple DIY garden path idea – and then you aren't going to need to pay a laborer!
What can I use to make a garden path?
If money isn't an issue, then there are a ton of different materials you can use for beautiful garden path ideas.
As we discussed above, crushed gravel, limestone, and pea rock are great long-lasting materials. You can also use mulch – but it isn't going to last as long and won't be as low-maintenance.
Depending on the type of pathway you want – you can also use concrete pavers, a herringbone brick pathway design, or even a simple stone walkway. The type of material you use is really going to depend on the look you're going for.
Are you creating a garden path as a visual interest or something more practical? Are you going to line the path with greenery and ground cover plants such as perennials? Or, is your brick path going to be leading to something such as a fire pit or a front garden? These are all factors that you're going to want to think about before deciding on material.
Then, think about what color tone you want your garden pathway to be. If you want something a bit different – make sure you find a material that offers a lot of different colors rather than just one or two designs.
Garden Path Ideas:
If you have some time on your hands and want to get creative, check out this garden path idea! They painted on top of cement pavers – and it looks oh so good!
Mulch is a great material to use if you want a budget-friendly walkway. Moreover, it's also great if you have a more informal area – such as the one seen here.
We talked about this above, but gravel is a great budget-friendly material for a garden pathway. It's also really versatile – you can use it in pretty much any garden area and create whatever shape/design you want.
Here's another example of a gravel pathway – except this one is edged with rocks. Edging helps reduce the amount of weeds and also creates a more formal pathway.
Look at these stepping stones that line the walkway! Here, they used small pebbles as an underfoot, but you could also use gravel or mulch.
A mulch pathway is fairly easy to lay down as well. Then, you can top the landscape design off with some stepping stones – as they did here!
I love this brick walkway! Bricks always give off that traditional look, but I really like how this example screams "rustic countryside".
Creating a pathway out of mulch or small pebbles is a really budget-friendly and low-maintenance way to go! And, if you want – you can DIY an edging path – as seen here.
Flagstone walkways create a really classy and put together walkway. However, they are a bit more expensive than gravel or mulch, because they are a natural stone.
Ooooo…look at this design! It's almost like a cobblestone pathway…no?
If you have a lot of bushy greenery, sometimes it's best to let your plants grow out and make a low-key garden path.
Make sure to map and measure you path out first – especially if you're going to be incorporating stone edging as seen here.
This garden path idea is a little different! It incorporates reclaimed wood logs/slices into the pathway design.
Here, you can see that they choose a granite pathway design. Granite isn't as common in path designs – probably because it's one of the more pricey options.
Check out this garden path idea if you are artsy and want a pebble mosaic pattern. I think this design would look really great leading up to a water feature.
Concrete pavers are another option to incorporate into your garden path ideas. When arranging the stones, try to leave at least 4 inches in between each stone.
I love this paver walkway because it's completely symmetrical! You have the stone surrounds, the landscaping, even the outdoor lighting lines up!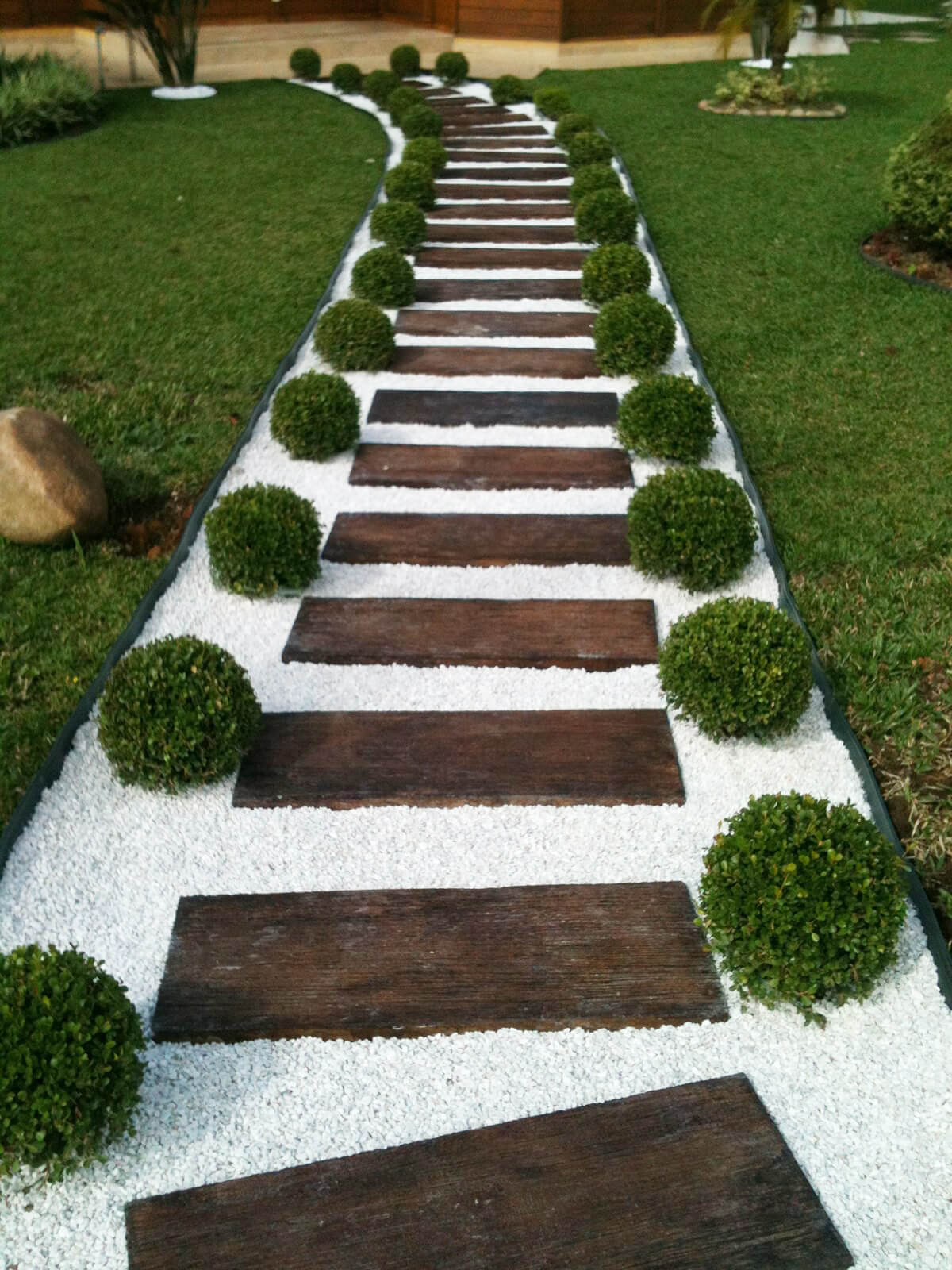 This pathway feels as though you're walking on a ladder! I like the white pebbles with the symmetrical shrubs – it gives it a more modern farmhouse feel.
We touched on this briefly earlier, but wood is a great material for your garden pathway. Why? Because it's pretty cost effective and really easy to install! Often times, you can even find a roll out pathway at Home Depot or Lowe's.
If you decide to go with a stepping stone pathway, make sure to spread a thin layer of sand prior to putting down the stones. This will help you lay the stones down and level them out correctly!
Here's another example of a flagstone walkway that looks really put together. I love the arched trellis garden as well.
Before you place your mulch or gravel down, make sure to cover the ground with landscape fabric. This will keep away the weeds and prevent the material from intermixing with the soil!
Look at this paver and pebble garden path! Here, they incorporated double stepping stones and some small pebbles as underfoot.
If you don't love the flagstone look, have you thought about doing a brick path walkway? Not only are they durable and easy to maintain, they look great with traditional style houses!
This is kind of a cool take on a wooden path walkway. They aren't super expensive to install, and they're easy to run a wheelbarrow over if you're outside gardening.
Check out this DIY gravel path with stepping stones! I like how they combined a variety of different ideas – the stepping stones, pea gravel underfoot, and even concrete brick edging.
If you aren't loving the circular stepping stone look – go for a rectangular look, like the one pictured here!
This winding gravel path is a great budget-friendly, low-maintenance garden path idea! The surrounding flowers are gorgeous – and the bench adds a nice touch!
Here's another great idea if you want to get creative. I like this DIY idea because your kiddos can get down and dirty with you, too!
Or, incorporate stairs into your garden pathway ideas! Here, they used a mixture of concrete and wood to form their pathway.
In conclusion, if you liked this article, go check out these:
Firstly…
Secondly…