Whether you want to incorporate palm trees into your landscape design or are just curious on the different types, we have all the info for you! Palm trees are such an interesting plant – some can live for centuries, some reach over 70 feet in height, and some are great for container gardens. So, if you want to learn more about the different types of palm trees – keep reading!
If you want to learn about what palm trees are best in your specific climate, read these articles:
Types of Palm Trees in California
Types of Palm Trees in Florida
Types of Palm Trees in Arizona
What is the most common type of palm tree?
Finding the most common types of palm trees depends on a few different factors.
Firstly, the region and climate you live in is going to affect what type of palm trees are growing around you. Typically, you want to try and find a native species of palm if you're planning on incorporating one into your yard. However, you can bring in other options from across the globe as well.
Secondly, the usage of palm trees also affect what is popular and what is not. Some people like to have dwarf palms growing in their yard, while others like to container grow palm trees. Some may even want one as a houseplant! Therefore, the most popular palms in your area are also going to depend on what you plan on using them for.
However, here are a few of the most popular palm trees throughout the United States:
Areca Palm Tree
Kentia Palm Tree
Pygmy Date Palm Tree
Lady Palm Tree
How many kinds of palm trees are there?
Believe it or not, Wikipedia reports that are over 2,600 species of palm trees throughout the world! Typically, you're going to find palm trees planted in tropical and subtropical regions of the world – Florida, California, Arizona, Australia, India, and even the South Pacific.
Interestingly enough, a lot of palm trees are actually cold-hardy though, so they can do well in a variety of different climates.
Different Types of Palm Trees:
#1 – Windmill Palm Tree (Trachycarpus Fortunei)
The Windmill Palm Tree (also known as the Chinese Windmill Palm) is a cold-hardy tree native to China. However, they do best both indoors and outdoors with partial shade and lots of watering. They're pretty low-maintenance and slow-growing, but are susceptible to wind damage if gusts become too strong.
#2 – Sentry Palm Tree (Howea Forsteriana)
The Sentry Palm Tree (also known as the Curly Palm) is a great slow-growing indoor plant, hailing from Australia. It typically grows about 3-4 feet in height and thrives in indirect sunlight. While they are a great houseplant, they can also be planted outside in well-drained soil in order to prevent root rot.
#3 – Pygmy Date Palm Tree (Phoenix Roebelenii)
The Pygmy Date Palm Tree is native to Southern China, and is a small-sized palm tree. Typically, they don't grow taller than 10 feet tall and can be identified by a single stem with long, droopy pinnate fronds. They are somewhat high-maintenance as the fronds can require occasional pruning.
#4 – European Fan Palm Tree (Chamaerops Humilis)
The European Fan Palm Tree originates from the Mediterranean and is a really pretty tree (that honestly looks more like a shrub). It features palm fronds that are a light green to silver-green color and leaflets that are about 20-30 inches wide. It's extremely cold-hardy, so although it loves full sun, it can also bear the cold!
#5 – Mazari Palm Tree (Nannorrhops Ritchiana)
The Mazari Palm doesn't really look like a typical palm tree, rather, more like a stubby bush. It originates out of Southwestern Asia, and feature fan-like leaves that are about 1-4 feet long. It is a cold-hardy palm (up to 10 degrees Fahrenheit) but needs warm summers to really thrive.
#6 – Dwarf Majesty Palm (Ravenea Hildebrandtii)
The Dwarf Majesty Palm is a great choice for landscaping in either your front or backyard. It is a single-trunk palm with dark green pinnate leaves. These leaves are wide-arching and often a focal point to any yard. Some people opt to grow this palm tree in containers, as well.
#7 – Bottle Palm Tree (Hyophorbe Lagenicaulis)
The Bottle Palm Tree does best in warm climates – typically in states like California and Florida. It features a bottle-like shaped short and fat trunk with huge palm leaves. You can't miss this tree – considering it looks almost swollen at the bottom of the trunk.
#8 – Sago Palm (Cycas Revoluta)
The Sago Palm is not actually a true palm tree, however, many people often categorize it by some. It's a fairly low-growing plant with long, green leaves that are pretty low-maintenance. They do best in USDA zones 9 to 11. However, this tree is known to contain several toxic compounds, making it poisonous – so be careful!
#9 – Lady Palm Tree (Rhapis Excelsa)
The Lady Palm Tree is great because it can thrive in pretty much any climate or lighting condition – except direct sunlight. Because of this, they make great indoor houseplants if you can place them in a window with indirect sunlight. Additionally, they feature palmate leaves with unique saw-tooth leaf tips.
#10 – Areca Palm Tree (Dypsis Lutescens)
The Areca Palm Tree is probably what you picture when you think of the traditional palm tree. It is a multi-stemmed tree with large arching fronds and yellow flowers. Arecas do best in bright but indirect sunlight, although they are pretty cold-hardy and low-maintenance.
#11 – Kentia Palm Tree (Howea Forsteriana)
The Kentia Palm Tree (also known as the Paradise Palm) is a gorgeous tree that can grow up to 40 feet in mature height outdoors. However, they're extremely slow-growing so they can also be a good indoor houseplant option if that's what you're looking for. Typically, they do best in a tropical atmosphere with frequent watering and low humidity conditions.
#12 – Ponytail Palm Tree (Beaucarnea Recurvata)
The Ponytail Palm Tree is pretty easy to spot given its swollen base at the stem of the tree. Also known as Elephant's Foot Palm, this species features thin, green arching leaves and lots of bushiness. They hail from Mexico, and thrive in full sunlight or bright, indirect light.
#13 – Parlor Palm Tree (Chamaedorea Elegans)
The Parlor Palm Tree has a great growing season during the spring and summer, making it pretty low-maintenance. You typically only need to water it once per week, and usually even less in the winter. Parlor Palms do best when they are in full sun and in a warm climate.
#14 – Queen Palm Tree (Syagrus Romanzoffiana)
The Queen Palm Tree is a rather large palm tree species – typically growing up to 50 feet in height. Once planted in a warm climate, they're pretty fast-growing – about 2-6 feet every year! Therefore, they don't make for a great indoor palm.
#15 – Bamboo Palm Tree (Dypsis Lutescens)
The Bamboo Palm Tree is a great indoor palm because they thrive in low light conditions. Moreover, they usually don't grow more than 6 feet in height (and less when indoors), with a leaf span of about 3-5 feet. Therefore, if you're looking for a houseplant but have a lot of shady areas – try a Bamboo Palm.
#16 – Triangle Palm Tree (Dypsis Decaryi)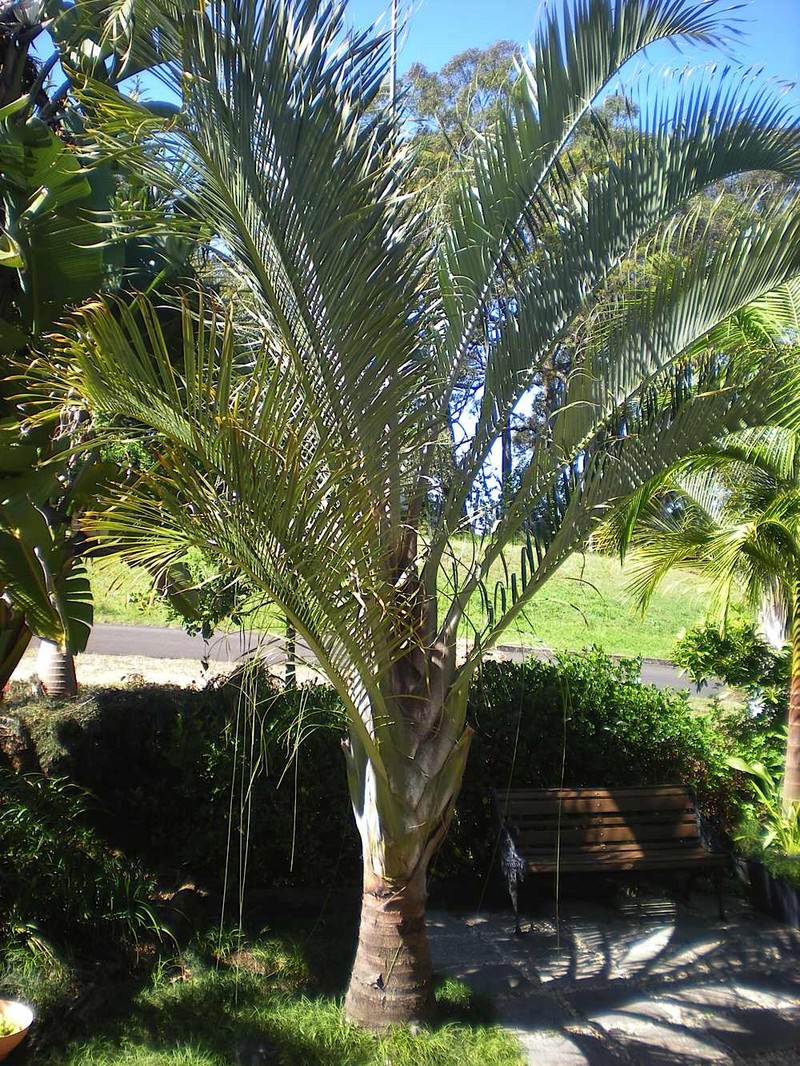 The Triangle Palm Tree is a small to medium-sized palm that features a three-ranked crown and gray-green feathered leaves. It has three distinct points where the fronds form, which gives it the name: Triangle Palm Tree. This tree does best in well-drained soil and full sun. It can tolerate partial shade and is also drought-tolerant.
#17 – Mexican Fan Palm Tree (Washingtonia Robusta)
The Mexican Fan Palm Tree (also known as the Washington Palm) is a tall-growing, elegant tree that can be found by their spiky leaves. They need at least 6-8 hours of direct sunlight every day – so make sure you can provide this for them before getting one. They also need to be watered at least 2-3 times per week for the first month, and then once a week after that! They're closely related to the California Fan Palm (Washingtonia Filifera), but have a thicker trunk and leaves.
#18 – Spindle Palm Tree (Hyophorbe Verschaffeltii)
The Spindle Palm Tree is a very tropical plant that is native to the Mascarene Islands in the Indian Ocean. They features ridges on their trunk that are shaped like a spindle, and a narrow base with wide fronds. They can grow up to 25 feet in full sunlight, and typically do best in sandy, well-drained soil and full sun.
#19 – Florida Royal Palm Tree (Roystonea Regia)
The Florida Royal Palm is a large tree with hard-to-miss blue-green fronds. If you aren't sure if what you're looking at is a Royal Palm – look to see if it has a bulging stem base and erect trunk. If it does – then it most likely is! This tree does best in warm climates such as Florida, Texas, and Southern California.
#20 – Thatch Palm Tree (Thrinax)
The Thatch Palm Tree is a Florida native and an extremely slow-grower. It typically grows to about 15-20 feet in mature height and has a think trunk, making it great for small yards. It's a pretty low-maintenance tree and does well in both sunlight and shade, although the more shade it receives the slower it grows. It originated out of South America.
#21 – Foxtail Palm Tree (Wodyetia Bifurcata)
The Foxtail Palm is a very typical palm tree, and can fit in just about any yard. They have a fast growth rate, but are a mid-sized tree so they won't get too large (they rarely grow over 30 feet tall). Additionally, these types of palm trees are pretty low-maintenance – they love the sun and they are a self-cleaning palm!
#22 – Pindo Palm Tree (Butia Capitata)
The Pindo Palm (also known as a Jelly Palm) originates from Brazil. They typically grow anywhere from 20 to 35 feet in height and 10 to 15 feet in width. If you're looking for a low-maintenance palm – then this is it…it's extremely cold-hardy and does well in a variety of climates. It even drops edible fruits!
In conclusion, if you liked this article, check out these:
Firstly…
Secondly…