When planning out your landscape design, it's crucial that you find a type of grass that will thrive in your specific climate. Believe it or not, there are many different types of grass – and all of them have different growing seasons and climate needs! So, follow along to learn more about the different types of grass for landscaping.
If you liked this article – read Front Yard Landscaping Ideas for 2022 or Low-Maintenance Front Yard Landscaping Ideas.
Which type of grass is best for a lawn?
According to Wikipedia, there are over 12,000 species of grass. Therefore, it's essential that you find the best type of grass for your landscaping design. So, let's get to it!
Determining the best grass variety for your yard depends on where you live and what you'll be using the lawn for. For instance – you're probably going to want to do more research when determining a type of grass for a golf course vs. a backyard. Golf courses are going to have heavy foot traffic, so you're going to most likely want a low-maintenance type of grass.
Moreover, cool-season grasses tend to do best in Northern climates – these grass varieties tend to like shadier areas (think tall fescue, bluegrass, etc). Warm-season grasses tend to do best in Southern climates (think zoysia, St. Augustine grass).
Homeowners also need to think about how fast they want their grass to grow when deciding on a specific type. For example, Bermuda grass does best in warm climates, and is an extremely fast-growing grass species.
What type of grass stays green all year long?
If you're looking for a type of grass that stays green year-round, check out Fescue grass. It's a cool-season grass – so it likes colder temperatures – and therefore stays green 24/7! Additionally, it's a bunch-type grass, so it spreads through vertical shoots which grow from the actual base of the grass plant. Therefore, you may need to plant grass seeds if you want to use Fescue to cover a bare area.
Types of Grass for Landscaping:
Bermuda Grass
Bermuda Grass is a warm-season grass that is very versatile – many people use it for golf courses and backyards alike. While it requires a lot of watering, it can be mowed down to a low height which is great for a high-traffic yard. Moreover, it's a dark green grass that is often found in the southern part of the Midwest.
Bentgrass
Bentgrass is a cool-season grass, typically thriving in climates such as the Northeast and Pacific Northwest. You'll find this grass all over Northern California golf courses due to its soft texture and easy ability to run a mower over it. However, it is a really high-maintenance grass that needs constant lawn care – from watering, to fertilizing, to so much more.
Centipede Grass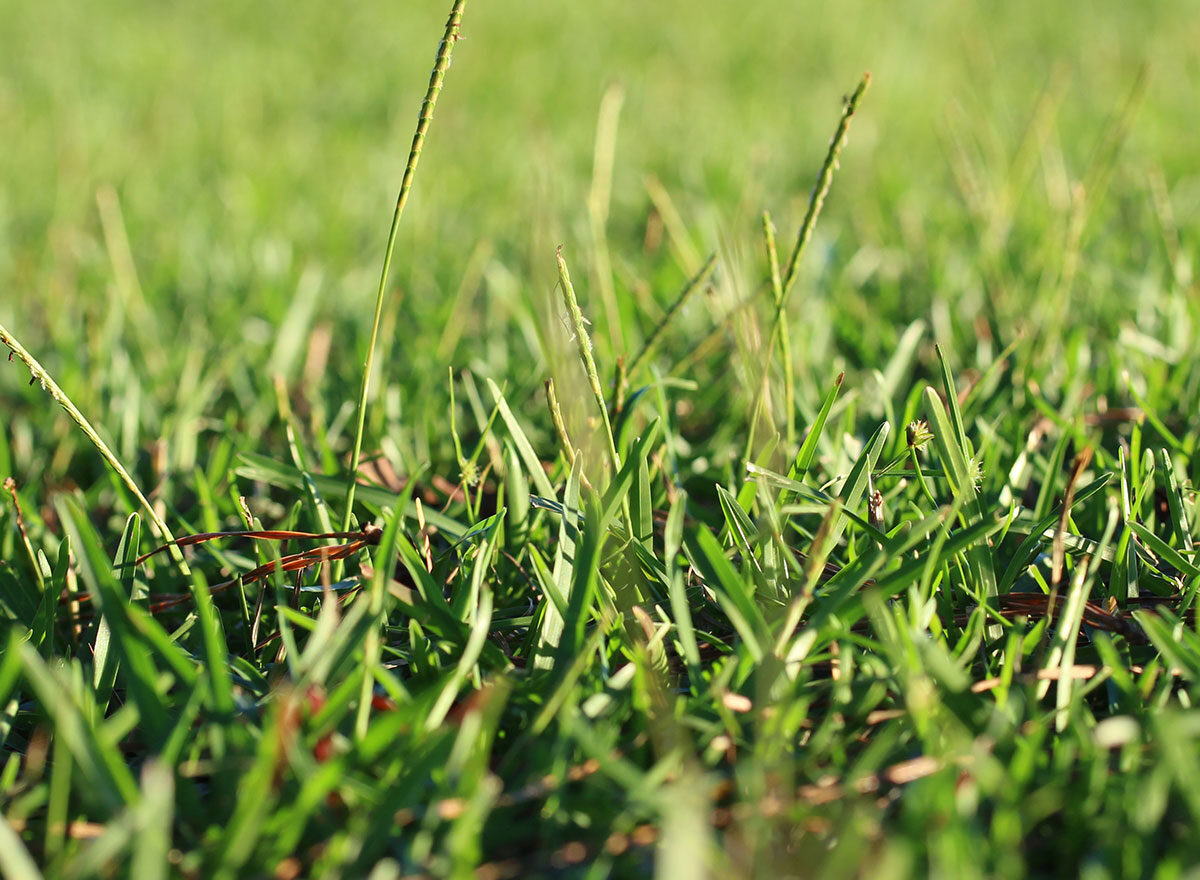 Centipede Grass is a low-maintenance, warm-season type of grass. It is a light green color and feels very turf-like. People enjoy this type of grass because it can do best in a variety of different climates such as full sun and even partial shade.
Dichondra Grass
Dichondra is a different looking grass than the typical "green lawn" you're thinking of. Instead of blades, it features little round leaves that almost look flower-like. It does best in warm climates and is great for being a dense groundcover. However, it is high-maintenance and requires a lot of fertilization and watering.
Perennial Ryegrass
Ryegrass is an extremely fast-growing type of grass that is often paired with Kentucky Bluegrass and Fine Fescue. It does best in colder climates and is pretty easy to maintain. Ryegrass is used for both permanent and temporary lawns – due to its quick germination and tolerance to heavy foot traffic. It's definitely one of the best types of grass for landscaping.
Zoysia Grass
Zoysia Grass is a prickly, light green grass that does best in warm climates – such as the Carolinas. People like this grass because it can tolerate extreme heat, is drought-resistant, and doesn't need a lot of watering or regular maintenance. However, it is prickly and turns brown in cold weather if you're not mowing it consistently.
Kentucky Bluegrass
Kentucky Bluegrass is a very popular type of grass for cooler climates. As we mentioned above, it's typically combined with Perennial Ryegrass and Fine Fescue. It does best in full sun as it doesn't love shady areas – and can be grown from both a seed or a sod.
St. Augustine Grass
St. Augustine Grass is a slow-growing type of grass that is extremely heat and drought-tolerant. Therefore, it's really popular in warmer states like Florida and along the Gulf Coast. It does need regular watering and mowing, and can be grown in a variety of different soils – including sandy soil.
Pampas Grass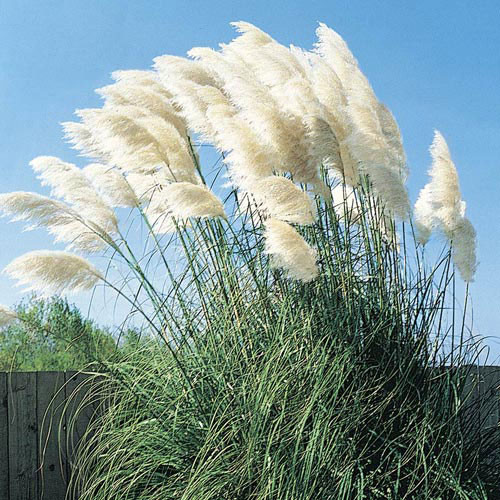 Pampas Grass is an ornamental grass that does best in full sun and a variety of different soil types. It's known to grow in large clumps with white, feather plumes (so it doesn't look like traditional green grass).
Bahia Grass
Bahia Grass is typically used as a groundcover or a pasture grass. It has the ability to adapt to different types of soils – including poor soil, which is more uncommon. It's one of the best types of grass for weed control – and is resistant to critters!
Mondo Grass
Mondo Grass hails from China, Korea, and Japan – and is known for being a great groundcover because it grows in clumps. It prefers partial shade and is typically a blue-green color.
Crabgrass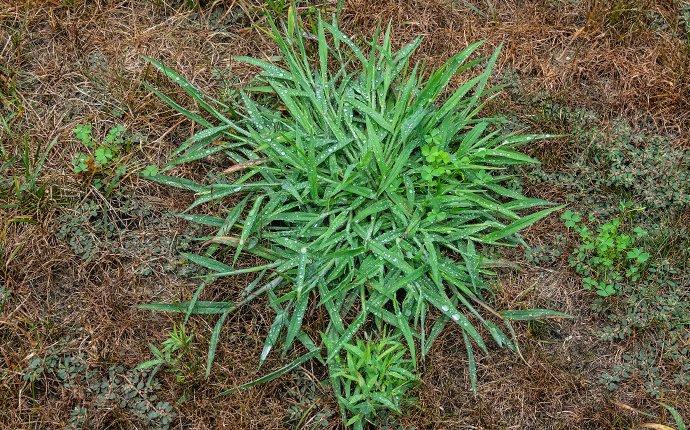 Crabgrass is a fast-growing turfgrass weed that is extremely short and indestructible. Therefore, it's a great option if you know you'll have a lot of kids or pets running in and out of your yard. It can thrive in a variety of climates – as it likes both full sun and partial shade.
Pink Muhly Grass
Pink Muhly Grass is a great choice if you want a type of grass that does not look traditional at all. It's known for its pink flowers and white plumes that grow in clumps, making it easy to spot. People like it because it's pretty low-maintenance and is fast-growing as well.
Foxtail Grass
Chances are, you've seen Foxtail Grass growing in clumps in warm-season climates. It typically reaches about 3 to 4 feet in maturity and is known for being deer-resistant – amongst other grass feeders as well. It is both full and shade tolerant, and its flowers typically bloom in late fall to early winter.
Buffalo Grass
Buffalo Grass is a short perennial type of grass that is typically used for pasture lands and as a sod feeder. It's drought-tolerant, loves the shade, and is extremely dense. However, you want to maintain upkeep as Buffalo Grass is known for turning brown and dormant in the winter.
Lemon Grass
Many people like Lemon Grass because it's used as both turfgrass and extracted as an essential oil. It's known for not only having medicinal properties, but also as an organic way to repel mosquitoes, flies, and other pesky insects. It typically grows in clumps and can be recognized by its blade-like leaves and stiff stems.
In conclusion, if you liked this article, check out these:
Firstly…
Secondly…