With summertime fast approaching, it's only fitting that you have a swimming pool in your outdoor space to cool off! However, any in-ground pool owner will tell you that a traditional pool installation is a long process – and expensive! So, have you thought about putting in an above ground swimming pool instead? Keep reading for all the above ground pool ideas below!
Or, read all about Covered Patio Ideas.
How do you make an above ground pool nice?
Sure, your first impression of an above ground pool design is that it may be…well…tacky. However, that doesn't mean that there aren't ways to make your pool area classy. Let's take a look at some design ideas that you can add into your swimming pool design!
Firstly, think about surrounding your pool with a raised deck. Here, you have plenty of deck design options – from a wood deck, to low-maintenance decks, and so on!
Secondly, you can add some pool lights to your space! Personally, I love the LED lighting that sits directly at the bottom of a backyard pool. They're fun for the kids, and they will elevate the ambiance in any small backyard! Or, some people love the look of string lights hanging over a raised pool! Therefore – it's time to get to lookin!
Thirdly, think about installing a pool fence. Not only will it help keep your kids safe, it helps deter dogs and other animals from jumping in as well! We'll provide some great fence ideas below.
Lastly, don't just focus on the actual above ground pool – think about ground pool landscaping ideas. How can you take your outdoor living space to the next level? You could put a flower bed in poolside or even add greenery to your outdoor landscape design. Or, you could even add DIY pavers going up to your round pool – there are endless options!
What is the best thing to put around an above ground pool?
As we mentioned above, it's crucial to landscape your above ground pool area. Typically, you'll see people use gravel or rock to put around the pool. This is convenient because they're readily available and come in many different shapes and sizes.
I really like the look of adding some greenery surrounding your pool – even if you're dealing with a small space. For instance – I would install a wooden deck right beneath the pool wall and plant flower beds – hydrangeas, azaleas, small boxwood. This would make the multi-level deck not only look great, but also elevate my entire outdoor space.
Above Ground Pool Ideas:
Are you ready to get sunbathing this summer? Let's take a look: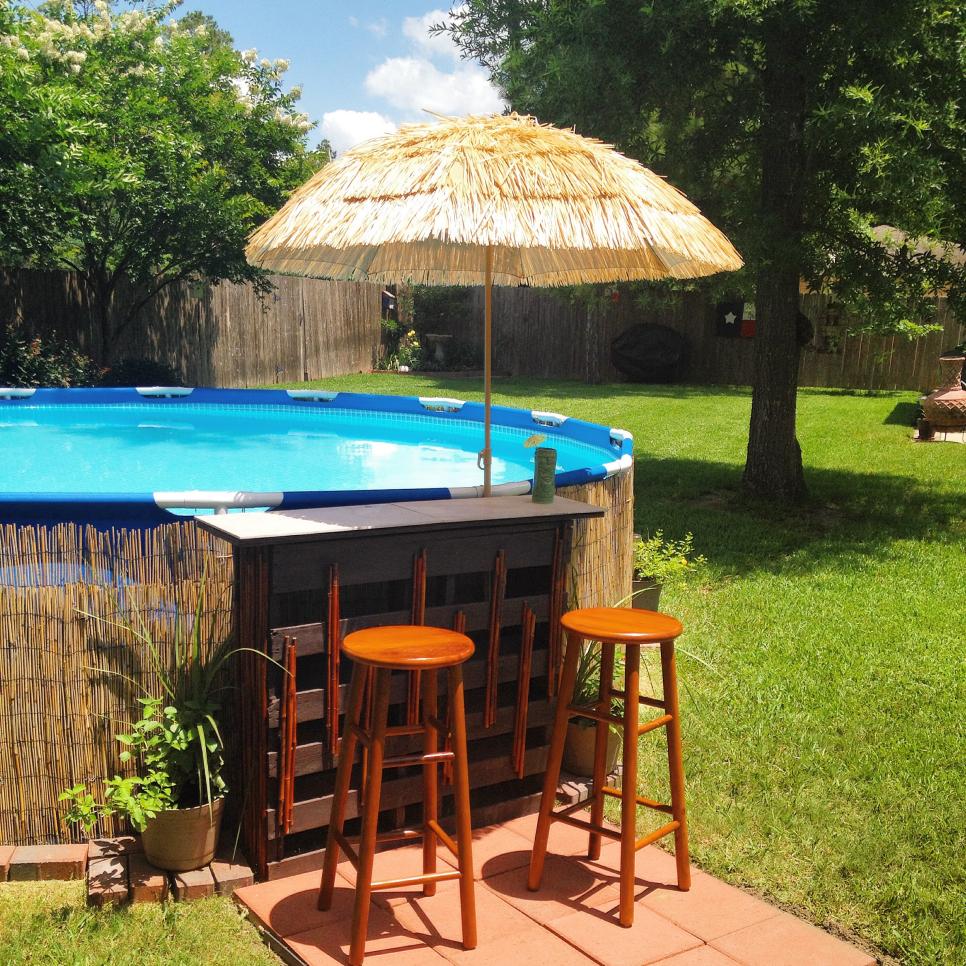 Who said you can't bring the party poolside? For example – put in a swim-up bar and you'll instantly feel like you're in Hawaii!
Not only does this example feature a raised deck, it also has beautiful greenery surrounding the pool!
Here, you can see a modern round Doughboy pool. Doughboy is a popular and well-known manufacturer for above ground pools.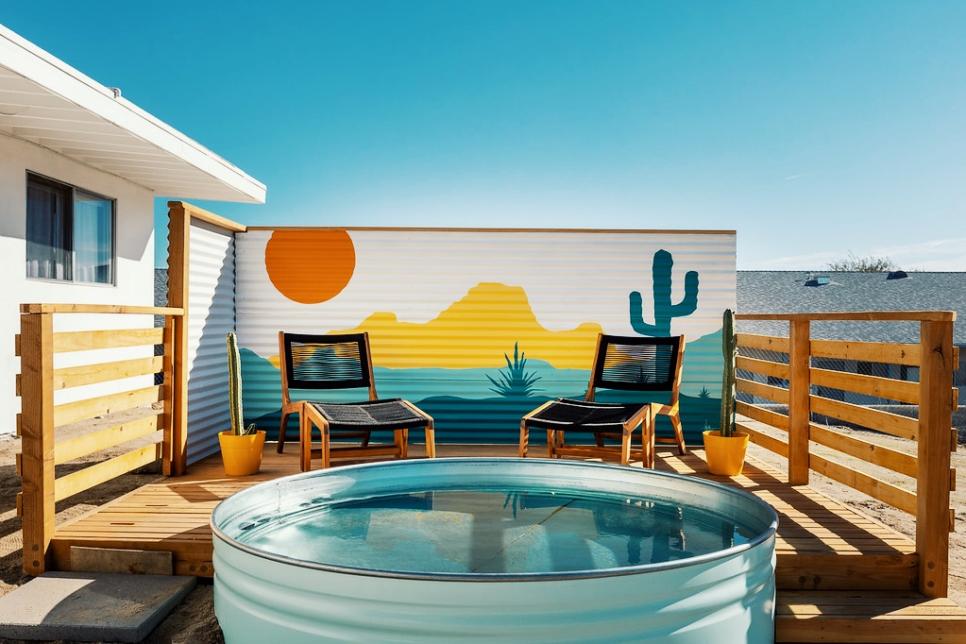 Who said an above ground pool needed to be boring? Here, they used a mural wall as a privacy screen.
Opt for a rectangular above ground pool! Additionally, you can even add in pool lights – as they did here.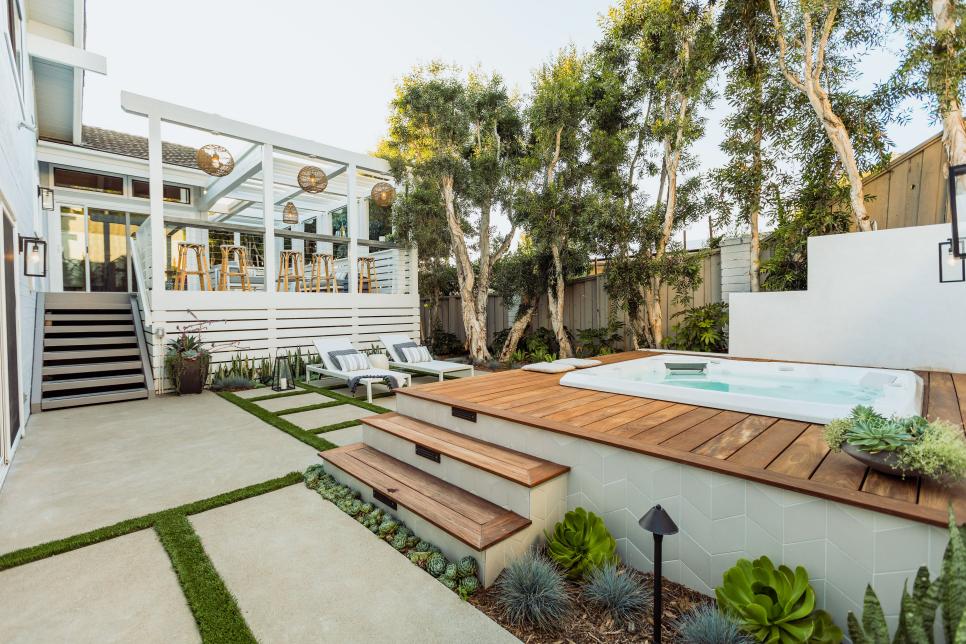 Check out the tile for added texture! And – do you see the outdoor lighting they put in?
Amp up your pool design with a wooden patio! Additionally, make sure to choose a deck material that won't hurt your feet when walking to the pool barefoot!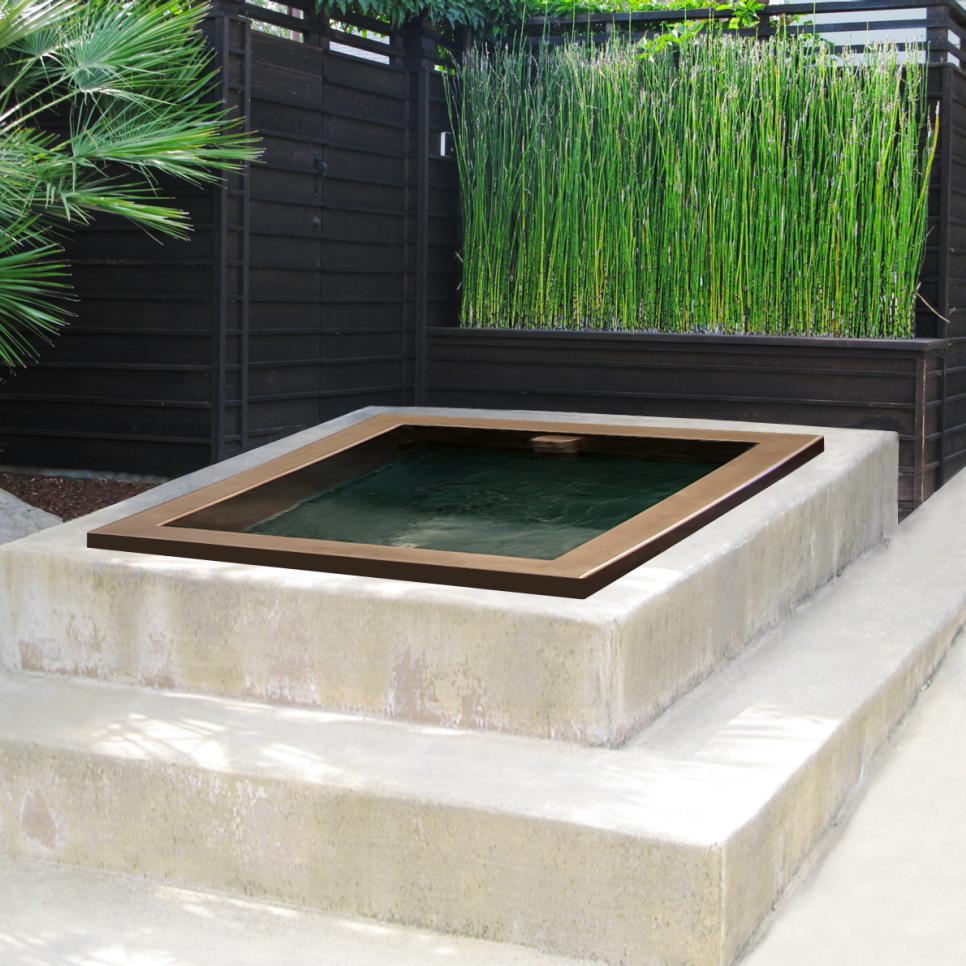 Create a custom concrete water feature – it's an affordable option that still looks high-end!
This may not look like an above ground pool – but it is! The pool area is built with a surrounding deck and fence with high walls for extra seclusion.
This pool features a multi-level deck – complete with a deck railing! For instance – this is a great idea if you have younger kids and need to make accessibility to the pool limited.
Enclose your above ground pool with fencing and an arbor-covered gate. Additionally – add some outdoor pendant lighting into your landscape design!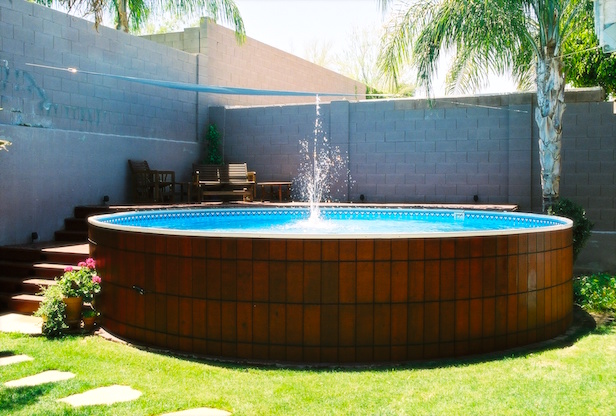 Even if you have a small backyard, you can still fit an above ground pool in! Here, they tucked the pool into the corner of the yard – between the outer walls.
Check out this wooden deck that they installed to compliment their pool. For instance – I love the small touches of greenery throughout!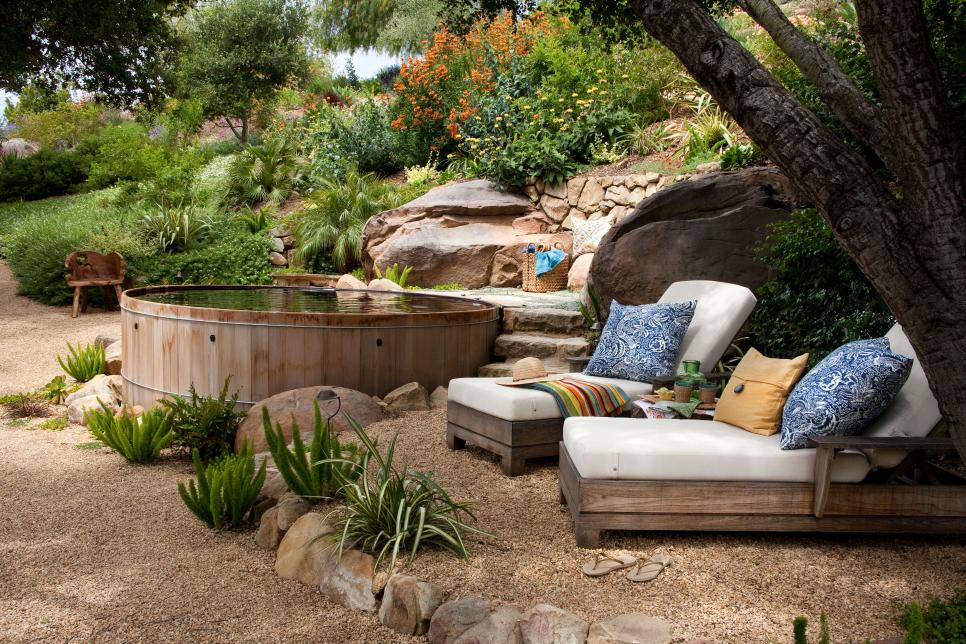 If you're feeling a cedar-wood hot tub – go for it! Moreover, it definitely is more of a rustic/low-maintenance landscaping style.
Here, they put in stone pavers as a pathway to their above ground pool. For example – it definitely makes the outdoor space look classier and more put together!
Think about adding a water feature – such as this small waterfall seen here.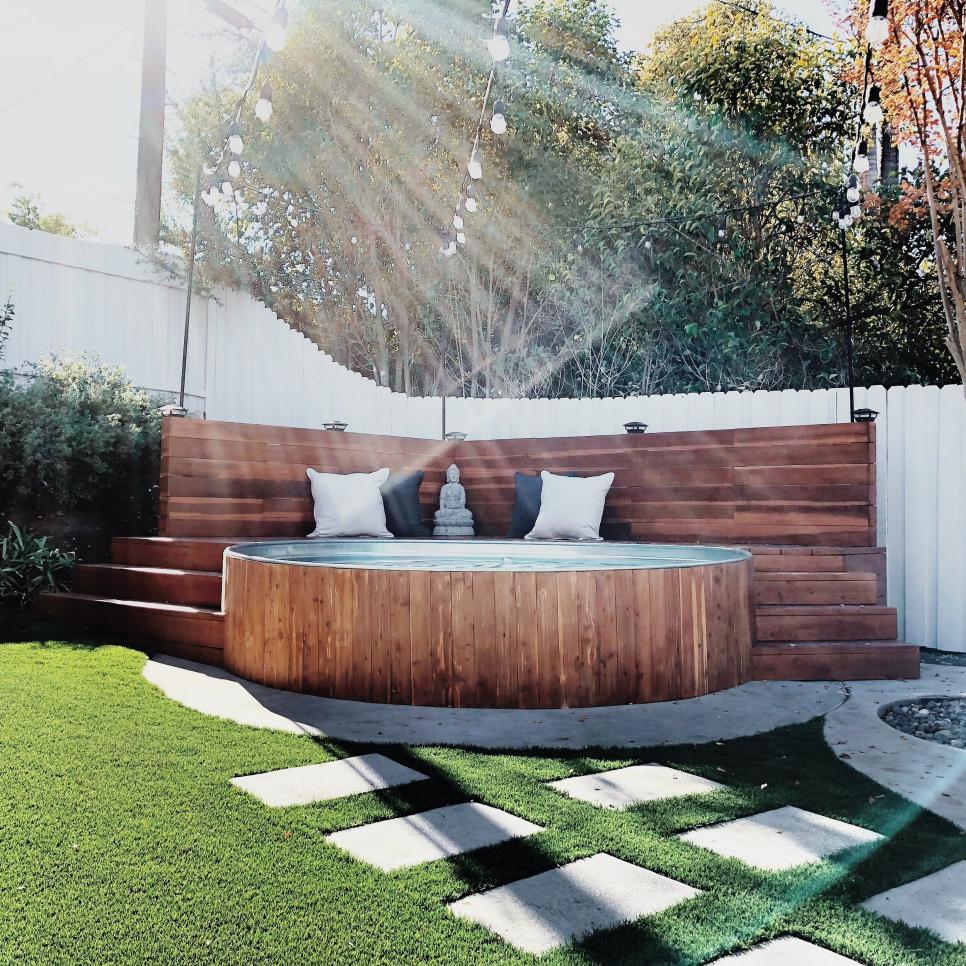 Isn't this above ground pool idea gorgeous? Just look at those symmetrical deck stairs – basking in the sun right there looks glorious!
This image looks like it could belong in the rainforest! These homeowners definitely put in a raised deck – and I am loving the look!
Here's another example with a multitude of landscaping ideas to accompany your above ground pool! For example – check out the multi-level wooden deck, the stone pavers, and even a small rock garden.
Again, outdoor lighting can make or break your look! Here, they installed mini lights underneath their deck to illuminate the pool.
By putting in a raised deck, you're providing an inground pool feel but without the extra installation costs!
Check out these string lights AND the stair lights going up to this pool! Definitely creates a more romantic ambiance.
This free floating deck is large enough to host an entire party! However, it provides ample space for the homeowners and guests to enjoy dinner and a swim.
Here, you can see that this full-sized deck completely changed their above ground pool look. Instead of looking tacky, it now looks like a relaxing place to sunbathe!
Who said you needed to have a circular pool? A lap pool – as seen here, is another great idea!
If you live in a desert region, think about putting in a plexiglass retaining wall – as seen here. Then, you can enjoy the outdoor landscaping even more!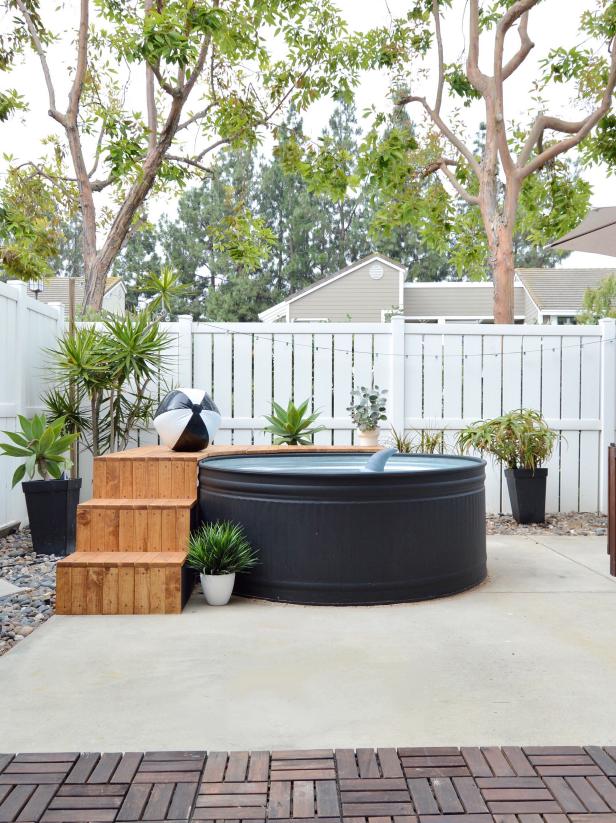 If you're going for a minimalist look – check out this design. Less is more here, with a smoky-black stock pool.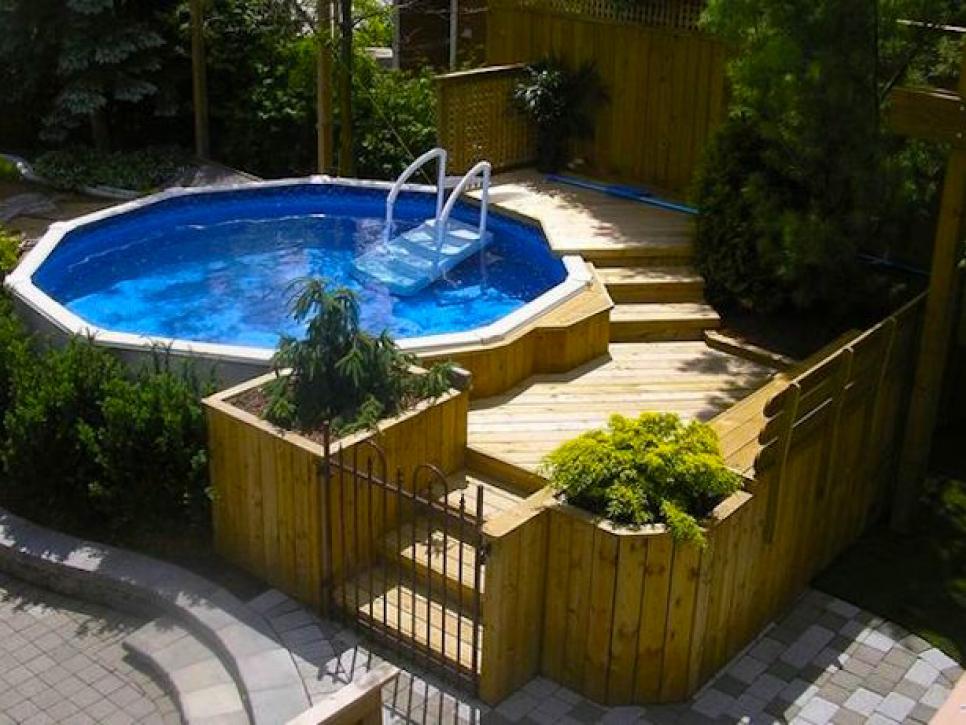 If you have small kiddos, put in planters and a gated entry – it'll put you at peace of mind! Don't miss the lattice wall on the other end of the pool as well.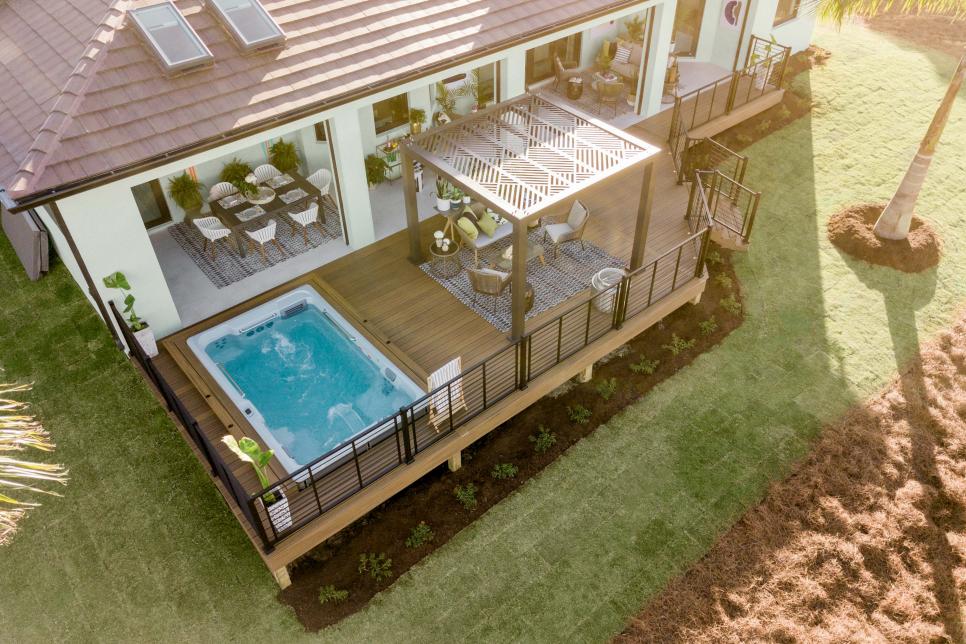 Or, you could put in an above ground pool next to a pergola! What's better than chatting with friends or enjoying lunch poolside?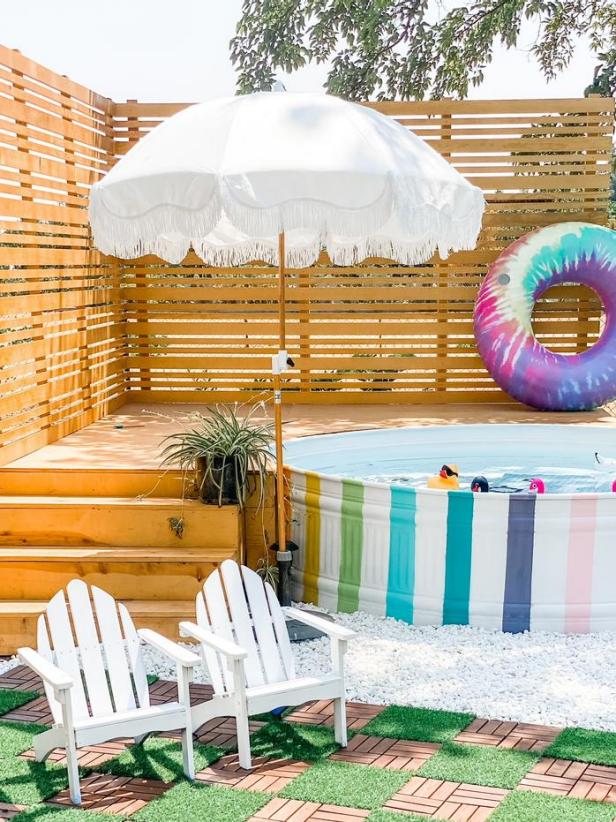 Wait – how cute is this practical set up? Not only do you have an umbrella for extra shade – there are also mini pool chairs!
In conclusion, if you liked this article, go check out these:
Firstly…
Secondly…