It's hard not to love white cabinets – it's a timeless color scheme that can give as much of a modern look or contemporary kitchen design as you want. However, there are so many design ideas out there that when creating a kitchen, homeowners can get easily overwhelmed! So, we've put together the best white cabinet kitchen backsplash ideas so you can get started on your interior design remodel with ease!
If you liked this article, read Modern Farmhouse Kitchen Ideas here or Kitchen Wallpaper Ideas here.
What is the most popular backsplash for white cabinets?
Finding a material that is best for your kitchen design can be one of the hardest parts of this process! So, let's take a look at the best backsplash materials – depending on the look you're going for (and how much $ you want to spend).
Glass Tile – In recent years, glass backsplash tile has become extremely popular paired with white kitchen cabinets. They provide a cool, sophisticated kitchen look (as long as you seal the grout between tiles for stain-resistance).
Ceramic Tile – People love ceramic tiling because you can do what you want with it – and it comes in a variety of different shapes and sizes. Because there are so many options available, you can tailor the type of tiling to your specific budget.
Metal Tile – Traditionally, metal tile was used more in commercial spaces and not really household kitchens. However, as the industrial look takes off – so has metal tiling! Some people love them, while others don't love the look or the fact that they scratch easily.
Should backsplash be lighter or darker than cabinets?
It really depends on the look that you're going for. Typically, interior designers will tell you that your design should balance out color patterns. For example, if you have light countertops and cabinets – then you probably want a darker backsplash. However, if you have a dark cabinet color and countertops, think about incorporating a lighter patterned backsplash. Architectural Digest reports that white cabinets are timeless – adding a level of brightness that works with any type of interior design.
White Cabinet Kitchen Backsplash Ideas:
Now, let's take a look at the best white cabinet kitchen backsplash ideas!
#1 – Victorian Patterned Backsplash
If you want to create a traditional kitchen look, but still incorporate a modern kitchen feel – check out this idea. It features cool, pastel colors that don't take away from the wooden range or stainless steel appliances.
#2 – A Pop of Color & Gold Accents
If you know me, you know I love anything that incorporates blue glass tile backsplash! So, naturally – this blue kitchen oasis caught my attention. I love the small touches, as well – such as the globe pendant lights and brushed brass faucet.
#3 – Low-Key Marble Design
If you are looking for marble backsplash to create a modern farmhouse kitchen look – this is it! The marble countertop has just enough texture to compliment the white and gold cabinetry – along with the hanging wooden shelves.
#4 – Fish Scale Marble Backsplash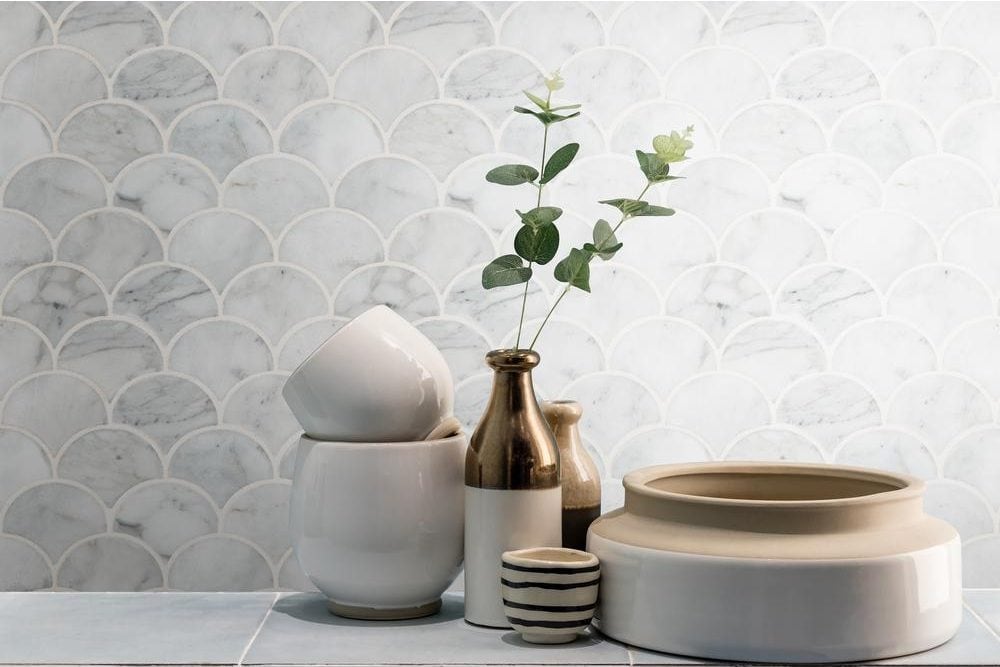 Whether you want fish scales or scallop tiles – this backsplash look delivers! Patterned tiles are super in right now, and they're fairly easy to pair with white kitchen cabinets. I like the fact that they offer a unique vibe while not being too over the top.
#5 – White Cabinets & Herringbone Tiles
Whether it's in your bathroom tile design or kitchen look – herringbone tiles are totally in. Here, the homeowner incorporated a more two-toned look and although I don't love the dark wooden cabinets – I do love the white cabinets paired with the light-blue herringbone backsplash.
#6 – Square Tile Backsplash
If you don't want to do rectangular tile backsplash – check out this white subway tile design. The actual shape of the tiles really compliment the white cabinets and gold accents throughout the entire kitchen. Personally, I think the small size of the subway tile backsplash brings about a really calming feature.
#7 – Go Retro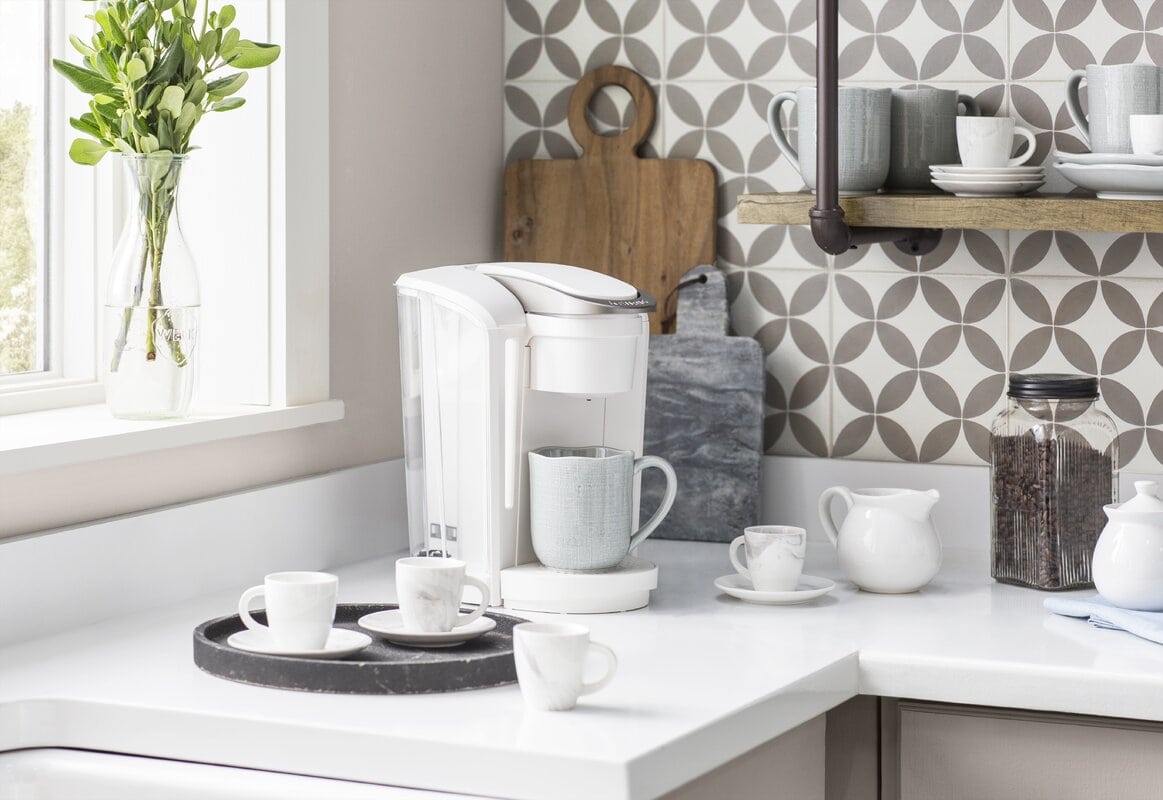 If you're still itching for some white kitchen backsplash ideas – check out this retro backsplash design! It's a little different from the more traditional designs we've looked at – but still offers a creative look that will pair well with your white cabinetry!
#8 – Classic Black & White Tile
I am loving this avignon backsplash tiled pattern – it's a total focal point for the kitchen wall! It gives just enough of a modern touch and still looks timeless and elegant.
#9 – Farmhouse Chic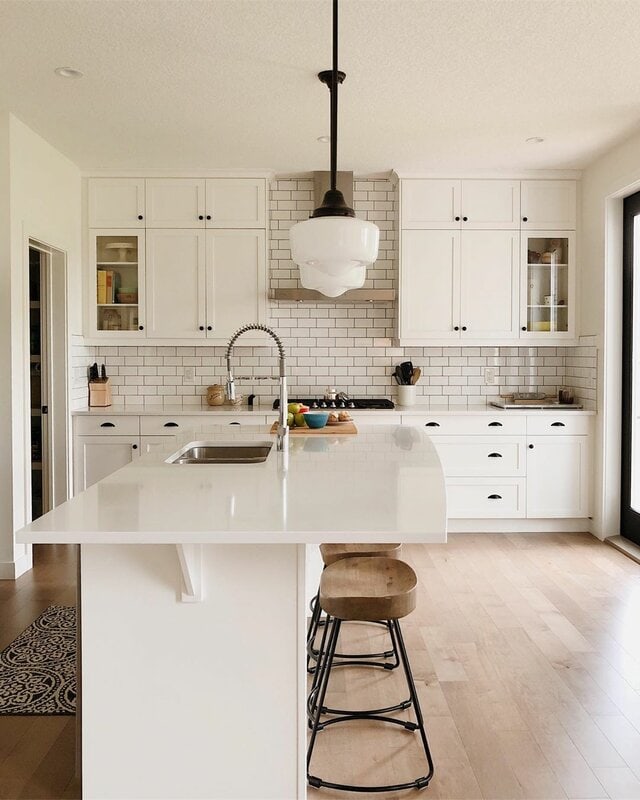 Who isn't a fan of white subway tile backsplash? Many think the classic subway tile will wash out the white cabinets – but you can see here that that is definitely not the case. Just make sure to strategically pick the color for your knobs and cabinet hardware!
#10 – Neutral Color Scheme
If you aren't loving the white marble and light mosaic tile looks – try incorporating a more neutral color of tile! Here, the dark brown goes well with the wood floors AND the white cabinetry!
#11 – Chevron Tile Design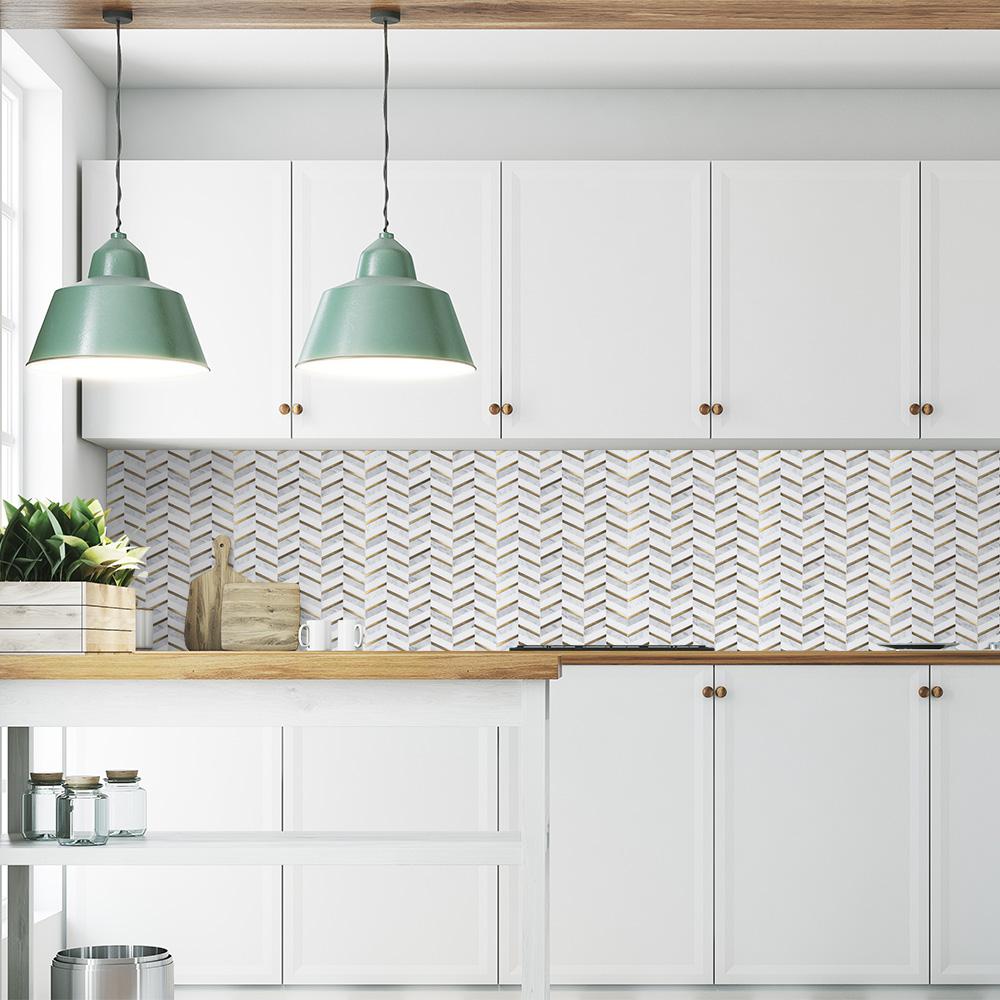 While the chevron tile design can often be overused, I think it looks quite complimentary with the white cabinets and wooden countertops here. And don't get me started on the sea green hanging pendant lights…to die for!
#12 – Country Cottage Backsplash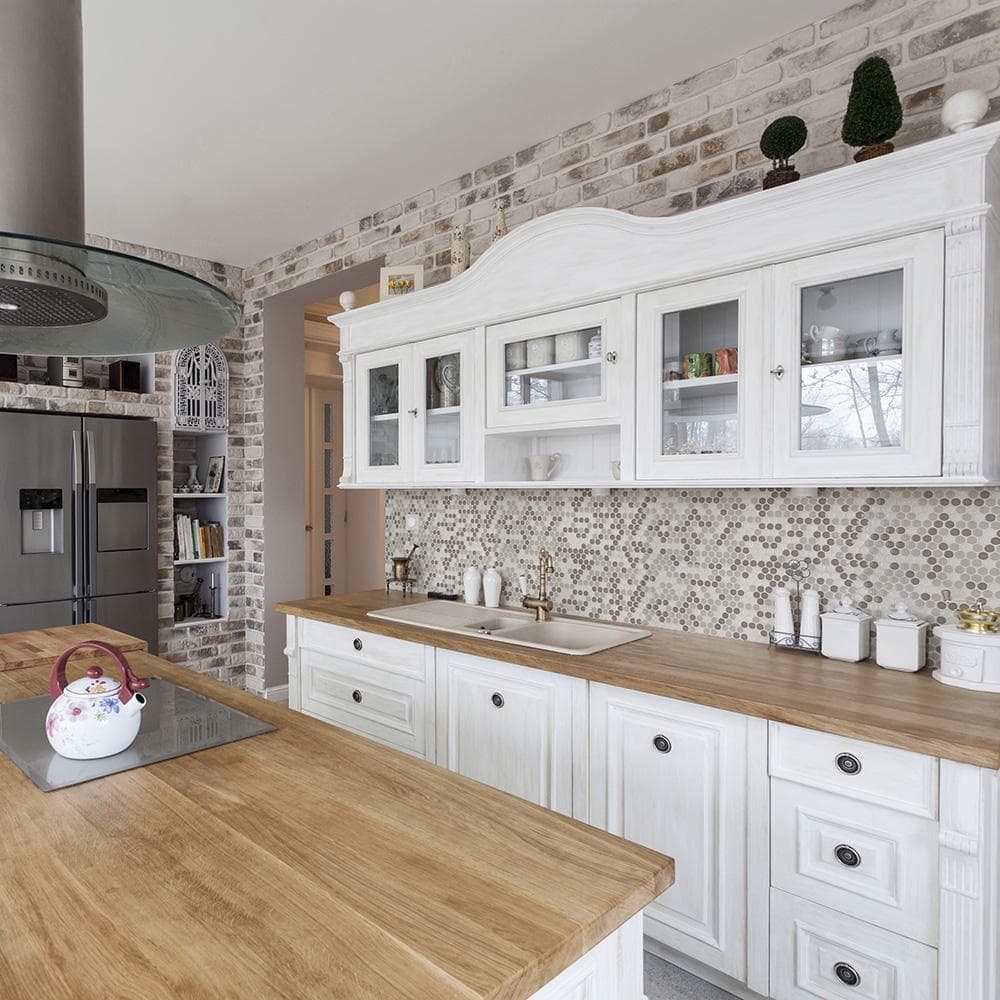 Here, I can appreciate the pebble backsplash tile that compliments the timeless brick walls. The tile is not even a natural stone – instead, porcelain tiles that are low-maintenance and probably pretty affordable!
#13 – Traditional Subway Tile Look
Subway tiles are a great option to pair with white cabinets because you have so many different styles to choose from! I love this olive/sea-foam green color but you could go a totally different route if you wanted to.
#14 – Light Gray Backsplash
Check out this u-shaped kitchen layout that features a combination of white and wood cabinets, along with a gray backsplash. It feels pretty modern, although the wooden barstools give it a tough of a traditional vibe.
#15 – Minimalist Design
If you are going for a minimalist look and want to keep it simple, check out this idea. I love the hexagon shaped tiles with the white cabinets and stainless steel – you'd think it might provide a washed out look but it really doesn't!
#16 – Leaf Marble Tile
Sometimes it's the little accents that will make or break your kitchen design. Here, I love the unorthodox leaf-shaped marble tiles – it's subtle enough that you have to look closely to notice the design, but also doesn't overpower.
#17 – Stacked Tile
This modern kitchen is accentuated with rectangular brass handles, white cabinetry, and stacked, dark blue subway tiles. It reminds me of a small city apartment or a kitchen in a quaint home.
#18 – Marble & Shiplap
Check out this marble backsplash, complete with white shiplap walls and kitchen cabinets! The backsplash definitely catches your eye – and I love the fact that it matches the marble countertops as well.
#19 – European Kitchen Style
We haven't looked at many stone backsplash ideas, because it really isn't that common in the United States. However, if you're going for a more European/Italian/Mediterranean style – add some stone to your kitchen decor! Don't you think the stone compliments the upper cabinets?
#20 – Brick Backsplash with White Cabinets
While the white shaker cabinets make this kitchen design feel contemporary, the brick backsplash comes in and adds surprising touch. The kitchen isn't as modern anymore, rather – features a more traditional look.
If you liked this article, check out these:
Firstly…
Secondly…