An entryway is often one of the first impressions guests have of your home. Therefore, it's only fitting that you want to have a mudroom that's inviting, has plenty of shoe storage, and fits the rest of your home design! So, follow along for our favorite modern entryway ideas!
If you liked this article, read Boho Rugs for Any Room in the House here or Walk-In Shower Tile Ideas.
How do you style a modern entryway?
There are a few different components to think about before going all out in your entrance hall. Architectural Digest says that an entryway sets the tone for the rest of your home, making it a great place to show off your interior design style. Therefore, you want it to look the best you possibly can. Here are some of our top tips for making your entryway space work:
Firstly, we've found that in entryways – less is more. Keep the entryway furniture to a minimum – whether you're dealing with a large or small space. You want to have at least one piece of furniture that people can set things on – whether that's an entryway bench, coat rack, or console table.
Secondly, you definitely want to have ample storage space in your entryway design. This is especially true if you have kids, pets, or just a lot of people in and out of your front door. Even if you have a small entryway, it's worth it to make room for extra storage space. It'll make all the difference from your home feeling cluttered and messy!
Thirdly, think about making use of your wall space. If you have a small entryway, mounting wall hooks is a great way to hang keys/purses/etc. Either way, bringing in some wall decor such as a wall mirror or even wall sconce will elevate your entryway design.
Lastly, statement light fixtures are all the rage these days! Again, this is often people's first impression of your home – so set the tone with top-notch lighting ideas!
What looks good in an entryway?
If you're stumped about what furniture or accent pieces to put in an entryway, don't sweat it! Here are some of our favorite pieces that you can incorporate into your entryway design ideas!
Entryway bench – try to find one that has storage options underneath.
Mounted wall hooks – that way people can hang their personal belongings…and you can incorporate a modern look!
Entryway rug – Not only do they set the scene for the rest of your home decor, they're a great reminder for people to wipe their feet/take off their shoes.
Statement lighting fixtures – whether that's a modern chandelier or pendant lighting – light fixtures can make up for what you're missing in natural light!
Console table – even if you believe in minimalist modern living, a console table is a great small space for people to put their keys/purses/etc.
Sofa – if you want to make a statement and have enough room – put in a small sofa!
Modern Entryway Ideas:
Ready to take a look at some of our favorite modern entryway decor ideas? Then read on!
#1 – Chic Modern Look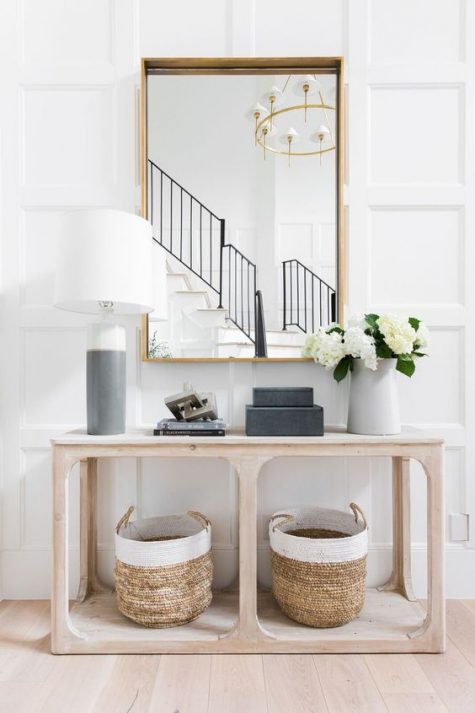 If you want to make your entryway more modern, try putting in a wooden console table and storage baskets underneath. The gold accent round mirror is also a nice added touch!
#2 – Gold Accent Pieces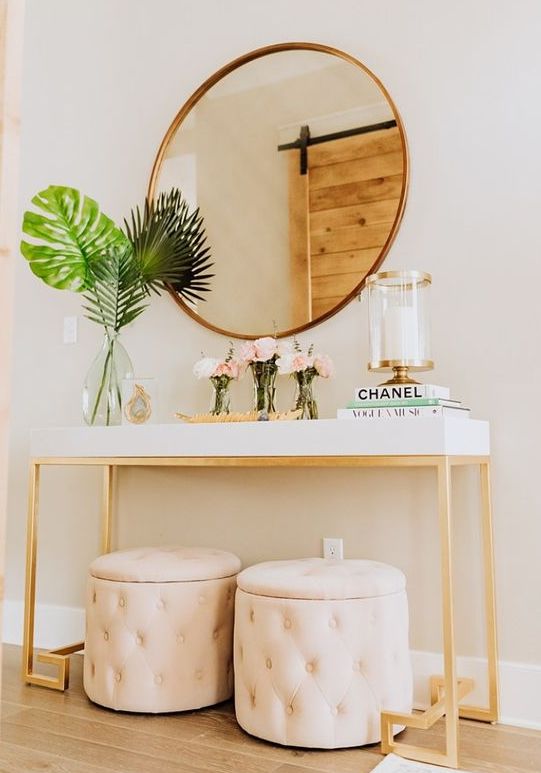 If anything screams modern entryway, it's gold accent pieces. From the legs of the console table to the round mirror to the blush ottomans, this entryway looks modern AND inviting!
#3 – Less is More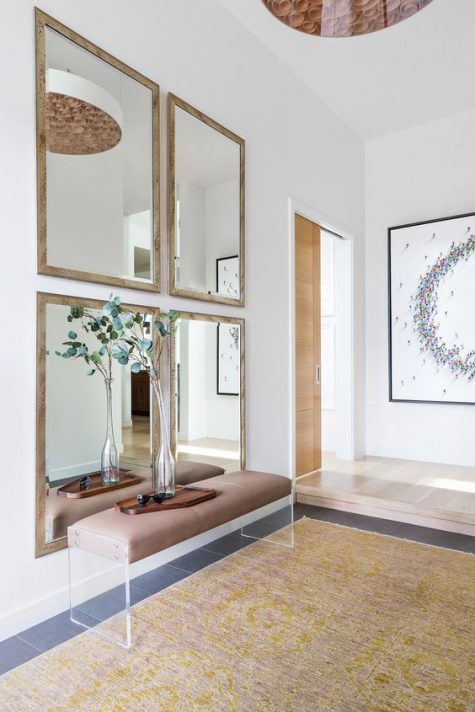 We touched on this earlier, but oftentimes in an entryway design – less is more. Here, they brought in an entryway bench and created a nice accent wall. That's really all they needed to do!
#4 – Mount Wall Hooks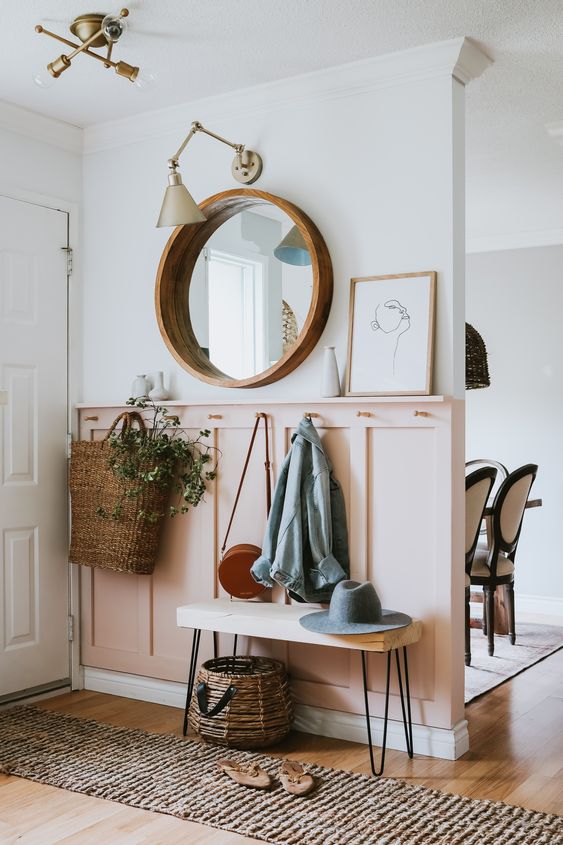 If you're dealing with a small entryway space, mounted wall hooks are the way to go! Not only are they super cute, they're a great way to save space and allow a place for people to hang their coats/purses/etc.
#5 – Hairpin Console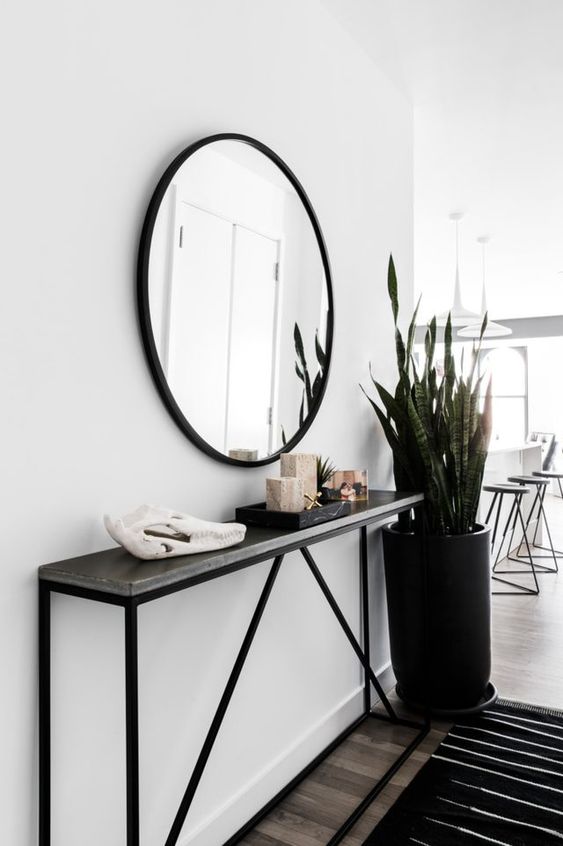 In recent years, hairpin consoles have become more and more popular – and we know why! They're the perfect mix between modern and boho – and are often small enough to fit in most entryways!
#6 – Extra Basket Space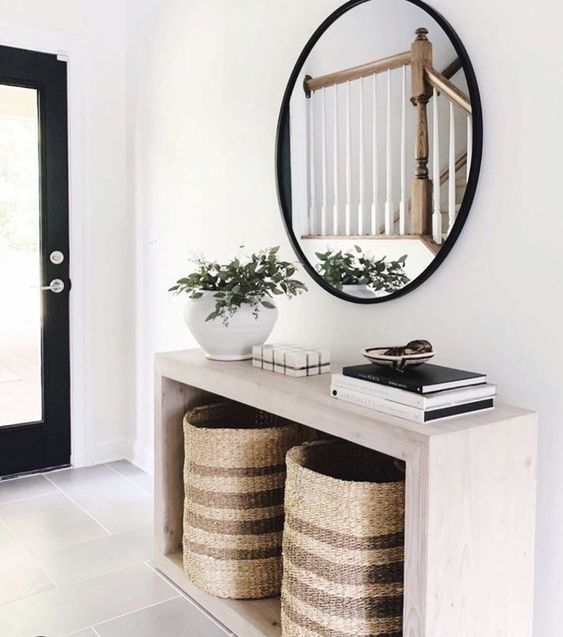 If you want extra storage space, try to find a console table like this one. It's just tall enough that you can store large baskets underneath – perfect for miscellaneous items, pet toys, and kid shoes!
#7 – Add Some Greenery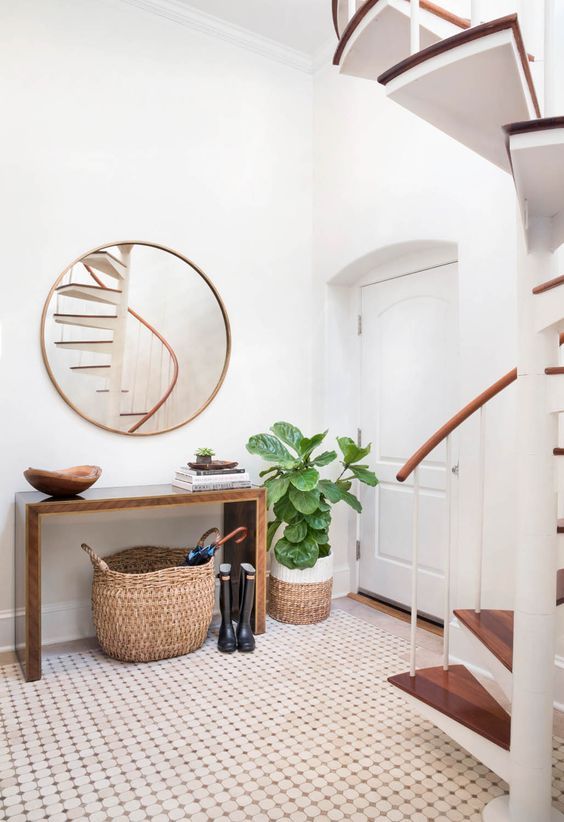 Sometimes all you need in your modern entryway design is to add some greenery. Oh, and a round golden mirror of course!
#8 – Open-Concept Living
Even if you don't have a dedicated space for a proper entryway, you can make-do! With open-concept living, you can make your space multifunctional and still look great!
#9 – Ditch the Bench, Add Some Chairs
I am loving these patterned marble chairs! This would be a fun project to DIY – find some old chairs and repurpose them by adding your choice of fabric! I mean, just look how cute these look in this modern home.
#10 – Mid-Century Design
If you want to go for a more mid-century modern look, try incorporating a low riding bench like the once seen here. The oversized mirror compliments the bench, and the rug makes the space feel more inviting.
#11 – Wallpaper the Entryway
Bet you didn't think of putting some wallpaper on your accent wall! But look how great it can look – dressing up the walls with a Moroccan print is just what this entryway needed.
#12 – Pop of Color
If you want to make a statement, try adding some colorful trellis wallpaper and a geometric console. The guests entering your home will definitely know that you mean business after walking into this elegant entryway!
#13 – Forget the Furniture Altogether
As we said above – sometimes less is more! Here, the interior designer turned this room into a playful entryway by incorporating porcelain tile and a brick herringbone pattern on the floor.
#14 – Use a Room Divider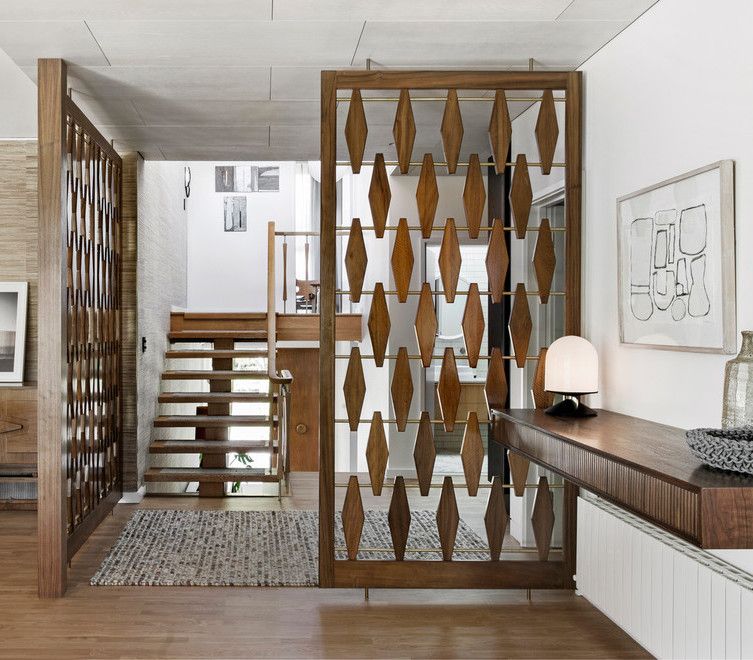 If you feel overwhelmed with your airy space, put in a room divider! Sometimes, this helps people feel less cluttered and more organized when they can divide their rooms up.
#15 – Feature a Large Rug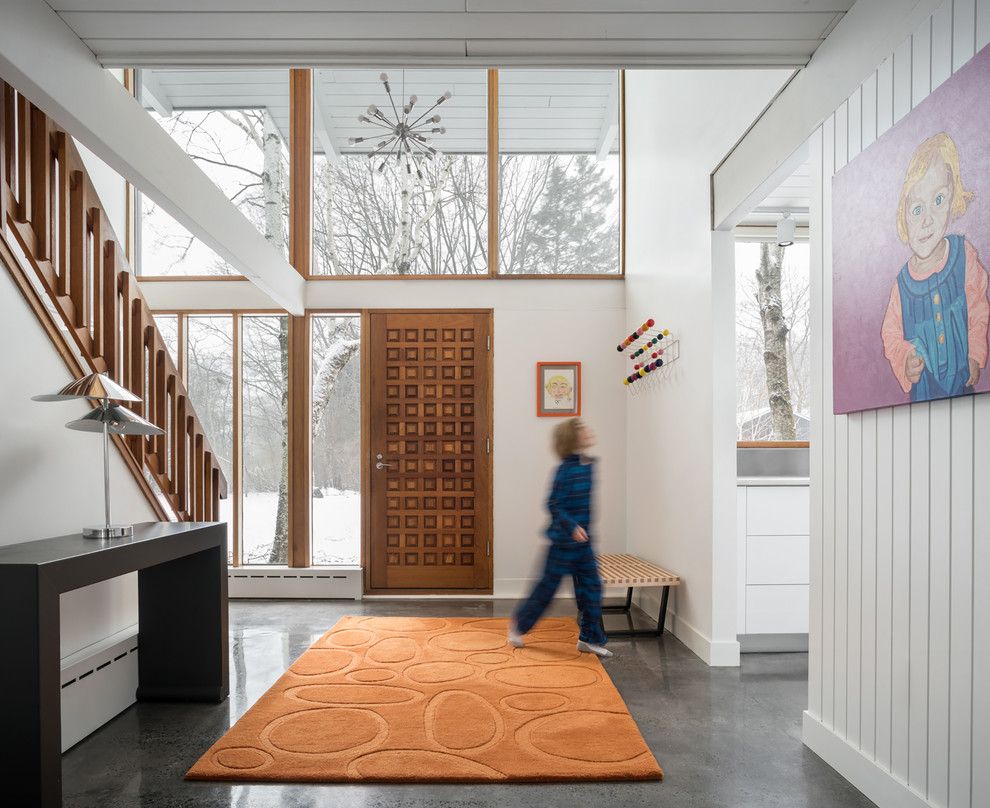 While a pretty modern chandelier is great, sometimes what you really need is a large, eye-capturing rug. In this modern entryway design, the thick orange rug is definitely the focal point.
#16 – Modern Console Table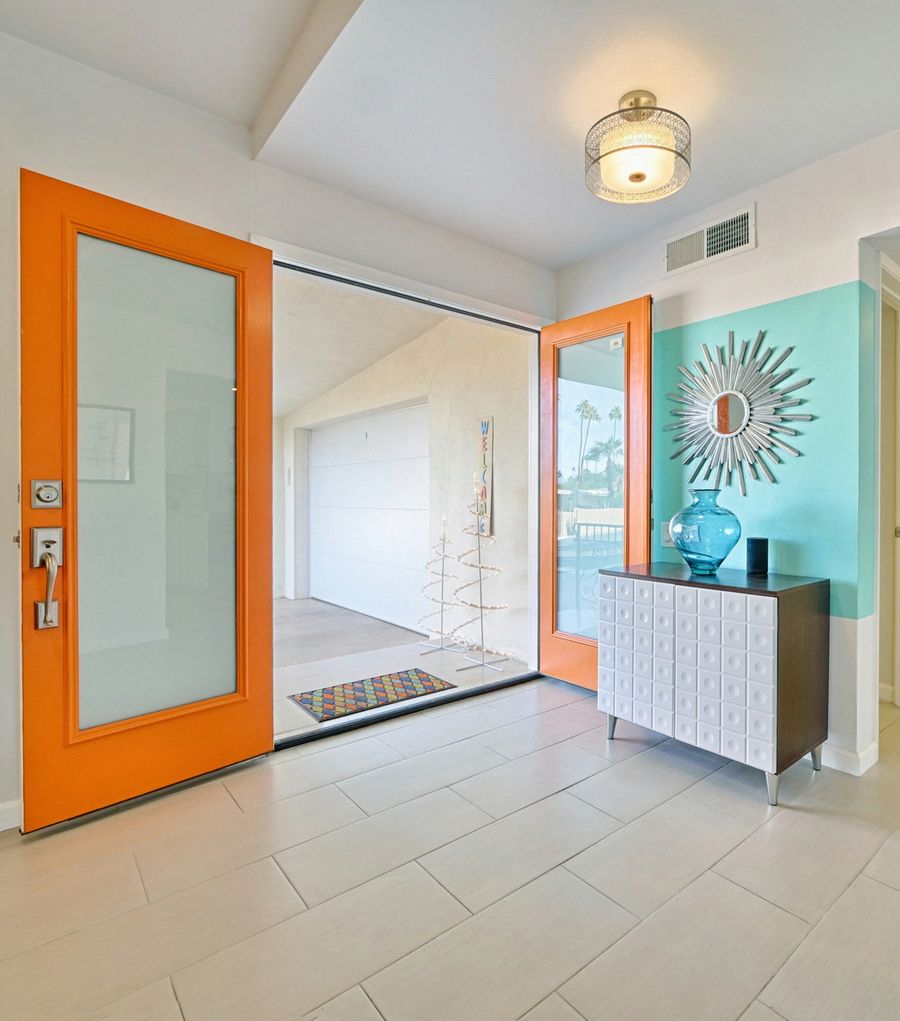 Sometimes all you need is a fun, modern console table! Plus – we have to notice the great color scheme going on here – an orange door with a light blue accent wall!
#17 – Warm Wood Sideboard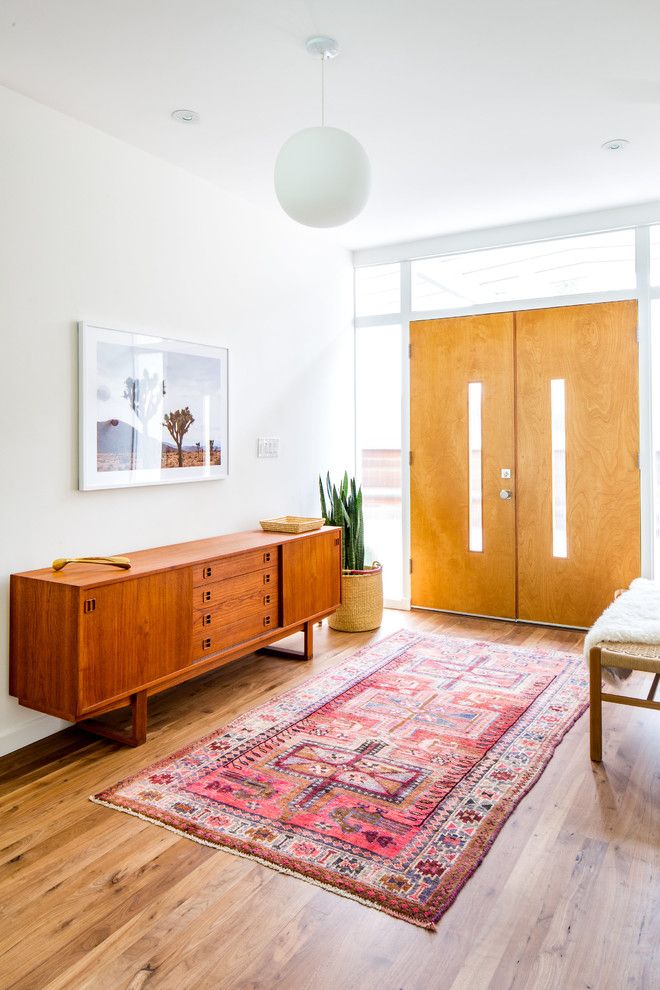 If you're going for that mid-century modern look, then incorporating a wooden sideboard into the mix is a must. Plus, they are a great option if you need extra storage space!
#18 – Velvet Side Chairs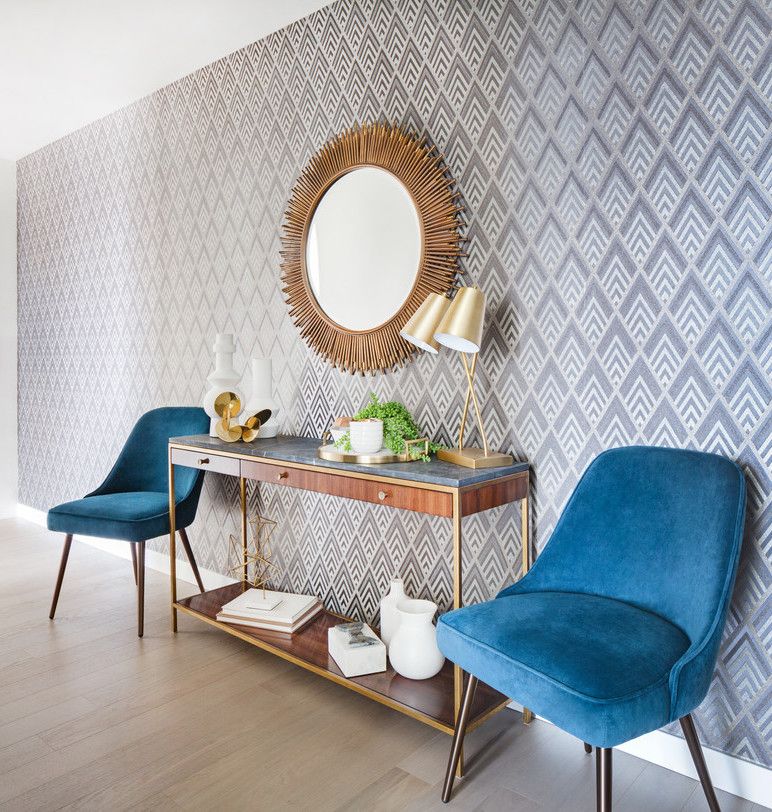 These velvet side chairs are so classy and sophisticated. You just know when you walk into this entryway that the rest of the home will have an exquisite interior design style!
#19 – Small Table Lamp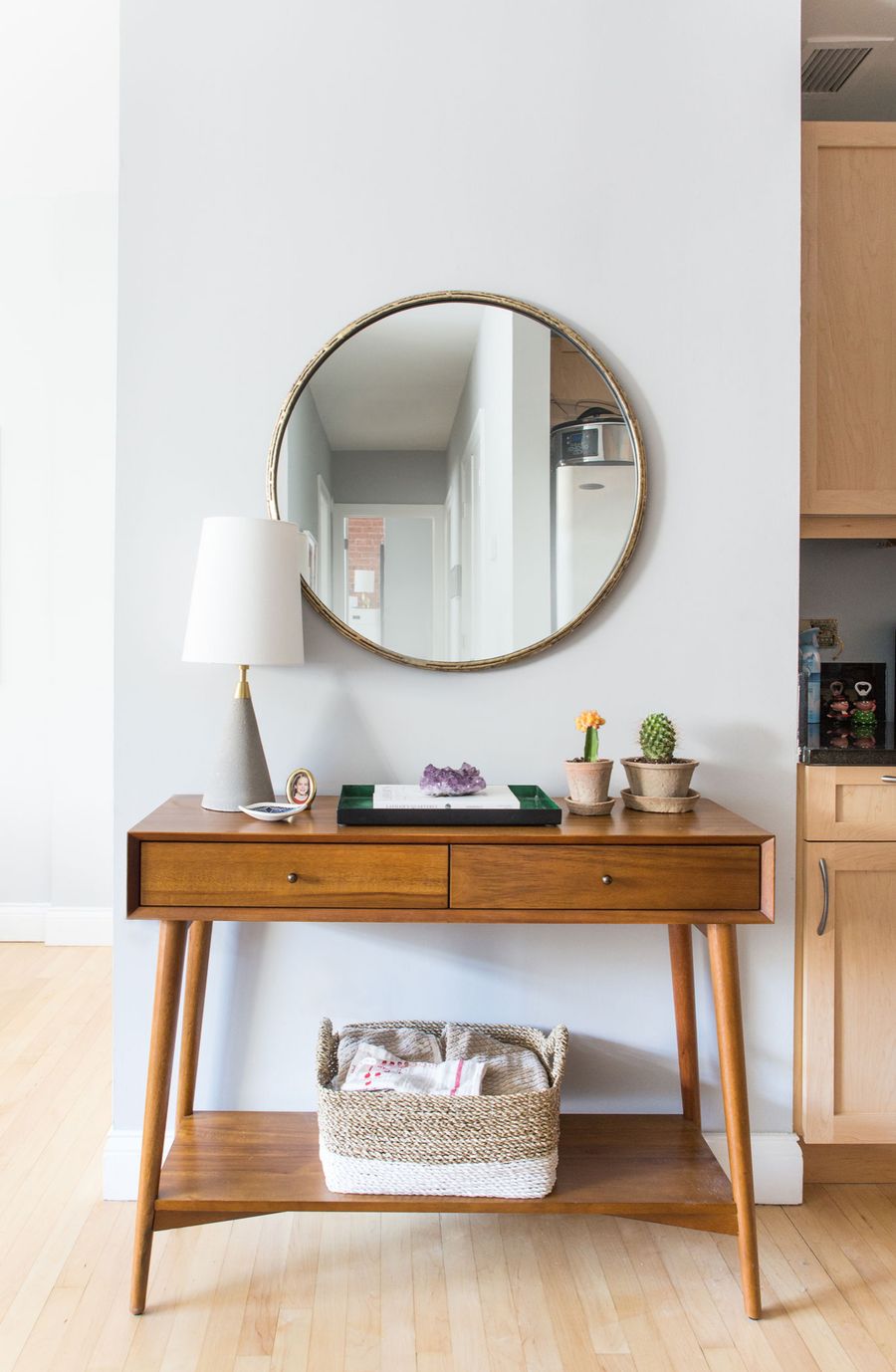 If you're struggling with what to put on your console table (we get it, you don't want it too messy but not totally empty), think about adding in a small table lamp and some succulents!
#20 – Built-In Bench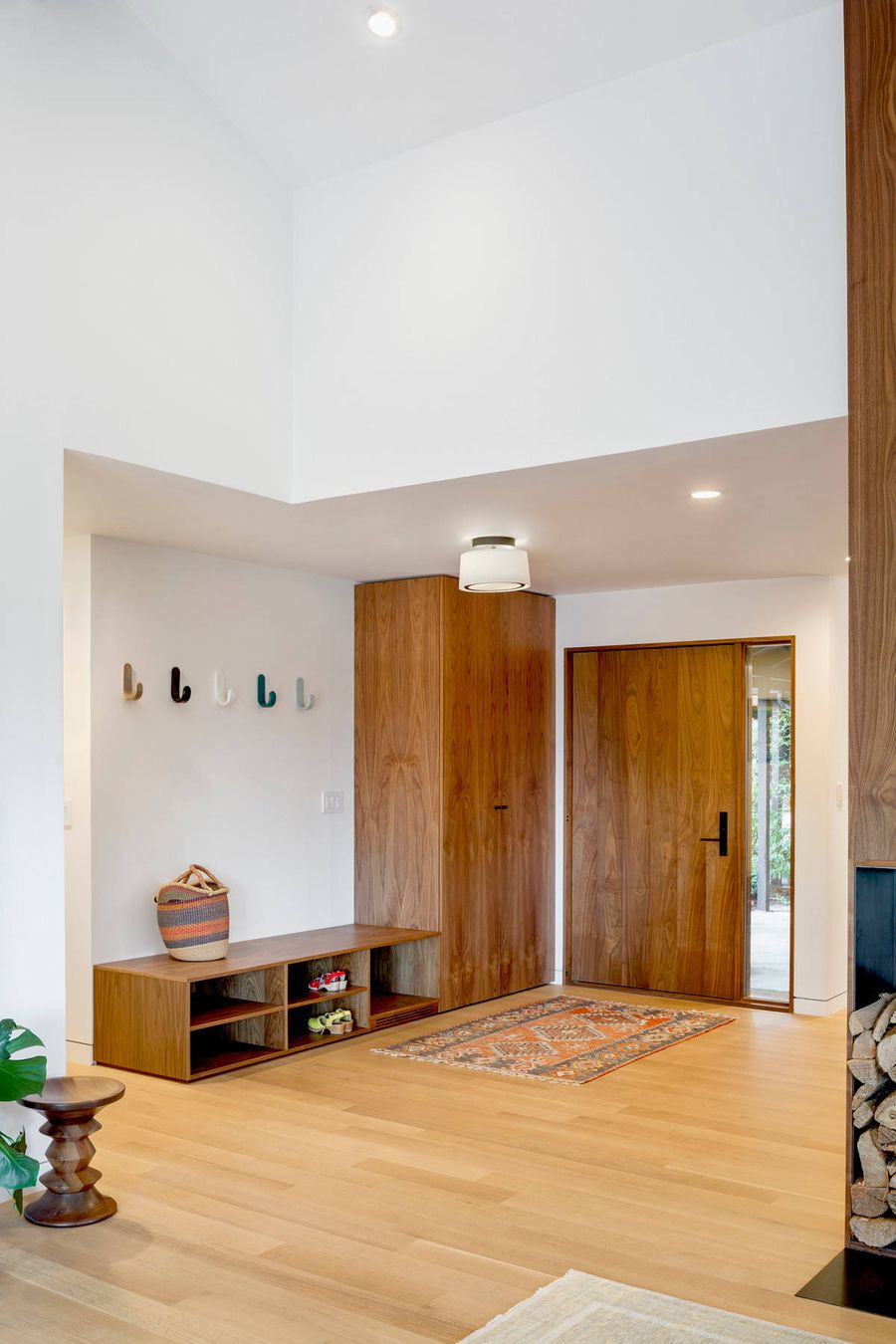 Who said you can't build a bench into your closet design? Here, the corner built-in bench allows the entryway to feel more open, airy, and inviting.
#21 – Add a Chandelier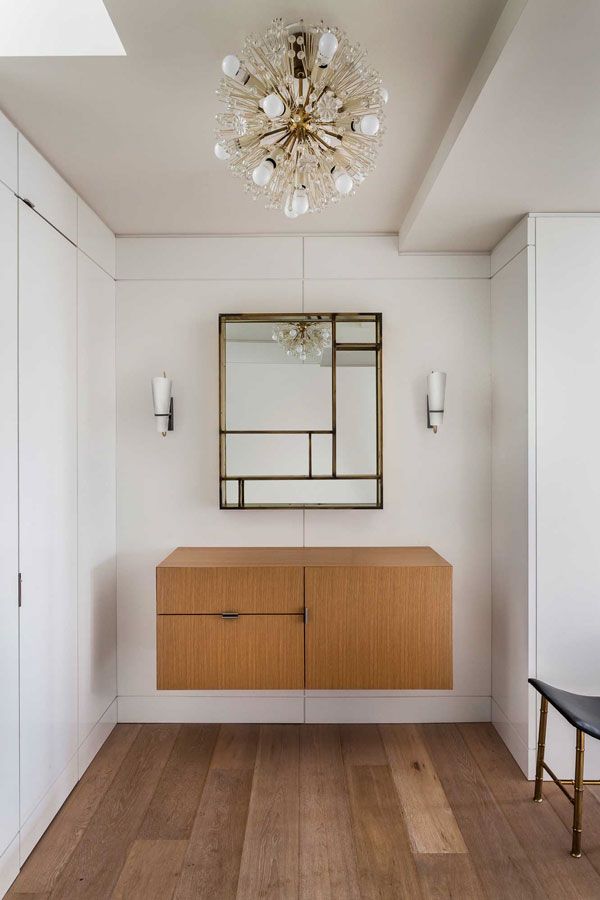 If you aren't sure how to make your entryway more modern – add a chandelier for that extra pop! I'm just loving this starburst chandelier pictured here.
#22 – Brass Rod Chandelier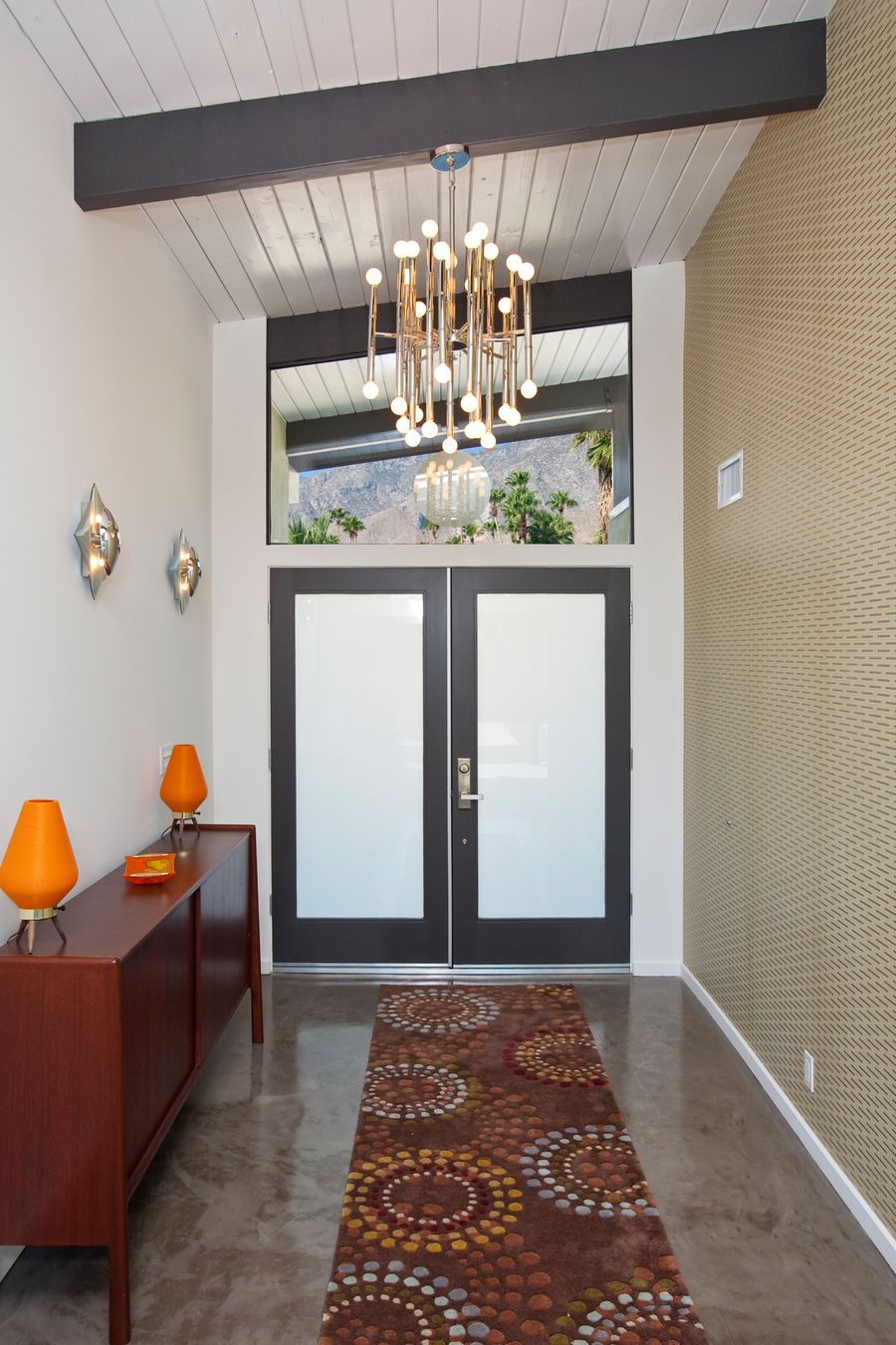 If you didn't love the starburst chandelier above, check out this gorgeous brass rod chandelier. It's one of our favorite modern entryway ideas – we love the vertical, clean lines!
Also, if you liked this article on modern entryway ideas, check out these:
Firstly,
Secondly,