Lemon trees can be a great addition to your garden – and not just because they provide you with lemon juice! They're also really pretty trees that can thrive in a variety of different climates. So, if you're on the hunt for a true lemon tree – keep reading to learn about the different types of lemon trees!
Or, read about the different types of apples.
What type of lemon tree is best?
Choosing the best lemon tree for your yard depends on a few different factors. Pretty much all lemon trees are going to need full-sun, moist soil, and a lot of watering. However, that doesn't mean that different trees have different hardiness zones. For example, some fruit trees do best in cooler climates while a variety of lemon trees thrive in warm weather (as long as they're getting enough water).
The Meyer Lemon Tree is probably the most popular choice in the United States. These trees produce a thin-skinned hybrid fruit – part lemon and part mandarin orange. Therefore, they're much sweeter than your typical lemon.
A Eureka Lemon Tree is also another popular choice – as they typically produce a ton of large, juicy lemons. Many people like them because they don't have a ton of seeds – making them great for lemonade and such.
Therefore, these two types of lemon trees are the most popular – and amongst some of the lemons that you'll find in your local grocery store. However, there are still a bunch of different types of lemon trees – and we'll go into more detail about them below.
Which is better, a Meyer or Eureka lemon?
We discussed both the Meyer Lemon and the Eureka Lemon above. There are a few key differences between the two – which we'll discuss below.
Firstly, a Meyer Lemon isn't actually a true lemon. It's a hybrid between a mandarin orange and a lemon. Therefore, it's going to be sweeter than a Eureka Lemon (and most lemons that you come across).
Secondly, a Eureka Lemon is going to have more of a traditional lemon flavor – think tangy and sour. They're really large lemons that don't have a ton of seeds, which is one of the main qualities that make them so popular.
Lastly, a Eureka Lemon is going to have a much thicker, rougher exterior texture than a Meyer Lemon. A Meyer Lemon, on the other hand, has brighter colored skin and more of a smooth exterior texture.
Different Types of Lemon Trees:
Avon Lemon Tree
The Avon Lemon Tree produces extra-large lemons that are great for juicing – due to their size and the amount of liquid in them. They thrive in semi-tropical growing conditions, so you'll mainly see them in places like Florida. However, they can be grown in a greenhouse or indoor planter if you live in a cooler climate.
Verna Lemon Tree
The Verna Lemon Tree is one of Spain's most popular lemon trees – they can reach heights up to 20 feet tall! They aren't grown commercially in the United States, but home gardeners can try to plant them themselves. If you do try – let us know how it goes in the comment section down below!
Primofiori Lemon Tree
The Primofiori Lemon Tree (also known as the Fino Lemon Tree) is probably the most popular lemon in southeastern Spain. It's a medium-sized, bright yellow fruit that has a very thin rind – making it easy to peel. It's extremely acidic so you don't want to eat it raw – but it's great for garnishing or adding to a baking dish.
Dorshapo Lemon Tree
The Dorshapo Lemon Tree produces a mild, low-acid fruit that is related to the Eureka Lemon. It originated in the early 1900's and grows mainly in the Mediterranean basin, India, and in USDA growing zones 8 through 10.
Lisbon Lemon Tree
The Lisbon Lemon Tree originated from Australia and made its way to California in the early 1950's. They're one of the more popular lemon varieties, due to their large size and high juice content. A Lisbon Lemon Tree boasts deep green foliage and gorgeous white flowers.
Ponderosa Lemon
The Ponderosa Lemon Tree is not an actual lemon tree, rather it's a hybrid between a lemon and a citron. Originally from Maryland, it features striking purple flowers and fruit that can grow up to five pounds! Therefore, this tree is extremely high-maintenance and does best in areas such as Florida and California.
Meyer Lemon
The Meyer Lemon Tree is a hybrid citrus fruit – a mixture between a lemon and a mandarin orange. People like them due to their sweeter taste than a traditional lemon. If you want to grow one in your yard, there is a dwarf variety of this citrus limon tree.
Volkamer Lemon
The Volkamer Lemon Tree is most likely a hybrid between a lemon fruit and a sour orange. They have a really thick rind, so it's easy to mistake them for an orange rather than a lemon. Honestly, the Volkamer Lemon Tree is not super popular anymore – as people enjoy other cultivars such as the Monachello Lemon.
Baboon Lemon Tree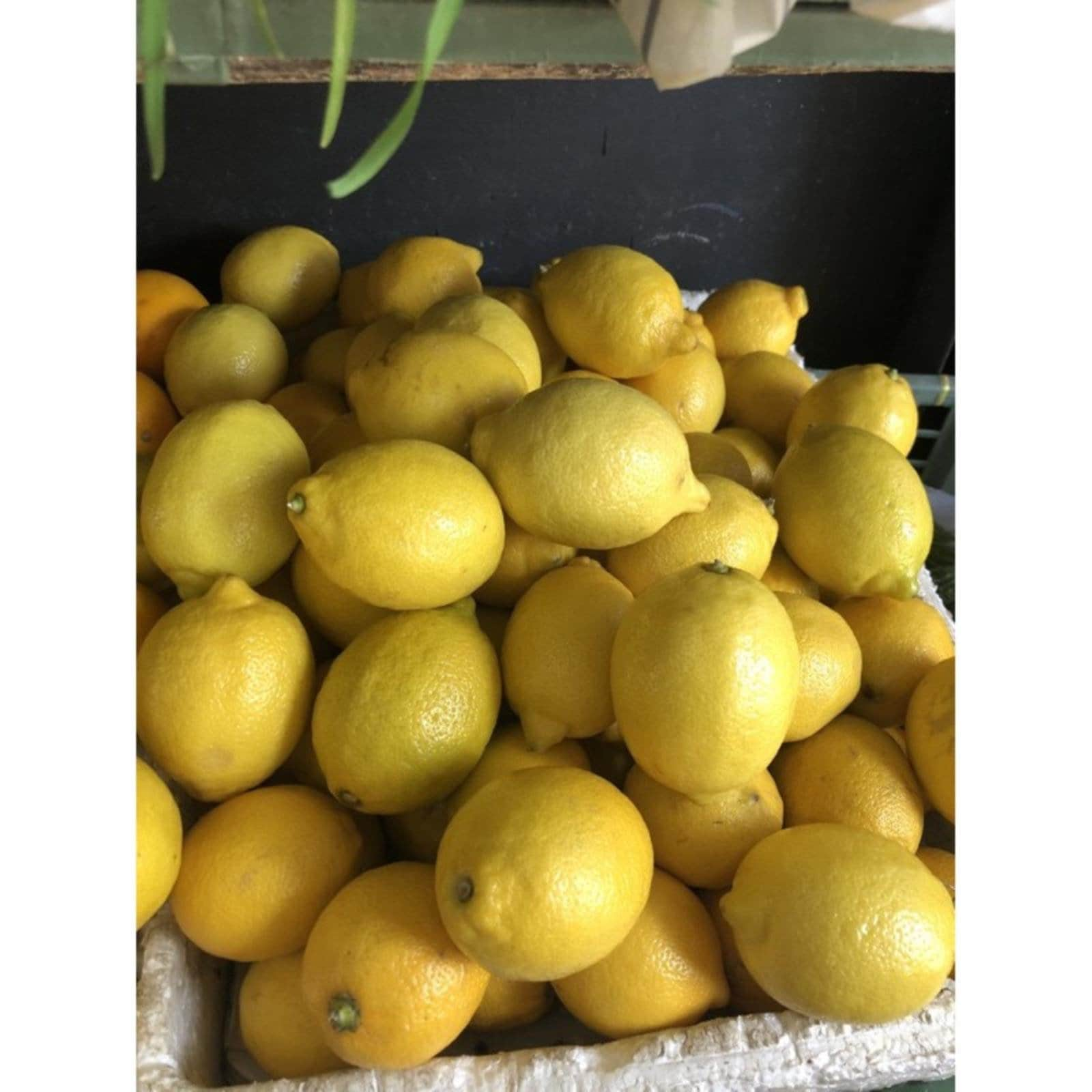 The Baboon Lemon Tree hails from Brazil, and therefore enjoys warmer climates – just make sure to keep up with the consistent watering. They aren't really common in the United States, and many people think they are too sour for consumption anyways.
Bearss Lemon Tree
The Bearss Lemon Tree is extremely popular in the United States (as it is widely grown commercially). These lemons taste like a traditional lemon you'd find at your local grocery store – most likely because that's what you're buying…a Bearss lemon! They're also known for their fast-growing time, high juice content, and thornless tree branches.
Feminello Lemon Tree
The Feminello Lemon Tree accounts for about 75% of the Italian lemon crop each year – and the Santa Teresa Feminello Lemon Tree is widely acclaimed. This fruit has a medium-thick rind and contains few seeds. It's grafted onto semi-dwarf rootstock – so make sure to do your research before planting.
Variegated Pink Lemon Tree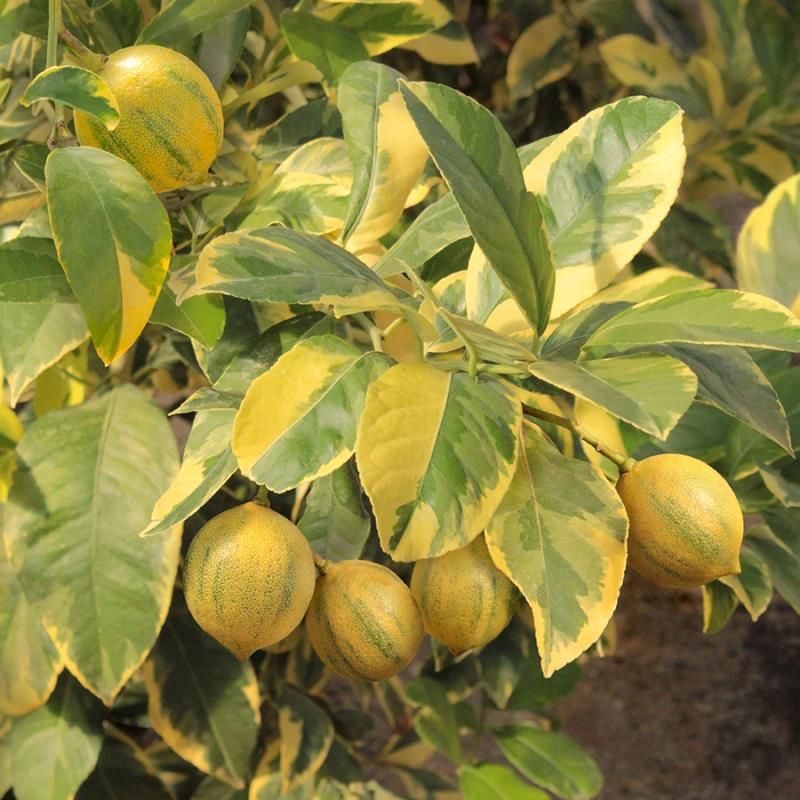 The Variegated Pink Lemon Tree (also known as the Pink Lemonade Tree) is most popular for its ornamental value, sweet lemon flavor, and high juice content. Typically, this tree ranges in height from 10 to 15 feet.
Eureka Lemon Tree
The Eureka Lemon Tree is another popular lemon in the United States. They have rich oil content, a firm texture, and boast a typical lemon taste. Moreover, they can be produced in extremely large quantities, making them ideal for commercial consumption.
Buddha's Hand Lemon Tree
Buddha's Hand Lemon Tree is native to the Himalayan region, and grow up to 15 feet in height. It produces a different lemon lemon – one that resembles a set of fingers or tentacles. However, the lemon does not have any seeds or pulp – making it ideal for cocktails and any baking needs.
Bush Lemon Tree
The Bush Lemon Tree is a hardy tree most commonly used as a rootstock. The fruit produced off of this tree is rough and thick-skinned. However, they still produce enough juice to be worthwhile for baking, juicing, etc. It's most commonly found in Australia – but is located in other parts of the world as well!
In conclusion, if you liked this article, go check out these:
Firstly…
Secondly…