Not only are potatoes packed with nutrients such as fiber and antioxidants, they also are great for making delicious dishes such as potato salad, soups, and stews. Additionally, they have a variety of direct health benefits – they're known for improving blood sugar, digestive health, and so much more! So, follow along to learn more about the different types of potatoes.
If you're looking for some potato dish recipes, read these:
Barbecue Baked Potato with Smoked Shoulder
Baked Loaded Mashed Potatoes Side Dish
Or, read about different types of cherries.
What are the 7 types of potatoes?
While there are hundreds of different varieties of potatoes – Wikipedia claims that each potato can fit into one of seven categories. These categories are as follows:
Russet Potato
Red Potato
White Potato
Yellow Potato
Fingerling Potato
Petite Potato
Blue/Purple Potato
What are the 3 types of potatoes?
Did you know that there are over 200 varieties of potatoes just sold in the United States? Each potato has different categories and are grouped based on their basic type. So, not only does a potato fit into one of the 7 categories listed above, it also fits into one of the 3 "basic types" that we're going to go over below.
Starchy Potatoes. These potatoes are high in starch and have a floury texture. If cut open, they release a milky liquid. These potatoes are great for baking and frying – so think french fries, mashed potato cakes, even hash browns.
Waxy Potatoes. These potatoes have a lower content of starch than the category listed above. Instead, they have more moisture and sugar. They hold their shape well so they're great for boiling or slicing – think casseroles, soups, and even potato salads.
All-Purpose Potatoes. These potatoes fall in the medium starch content category and do best in boiling water. They're particularly great for roasting and pan frying, however – they're not great for baking or being mashed.
Different Types of Potatoes:
Russet Potato
The Russet Potato (also known as a Russet Burbank Potato) is starchy and an extremely common household potato. They tend to be an oblong shape and fairly long, with tough skin. They're ideal for baking or mashing – or even skin-on french fries!
Jewel Yam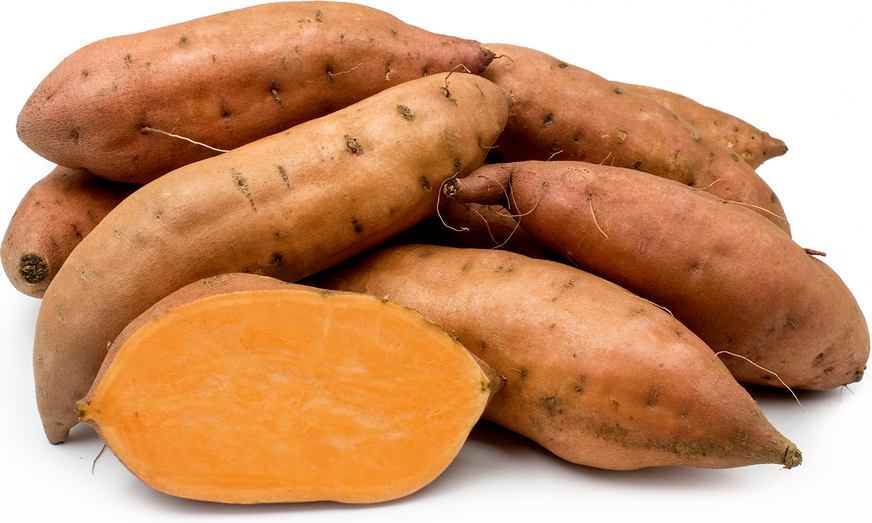 A Jewel Yam is technically a sweet potato, but they're still delicious. They have an orange flesh with copper-colored skin and tapered ends. I love boiling Jewel Yams, adding some salt and eating them straight out of the pan.
Rose Finn Apple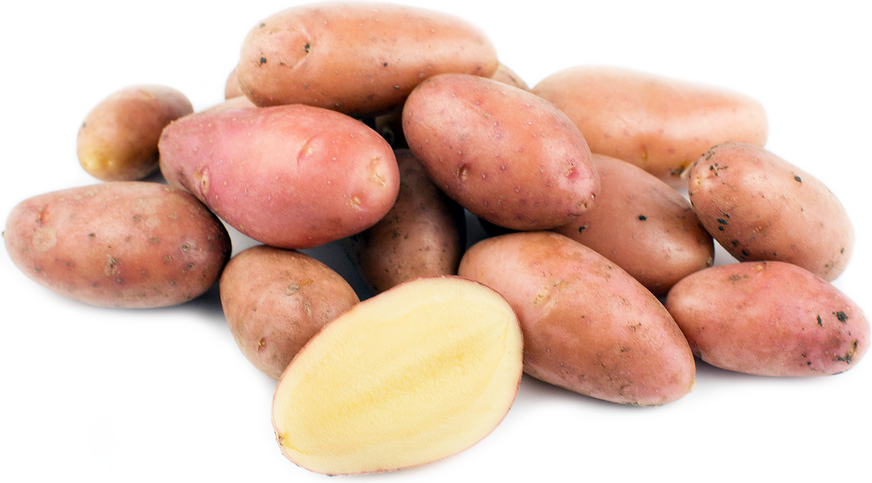 The Rose Finn Apple is a mature fingerling potato that features a yellow, light pink skin with yellow flesh. They're medium-sized and have narrow tubers – great for slicing and roasting. It's recommended to keep them hilled for the best quality.
Russian Banana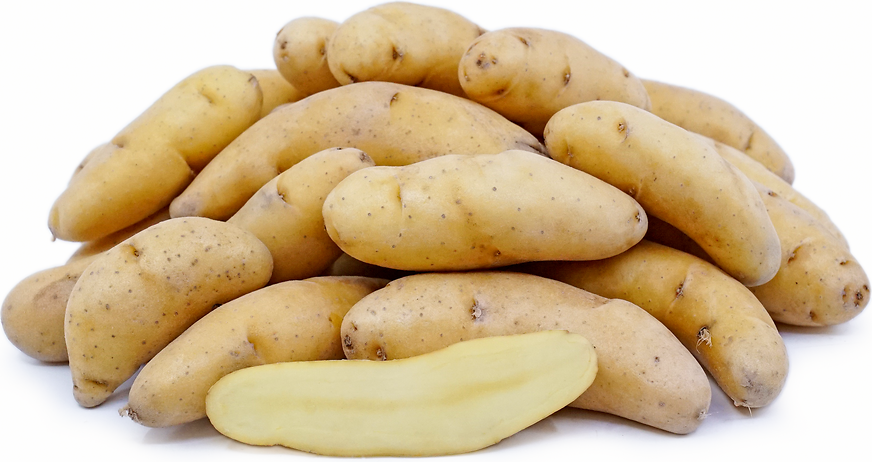 The Russian Banana is a waxy potato that has a pale, yellow skin and a firm texture. When bitten into, they're really buttery and have a nutty flavor – great for boiling. If you plan on growing them – keep in mind that they are drought-tolerant!
Red Thumb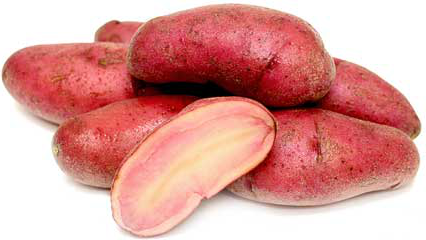 The Red Thumb is a waxy, fingerling potato that has a bright red skin and a dark pink flesh. Professional chefs love to use these potatoes – specifically for roasting with olive oil and rosemary, and then caramelizing.
French Fingerling
The French Fingerling has pink, thin skin with a yellow flesh, and is known for its gourmet flavor. They feature large, oval tubers and are resistant to the common scab. Many people love the French Fingerling because they're perfect for boiling, roasting, or even in soups.
LaRette Potato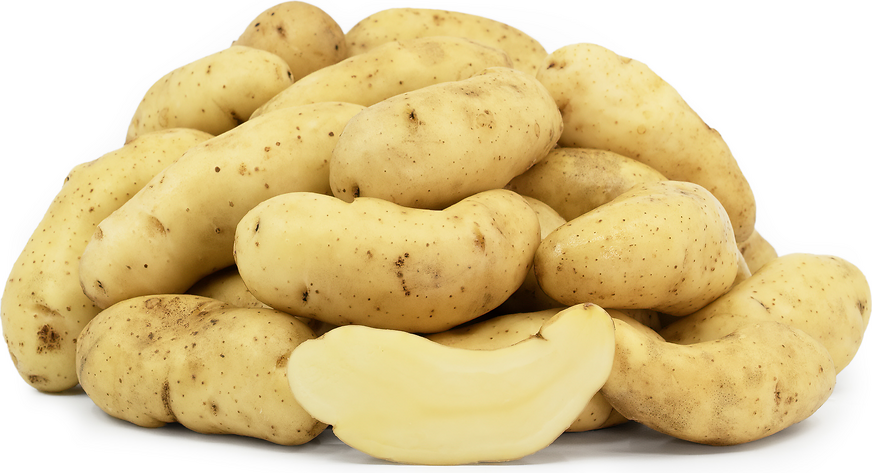 The LaRette Potato is small to medium-sized and features a slight curve with an irregular bumpy shape. People love this potato because when cooked, they're soft and tender with a distinct nutty flavor. Moreover, you can find these at the grocery store year-round – so add them into any potato recipe!
Austrian Crescent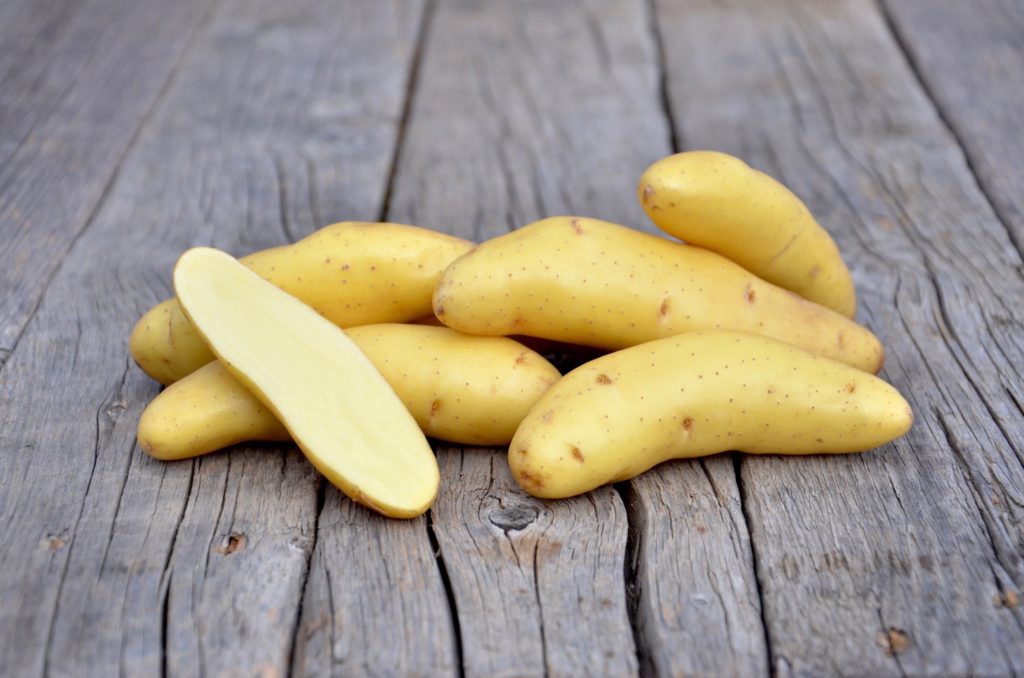 The Austrian Crescent is a waxy heirloom variety of a yellow fingerling potato. It looks almost identical to the Russian Banana potato – so it's not uncommon for people to get these two types of potatoes mixed up. However, the Austrian Crescent has a firm texture, making it scrumptious for salads or roasting.
Red Gold Potato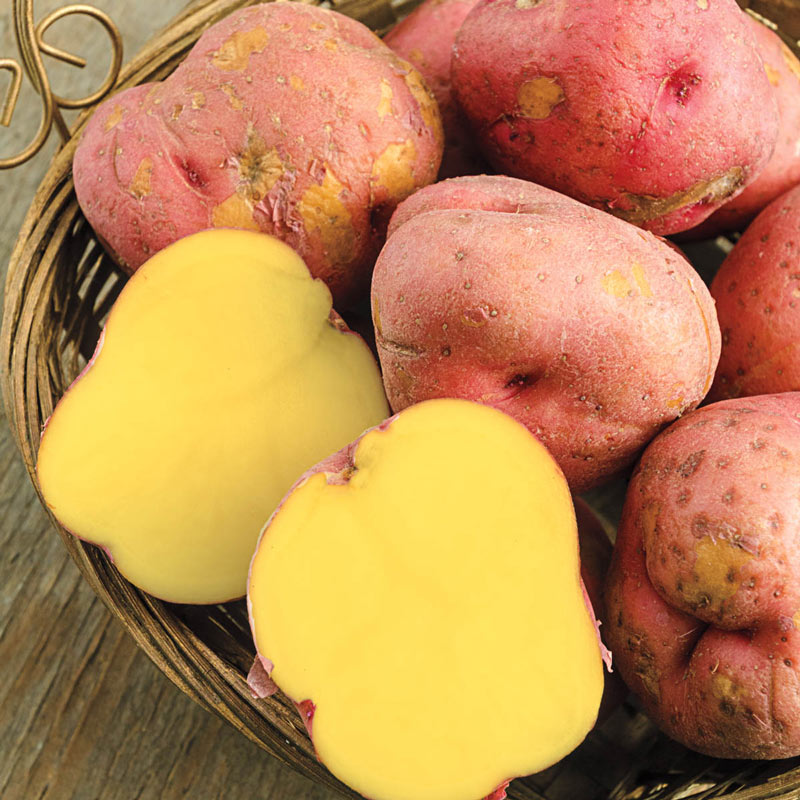 The Red Gold Potato is a great early-season variety, known for its thin red skin and yellow flesh. If you're just starting out with trying to grow potatoes – the Red Gold is a great start. Not only does it produce high yields, it stores well for up to 3-4 months.
Yukon Gold
The Yukon Gold Potato is one of the most popular potato varieties out there – you're sure to see it in your local grocery store. It features smooth, waxy skin with a white flesh on the inside. People love it because it's a perfect mix between waxy and starchy – and gives off a delicious buttery flavor.
King Edward
The King Edward Potato has been growing in the United Kingdom since 1902, which makes it one of the oldest potato species still grown commercially! It has a yellowish, light brown skin and a very fluffy texture. It can be roasted, deep fried, steamed, grilled – you name it!
German Butterball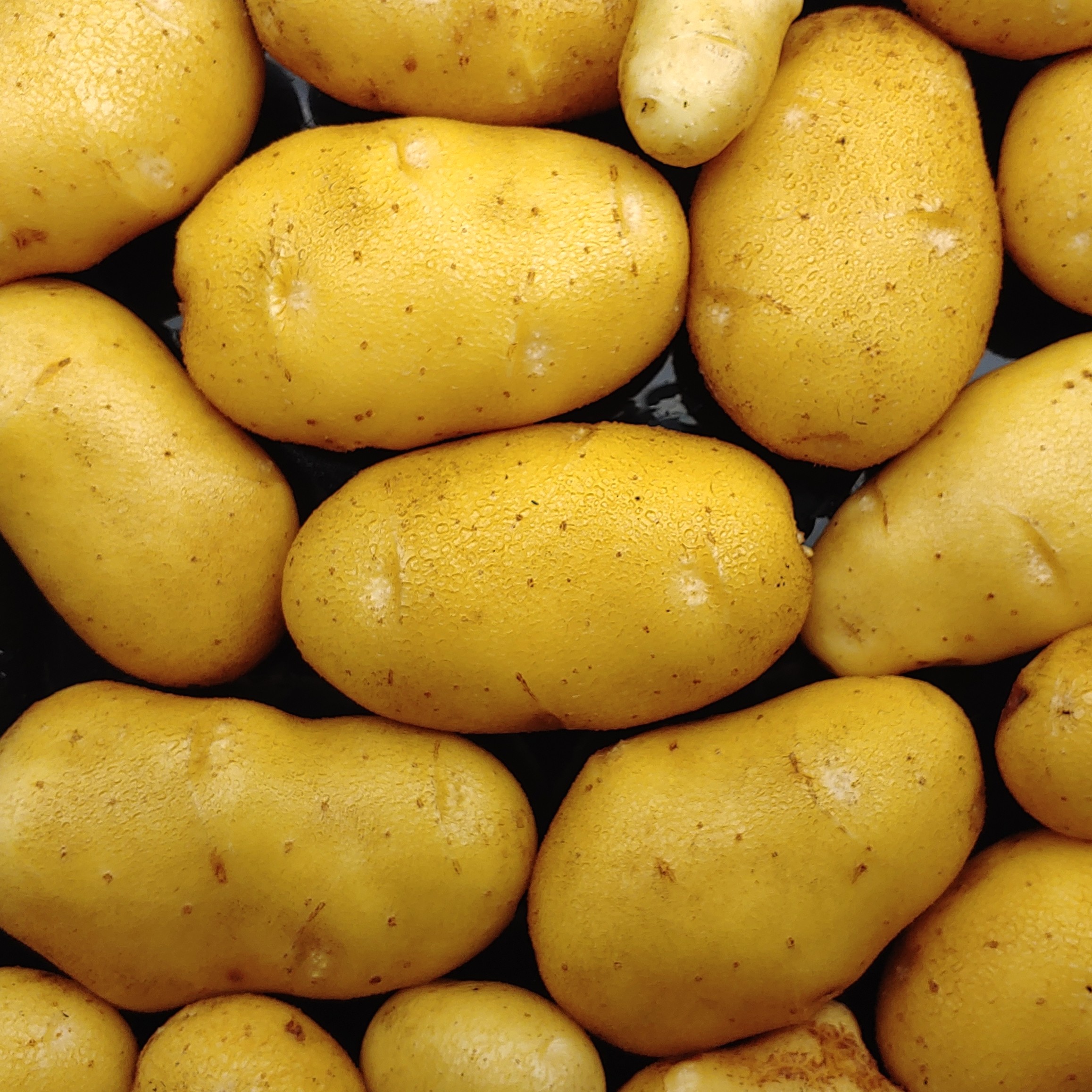 The German Butterball Potato is a great choice for many potato dishes, but specifically potato salads! This is because they are fairly firm, and hold their texture well when cooked. It's super frustrating when you cook potatoes for a salad and they fall apart – don't you think?
Purple Peruvian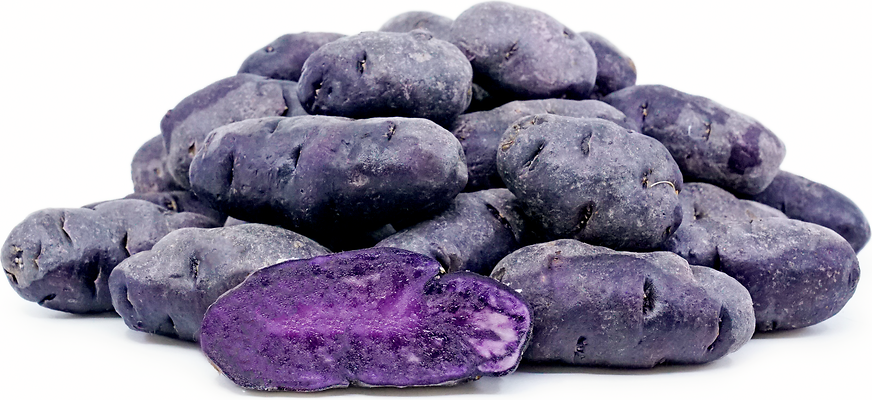 The Purple Peruvian Potato is a fingerling with dark purple skin, and a dark purple flesh. Interestingly enough, studies have shown that this type of potato may be better for your blood sugar than a regular tan-skin potato. However, Purple Peruvians still taste just like your typical potato!
Purple Majesty
The Purple Majesty Potato is another deep purple colored potato, featuring buttery spuds and a gorgeous light purple flesh. Many people love to cook them into purple steak fries to enjoy with your sirloin or burger….yum!
Adirondack Blue
The Adirondack Blue Potato is…you guessed it…a blue potato! It's extremely high in antioxidants, making it a very healthy snack or dinner addition. Both its flesh and color holds well, and therefore it's known for mashing or potato salads.
New Potatoes
While a New Potato may not be a specific potato cultivar, they're still well-known in the cooking world. So what is a New Potato? They're exactly what they sound like – a young potato that has been harvested while the plant leaves are still green. People like them because of their skin-to-flesh ratio, and you can often cook them without peeling.
Therefore, if you liked this article, check out these:
Firstly…
Secondly…