Don't let living in an area with little water resources stop you from creating a beautiful outdoor space! Believe it or not, xeriscaping is a style of landscape design that requires little to no irrigation and is extremely low maintenance. So, if you're looking for the best drought-tolerant landscaping ideas to amp up your curb appeal – keep reading!
If you liked this article – read about Front Yard Landscaping Ideas for 2022 here.
What is the most drought-tolerant plant?
Whether you live in California, Arizona, or any dry region – there's a lot of great benefits to implementing drought resistant landscaping. But first, before you begin – you need to think about what drought resistant plants or perennials you want to incorporate into your garden design. Take it from us, you can't go wrong with any cacti or succulent type of native plant to your area!
Therefore, here's a list of our favorite plants that you can put in a drought tolerant garden and they will thrive with very little water and maintenance!
Yarrow
Catmint
Russian Sage
Adam's Needle
Agave
Prickly Pear
Yucca
Creeping Sedums
How would you design a drought-tolerant landscape?
Many homeowners don't realize it, but there are a lot of ways you can use less water and still have gorgeous garden beds. Here are some of our favorite design ideas/tips to landscape your front yard or backyard with using low water.
Firstly, you always want to keep your soil covered, especially in really bad drought conditions. Mulch is a great resource for this, as is a drought-tolerant groundcover such as sedum. If you didn't know, covered soil holds more moisture than bare soil.
Secondly, if you live in a really desert-y area – then you may not actually want to use mulch. While it's inexpensive and easy to find, they do hold too much moisture for some plants. Therefore, you may want to look into finding another focal point such as stones or pebbles for your flower beds. Personally, I really love pavers.
Thirdly, find plants that are the right choice for your drought-tolerant landscape! Whether you're focusing on backyard landscaping or a front yard garden path, you want to make sure you incorporate plants that will thrive in full sun and require less water use. Some of these plants are listed above – but there are a variety of other garden ideas as well that we'll discuss below.
Does mulching help with drought resistance?
Yes, mulching can help with drought resistance, although it does not work in all situations. While it does help the soil retain moisture, it can also prevent the rain (or an irrigation system if you're running one) from penetrating the soil.
Some benefits of mulch in creating a drought-tolerant landscape design is that they help prevent evaporation and dryness by maintaining moisture. It really depends what you want from the mulch and how you're addressing your water-saving landscape design!
Drought-Tolerant Front Yard Landscaping Ideas:
Try to incorporate various types of succulents or cacti into your front yard landscaping. These types of plants are not only extremely low-maintenance, but they also require little to no water – which is great for drier regions!
If you want to stick with succulents, then get creative with them! You can design a small flower bed/garden bed and place various succulents into the box. Use either mulch or some type of stone pathway to lay the succulents on.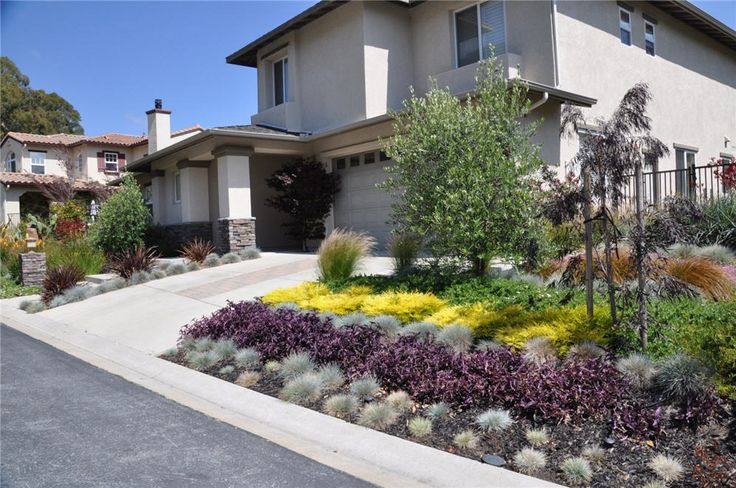 Is your yard primarily in the sun or the shade during the day? It's a great idea to think about putting in a groundcover to keep up that curb appeal while also placing roots to prevent soil erosion. Plus, as you can see here – you can incorporate low maintenance plants that still add that pop of color!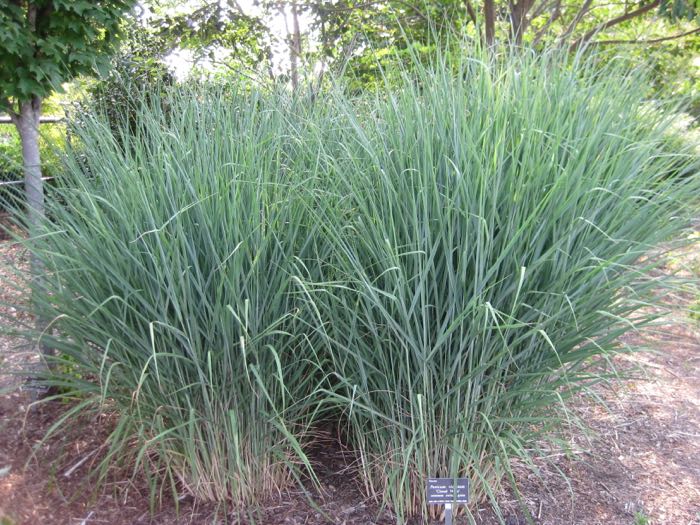 If you want to incorporate grass into your landscape, don't worry – there may still be hope! I recommend going to your local garden shop and asking what decorative grasses will do well within your area. They'll be able to give you some great suggestions for sure!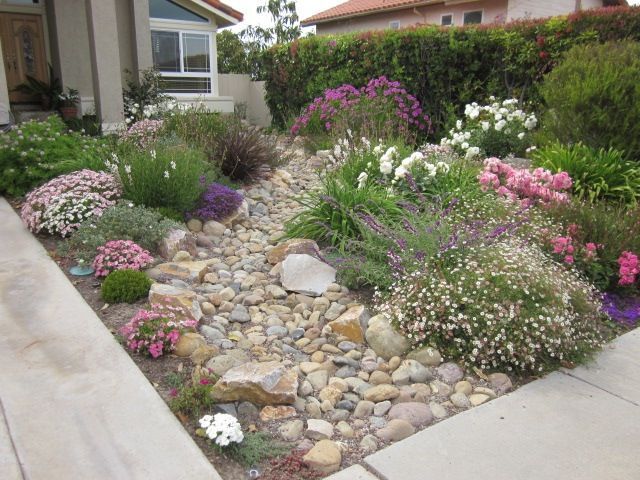 As we discussed earlier, you can incorporate stones or pebbles to act as pavers! In some climates, this is even better than laying soil or mulch down. It really depends on the look you're going for and the region you are in.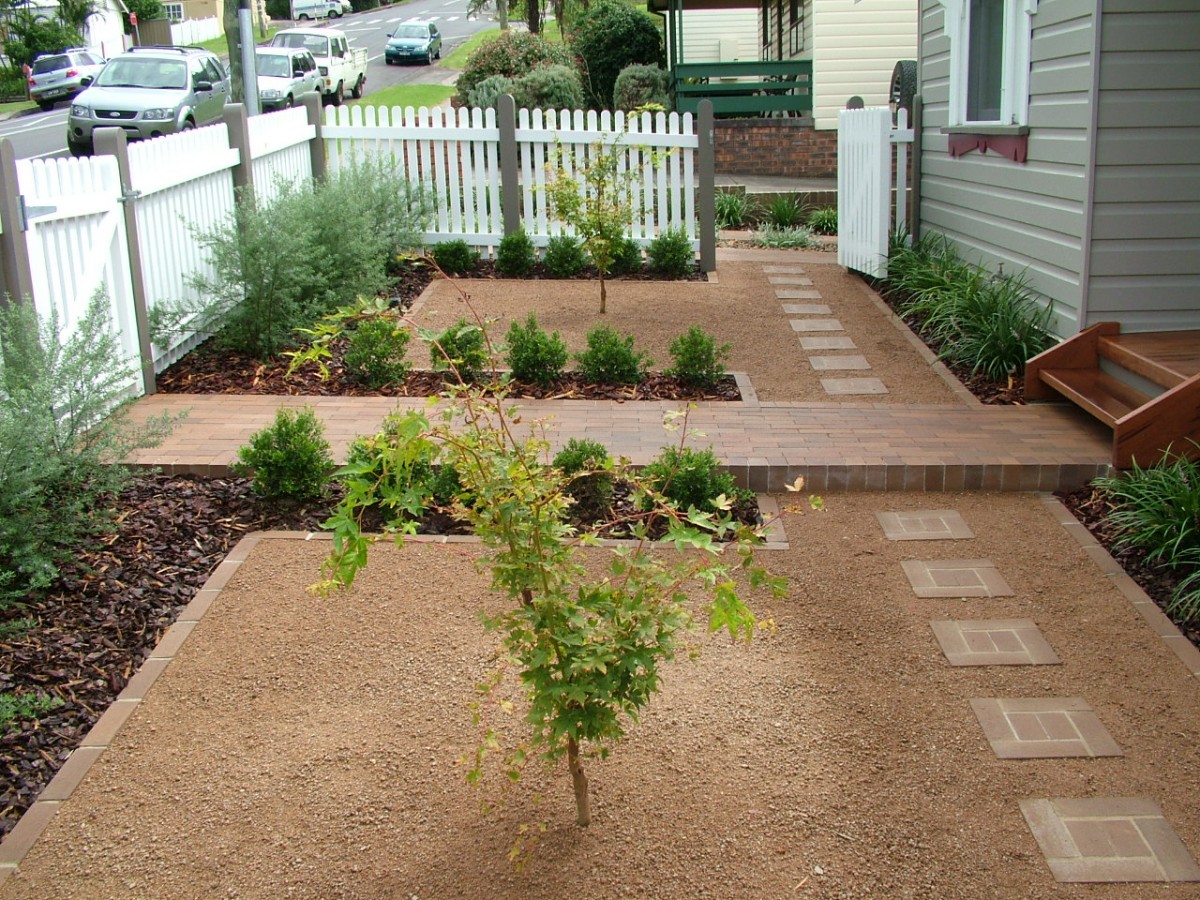 Or, try out some decomposed granite! I love the clean look that the granite gives this front yard. From there, you can find plants that will flourish well in your area.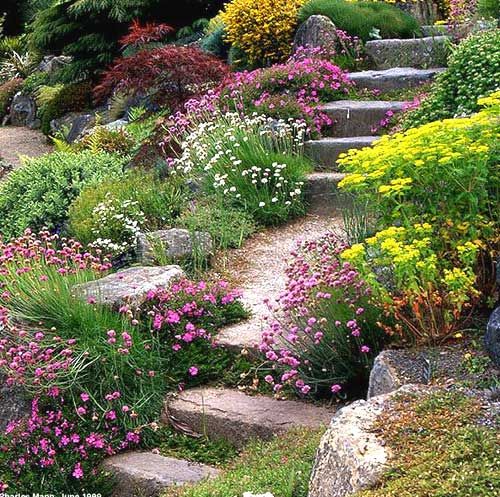 Just because you're doing drought-tolerant landscaping, that doesn't mean you can't add pops of color! I like how these homeowners created a pathway/border to their front porch. Little water doesn't = boring!
Drought-Tolerant Backyard Landscaping Ideas: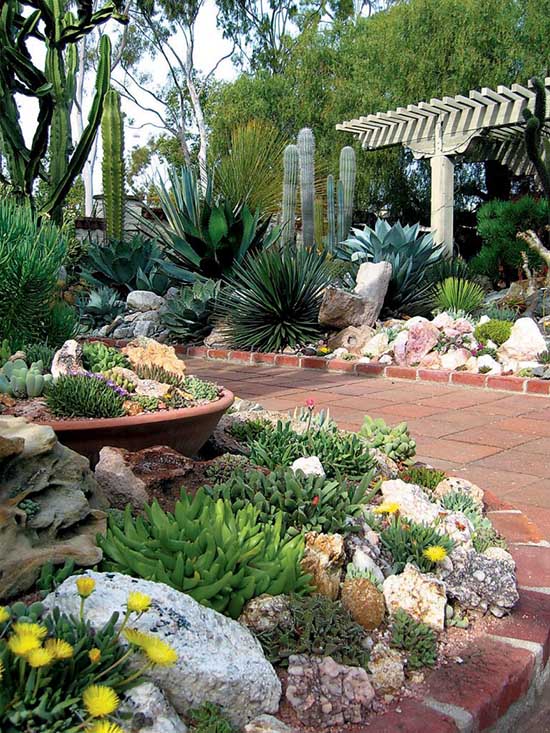 Chances are, if you're living in a warm climate – you may have a pool! Imagine creating a succulent garden as a pathway to your backyard. How cool would that be!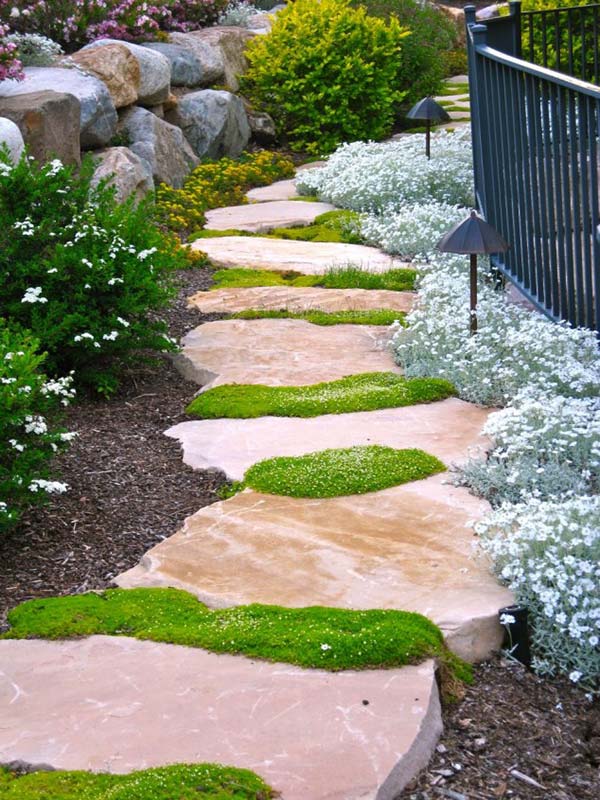 If you do have a pool (or something else that acts as a focal point of your yard), think about using shrubs or evergreen that don't need a ton of water. You can border them around said focal point, and your backyard will look neat and clean.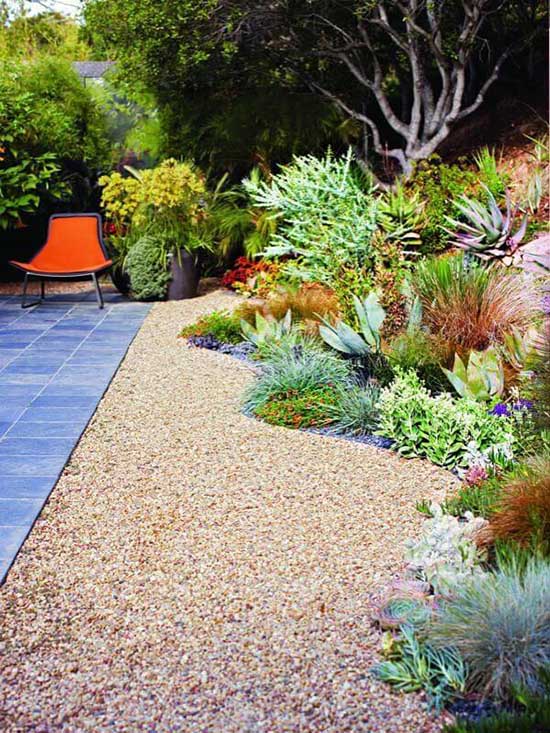 Incorporate some gravel along with perennials and shrubs that will thrive in your climate! You don't need grass to create a clean border line – as you can see in this picture!
I LOVE LOVE LOVE this modern drought-tolerant landscaping design! Look at how they incorporated that river rock with pavers…just gorgeous!
In regards to specific plants, use a lot of plants that incorporate coats of grab or silver. Here, you can see this santolina is thriving in its natural habitat. Lavender and lamb's ears are also a great xeriscape landscaping plant.
Keep those cacti comin'! Typically, if it's prickly or has horns on it, it's going to thrive in a drought-tolerant landscaping setting. Cacti hold up really well in the desert!
We haven't really touched on this yet, but incorporating ornamental grasses are also a great way to make the best use of your resources. You can choose if you want smaller, larger, taller, etc types of grass – whatever the look is you're going for – it's easy to match it!
If you are currently using a sprinkler system, think about transitioning to a drip irrigation system. These are more effective, reduce your water usage, and can be more beneficial for certain types of plants.
Therefore, if you liked this article on drought-tolerant landscaping ideas, read these:
Firstly…
Secondly…