If you've been thinking about amping up your landscape design, built-in planter boxes are just what you need! Modifying your outdoor space can get expensive, but luckily – building garden planter boxes is usually more cost effective than straight out buying them! So, follow along for the best built-in planter box ideas below.
For some DIY projects – read Mod Podge Herb Ladder Planter or How to Dye a Planter. Or, read Garden Path Ideas here.
What can I do with a built-in planter?
A built-in planter box doesn't serve just one purpose, rather, it serves many. Whether you want to incorporate some flower boxes for extra front porch curb appeal, to grow veggies, or to just do some DIY garden design – keep reading – we've got all the planter ideas below!
Firstly, I love utilizing built-in planter boxes because it makes it easy to change my container gardening plants every season. Additionally, I know that if I wanted to add some greenery indoors – I could even incorporate planters into my living space and home decor!
Secondly, think about using a wooden planter as an outdoor bench. You can plant anything from succulents, to flower pots – whatever you want. Moreover, it will double as both a garden bed and a sitting bench for your outdoor space.
Thirdly, think about using raised planters as a privacy screen. This would also work if you wanted to incorporate a tiered planter. Find types of plants that are going to grow large – and put them in a raised planter to cover window boxes, etc. It provides an extra layer of privacy that you didn't even know you needed!
Lastly, I love the look on concrete planters. They're durable and they look super modern! With incorporating concrete DIY planter boxes, you can design your outdoor living space into sections. I think the "different outdoor room" look is really appealing to the eye. If you don't know what I'm talking about, keep reading to see examples below.
Is it cheaper to build a planter box?
Typically, yes! Doing a DIY project is often more cost effective than going out and buying a built-in planter box. If you want to do something with your small space yourself – I suggest starting out by building a wooden planter box.
They're fairly easy – and there are a ton of informative tutorials online. Douglas-Fir and Cedar are both great wood planter options that are long-lasting and somewhat budget-friendly.
Or, some people like to get even more creative and incorporate reclaimed wood or old, wood crates. It really depends on the type of look you're going for.
Whatever material you use – you'll be satisfied knowing that you yourself contributed to your outdoor decor look!
Built-In Planter Box Ideas:
As I mentioned above – the look of concrete planters is really unmatched. Not only does it provide a clean, modern look – the outdoor lighting adds to the ambiance as well.
If you have a small backyard – don't worry! That doesn't mean that you can't incorporate a built-in planter box. Just look at this example right here.
This built-in vertical wooden planter is a great start if you want to try out a DIY project! They're easy to build and look great in any outdoor space.
If you're doing a DIY project – try this! It's a wooden planter box that also doubles as a bench. Super useful and fairly easy to make!
Check out this stacked stone planter box…with a bench! I love the idea of pebble rocks as a mulch alternative in the flower bed.
Or, take your expertise to the next level with built-in deck planters! They allow your outdoor space to look really neat and put together.
We talked about this above – but you can utilize built-in planter boxes to double as a privacy screen! Just decide what type of plants you want to incorporate and get to building!
By putting in planters in the background and then having a seating area, you're creating an optimal space for guests to feel at home.
Who said your planter boxes needed to be sitting on the ground? Check out these tiered boxes – this is another great option if you're dealing with a small yard.
I love, love, love the look of concrete planters! I especially think they look great in a xeriscape or low-maintenance landscape designs.
Here's an example of a built-in planter bench right before the soil and flowers come in! Doesn't that look fairly easy to build? There are a ton of tutorials online.
If you want to build a planter bed that looks classy, but is budget-friendly – check out this design right here!
Your planter box doesn't have to be made out of wood or concrete. Instead, you can stack stones to build a planter box – just like the picture here!
This deck bench with built-in planters is so cute! As you can see here, you don't need to incorporate a ton of planters to add to your landscape design.
I love this climbing trellis with planter boxes look! Again, because this is vertical – it would be a good option for saving space in your yard.
Don't just stop at putting in built-in planter boxes. Moreover, you want to make sure to add outdoor lighting for extra ambiance.
Again – concrete planters are a great way to go – especially if you want to make them into a bench as well. Additionally, I love how they painted it white here.
Who said your planter needed to be filled with flowers or a vegetable garden? For example – rock gardens filled with succulents and low-maintenance plants are also a great option.
Tiered wooden crates are great for building your very own planter box. For instance – I think it would be a fun afternoon activity for the kiddos to come paint on the wooden crates before planting flowers in them.
Check out this very elaborate deck – complete with built-in planter boxes! Moreover, if you want to go all out, this is a great image to reference.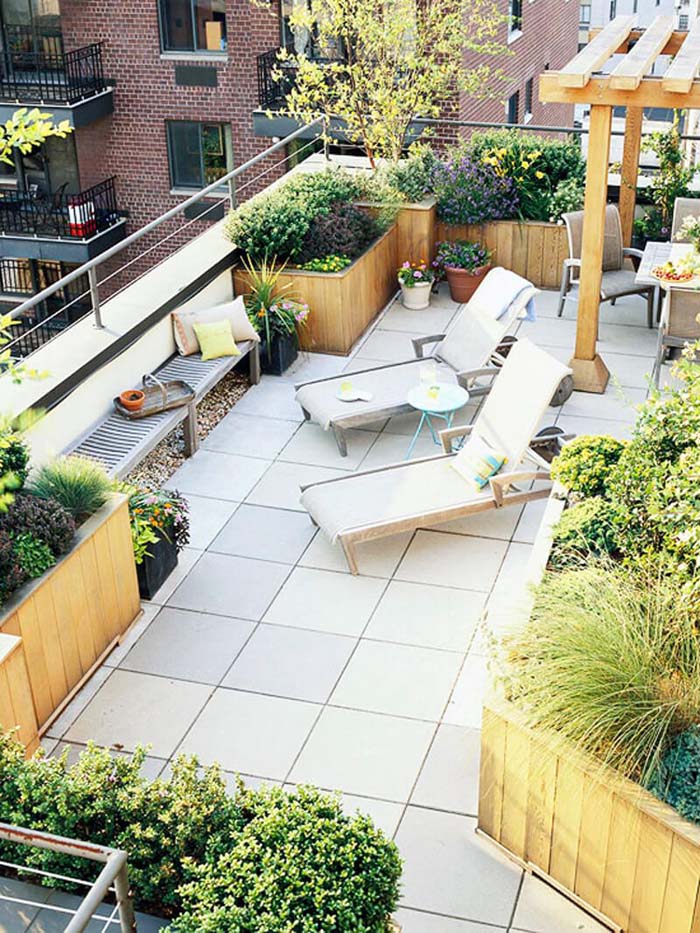 If you live in the city and don't have a ton of space – add some built-in planters on your rooftop!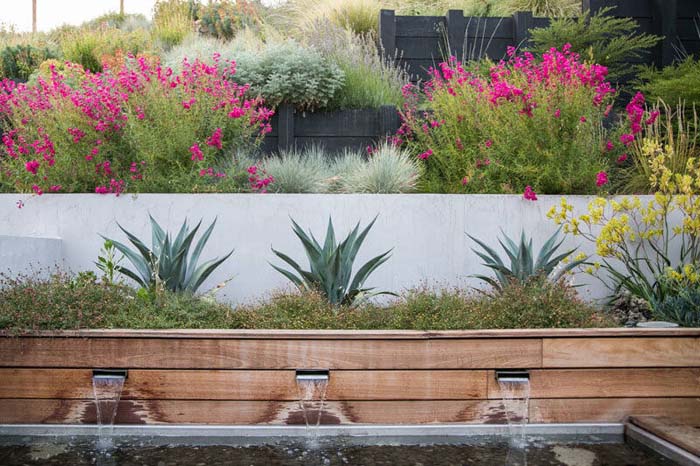 Or, add planters AND a water feature! For example – water features are a great budget-friendly way to make your yard look more expensive than it actually is.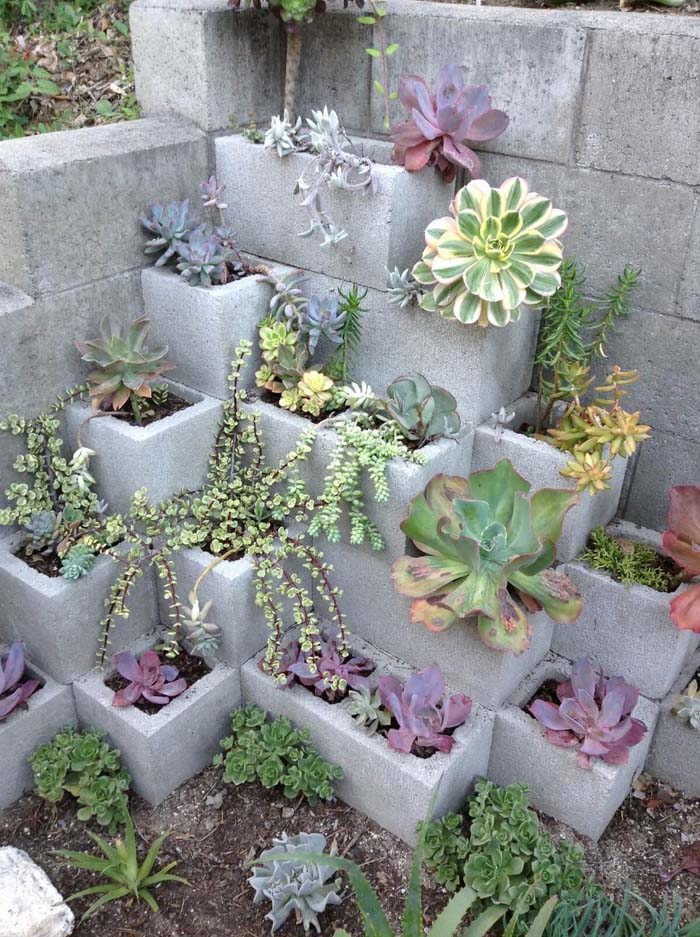 Do you have some cinder blocks laying around the garage? If so, make them into a tiered planter box – as seen here!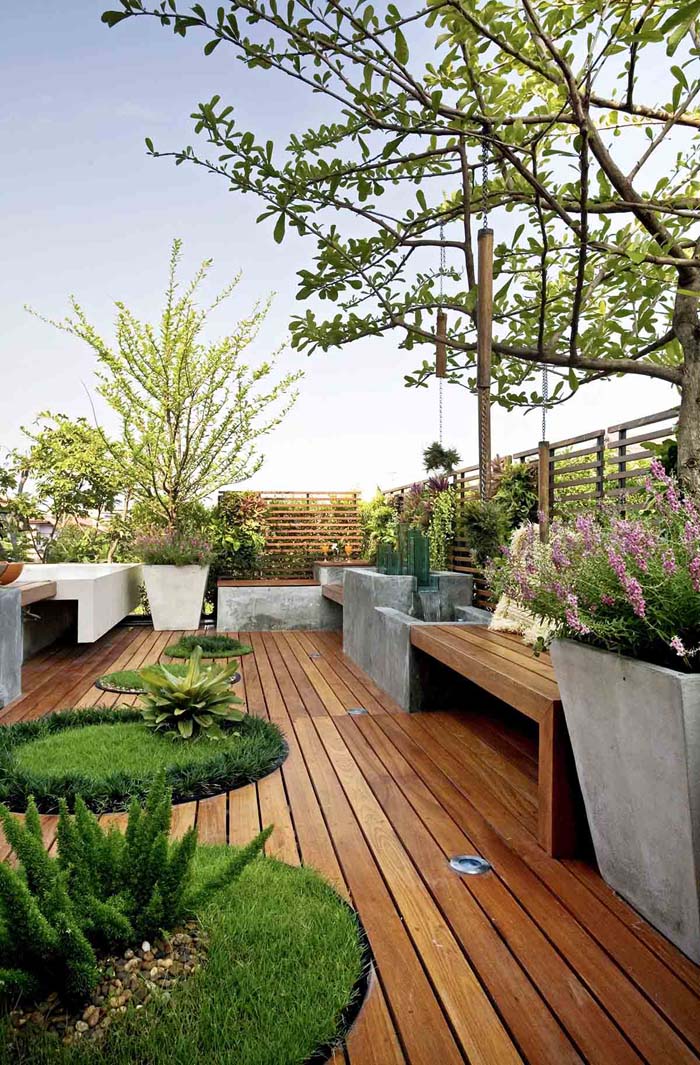 Concrete planters are great for making planters into any shape or size. Plus, they make your yard look more modern!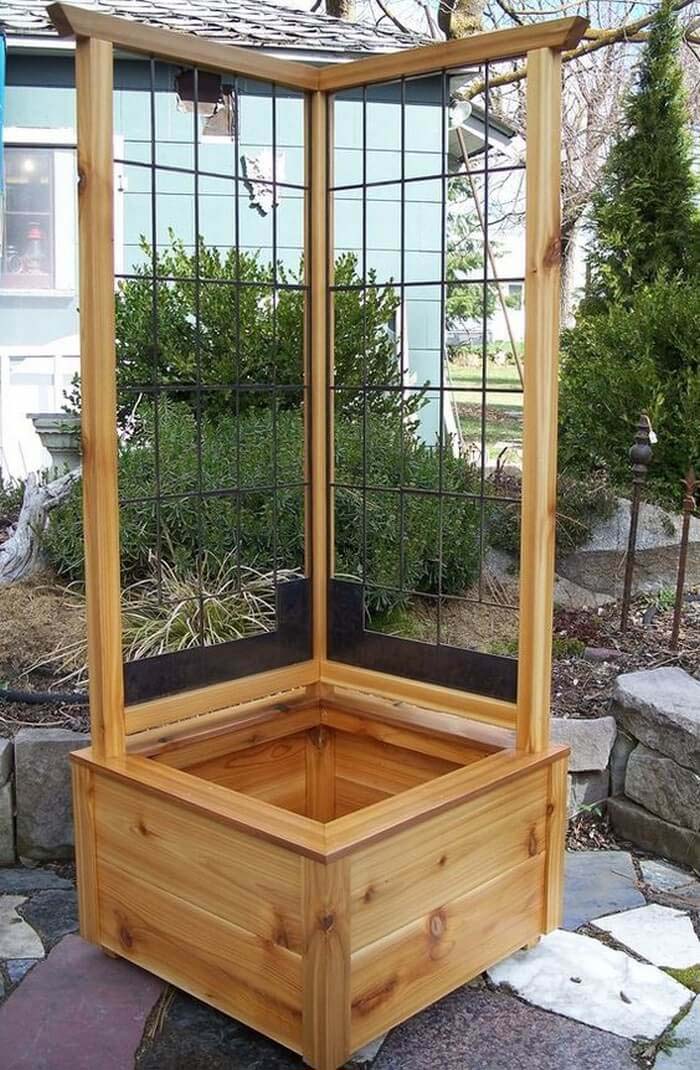 If you have a small yard, then incorporating a vertical wooden planter is the way to go. For instance – you can even do 2 of these to make your outdoor space look symmetrical!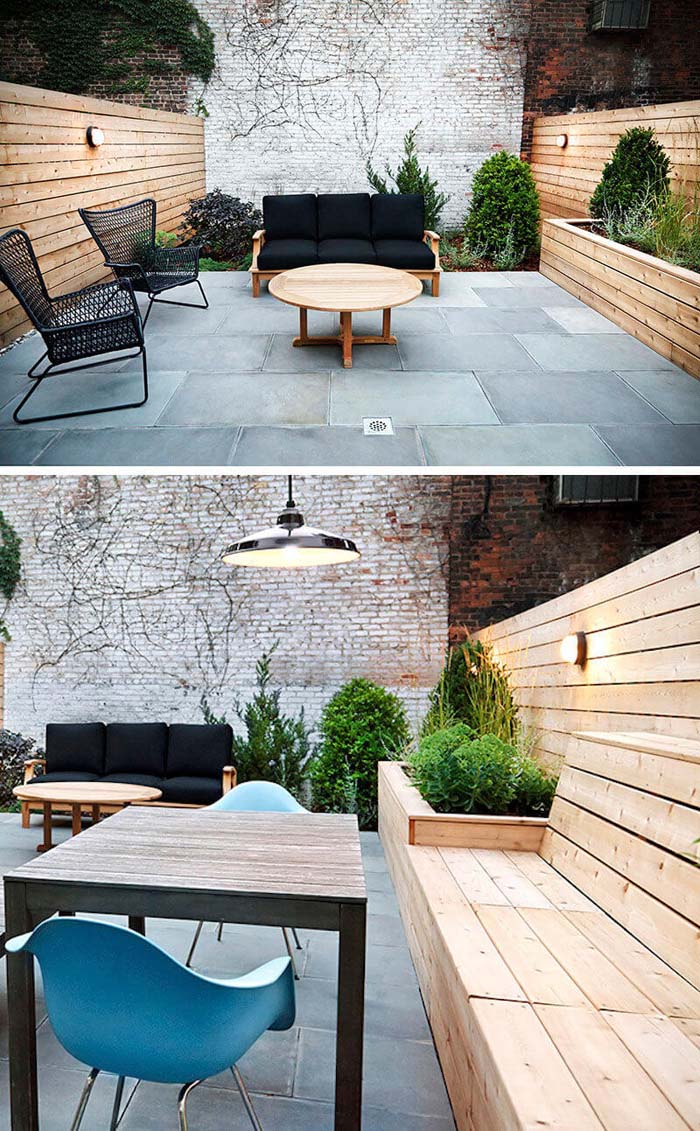 If you're wanting a contemporary built-in planter, think about getting funky with the shape!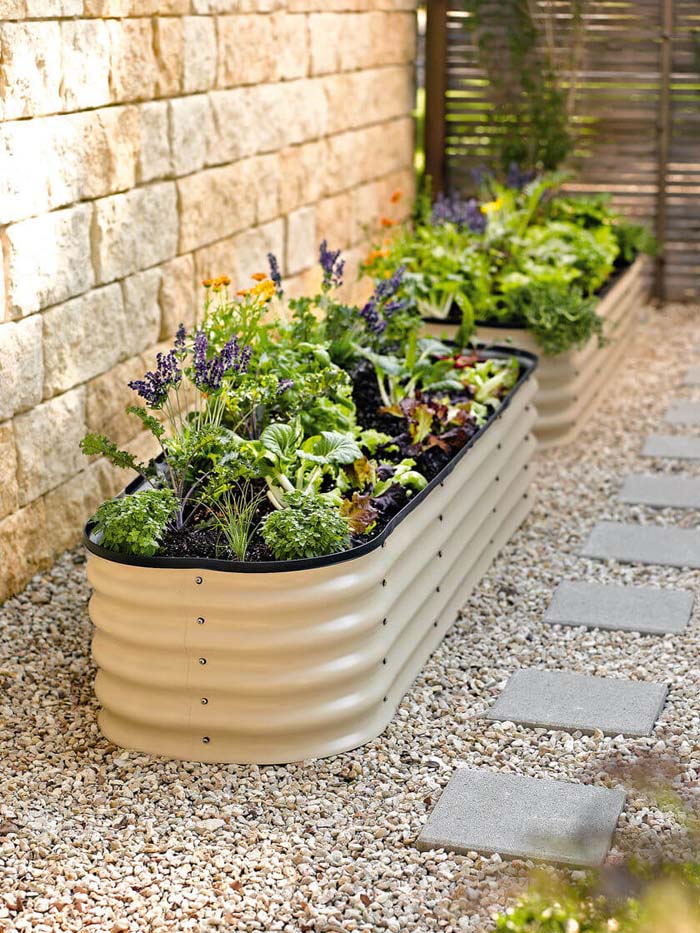 Repurpose some metal tubs and place around small pebbles and stone pavers! How cute is this DIY idea…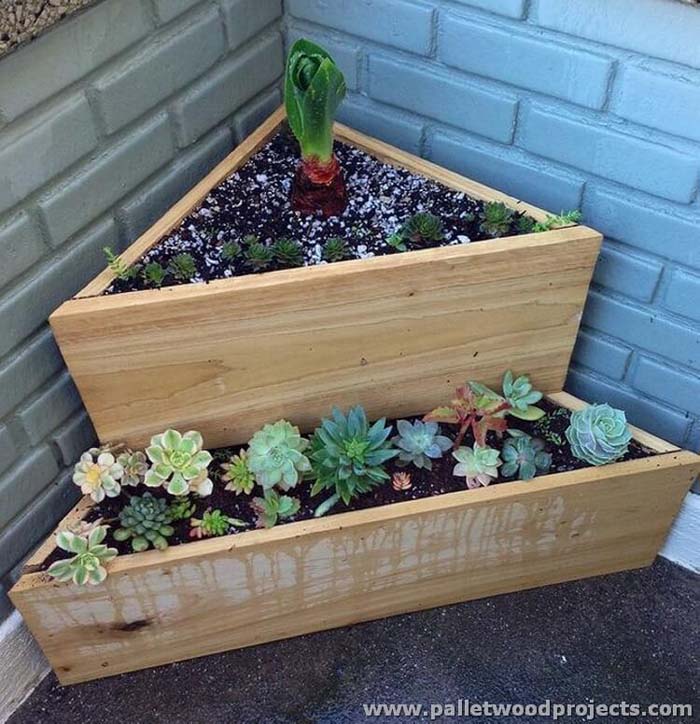 Again, your built-in planter box can be any shape you want! This is another great example if you're dealing with small spaces.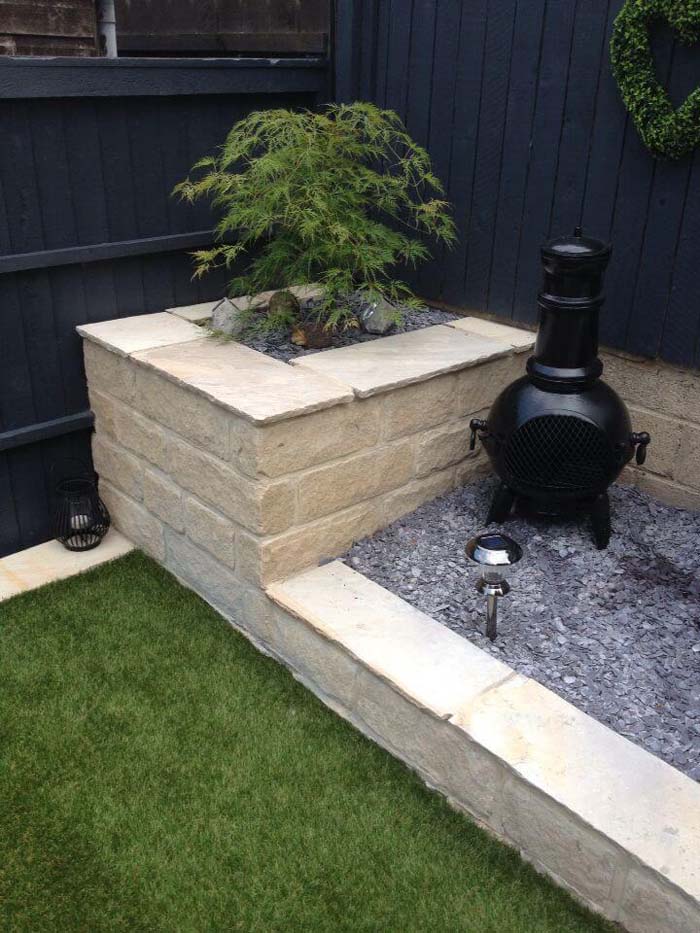 If you want a low-maintenance DIY project – check this out! By stacking stones, you'll have a gorgeous planter box in no time. Aren't all these built-in planter box ideas great!?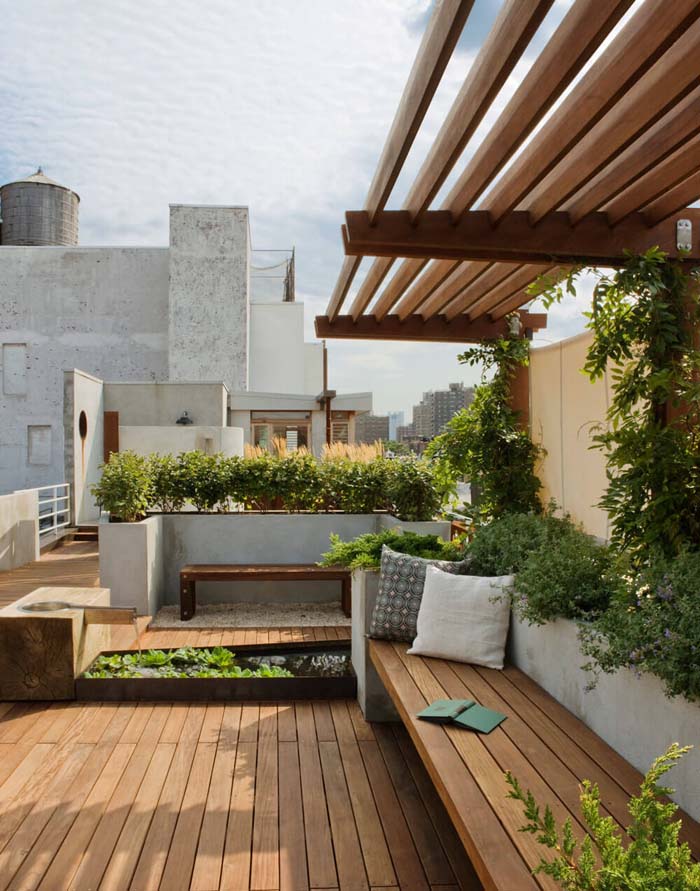 Planters can also work to elevate your patio space. Here, this area gives off a very contemporary feel with wooden benches and concrete planters!
Therefore, if you liked this article on built-in planter box ideas, check out these:
In conclusion…