This shop has been compensated by Collective Bias, Inc. and its advertiser. All opinions are mine alone. #CurbsideConvenience #CollectiveBias
We all have those nights of the week (sometimes it feels like EVERY night of the week) where your house is a hot mess, your pantry is barren wasteland, you have soccer practice followed by Cub Scouts (oh joy!), your children have homework due the next day, and you're out of diapers! You sit at work ALL DAY struggling to stay focused because your to do list is growing by the minute both professionally and personally and you wonder how you're going to find time to get it done. I think any of you moms out there, working or not, can relate to days like this…days where there's literally not enough time in the day to do what you need to. I finally cut myself some slack and found one way to make my life easier…one way that literally ends up saving me time and money and sanity. What's my secret, you ask? Giant Eagle Curbside Express Pickup.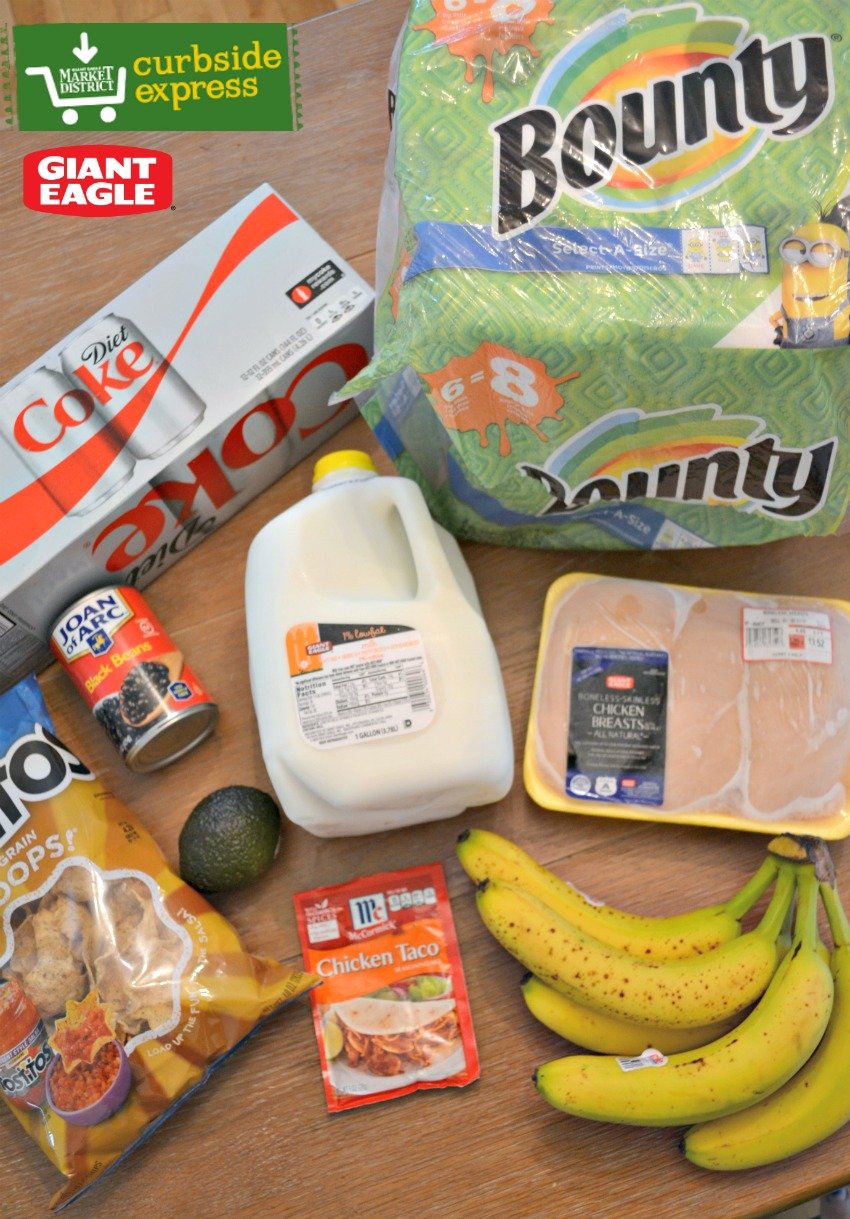 No joke you guys, for the last few months I felt like if I used Curbside Express Pickup for my groceries I was somehow cheating the system…I wasn't "mom enough" to hang and bring my kids along shopping. But all too often I was hearing from other moms about how this new Curbside Express Pickup was a game changer and I finally decided to try it out.
So one day last week, while I was eating lunch, I sat down with my grocery list, logged into Giant Eagle's website, and ordered my groceries–I spent $90 and got everything on my list (does that ever happen?).
Then I drove gleefully to Giant Eagle on the way home from my son's baseball practice, pulled in, and they brought out my groceries–STRAIGHT TO MY CAR, YOU GUYS. I literally sat in bliss as they loaded up my trunk whilst my kids sat in wonder trying to figure out where else they could go to argue relentlessly while I was already in a hurry and stressed. The answer–nowhere kiddos, cause we're going HOME.
Curbside Express allows busy people like you and I to have more time for things that matter most such as spending time with family and friends. You can purchase any bulky or heavy items through Curbside Express as the Curbside Express pickers will load them directly into your car! You can even order fresh produce and meat via Curbside Express.
My favorite part? Customers can try it for free. The fee waived for first 3 orders!!
Here's how I like to think about it–if you do it regularly it's $4.95 to use their service, but consider…that's a cup of coffee! Then think about all the things you did NOT buy walking around and being tempted in the grocery store! You are in control of your time and how much money you spend–so you can shop easier if you're trying to stick to a weekly budget!
A personal shopper picks out all your groceries and you are in control of what you need without sacrificing your time. Honestly, it's a game changer for me. What used to take me about an hour of shopping, paying, fighting with my kids, and loading groceries into my car now takes me about 10 minutes– and I never have to leave my car. I can get my Bounty Paper Towels, my Fancy Feast Cat Food for our cat, Murphy, the Diet Coke we crave, bananas for my son's lunch, and farm raised salmon for dinner.
My favorite part is that on the Giant Eagle website they provide links to recipes that can help you with menu planning. So you can literally click on the recipe, like this Cilantro Lime Chicken & Black Bean Rice Bowl, see all the ingredients in one spot, and add it all to your cart in one click. Or maybe you just need 3 out of 5 items? Highlight what you need and leave the rest. No more trekking all over the store for one meal, you can simply let Giant Eagle guide you and pick it up all at once.
I got all my groceries, came home, and made Cilantro Lime Chicken and Black Bean Rice Bowls for dinner. I had more time to spend with my family and I honestly saved money that week by not buying unnecessary groceries that we didn't need.
1 package Zatarain's® Cilantro Lime Rice

1 15.5oz. can Giant Eagle Black Beans

1 tablespoon Oil

1 lb Boneless Skinless Chicken Breasts or Thighs

1 package McCormick® Chicken Taco Seasoning Mix

1/2 cup Water
Directions
Cook rice as directed on package. Gently stir in black beans. Keep warm; set aside.
Meanwhile, heat oil in large skillet on medium heat. Add chicken; cook and stir 3 to 5 minutes or until no longer pink.
Stir in Seasoning Mix and water. Bring to boil. Reduce heat and simmer 5 to 7 minutes or until most of liquid is absorbed and chicken is cooked through, stirring occasionally.
Divide rice evenly into serving bowls. Top with chicken and desired toppings such as, shredded cheese, salsa, shredded lettuce, sour cream and guacamole.
So here's the deal moms….
Let yourself off the hook. Find those ways to make your time more efficient and cut yourself some slack on nights where it feels like you're the only mom in the world who doesn't have their "stuff" together. Because I tell you what, we're ALL there and we need to stick together. You're not super mom, but you are a SUPER MOM and you need to do what's best for you and your family. And you know what that is? Just BE! Be a family, enjoy each other, make dinner time a sacred time to catch up, and spend less time stressing over all your to-do's, even with this one simple tip.
Try Curbside Express at Giant Eagle for FREE the first three times to see how you like it and decide for yourself.
Pin it for later: