When we bought our house a year and a half ago, we knew that we had a lot of work ahead of us. We have a little ranch style house that sits on about 1.5 acres. You may even remember THIS post about the time we repainted our house, which was quite an undertaking! Well, this spring we wanted again to tackle another eyesore on the property and create a little area to sit by the front of the house and watch the kids play. Our kids like to color with chalk and play with the neighbors, but we always had to drag our back patio chairs up front to sit. So let's take a look at our total Farmhouse Shed Makeover and how we turned our old shed into something that looks brand new for under $500!!
I love a good before photo…so let's take a look at the before:
BEFORE
Let's walk through a quick list of to do's for this project
Repaint the shed and trim
Build new doors
Install new doors
Paint new doors
Add barn style hardware to doors
Decorate shed
Add seating options
Lay new grass seed
Pour concrete ramp pad
Make it our own!
We had quite a lot to do and we spent all of last weekend getting it done. Yep! We spent one weekend and done fixing this shed up. Ready to see the after? Well, first let's see the in between…
We started by heading to Lowe's to see what kind of doors we could replace the existing ones with. Lowe's has a huge selection of different types, but I really wanted something "barn style" so we opted to make ours. I'm not going to walk you through the steps to make these shed doors because I got my inspiration from Shed King to create these. And I'm honestly indebted to my dad for a while because he walked us through making them…so here's where we started with the shed doors.
My little helper did most of the heavy lifting at Lowe's….
After we got all of our stuff…and we had a lot…we headed home to get to work.
My son and I worked on the painting while my husband and dad worked on the building and pouring…
It took us all weekend but we got through the majority of it. And I have to say, it's pretty awesome to have a gorgeous weekend to spend outside sprucing up a space that you love. For us, we wanted to add some curb appeal to our home, as well as create a cozy area to relax while the kids are playing in the driveway…but maybe for you it's updating your back deck on a budget or sprucing up your patio!
Let's move on to what you've all been waiting for…the after shots! I really wish I had a gorgeous day like last weekend for the photos, but today was a bit cloudy.
AFTER
So you'll notice the new paint color. The light gray paint is Steely Gray and the dark gray is Peppercorn. The trim is Extra White.
We purchased all the supplies for the Barn Doors at Lowe's, including the hardware for the doors…which is my FAVORITE part of this project…that GORGEOUS black hardware!! It's the little things, am I right?
We also framed in and poured a new concrete pad to roll our lawn mower down and on either side of the doors I have cute faux wood pots from Lowe's that have pretty little trellis' in them that will hold up our clematis vines. Clematis is SO pretty in full bloom and the vines cover really well, so we cannot WAIT to update this post with a picture of the clematis in full bloom soon (big purple flowers!).
Once we had the painting, hardware, concrete, and greenery done…I picked up two cute teal Adirondack chairs from Lowe's along with two bright, colorful lumbar cushions. It's the perfect little pop of color that we needed for this outdoor project, don't you think!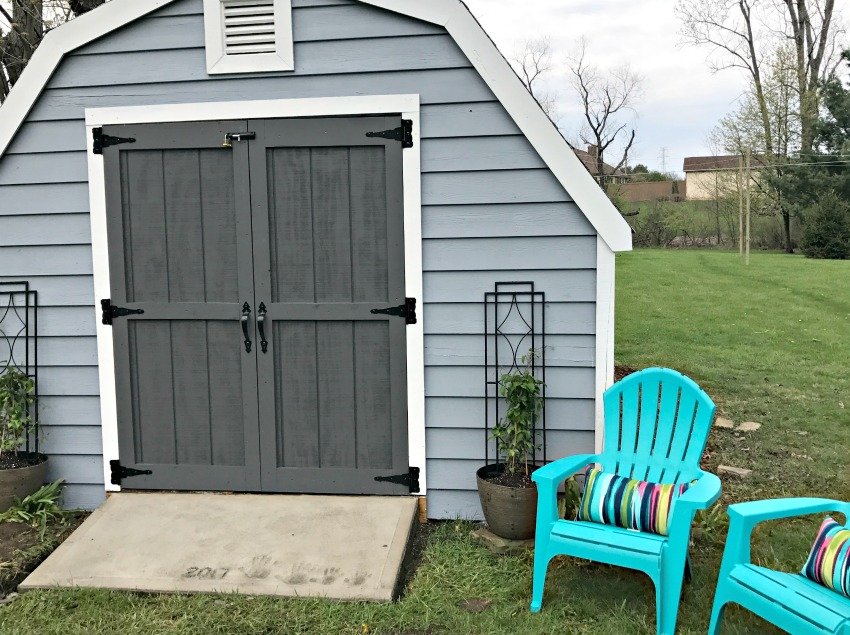 I chose simple plastic, faux wood pots from Lowe's because I like the wood look to them, but I felt like they probably needed to be something that was sturdy because of the fact that they are next to heavy doors that can blow open with the wind…so I wanted something that wouldn't crack or chip as easily.
Finally, you'll notice that we LITERALLY put our hand print on this project my marking the occasion in the concrete ramp forever. I kind of love this little homage to our family here.
Before and After again…
Can you believe what a difference some paint, doors, hardware, and decor do to make the space nicer? We sat this evening with a tall iced tea, watched our kids play in the drive while we relaxed in our chairs with our gorgeous shed nearby…it feels SO good to have this project knocked off.
Pin it for later…