Sometimes, it's easier to find motivation if you can workout in the space of your own home. Not to mention, it's often more time efficient to use your personal workout area rather than driving all the way to your nearest gym! So, if you're looking for 25 basement home gym ideas for the perfect workout space, keep reading!
If you liked this article, read Best Women's Weightlifting Shoes. Or, read 25 Basement Home Theater Ideas.
How big should a basement gym be?
One of the nice things about building a home gym is that you can tailor the design specifically to your needs. While it would be amazing if we could all have a basketball court, large weight room, and maybe even a punching bag in our workout room – that isn't feasible for everyone.
I'm here to tell you that you can create a basement or garage gym with as little as 50 to 60 square feet to work with. However, that isn't going to leave you a ton of space. You'd most likely only be able to fit a bench rack and maybe a few free weights – or a yoga mat space.
Therefore, the American Council on Exercise recommends that free weights have at least 20 to 50 square feet of space to use properly and safely. Additionally, treadmills need about 30 square feet and a multi-station gym needs about 50 to 200 square feet.
So, I'd recommend that you have at least 100 square feet to work with, depending on what gym equipment you want to include. Then, you can at least include a squat rack, a barbell, a bench, and possibly a treadmill or elliptical if you wanted.
How much does it cost to build a gym in the basement?
Again – the question of how much a basement home gym costs depends on a few different factors. Are you going to DIY or bring in a professional and go all out? If you do it DIY – you may be able to get by with only spending $1,000-2,000.
However, studies show that the average home gym costs about $3,500. If you want a bigger gym with various exercise equipment, new gym flooring, etc – you're looking at a price tag between $6,000 and $29,000.
Therefore, I'd recommend that you look at these best home gym ideas below and talk to a certified professional if you want to proceed with building a basement gym space! Again, it's great to have a professional because home gyms can be complicated. For instance, flooring options can get tricky. You might want to install different flooring depending on your needs – for instance a gym room specific to cardio may need different flooring than weightlifting fitness goals!
25 Basement Home Gym Ideas:
#1 – Horse Stall Mats
If you're looking for a cost effective flooring option – think about purchasing 4'x6' horse stall mats from a local store. They're actually pretty cushiony and are super durable – making them great for high-foot traffic.
#2 – Horizontal Dumbbell Rack
One thing you definitely don't want in your home gym is a bunch of dumbbells lying around everywhere. So, think about getting a dumbbell rack like this one – to keep them neat and organized.
#3 – Wall Shelving for Functionality
If you're dealing with a small space, think about hanging some wall shelves or wall hooks. Then, you can put some of your home gym equipment directly on the wall so it won't take up space.
#4 – Mix up the Color Scheme
Sometimes, your home gym design colors have a lot to do with how motivated you are during your workouts! So, give your space a makeover and make it pop!
#5 – Put in a Mirror
Mirrors are a great touch to a home gym. Not only do they help you keep your form in check, they also give you that extra push when working out in your fitness room/
#6 – Keep it Simple
You know better than anyone else on what your specific fitness goals are. Therefore, make sure you only put in workout equipment that is going to help you reach those goals!
#7 – Get Creative
No one said that you needed your workout space to look amazing. So, if the only space you can work with is a DIY weight rack and some weight plates – so be it! Functionality over looks!
#8 – Incorporate a Children's Play Area
Putting a fun children's play area into your design idea kills two birds with one stone! Not only is it a great idea to have your children watch you workout, it's also a great way to keep them entertained so you can focus!
#9 – Chalkboard Wall
If you're a weightlifter, then you know it can be a real struggle to track weights or specific workouts. So, put in a chalkboard wall and write down weights/PRs/or even HIIT workouts or circuits that you plan on doing!
#10 – You Don't Need 20 Machines
Obviously, your home gym is not going to look like Planet Fitness or Equinox, right? So – don't try to overdo it! Sometimes all you need in your space is a stationary bike and a few essential pieces of equipment.
#11 – Transform the Mood
What's stopping you from putting in some new paint? Whether you're designing a yoga studio or a weightlifter's heaven – new paint can give your space a new mood.
#12 – DIY a Punching Bag

You don't need to go out and buy every piece of equipment brand new. For example – if you want a punching bag – DIY it out of old tires or a similar material!
#13 – Combo Machines
If you're working with a small space – try incorporating machines that hit multiple target areas. It's like doing a super-set – but without the two different exercises!
#14 – Consider Comfortable Equipment
Just like any new purchase, you want to make sure that what you're buying is the real deal. While sometimes free treadmills off of Craigslist can be a steal, it's often recommended that you find high-quality machines.
#15 – Put a TV In
If you're a runner or love any type of cardio – it may be worth it to put a TV in. Then, you can watch your favorite show as you crush new PRs!
#16 – Rustic Design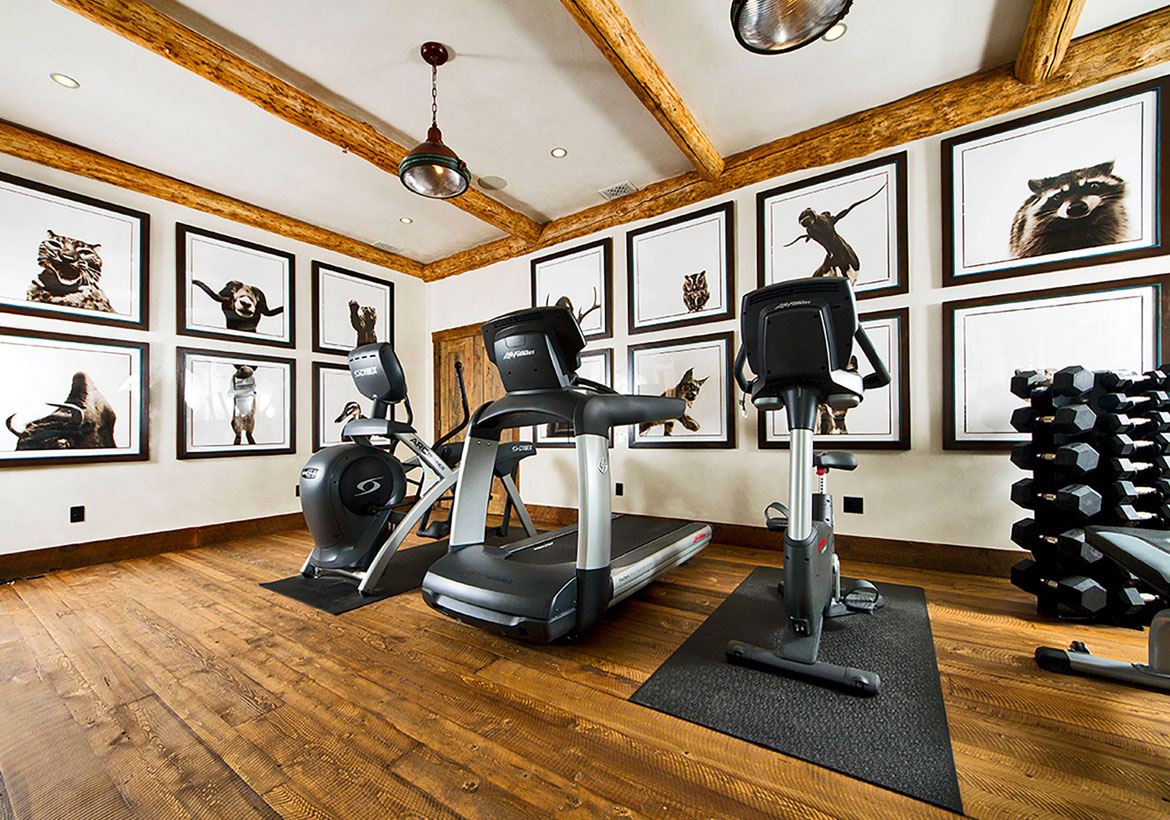 If you love a rustic look – check out this basement gym idea! You could buy animal prints like this one – or put some pictures up of your own furry friends, if you have any. Wall art is always a great idea.
#17 – Spare Bedroom
If the basement isn't going to work – why not transition a spare bedroom into a workout space!? If you aren't using it regularly then I'm sure there is no harm in that.
#18 – Color Coordinate
Again, it's a smart tactic to try and color coordinate your gym area. Your eyes react to different colors in different ways – and you want to be as motivated as possible.
#19 – Industrial Look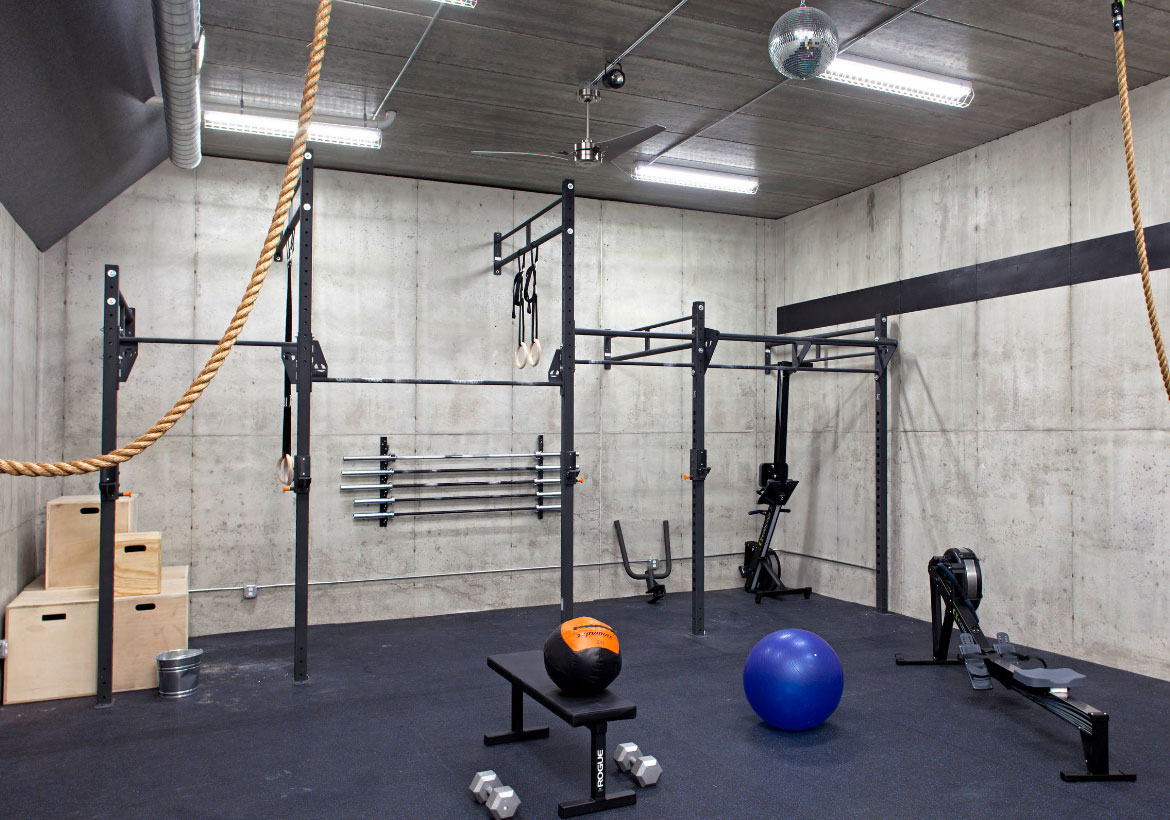 If you're a powerlifter – check out this design! It features everything from a power rack, to resistance bands, to kettlebells – and so much more!
#20 – Workout with a View
If you're able to, incorporate your home gym into a space that has a beautiful view. You'll feel more motivated while working out – I promise you!
#21 – Contemporary Gym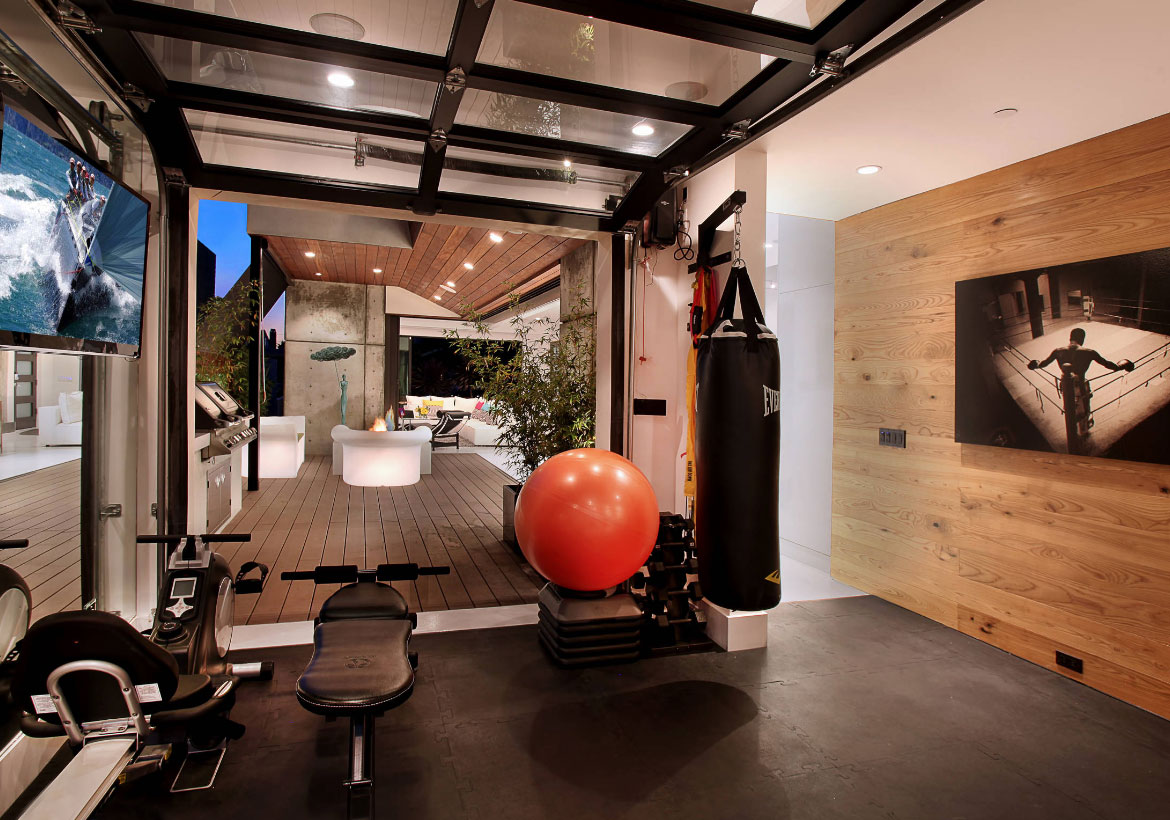 If you want to build a more sleek, contemporary gym – look at this idea. It's beautiful – and almost feels like a combined gym/spa area.
#22 – Put in a Lap Pool
If you are a swimmer and have space, think about putting in a small lap pool! Especially if you live in an area where you can't swim outdoors year-round!
#23 – Two-Story Gym
Just when you thought you've seen it all…you see this gym! It's a gorgeous, two-story gym that has plenty of space for allll the workout exercises.
#24 – All-White
Whether you live in a beachy area or just love the all-white interior design look, check out this gym. Not only does the all-white elevate the space, it adds to the classiness of the gym.
#25 – Workout and Play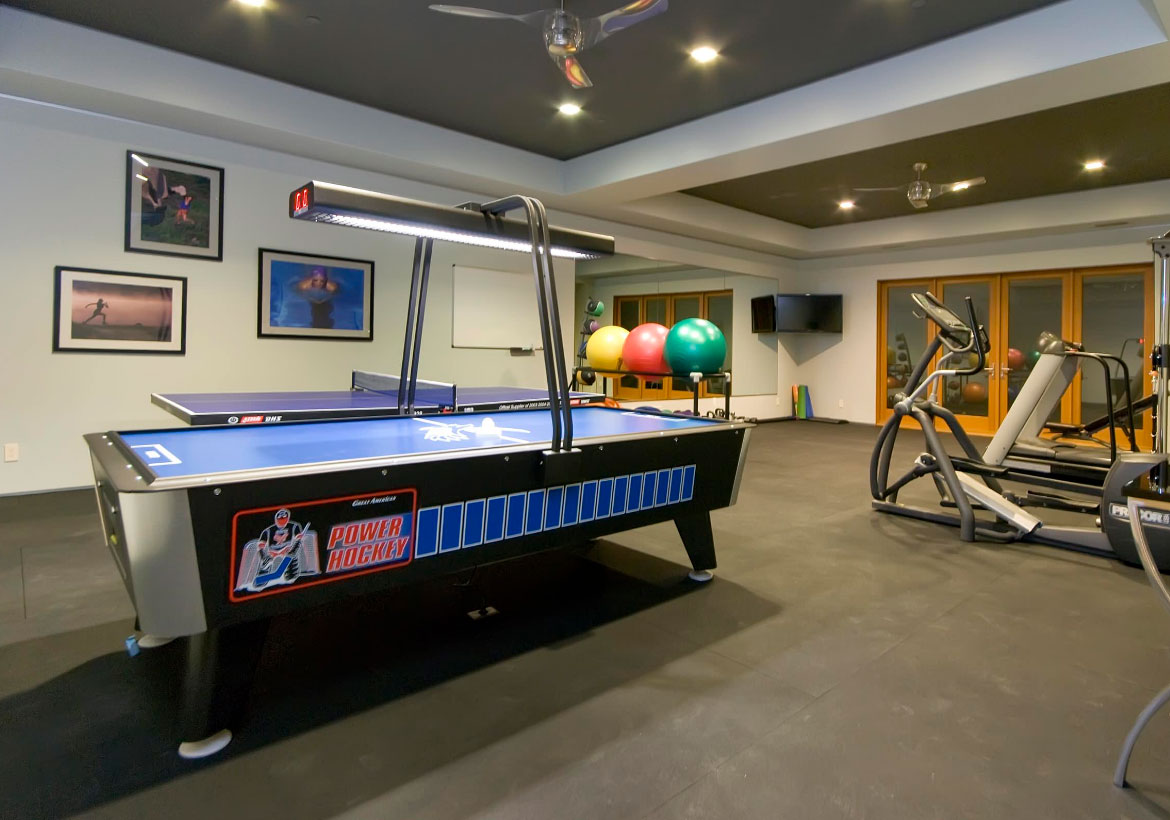 Working out doesn't need to be boring! Think about incorporating an air hockey table or foosball table into your space…it would be a great post-workout reward!
Therefore if you liked this article on 25 basement home gym ideas, check out these:
Firstly…
Secondly…