Putting in kitchen wallpaper is a great way to add a pop of color, texture, and elevate your interior design – all in one swift move! Not only is wallpaper super durable, it does great in both small spaces and larger kitchens. So, follow along for the best kitchen wallpaper ideas below!
Or, read White Kitchen Backsplash Ideas.
What wallpaper is best for kitchens?
Before putting in a wallpaper design, you want to make sure that you're going to be dealing with the best material possible. So, what kind of wallpaper is best for your kitchen design, you may ask? Typically, interior designers recommend three different types of wallpaper for your kitchen. Let's learn more about them below.
Vinyl wallpaper is a coated wallpaper that is known for its durability and extra layer of protection. Instead of having a base layer of paper, it uses a fabric base – making it the most durable wallpaper option!
Washable wallpaper is another alternative that features a specific coating – making it fairly easy to clean the surface without damaging or messing up the actual wallpaper look. With this added layer of coating, this wallpaper is more stain-resistant.
Liner wallpaper is made from paper and fiberglass. If you are using a more delicate wallpaper in your design idea, then it may be wise to use liner wallpaper as a first base.
Is wallpaper in style for kitchens?
Often times when people think of wallpaper, they are reminded of a hideous floral wallpaper in a powder room they saw years ago. However, over the years, wallpaper has evolved and has become increasingly popular. Because there are so many different types of wallpaper designs and colors – you really have a whole variety of options to choose from. Therefore, it's pretty impossible that it will ever go out of style. Architectural Digest says that wallpaper designs have the ability to make or break your room – so you want to be thoughtful when choosing where to put your wallpaper.
Additionally, as more and more wallpaper comes out that is resistant to sticking, peeling, and additional dirt – more people will want to have a feature wall! So, keep reading on to find out the best kitchen wallpaper ideas.
Is it safe to put wallpaper in kitchen?
Yes, it is safe to put wallpaper in your kitchen – whether that be as a backsplash, on your kitchen cabinets, you name it! However, before you go out and buy traditional wallpaper, you want to make sure that you're buying the right kind. Because kitchens are a splash hazard and often have a lot of hidden filth, you want to find a type of wallpaper that can sustain all of that!
Kitchen Wallpaper Ideas:
Now, let's take a look at some of the best kitchen wallpaper ideas below.
#1 – Geometric Wallpaper Pattern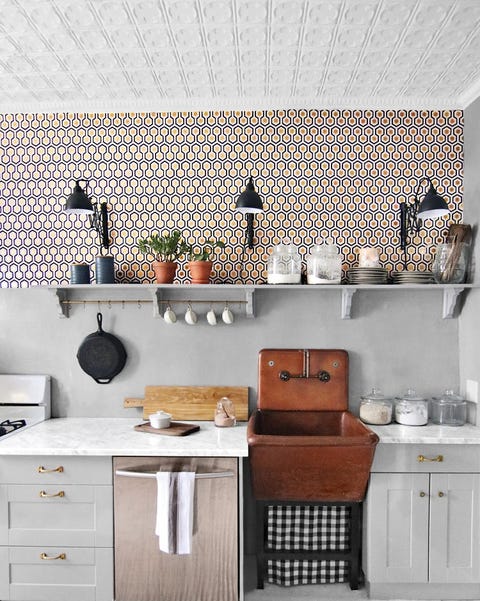 If you want to add a brighter color scheme or more texture to your kitchen, incorporate some geometric wallpaper into your design! Here, the gray walls balance out the kitchen space, so it doesn't feel too hectic.
#2 – Ceiling Design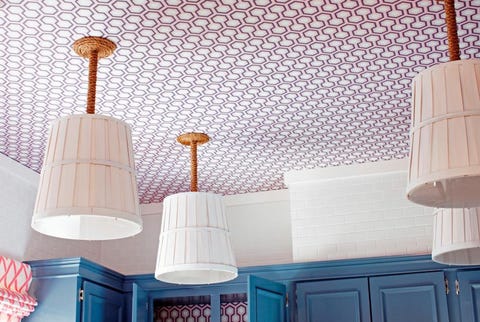 Who said you couldn't wallpaper your kitchen ceiling? Some homeowners like to skip the traditional way of installing wallpaper and shake it up a bit! I'd recommend doing a peel-and-stick wallpaper if you decide to put some on the ceiling.
#3 – Floral Wallpaper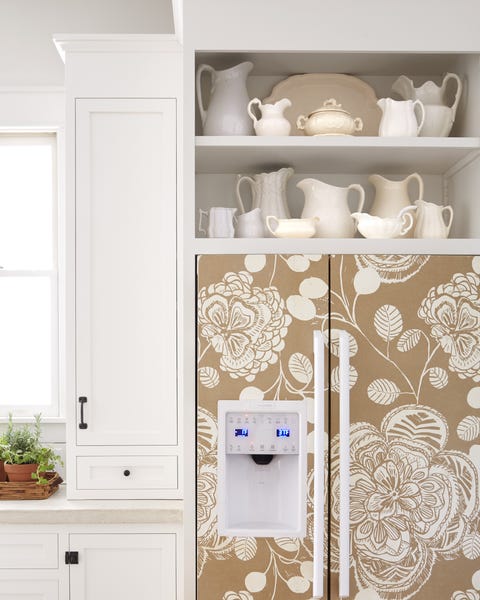 Long gone are the times of that hideous floral wallpaper you used to see everywhere. Some of you will get it, trust me. However, that doesn't mean that there aren't floral wallpaper options that can provide a more contemporary, new look. Like this one!
#4 – Country Kitchen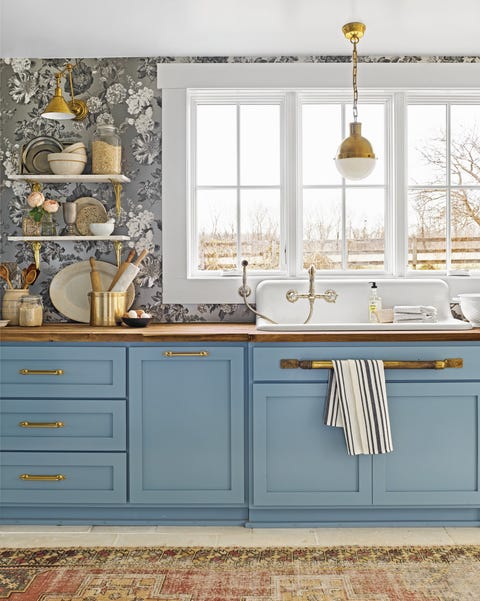 If you want a modern farmhouse vibe, check out this gorgeous use of wallpaper. The floral pattern keeps the traditional home decor look, while the gold accents on the cabinetry and wooden countertops give a more modern vibe.
#5 – Peel-and-Stick Wallpaper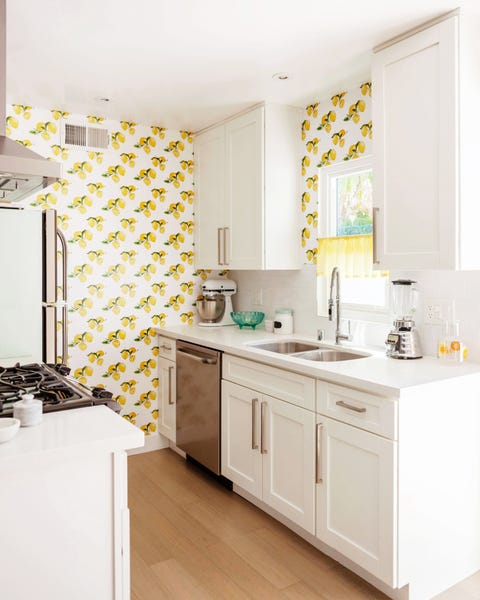 If you have a small kitchen, check out this peel-and-stick wall covering! It adds some color and brightness to the white kitchen design, without being too overwhelming. It's definitely a fun look for sure!
#6 – Terrazzo Backsplash
Why have tile when you can incorporate a terrazzo backsplash? Want to know the best part? If you aren't loving your removable wallpaper – all you have to do is simply take it off!
#7 – Kitchen Island Design
I love, love, love this island design. It acts as a real focal point of the kitchen, as it should! The modern pendant lighting adds to the modern ambiance, as well.
#8 – Fake Tile
If you want that tile backsplash look, but don't want to spend the money or time on it, find a wallpaper like this! Even though it isn't real tile, it will still add value to your kitchen…and it makes for a very inviting area!
#9 – Faux Wood Design
If you want a Scandinavian-style kitchen, check out this faux wood wallpaper! It's a great simple decor idea to incorporate into your kitchen.
#10 – Go with Marble
If you're a fan of marble (like me), it can be painful – it's so expensive and that stuff adds up! However, that doesn't mean that you can't create that modern kitchen look that you've been dying for. Marble wallpaper to the rescue!
#11 – Breakfast Nook
If you have a breakfast nook that you're wanting to spice up, try adding some dark, floral wallpaper! For instance – I love the wallpaper in this corner nook because it really makes the space feel special and complete.
#12 – Pretty in Pink
If you want to add color to your kitchen design, put some wallpaper on an accent wall! Here, you can see the pink art deco wallpaper really adds liveliness to the room.
#13 – Green Kitchen
Do you have a white kitchen – with white cabinetry and not much color? Adding a large-scale green wallpaper can do wonders for your space. Not only does it add some color, the use of graphic wallpaper can cause people to take a second look!
#14 – Surreal Living
If you want something that completely takes over your kitchen design, have a look at this wallpaper. This would be a great choice to put in a smaller kitchen, as it completely takes over and expands the space!
#15 – Get Fun with It
Oh my – look at this jelly pink retro wallpaper print! It definitely gives me old soda shop vibes – and I'm loving it! This would be a great choice if you want a more nostalgic look.
#16 – Paintable Ceiling Wallpaper
Again, ceiling wallpaper is a great way to take your kitchen design to the next level. However, that does't mean the wallpaper has to be over the top.
#17 – Patterned Accent Wall
Here, they have an all-white kitchen that feels a bit bland…there isn't much personality. By adding patterned wallpaper to the accent wall – they completely elevated their kitchen design.
#18 – Earthy Tones
We've gone over a lot of examples that exhibit bright colors – but sometimes, you need to incorporate some earthy tones. This is a great kitchen idea that feels like you are in the midst of reading "Where the Wild Things Are".
#19 – Little Greene Paint Company
Check out this wallpaper usage from the Little Greene Paint Company! It's so cute and intricate right over the fireplace – and doesn't need to encompass a lot of space to look meaningful.
#20 – Statement Wallpaper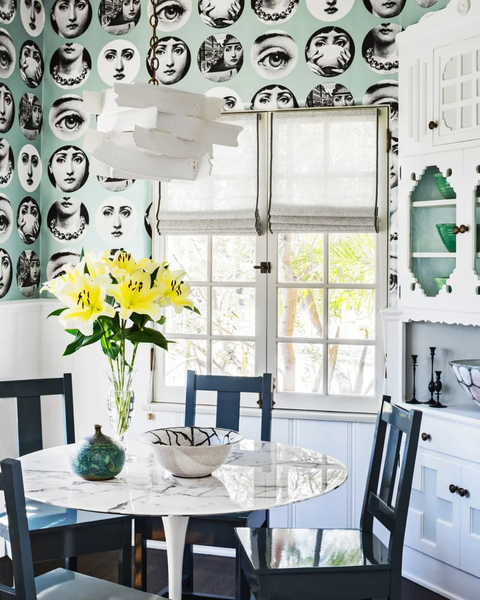 If you don't want your kitchen design to be subtle, check out this Audrey Hepburn monochrome wallpaper! Hosting guests in this little nook would be lots of fun with this design!
#21 – Contrasting Wallpapers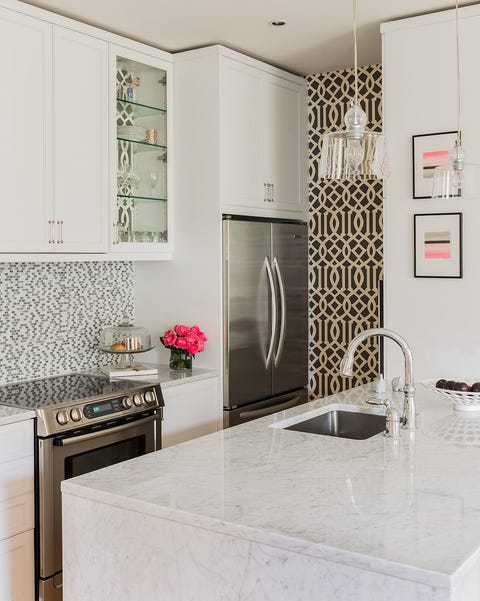 I'm sure you've heard all about contrasting color schemes…but what about contrasting wallpapers?! Here, this black and white geometric print adds a touch of creativity to this fun kitchen design.
#22 – Go Bold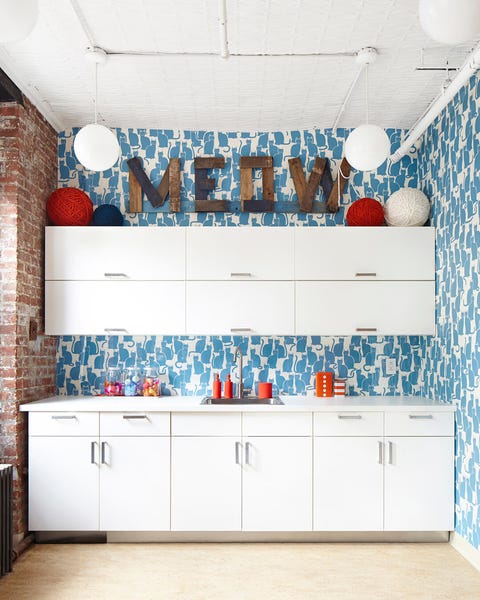 If this isn't a bold kitchen design, I'm not sure what is! Calling all cat lovers…this kitchen definitely takes it to the next level, but we're here for it! Definitely one of our favorite kitchen wallpaper ideas!
If you liked this article, check out these:
Firstly…
Secondly…