Realistically – when was the last time you went to a movie theater? Chances are, due to the pandemic you've probably been streaming Netflix or Hulu movies off your TV for a few years now. So, why not expand that space and make a legitimate home theater room? Follow along for the best 25 basement home theater ideas below!
If you liked this article, read 25 Basement Home Gym Ideas.
What is the average size of a home theater room?
While each home theater design is going to be different, you want to make sure you have enough space in your own home to implement your design. Typically, the standard size for a cinema room is 20 by 15 feet – with a high ceiling. Some other theater setups are around 8×10 or 10×12 feet.
However, if you don't have that much space in your home, don't worry! That doesn't mean that you can't implement a theater experience in a small space. Some room designs can be as small as 120 inches.
So, look at your space and see how much room you have. You're going to want to think about screen size, built-in theater chairs, or maybe even a sectional and popcorn machine. It all depends on how much space you have!
What color should the ceiling be in a theater room?
While typically I'd say that this is a personal homeowner choice, you want to be more careful with wall colors in a home theater. Why? Because you don't want light reflecting off of the big screen – that is so annoying! Typically, theater rooms are going to be a more neutral color – for instance, think gray or dark brown.
However, Architectural Digest says that your home movie theater doesn't need to feel like a dark man cave. You can make up for the neutral wall colors with top-notch interior design. For instance, think elegant leather chairs, a large sectional, sprawling blankets, blackout curtains, and luxurious artwork.
25 Basement Home Theater Ideas:
Now, let's take a look at some of our favorite basement home theater ideas below!
#1 – Comfort Over Everything
Since it's in your home – your home theatre can be as comfortable as you'd like! Here, they added a full on bed into the home decor design…and boy, does it look magical!
#2 – Wall Decor
Whether you want to add old-school movie reels to your media room or any other type of wall art – it will look great! Who said your movie room needed to be boring?
#3 – Black Out Curtains
Not only do black out curtains look great in the spare bedroom – they'll make your home cinema feel like an actual theater! Plus, it's a great hack for blocking out excess light.
#4 – Color Coordinate
Pick a color and stick with it! Here, they went with the all white recliners – but you could do leather, a dark red – whatever you think would look good in your home design!
#5 – DIY a Home Theater
If you don't have the space or resources to go out and buy new furniture – DIY! Here, they added a bunch of extra pillows and a projector to an unfinished basement.
#6 – Color the Walls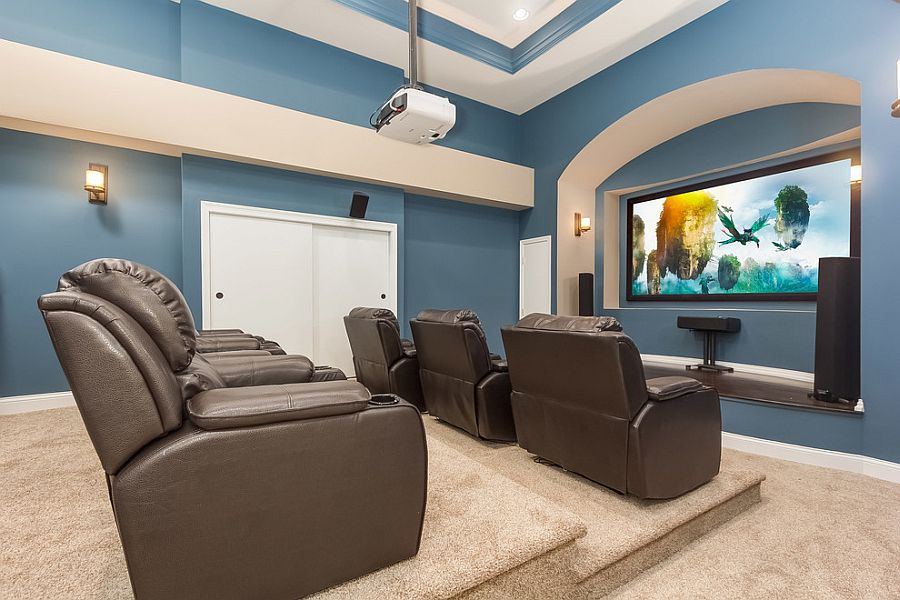 While dark color schemes are great for the lighting aspect of your home theater, sometimes you need a pop of color!
#7 – Cue the Lights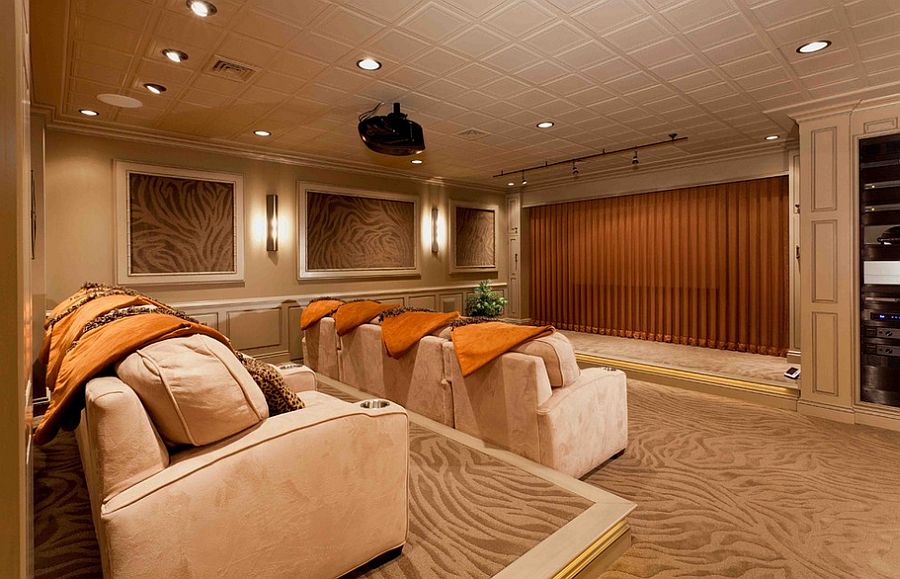 You can create a home theater that also serves as a stage! I love how they added the curtain for a more dramatic appeal – your little ones will love to perform in this home theater setting!
#8 – Man Cave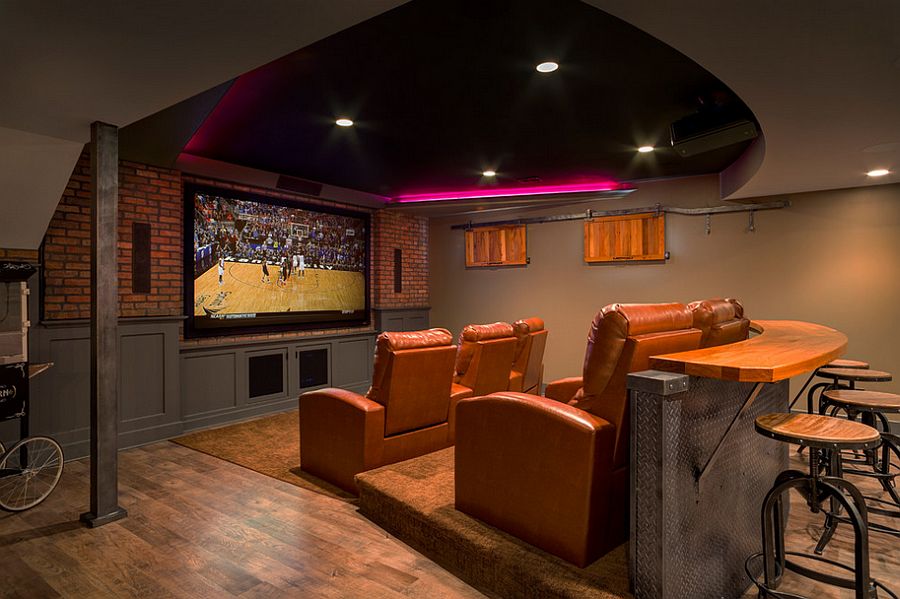 If your husband is on the fence about turning your finished basement into a home theater – just show him this picture! Explain to him that you could combine a home theater with a game room – making the perfect family room!
#9 – Rustic Theater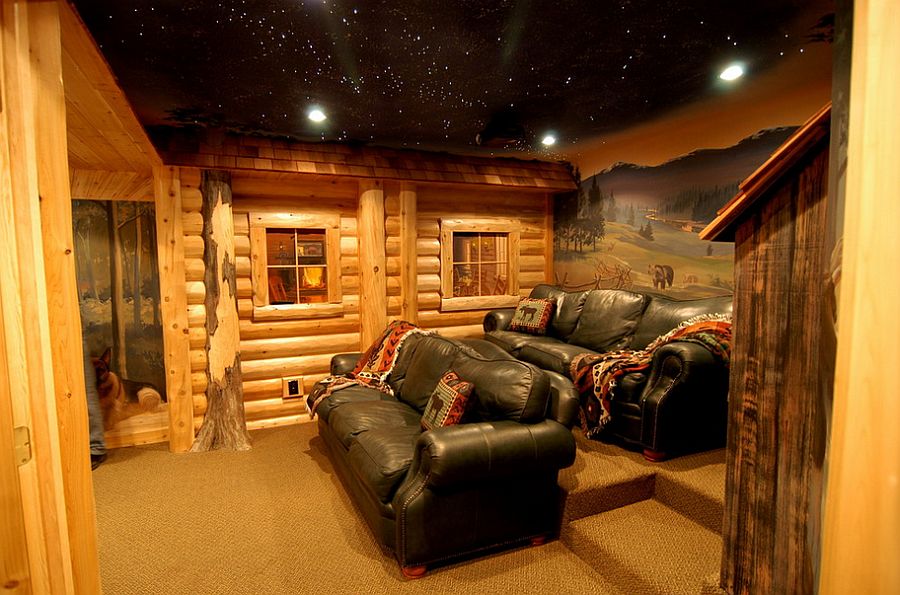 I'm loving the hand-painted murals and ceiling with fiber optics that make it look like a starry night. And with those black leather sofas, this would definitely be a great place to have a movie night!
#10 – Simple Design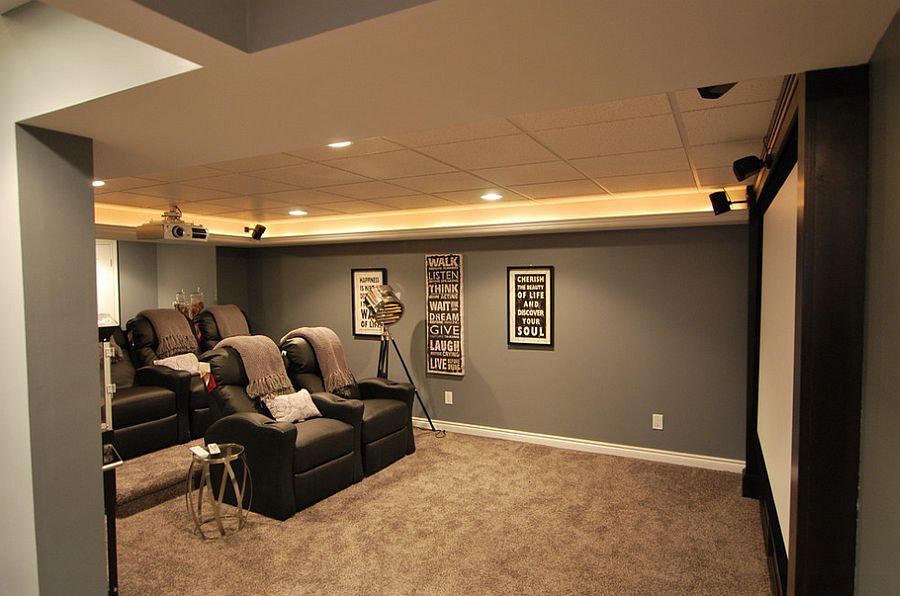 If you want a simple room idea – check out this one! They have a large screen, some wall art, and a few basic recliners. Pretty easy and self-explanatory!
#11 – DVD Collector Wall
How visually appealing is this design? They added a few shelves where they store their favorite movies – so it's easy to just pick one off the shelf when it's movie night!
#12 – LED Ceiling Lights
Believe it or not, adding LED lights can actually help the visuals on your movie screen. It can often give your space a relaxed and romantic ambiance, too!
#13 – Add a Bar
If you think you'll be hosting guests in your space, add a bar! It's a great all-inclusive design that incorporates home theater seating and a more casual place to hang out and talk!
#14 – Wrap-Around Sectional
Does this simple setup not look so relaxing? Incorporate a large wrap-around sectional into your space, like they did here, and you'll be good to go!
#15 – Old School Hollywood
If you're an old-time movie fan, check out this design! Andy Warhol's famous Marilyn Monroe painting lines the walls – creating a nice pop of color.
#16 – Living Room Movie Theater
If you don't have space for a basement movie theater, don't worry! You can incorporate a movie theater into your living room – complete with the typical home theater seating and large TV screen.
#17 – Starry Night Lights
Play around with your lighting…after all, it is your own home theater! Here, they put fluorescent lights on the walls – creating a starry night look.
#18 – Sports Fanatic Theater
If you have a family member (or a few) who loves sports – check out this design! Not only does it have sports memorabilia adorning the walls, there is even a bar!
#19 – Traditional Look
If you want a theater that has a romantic ambiance with dim lighting – look at this design idea. You could put in any sound system you desire with this look!
#20 – Get Creative
If you're thinking about doing a home theater design outdoors – this is the cutest example! Not only does it feature a popcorn machine, they incorporated the cutest seating and window bar!
#21 – Go All Black
While this design features a black sectional, dark walls, and overall dark hues – it does have some color in the wall art. Therefore, it's not completely dark and gloomy – it actually looks rather inviting!
#22 – One Sofa Star Wars Look
Who said you needed to have a bunch of recliners or multiple sofas? This design proves you can have a perfectly functional home theater with just one sofa!
#23 – Comfy Seating
Oh my gosh, do these cuddle seats not look so comfortable? I think we all know that seating can make or break a theater design – so choose wisely!
#24 – Theater Entrance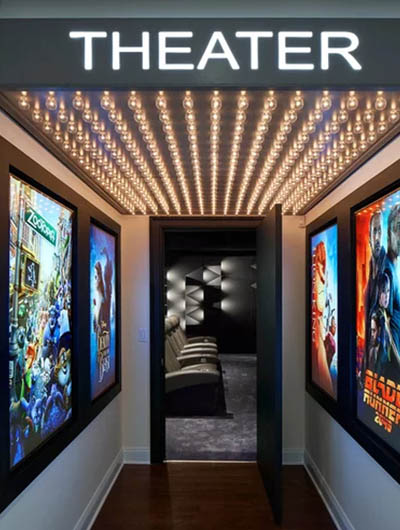 If you have an empty walkway or additional space for an entrance into your home theater – do it! It'll give guests the feeling of being in an actual movie theater – but with more comfort!
#25 – Granite Bar
Adding in a bar is a great touch to your basement home theater. Not only does it give your guests a place to grab a drink and hangout, it's extra seating just in case you need it!
Therefore if you liked this article on 25 basement home theater ideas, check out these:
Firstly…
Secondly…