It's that time again! Blog Hop time! The first Wednesday of every month me and some blogging friends will be sharing our ideas surrounding a theme! This month was "May Flowers" and we're all sharing a flower project to get you in a springy mood! Check out all there ideas in the collage at the bottom of this post and in the meantime check out how I made my Flower Mason Jar gift idea…a great Mother's Day gift!
You've probably seen a lot of painted mason jar ideas floating around and of course I had to jump on the bandwagon with my own take on it!
Here's what you need:
Mason Jar
Rose gold metallic paint (Martha Stewart sells some)
Paint brush
Sand Paper
1/2 of a Styrofoam ball
Flowers (from Michaels)
Hot Glue
Ribbon
How to:
I started by applying a light pink coat of paint to my mason jar in hopes that it would show through the gold a little bit when I sanded. Unfortunately, it didn't work out exactly as planned, but a little showed through. It does make it pink on the inside and rose gold on the outside though, which is pretty.
So after the pink dries, then you'll need to add two coats of rose gold over top to evenly cover. Let dry completely between coats or it will be harder to paint.
Once it's painted, take a piece of sand paper and gently sand your jar. This will do two things…first it will make the jar less "tacky" from the paint. Second, it will let the words and details on the jar come through and make it look vintage and fun. I wasn't too sure about how this was going to look until I sanded it and ended up loving it.
Once sanded, I took a styrofoam ball I had on hand and cut it in half and glued it to the lid of my jar. I then glued some flowers I found in Michaels' dollar section to the top of the jar. I used the same idea to create my Chocolate Tiered Mother's Day planter that was on the blog last week. I also took a piece of ribbon and wrapped it around the lid, hot gluing it in place, and adding a bow made out of the ribbon.
I figure you can add a variety of things to this jar…make it a cookie mix in a jar and add a recipe tag! Add candy to the jar! Make a sugar body wash scrub and put it in the jar. Make a sewing kit! Make a beauty kit and put nail polish in there! There are SO many options! Just google gifts in a jar and use this jar as the holder!
This whole project takes less than an hour and is so pretty. You could hand craft your own flowers too if you wanted a specific color. There are tons of options!
I hope you enjoyed my Painted Flower Mason Jar! Check out all the other fun May Flower ideas below using the collage! Click on the collage to take you to that bloggers idea! Enjoy!!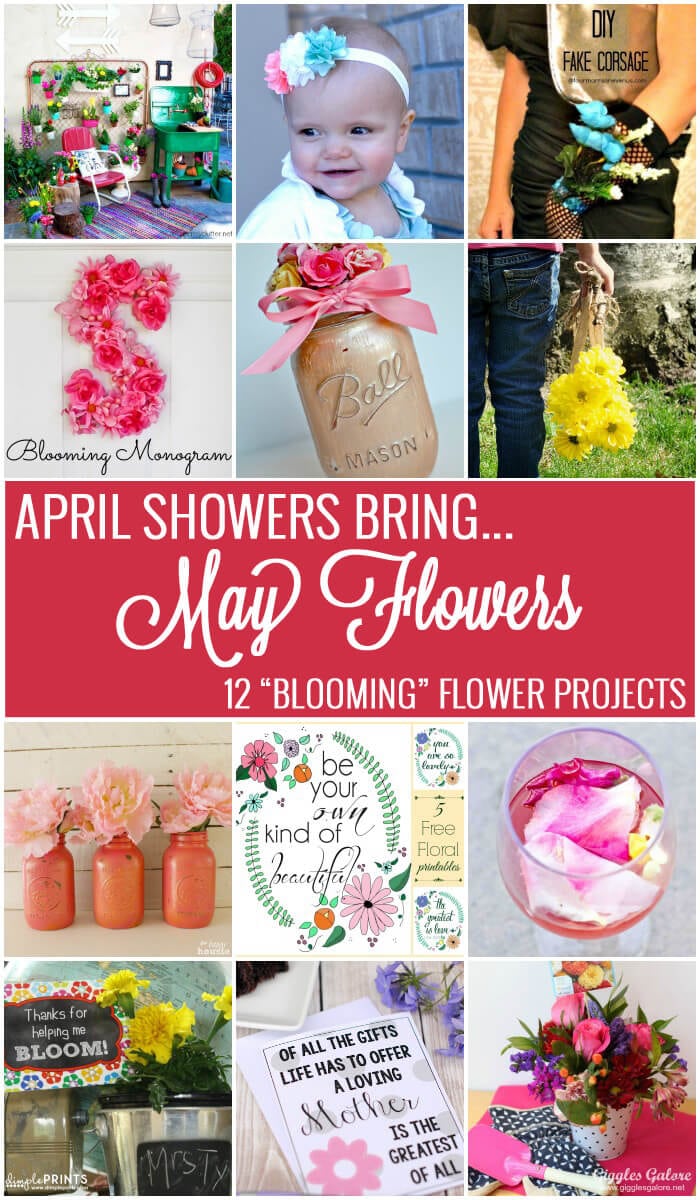 Classy Clutter |  Bombshell Bling  |  Four Marrs One Venus
That's What Che Said…  |  The Cards We Drew  |  Cherished Bliss
The Happy Housie  |  52 Mantels  |  Sweet C's Designs
Dimple Prints  |  Crazy Little Projects  |  Giggles Galore