Thank you to the Chinet® brand for sponsoring this post.
I feel like summer already snuck up on us after spring never really materialized, but that's ok because we're already out and about and getting things done. At the top of the family DIY list this spring/summer was the treehouse that my dad promised my son for Christmas. My son anxiously awaited month after month until the weather broke and the men in my family could bring the treehouse to fruition! Now we're about half way done with the treehouse and the kids are already loving the fun options it gives them for a little space of their own. I decided this weekend to celebrate our little treehouse accomplishment with a special treehouse snack, and since it's no easy feat to get two kids, two adults, and snacks up into the treehouse, I relied on Chinet® Classic White™ products, which are strong enough to serve the heaviest, messiest meals and snacks with style! No worries about flimsy plates wrecking our fun as we climb up!!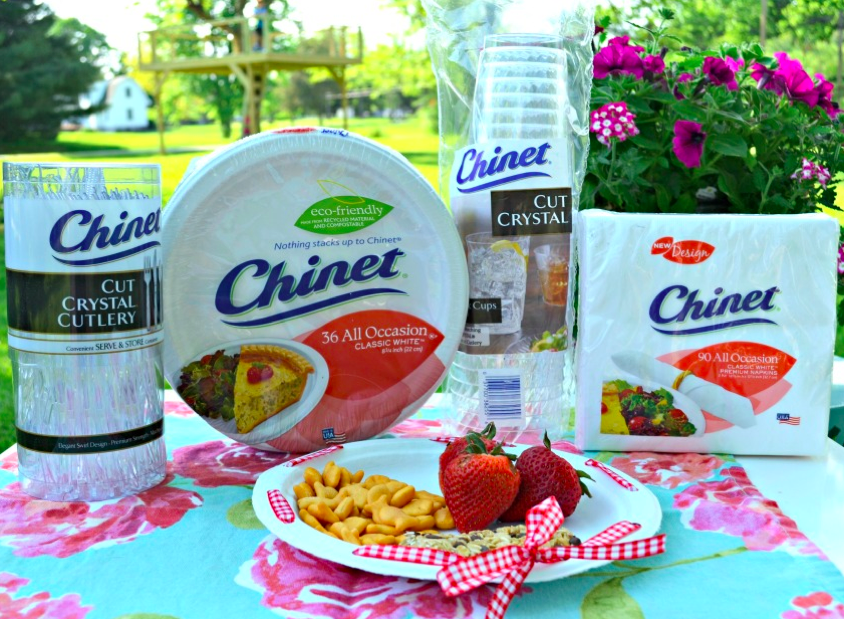 Click the Image Above to Shop!
No treehouse initiation celebration would be complete without a few special details. So I took my Chinet Classic White plates and added some special gingham ribbon to them to make them extra special!! The nice thing is that Chinet Classic White products make my cleanup from our treehouse adventure easy; just throw them out when you're done. And since they are made from 100% recycled material they can even be composted after use!!
To make these cute ribbon wrapped plates all you need is the following:
Gingham Ribbon
Hole Punch
Scissors

Punch holes along the outer rim of the plate about an inch apart. Thread your ribbon in and out of the holes all the way around the plate.
Leave about 6 inches at each end of the ribbon and tie into a bow at the point where the edges meet on the plate.
The Chinet® brand offers premium products with a thick and sturdy design that are strong enough for extra helpings for all!! The Chinet Classic White plates make serving and cleanup easy, so you can spend more time with friends, family and guests!! And trust me, we anticipate a lot of little guests in that treehouse once it's complete this summer!! 
Load your plates up with a nice mix of snacks…
Head on out to your favorite outdoor spot…
Enjoy a special treat that makes your kids feel extra special for a night…
I feel like they'll remember moments like that forever…sitting up in their very own treehouse, eating a fun and healthy(ish) snack, and looking over their whole yard in the middle of summer.
I was selected for this opportunity as a member of CLEVER and the content and opinions expressed here are all my own. Chinet® and Classic White™ are registered trademarks of Huhtamaki, Inc. in the U.S. and other countries.
Pin it for later…