Hi! I'm Vidya from Whats Ur Home Story. Glad to be helping out Abbey on the blog front while she takes care of her new little addition! Isn't she adorable? Congrats on your bundle of joy!
On the blog I share how our family of four is adding character to our bland cookie cutter home.  My motto is every project big or small be it a craft, home decorating, DIY, gardening, thrifting, sewing, furniture refinishing project makes an impact. Right now I'm in the midst of my laundry room makeover. So thought I would share an easy DIY laundry room sign that I made from a thrift store frame.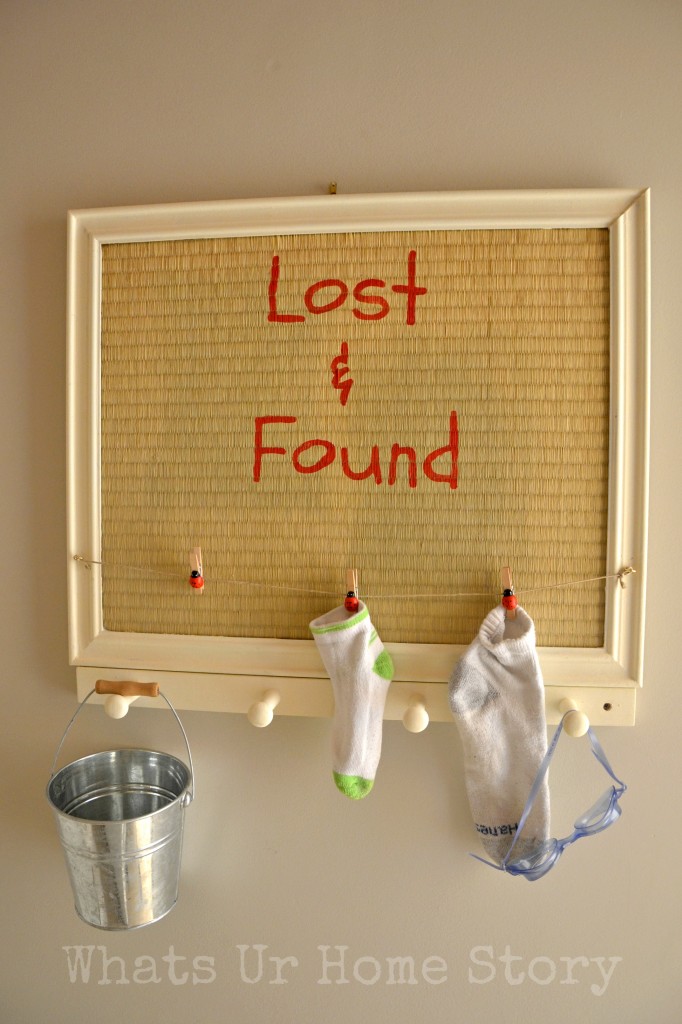 Wondering why I have a "Lost and Found" sign in my laundry room? Believe it or not we keep losing things in the washer/ dryer! Of course everyone loses socks but around here we specialize in DS games, school lunch ice cream tickets, swimming goggles, ID badges, even car keys (yeah really, last week!). We are a quirky family that way. Yes, the notice has already gone out, "If the last time you put something was in your pocket then better check the lost  & found in the laundry room!" 🙂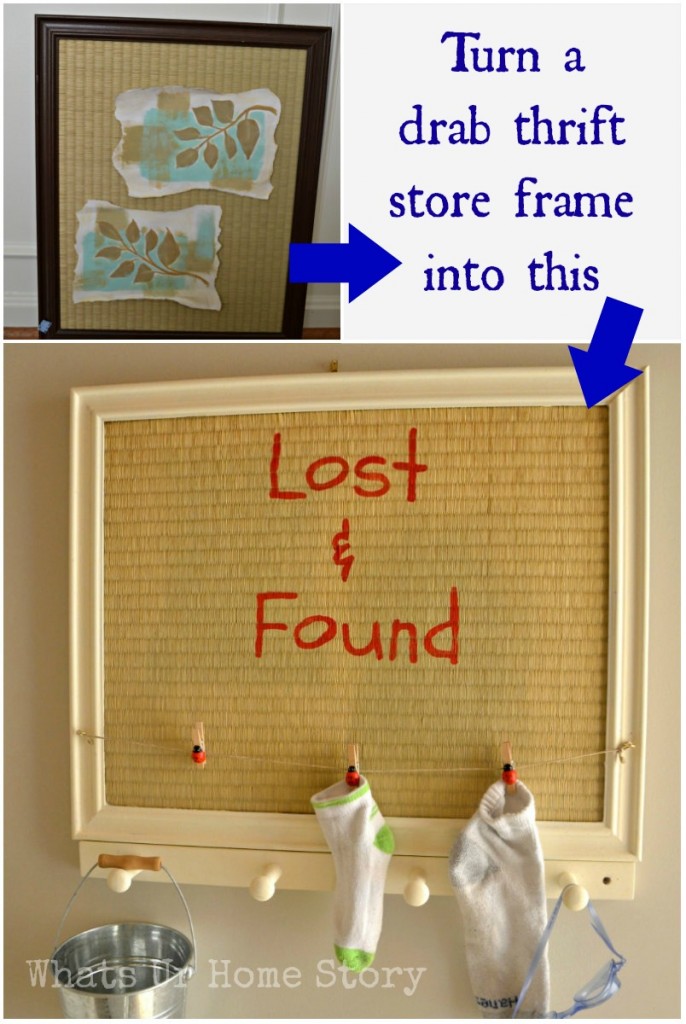 Isn't it fabulous when you find use for something you found 2 years ago? That's how long I've been holding on to that grass cloth frame that I scored for $3.99 at our local Salvation Army! The details on the transformation;
Materials
A frame Unfinished wood peg rack
Chalk Paint & Wax -Can use any paint or even spray paint. I had a lot of ASCP left over from my many
furniture makeovers
.
Acrylic paint for stenciling  – I used the same paint I used for my
herringbone ceiling
.
2 picture eye hooks
Jute yarn
Cloth pin
Printer paper & Xacto knife -This is your stencil!
Sponge brush  
Tutorial
Use a photo editing program like PicMonkey or Pixlr to create your word art. I played around with a few fonts on PicMonkey before finalizing on this one. Print it out to the size you want.
Make your word art stencil by cutting out the letters with an Xacto knife.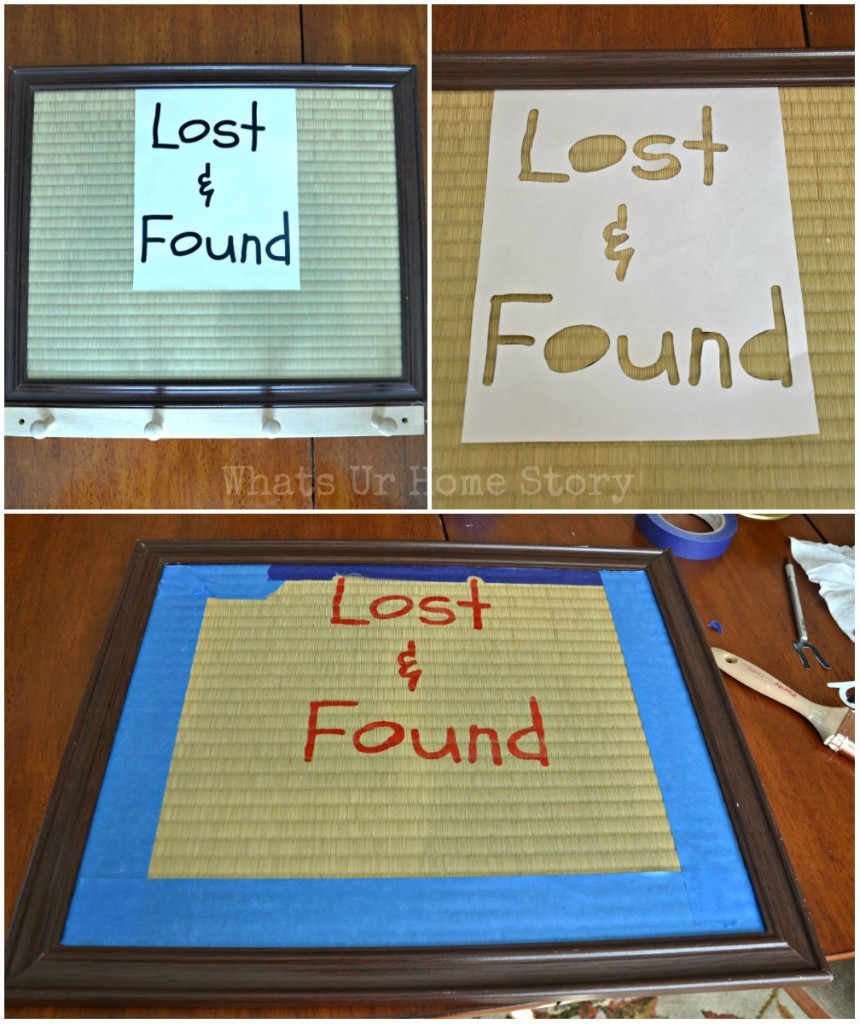 Tape the stencil to the board with painter's tape and gently dab the acrylic paint with a sponge brush. For a detailed how to on stenciling checkout my Moroccan Stenciled Throw Pillow.
Once the paint dries, tape off the sides of the frame so that you can paint the edges.
Paint the frame and the unfinished peg rack. I used Annie Sloan chalk paint and wax to seal it.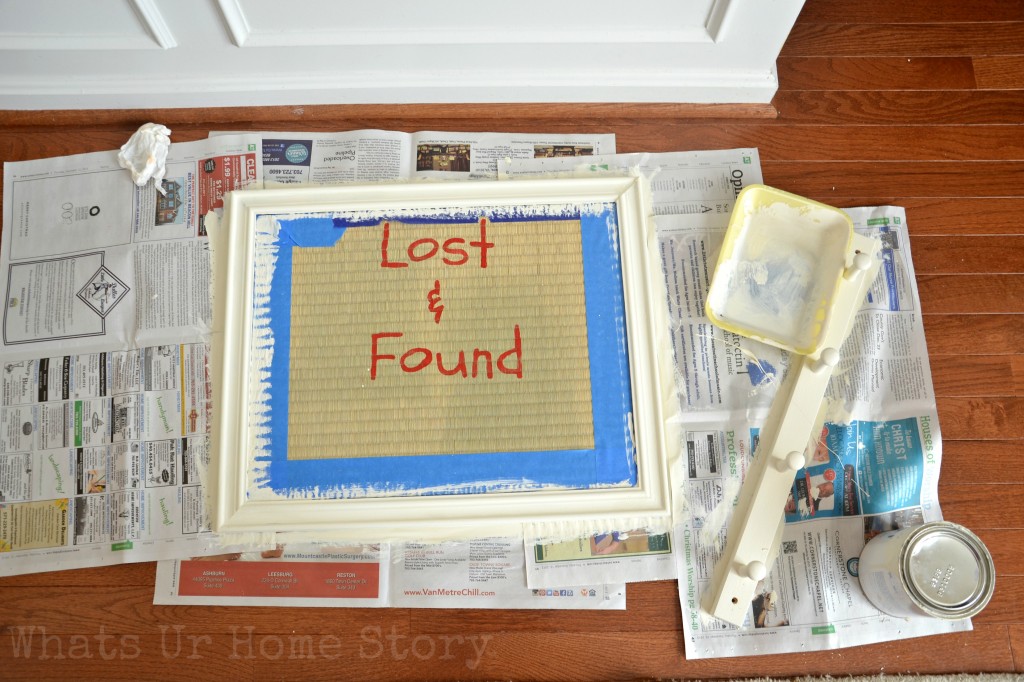 Screw the two picture eye hooks to the opposite sides of the frame and string the jute yarn through them.
Attach the frame to the wall and the peg rack just below so that they look like one piece.
There you have it, easy laundry room organization. Thanks for having me over Abbey!
Be sure to check out the rest of the room makeover at Whats Ur Home Story.  Happy Spring!
You can also find me at †Facebook,†Pinterest,†Twitter, G+ or†Instagram.