This is a Sponsored post written by me on behalf of Mrs. Smith's for SocialSpark. All opinions are 100% mine.
I've mentioned to you guys recently about how this was my first Thanksgiving at my house and I'm pleased to report it went off without a hitch…well, maybe a slight hitch when the container holding the turkey and brine broke and dumped gallons of brine all over my laundry room at 5 a.m. Thanksgiving morning…but after that, it went off without a hitch!!
The best part of Thanksgiving meal has to be the desserts though. Honestly, who doesn't love some pie?? This year I left my pie making up to Mrs. Smith's Signature Deep Dish pies!
They are so tasty and easy to make and they honestly taste just as fresh as a store bought pie, but at a less expensive price and the option to freeze them until YOU are ready to eat them!
For Thanksgiving we opted to make the Apple and Cherry Pies because we already had some other pumpkin desserts and let's just say…they turned out AMAZING. I was SO pleased and my whole family really enjoyed them. There are four signature Deep Dish Pies inlcuding: The Deep Dish Apple Pie, The Deep Dish Peach Pie, The Deep Dish Cherry Pie, and The Deep Dish Pumpkin Pie!
I really loved how simple and easy the baking instructions were and be aware that they do take some time to cook, so allot at least two hours for cooking and cooling before you serve.
When the pies came out of the oven they smelled and looked delicious. They didn't taste frozen or processed like some frozen pies do. They tasted just like they came from the bakery.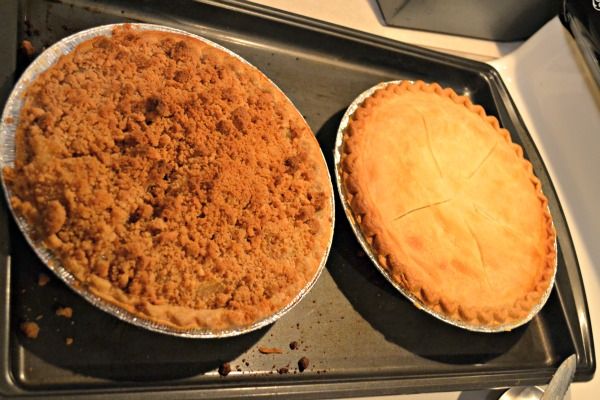 I was SOO happy to have discovered Mrs. Smith's Pies. I'm in LOVE with the applie pie. Sometimes you can be skeptical of the quality of a frozen product, but in this case I can 100% honestly say I plan to buy these again for entertaining. No one will know they're not straight from the bakery or homemade.
Mrs. Smith's has so graciously sent me a $50 William's Sonoma Gift Card and voucher for a free Deep Dish Pie of your choice to giveaway to one of my readers!!! How awesome is that?? To enter follow these intructions:
1. Leave a blog post comment telling me which Mrs. Smith's Signature Deep Dish pies you'd get with the voucher and what you'd buy with the Williams Sonoma gift card if you won!
2. Follow Mrs. Smith's on Facebook and leave a comment on this post telling me you did so and your Facebook username.
3. Follow Mrs. Smith's on Pinterest and leave a comment on this post telling me you did so and your Pinterest username.
GIVEAWAY DETAILS: Open to U.S. residents only. Winning entry will be verified and if not complete will be voided and a new winner chosen. Giveaway lasts one week and winner will be emailed at the end of the giveaway, so be sure to list your correct email address in blog post comments. Winner will be chosen using random.org and will have 48 hours to respond via email before new winner is chosen. Facebook is in no way affiliated with this giveaway.
Need more info about where to find these pies? They are at most Walmart's nationwide, but you can check retailers near you.